Bluetooth Intercom Comparison Image Gallery
You may recall our last chapter in the continuing saga of Bluetooth disappointment (more on that in a minute), when our original set of Interphone Bluetooth intercoms were replaced with the Interphone "Comfort Kit".
This is an update on the replacement and some observations on the current state of motorcycle Bluetooth intercoms in general.
This is an update on previous webBikeWorld reviews, including the Interphone Bluetooth intercom review, the Scala Rider TeamSet Bluetooth intercom review and the IMC Camos Bluetooth intercom review.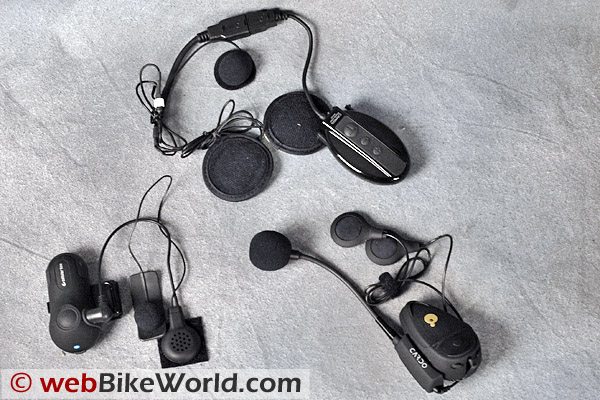 Interphone Bluetooth Intercom
The original Interphone Bluetooth intercom was an interesting and compact design, with the microphone on a small boom attached to the communication module that clipped to the side of the helmet. A single small and thin speaker on a short wire was also attached to the module.
There was nothing wrong with the design except for one thing. Many owners discovered that the boom mount was prone to breaking at the junction where it meets the module.
This was a problem with the original design and although it would have been nice if the factory had been more proactive in informing us of the problem before we experienced it, both units were quickly replaced at no charge with a "comfort kit" by the retailer (photo below).
The new Interphone design is still fairly compact, but it eliminates the microphone boom and instead places the mic on a wire that comes out of the single speaker. This allows more freedom in locating the microphone and the wires can be hidden under the helmet liner.
Both the speaker and mic are provided with double-sided tape on back and the speaker also has a section of hook-and-loop fastener to attach it to the ear pocket in the helmet. I don't know if the original style kits are still being sold or if they have been redesigned.
The Interphone system became our favorite Bluetooth intercom, mostly because it was simple to operate, its compact design allowed it to be easily and quickly installed and it actually worked.
Also, it has one major difference, as it is the only motorcycle Bluetooth intercom system with a several-hundred-foot range, so it can be used both for rider-to-pillion and rider-to-rider.
Our comfort kit has lots of static at speeds over about 40 MPH and we're not sure why or if this is common with all of the recent systems, but this problem has caused us to re-evaluate the Interphone as our favorite motorcycle Bluetooth intercom.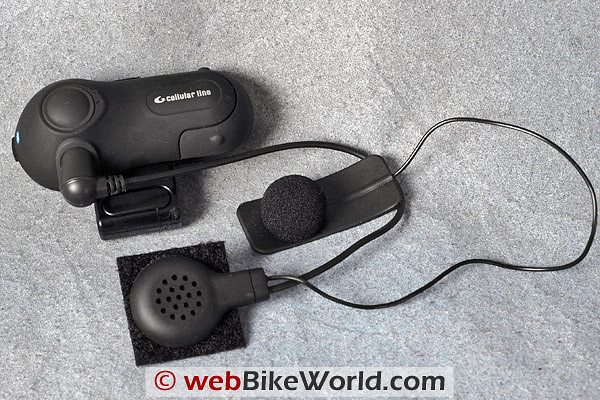 IMC Camos BHS-600
We reviewed the IMC Camos Bluetooth intercom in September of 2007, just a few months ago, after working with it during the summer. This system uses the new Bluetooth 2.0 stereo technology and although it has promise, we had several problems with ours and never did get it to work successfully.
It's also bulkier than the other systems, the helmet clip is flimsy and the Firewire connector (at top in photo below) is difficult to hide on some helmets.
By the way, even though each system discussed here uses Bluetooth, which is supposed to be a standard shared communications protocol, none of these systems are inter-operable.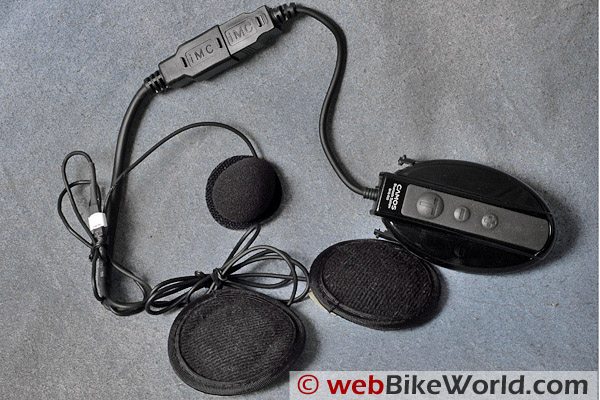 Cardo Systems Scala Rider TeamSet
Coincidentally, Scala recently sent us the latest version of the TeamSet Bluetooth intercom for a re-evaluation.
You may recall that the original Scala Rider TeamSet Bluetooth intercom was the first motorcycle Bluetooth intercom we reviewed, almost exactly one year ago in December of 2006.
It was brand new at the time and although I wouldn't say we weren't completely amazed by it, the system was an interesting new way to eliminate intercom wires and it worked as advertised.
The original Scala intercoms produced some background hissing noise in the speakers, and Midland in the UK sent us a replacement pair, which were no better.
We sold the original set in a webBikeWorld garage sale, so we can't compare them to the new set, but the version sent recently (photo below) appears to be identical.
It was paired at the factory, so all we had to do was charge the batteries and turn it on and it worked. It still has the background noise though, and it is strictly a rider-to-pillion system with a range of about 10 feet or less.
However, after using the three different Bluetooth systems installed in several different helmets, on many trips, rides and with many different riders, the Scala Rider TeamSet Bluetooth intercom system is now our favorite.
Either our memories are faded or, now that we're using it again, the TeamSet system seems easier to use compared to the others and its dual speakers provide greater volume, which is obviously one of the most important features for use on motorcycles.
But the Scala system is not without problems; in fact, Bluetooth intercoms in general just aren't there yet (see below).
Our Scala intercom still has too much background noise and hissing; one of the new units is affected by this much more than the other, so it may be due to some sort of tolerancing problem during manufacture or in the electronics.
The hissing is apparent no matter where or how we use the systems, and we've tried switching the modules, different helmets, different environments and anything else we can try.
To be fair, it's not noticeable at speed, but it's there. Also, one of the batteries in the new system has a very short life span of about 45 minutes or so. This is obviously a defect that would probably be replaced.
On the plus side, the Scala microphone boom is very robust and the system seems to be very well made. The owner's manual is still very thin, which is both good and bad news, but at least it's relatively understandable, unlike some of the others.
It indicates that the system is easy to set up and operate, but the manual doesn't have a lot of troubleshooting information if things go wrong.
Also, although the manual is relatively clear, the text still seems more like a somewhat poor translation to English. And it's curious that the manual starts with and seems to emphasize the instructions on how to pair the device to a cell phone rather than how to use the system as an intercom.
Intercom manufacturers take note: you must provide clear, easy to understand owner's manuals, user guides and setup instructions written by native speakers in the country where the products are sold.
Uh, and it would help to have the manuals written by riders who actually use the systems, rather than some engineer back in the Old Country?
It's astounding that none of the companies have been serious about doing this; we've found errors and inconsistencies along with confusing and grammatically incorrect narrative in every one of the manuals.
So the bottom line is that the Scala Rider TeamSet Bluetooth intercom system is our current pick for the best of a mediocre lot.
Bluetooth intercoms still have a ways to go, which brings me to my next topic: Bluetooth technology itself.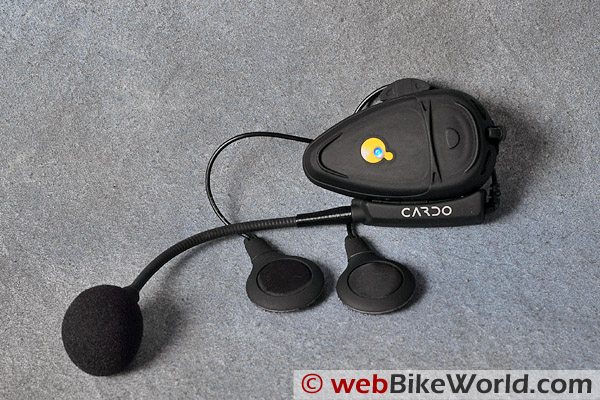 NOTE:
 The webBikeWorld evaluators wear properly fitted ear plugs for intercom evaluations. This is reflected in the opinions on sound quality and speaker volume. Your experience may differ. Always protect your hearing when riding a motorcycle (
more
).
The Unfulfilled Promise of Bluetooth
I'm not an Electrical Engineer, and I don't pretend to be one, but I do have both a B.S. and an M.S. in technology related fields. I've also been riding motorcycles for many years.
That's neither here nor there, but it's just offered as background information to establish that I have at least some credentials that you think would help me figure out how to set up and use what is supposed to be an easy-to-use consumer oriented communications system.
As a consumer, my needs are simple. I care nothing about Bluetooth technology, its cutesy name and least of all about "pairing" the devices. All I want is a wireless intercom system that allows me to press a button, turn it on and have it work. That's it.
But apparently, that's too much to ask, according to one intercom company engineer I talked to.
In my mind (and according to the official Bluetooth protocol) a Bluetooth intercom system should automatically sense any other Bluetooth devices that are in range and active, and it should pair with them without any intervention or awareness on my part.
OK, so maybe the device would require some other "accept" button that allows me the choice of connecting with or rejecting a signal from another Bluetooth-enabled device, like an audio player, headphones, GPS or — heaven help us — a cell phone.
But that doesn't happen.
My opinion and based on my experience, Bluetooth is one of the most poorly implemented, over-hyped and disappointing technologies of the past decade.
I remember reading an article not long ago in a technical journal lamenting the market acceptance of Bluetooth. The author speculated on why the technology wasn't more widely used.
I can tell you why: in my experience with Bluetooth devices including cell phones, cameras, printers, motorcycle and office intercoms, earphones and headsets and laptop computers, I have never gotten it to work the way it should: unobtrusively, consistently and without intervention.
Apparently I'm not alone. Search the Internet and you'll come across thousands of threads and questions in various user groups with owners looking for help on getting the technology to work in their devices.
I just bought a new cell phone with all the latest technology and you guessed it — it took me literally about 3 hours to finally get the Bluetooth connection to work. But every time I start the car, I have to go through the motions yet again to get it to pair.
Talk to the Bluetooth or electronics engineers — as I have — and their attitude seems to fit one of two categories: users are basically stupid and they don't understand the technology, or the user's expectations are too high.
One actually laughed at me for expecting that the systems should pair with each other without user intervention!
But the technology was and is sold on that fact that it's supposed to be a transparent background communication protocol. When I turn on a wireless phone at home or a cell phone to make a call, I don't have to screw around getting it to "pair" with the base, right?  I just pick it up, turn it on and call a number.
My expectations are no less than the past 100 years of user experience with wired telephones. Telephone users couldn't care less about how it works, they just want to pick it up, dial a number and talk to someone on the other end.
And by the way, there's no "name" for the technology that makes this work — it's just there and it works and no one (other than the engineers) know it's there, what it's called and how or why it does what it does.
But somehow, Bluetooth is different. The engineers scoff at me when I give them the telephone example — and that's exactly what's wrong with the picture.
Will it get better? I'd like to think so, but 13-odd years after the Bluetooth 1.0 protocol was released, it's still not ready for use by the regular old everyday consumer.
So here's your challenge, engineers: let's see if we can put it in different terms, using an outcome-based approach.
Note that we're not specifying a particular technology or solution, only some of the outcomes we want from a motorcycle communication system. We don't care how you do it — if it's Bluetooth or whatever you call it or how it works; all we want is for you to meet these basic needs for motorcycle communication:
Provide wireless communication that allows a rider and passenger and/or a rider and another rider to speak to each other in normal conversational tone and volume at any speed from 0 MPH to 100 MPH
Minimize the size and weight of the system
Minimize the amount of time and effort it takes to install the system
Minimize the complexity and time it takes to get the system up and running when new
Minimize the complexity and time it takes to turn the system on and use it in subsequent usage
Minimize the complexity in connecting the system with other devices such as a GPS, radio or others
Minimize the amount of background noise heard at any speed
Minimize the power that the device uses (i.e., make the batteries last as long as possible)
Make it waterproof to a minimum of IEC 60529 IPX7 standards (withstand accidental immersion in one meter of water for up to 30 minutes)
Allow it to connect to other communication systems, no matter what brand
Minimize the sale price (= or < $100.00 per unit?)
Engineers, you may think that your current products meet these needs but they don't. Besides, there's always room for improvement.
webBikeWorld visitors, what do you think?
Publication Date: December 2007
Note:
 For informational use only. All material and photographs are Copyright © webWorld International, LLC since 2000. All rights reserved. See the webBikeWorld® 
Site Info page
. Product specifications, features and details may change or differ from our descriptions. Always check before purchasing. Read the
Terms and Conditions
!
Owner Comments and Feedback
---
From "John" (11/08): "I'm a courier. I bought the TomTom Rider V2 bundled with a scala rider headset. I also bought a imate JasJam (3G phone). After six months I bought the scala rider FM headset. After 12 mths I've had enough of all 3.
The TomTom starts up whenever it wants. The start button is soo hard to push now. The voice instructions come on whenever it wants. It unpairs with the headset whenever.
The bike mount power connection isn't working; there's power in the wiring but not at the mount. There were always problems in the wet; neither are suited to all weather use.
The headset turns off or starts clicking in my ear. The mic arm is loose; the base of it is cracked. The foam cover disintegrated long ago so I use earphone covers!  The pairing with the phone drops out and sometimes rebooting everything still doesn't achieve a pairing.
They get used all day, 5 days a week so no wonder!
I've just ordered the Garmin zumo550 and Camos motocom BTS headset. The phone is a lot harder to decide on.
Another 2 couriers saw mine and bought the scala rider headsets. One has had his replaced after 3 mths. The other bought the TomTom rider v2 combo and has no complaints after 6mths, although he had the TomTom crushed after it flew off the mount, but the phone pairing is still fine so time will tell."
---
From "J": "In response to your post about Bluetooth technology… I completely agree with you in relation to Bluetooth Audio devices. I was very excited when Bluetooth headsets started coming out, but ultimately very disappointed in their performance.
I have tried many and all seem to work well for 10 to 20 minutes, as long as the phone is in line of sight of the earpiece, and then they begin to have static.
I still like and endorse Bluetooth technology in data applications. Even though I need to manually pair the two devices, I find it to be worth the lack of cords when syncing my phone with my computer or using a Bluetooth mouse and keyboard.
All in all, Bluetooth is very, very overhyped and very disappointing. Love the site. Keep it up."
---
From "P.H.": "I just purchased a motorcycle and my wife has also we would like to have bike to bike communications, here is the catch. I wear hearing aids. Normally when I wear them with a helmet they whistle (feedback) so I have to turn them off.
But I have found a solution for bike to bike communication. It is in the hearing aid itself using what is called the FM system. I put the device around my neck and my wife puts the "Microphone" around her neck.
When I put my aids onto FM system (it does not feedback as the microphone on the aids are Off) I pick up directly into my aids her voice from the microphone, to my device around my neck and directly to my aids, no wires…..
Problem is, what about her? I still have to get close and shout, but her hearing is great so it is not so bad.
Maybe the solution lies with hearing aid companies, like Phonak, my hearing aid company for the past 35
years…."
---
From "JimG": "From "T.H" (below): "Agreed!&= The problems we are trying to solve as consumers are:  Get rid of the headset cable that runs to the control unit. Actually, by now industry should have mastered the art of helmet speakers and microphone.
Any system produced needs to accomplish the following:
One time installation of the microphone and speakers to the helmet.
Standardized connections for item 1 for multiple helmet controller options (notes here): Allows vendors to produce various grades of basic helmet Mic. and speaker offerings.
Helmet controllers will be simply wireless connections for Mic. and speakers with either a detachable battery or detachable unit for easy recharging or helmet changing. Three helmets can be wired (for nothing almost) and you can transfer the controller to your choice of helmet. (as apposed to hard wired helmets, locked into the vendors plans of making you spend $400 buck per functional helmet ECT).
Items 1 thru 3 accomplish simple wireless connection of Mic. and speakers to some other unit. This keeps the helmet wireless and transfers all the business end of communications to the bike.
There are no other needs for the helmet whatsoever. This also leaves these two components open to helmet manufacturers, vendors ECT for product improvement.
Base Unit/Controller Unit: This is where most of the industry really has missed the boat. Lets walk through what this device should really do.
Requirements for base unit:
Compact logic unit: Installable on the bike out of the way and bike powered electrical.
Remote input cable assembly: To provide user determined location for inputs (Some may want all their gear in saddle bags, some may want their inputs up on the handle bars. . .who cares where just let us decide not the manufacturers.)Let's face it, these are simple stereo jacks or Mic. cables organized into "channels" or "inputs". We have mastered this a long time ago. No science, no re-engineering, no r&d costs. So here is your FSR radio, your MP3 player, your GPS, and your radar detector and phone (cabled inputs) all in on cable wherever you want with port inputs. Its all audio or Mic.. The control knows what is wired to what pins, so logical volume controls work based on priority.Almost all phones have the ear pieces with Mic. on the cord with a single plug. All very cheap. No reason we cant have a single plug on each end of a cable to plug our phone in and it not cost us 70 bucks. All MP3 players have a headphone jack and the 3.5mm to 3.5mm cable is a 4 dollar cable.The key point here is that all these cables are standard low cost cables. The goal is just to connect the device to the logic unit.
Bluetooth:Optional plug-in unit for the logic unit, with cable. This option would allow for all Bluetooth connections. This item should also have a standard jack for any control unit to allow multiple vendors.Bluetooth obviously for those that would like their phone to automatically pair to the bike when riding. This is the only real application for Bluetooth (see below)/Notes: Bluetooth is a secure wireless DATA medium. Let me say (type) that again. . . .secure wireless DATA!!!!!! medium. Bluetooth was never built for voice communications or wireless stereo for that matter. Why would we need a secure password to hear wireless radio for 30 feet???? Think about it.
OK, so at this point you must be wondering how this is supposed to work then. . .here we go:
Wireless communication between the logic unit and the helmet: This is the only wireless that counts. FSR radios can send and receive 18 miles. . .why would we want to compete with that capability???Cell phones can call China, not going to try and re-engineer anything there.Bluetooth is OK for a wireless phone conversation, but lets face it, Bluetooth has noise, doesn't work all that well and if we can reduce it's use to pairing it with our phone and stopping, life and our wallets will be a lot happier for it.I for one have no issues with a few 3.5mm cables for GPS, radar, and MP3. After all, all we want is simple headphone or left and right audio output to be feed to our helmet.So, what we need is a wireless method that can handle stereo and a microphone to the helmet. How far is that? 4 feet max? Well lets say we want to get off the bike and walk into the gas station and still be connected. Lets say 50 feet would in almost all cases be about as far as we would be from the bike with our helmet on and possibly need our Comms.Seems to me FM can do stereo for long range. Wireless phones at 900 MHz can do speaker and Mic. All we need is 50 feet from helmet to bike. Standardize on something for this. This is year 2008 right??? Apparently no one can engineer this. I think they can very easily. Lets be realistic though.
Radar detector: Audio input only (simple)
GPS: audio input only (simple)
MP3 Player: Best solution here would be a USB port and just play your music from a USB thumb drive (this would have to be built into the logic unit but well worth it). Now the remote touch pad to let you change either songs or folders.
Radio/Satellite Radio: This really is a separate unit that just needs the output feed to the system. Left/right audio input (simple).
Cell Phone: Add Bluetooth, setup the pairing, done. If Bluetooth is turned on at your phone, anytime you get near the bike and the logic unit is one the phone will pair. No muss no fuss just works. Best part is you turn off the bike ignition, phone is normal and usually helmet is off.
FSR radio: Simple plug, can be an as needed plug it in unit. $50 bucks buys you two Motorola radios with 18 mile range. You get to choose the radio, you get two, most are rechargeable, you can always upgrade.Finally, there is no reason why we can't have an adapter kit for FSR radios instead of buying completely different cables for different FSR radios.
So with this all said let me give you an idea of what COULD be:
Imagine if you will. . . .
XYZ helmet with Bose Comms built in! (remember standardized wireless for 50 feet) so all the helmet manufacturers could offer helmets with Comms built in and various degrees of quality. Since EVERYONE could offer this, competition keeps cost fair to, ummh, US!!!!!
How about Motorola FSR built into the logic unit and a remote vol/channel unit for the bars. Instant 18 miles plus of bike to bike communications with channel selection. No more rider to rider problems.
Better yet, the system is built so you can go buy the hand-held for under 50 bucks and plug them in. $50 rider to rider Comms. Its a beautiful thing.
More interesting would be a remote antenna option for built in FSR. We do have phones but for bike to bike if you need more than 18 miles of range, you really aren't riding together are you?
Even more cool, a remote bar mounted control unit with input selector buttons along the top (with LEDs for night riding), and a dayglow/nightlight pad with basic simple controls. How nice to adjust each channels volumes with a few taps, or changing FSR channels due to other local channel traffic.
And finally. . .imagine if you will:
A nice day, friends all meeting for a ride:
You grab your keys, unplug your helmet from charging, head out to the bike, put your helmet on, turn the key and your phone is automatically available via your helmet, you press play on the bar and your USB MP3 music comes alive, power on your FSR and confirm your channel for your friends, bike is warmed up, choke is off, and off you go.
You stop at the gas station, turn off the bike, get off and go about your business. No cables making you lurch or jerk so people around you don't stare at the moron on the bike with cables like space man spiff.
The whole time you are talking with your buddies either on the phone or via FSR or just enjoying your music while you fuel up and pay. Go on in and grab a drink for later and pay for it. . .your still connected to your bike and life is good.
Plans changed, everyone is meeting up 3 miles away at a different spot. You know about it at 50 mph and adjust without so much as a thought.
This is what it is supposed to be. And the base logic unit and helmet controller plus wires should not exceed 150 bucks. Audio channeling, 50 feet wireless, cables, and some rechargeable batteries are so common place and available in so many products for far less.
When 50 bucks can buy you 18 miles of wireless range, with 2000 channels and rechargeable batteries (times TWO units) plus base recharger for 50 bucks it is pretty obvious that our controller and logic units can be made at a comparable price also."
Editor's Reply: Wow! I'm with you. The only thing I'd add: as long as you've got those Bose speakers built in to the theoretical helmet, how about equipping them with the Bose noise reduction system?
---
From "T.H.":  "Your … site is my favorite motorcycle site online. Had to tell you that up front.
I was just reading the article comparing the latest updates to the Bluetooth intercoms that concluded with the disparaging state of Bluetooth for this purpose.
Couldn't agree more with the author. I also feel that the last comment (from K.W. [below]) is spot-on. I'm a sport rider and don't leave the driveway without earplugs in.
Not only do I find it seriously hard to believe that a 2mm thick speaker will sound like anything but crap through earplugs, but with most helmets, the speakers are extremely uncomfortable. I bought a set of Shure E2c earbuds long before I was in the market for an intercom and am in love.
They fit completely in my ear and therefore are comfortable, have awesome sound, and double as earplugs (can leave the music/intercom turned well down and still hear instead of damaging my ears on full volume).
So when I DID spend money on an intercom, I had one demand: It must allow for the use of my own earbuds. There was only one that did and that's the Autocom. Unfortunately, this required an adapter lead that cost $40 per headset and added another 3′ of (super-thick) cord to the already ridiculous tangle of cables, plus the added complication of now running TWO wires into the helmet. But at least it works (beautifully, I might add).
I'm still in the market for Bluetooth, though. Although the noise cancellation, connectability, and sound quality are A+ on the Autocom, it still requires you to use a proprietary headset pinout, is massively complicated, and tangles you in cables. I find I only use it if I'm riding longer than 150 miles (so three times a year) because it takes so long to put ON that it's not even worth it!
The current Bluetooth offerings are totally unappealing right now, unfortunately, or I'd ditch the spider web. The Interphone makes me drool with its ability to communicate with a bike a Km away! But what's the point when you can only connect to one device at a time?
If I'm on a group ride, why can't I talk to everyone in the group? Why do I have to ditch my pillion to communicate with another bike? So it's worthless to me.
The IMC Camos also makes me drool in that it apparently pairs with multiple devices and gets good battery life. But it doesn't have the range to make multiple device pairing worthwhile (i.e. bike to bike), so what's the point?
And even if any of these problems get fixed, there's still the issue of mandatory tiny speakers and proprietary mics and a big turd-looking thing sticking off the side of your friggin' head! (There is NO WAY an actual rider that has ridden faster than 40mph thought up the idea of sticking the unit to the side of the rider's helmet!)
If you have to shorten this comment down for the web page, here's the most important part, what I want in an intercom: I want a device the size of any of the above intercom base units that does nothing but transfer audio to and from a sending unit.
This egg or disc or whatever shaped device can be kept in a pocket or worn on a necklace or strapped to a glove because there is no proprietary headset attached to it. Instead, it's just got a standard 3.5mm jack for the rider to plug his own headset in. And another for a simple stick-on mic. (or one of those IASUS throat mics that seem PERFECT for this application!).
The base unit can be just like an Autocom or Torque or whatever: Just a box that you can put in your tank bag or mount to your handlebar or whatever.
This will be the communication center and connect via Bluetooth (or whatever) to several devices at the same time: rider and passenger headsets, mp3 player, phone, or another base unit on another bike (a la Interphone). Because it's not attached to your head, this base unit can have bigger and therefore longer-lasting batteries and can handle all of the noise cancellation and whatnot.
Maybe that's a lot to ask, but the technology is clearly already there just by combining several other products and in the process removing the bulk and wires from the rider's person (especially the side of his head) and giving him/her choice in headgear."
---
From "R.G.M.":  "Burn's article about BlueTooth Intercoms and the poor showing really hits home with me as I have found none that even interest me enough to buy and try. I use a wired Autocom system with Bluetooth module to connect my other devices and it works extraordinarily well. I would prefer a wireless headset for the helmet though.
The current Bluetooth gadgets are failures mostly due to poor implementation.
I don't think that Bluetooth suites our expectations of a wireless communications system mainly because the protocol wasn't really designed with these expectations in mind. Bluetooth expects to be paired to provide security so that unpaired devices can't listen in or inject information.
This "security" though is pretty bad and easy to overcome. Bluetooth was developed as a PAN or personal area network protocol and so is complex to deal with the complex systems for which it enables communications. It's not hard to enter a PIN and pair when you are sitting in front of a computer and the pop-up ask for the key.
The easiest way to provide what we are looking for is to use, as you mention, wireless telephone technology. With spread spectrum digital signal radios that are paired by touching each other and a second radio that allows Bluetooth devices to be paired to the set you get the function and convenience we are looking to have.
This would be best done in the 900mhz range for distance. Imagine having your headsets paired, having your Bluetooth GPS linked in and meeting up with a buddy to go for a ride. You touch your headsets and bingo you can talk to each other. The link simple expires after X amount of time not seeing the other device.
Both technologies are very well understood and radios are tiny now. Put this with some nice lithium batteries and you have a winning setup.
The only worse technology with Bluetooth are cell phones. The network providers cripple and sometimes completely disable Bluetooth to keep users from transferring data over free air."
---
From "H.B.C.":  "As you know I have been working with Bluetooth since its inception, and while it has never really lived up to its billing (the next version standard would help) and it can be extremely frustrating to work with (even when one is well qualified), it does have specific applications, both intended and incidental.
I feel that using Bluetooth for relatively simple and inexpensive communication devices has been more incidental or commercially exploitive . I appreciate that my comments might just add fuel to the fire of course.
However, having said this, and as an initial user of the Interphone device, and now having tested the Scala, I still see the Interphone as the best of a relatively (weak) bunch.
Interphone – the new Comfort Headset, supplied in the later packages or available as an accessory, overcomes most of the installation issues raised by most. We have two sets of the devices, with the original boom microphone headset mounted in our Nolan 102 flip helmets, and each of our other four helmets (Arai XD and Arai Corsair) have the new headset installed.
I agree that the noise levels can be noticed, but it never detracts from communicating. In dry conditions and in a relatively uncluttered radio environment, they cannot be beaten – we typically communicate at ranges from 500 to 1000m (1km), somewhat less once the batteries start to run down.
A typical charge, even after one year of use, provides 5 to 6 hours of use, longer if the connection is cancelled and restarted when needed (our typical touring status). Noise levels do increase, usually in damp or wet conditions or again, when the batteries start to run down. But, the systems always continue to work well.
Setup is simple and as long as the instructions are followed, the devices will be properly configured, quickly. I will agree that provided instructions are the pits, which is why so many of us re-write or write our own for distribution. The Interphone has never refused to be initiated, paired, or re-synchronized even when switching between or from another device, ie GPS.
Scala – noise levels extremely high compared to the Interphone, and battery life is also half, or less, than that provided by the Interphone devices. Setup and continuation pairing was always a problem. On the plus side, the dual headset is greatly appreciated and for this type of device, always will be.
Bluetooth technology and use – won't argue with the points and observations raised in general, however, unless or until something better comes along, I believe Bluetooth, outside of other longer range and higher power technologies already in use, remains a viable technology for personal communication/media devices. Does it need work – yes.
Do we have something better and simpler, and more (commercially) cost effective, right now – don't believe so.
As I have stated before, the technology, and the devices are not perfect, and I for one would be willing to pay a premium to get some or all of the requirements addressed and implemented, or offered up as upgrade options.
But, for now, our two little Interphone devices, which can be tucked away anywhere, even with their small charger, simply snap on and off in seconds between all our helmets…nothing else, for the price, has that simplicity, portability or function."
---
From "R.D.":  "Just a comment, as I don't know how I'd be able to add another comment in your Interphone Review section.
With the Garmin ZUMO 550, someone mentioned only 1.5 hours listening to the music. I got a full 4 hours out of it, even leaving it on while eating lunch or stopping for gas. However, turn-by-turn directions are never missed, sound is fantastic.
Oh, and by the way, you mentioned that you guys couldn't tell if the 'automatic sound level' thingy worked. At its loudest setting, that's just what it says: Loudest setting.
However, if you set it anywhere lower than the loudest setting, the sound level picks up as the ambient noise picks up. FANTASTIC FEATURE!  Keeps that annoying loud music to a minimum and I never have to use the loudest setting on the Interphone.
Still working with the intercom feature, as I haven't been able to get my wife out on the bike in these freezing 60 degree San Diego temps.
Interphone – Cell Phone:  Tricky, to say the least. Pairs up very quickly, but the Verizon Gleam might have a problem as I can't get the Interphone to answer calls even after following the "Voice Activation" feature instructions.
More later after I master this situation. May be the Gleam, as it wasn't really ready for the market when it came out and Verizon is still working out the bugs in it.
More later, as I get the chance to check out everything the Interphone is expected to do, and more."
---
From "L.C.":  "I am in the market for one of these units, but can't get past their present flaws. I like your design requirements, but would add/modify a few:
Compact design, but still glove-friendly- no micro switches.
Ability to simultaneously communicate with another intercom, a GPS and a cell phone without having to manually switch channels or the like.
Speaker volume compatible with ear plug use.
Let's put a number on how long it takes from opening the box to hitting the road- 30 minutes seems reasonable.
Unfortunately I feel the potential revenue in this niche market is somewhat un-enticing to the large firm that might be able to really pull this off, i.e. Motorola. Hopefully I'm wrong, because I really want one. Until then I'll spend $180 or so and find a cheap headset to work with my GPS."
---
From "K.W.": "Couldn't agree more with what you had to say about Bluetooth Motorcycle devices.
I have not used any of the obscure one's you test though. Why not test the top two, J&M and Chatterbox?
Also what I'd like to see in Motorcycle Bluetooth is the following.
HEADPHONE JACK, Don't lecture me about the law for communication devices requiring speakers not earphones.
None of these motorcycle devices are portable because of the design. I should be able to put the device in my pocket and choose the helmet I want to wear without all the connecting of the device to the helmet and cutting pockets for speakers, etc., etc.
3.5mm mic/audio jacks are a dime a dozen and I should have a headphone only choice if my choice is music and directions only from my Garmin Zumo. Adding a mic/headphone (not speaker) shouldn't be a problem either since a mic with Velcro truly doesn't take up any space.
So long as the manufacturers feel that their proprietary speakers and mic are making them money and not the device itself I will never be happy with what they offer."