(Sponsored Post)
How far would you go to win a fortune? Would you hop stark naked (but sporting a helmet!) on a motorcycle and race against the clock through the Irish countryside?
Someone in the sleepy town of Tulaigh Mhór (Tullymore), population 52, has won the lottery, and the town locals have tracked down the winner, Ned Divine. Immortalised in the 1998 comedy film, "Waking Ned," the poor old fella died of shock clutching his winning ticket; a huge smile lights up his otherwise moribund visage. There were more twists and turns in the plot than on the streaking bike route, but eventually the lottery man presents a check.
Motorbike routes around Ireland
For those who prefer to bike your way around Ireland fully clothed, the country is a haven of suitable routes. If you fancy yourself as the next Irish lottery winner, be sure to sign your ticket, update your will, and have someone with you when you check the numbers in case the shock proves too much for you.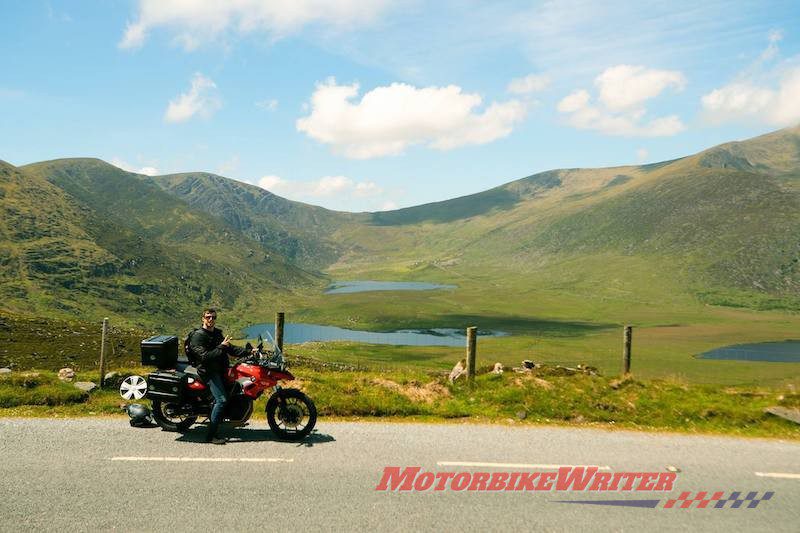 Wild Atlantic Way
At 2,500 km, this epic journey is the longest defined coastal highway in the world. The route is broken onto six regions, all of which make contact with the Emerald Isle's Atlantic coast and one of which passes near Tullymore. 
Northern headlands — As you might expect, this part of the trail begins at the extreme northwestern part of the island in County Donegal. Dubbed by National Geographic Traveller as 2017's "Coolest Place on the Planet," the unspoiled paradise that is Donegal offers steep granite cliffs, wild shores, and a chance to brush up on your Irish Gaelic.
Lighthouse enthusiasts take note: Donegal hosts two of Ireland's best. If time allows, climb up the 39 metre tower of Fanad Head Lighthouse, built around 1817 after the wreck of the HMS Saldanha in 1812. Somewhat shorter at 14 metres is St John's Lighthouse at the end of Ireland's longest peninsula. 
The Surf Coast — From Donegal Town to Erris is where you'll find some of the best surfing on the Atlantic coast, although where you'll strap on your board is anybody's guess. The golden red sands of Strandhill make a fine place for a picnic or a leisurely stroll to stretch your legs and clear your head. 

The Bay Coast — The westernmost part of Ireland stretches south from Erris to Galway Bay. Visitors flock here to swim, paraglide, kiteboard, dive and go kayaking. Here you will also find Wild Nephin Ballycroy National Park, 15,000 hectares of unparalleled scenery.

The Cliff Coast — From Galway south to North Kerry, you'll meet musicians in Doolin, puffins in Moher, and bottle-nose dolphins in the mouth of the Shannon River. One of the most popular spots in Ireland, the Cliffs of Moher host around 1.5 million tourists every year.

The Southern Peninsula — It's a coin toss whether you're closer to New York here or on the Bay Coast. With five peninsulas, the difference is only a gnat's whisker. There's plenty to see and do here, from paddle-boarding with dolphins to viewing crashing surf from the dizzying heights of a cable car or sailing to a World Heritage site. 

The Haven Coast marks the southernmost stretch of the Wild Atlantic Trail, extending from Bantry Bay to Kinsale via Skibbereen. The Old Head of Kinsale is rich with history having served as a wine port, a Viking grading post and the site of the wreck of the Lusitania.
Kinsale is also home to another of Ireland's great lighthouses, jutting three kilometres out into the Atlantic. Not accessible from the shore, it may be viewed from a distance via kayak or cruise.
The Wild Atlantic Way is one of many marvellous motorbike trails. If you absolutely must recreate David Kelly's wild ride to Tullymore in Waking Ned, with or without clothes as you see fit, you'll find it in County Donegal around 14 minutes' drive from St John's Point. Stop for a pint at Fitzgerald's pub if you can find it. With a bit of luck and a round or two, you just might be rewarded with a few tales of the tiny village's famous folklore. Who knows? Your pint could be served by none other than Ned's own son, Maurice.