Last year MotoGP made airbag race suits mandatory and now Dainese has produced an airbag vest for everyday riders that goes under a normal jacket.
Versatile vest
Many riders have different jackets for summer and winter.
It would be expensive to buy an airbag jacket for each season, so this idea of an airbag vest underneath seems handy for those who want extra protection.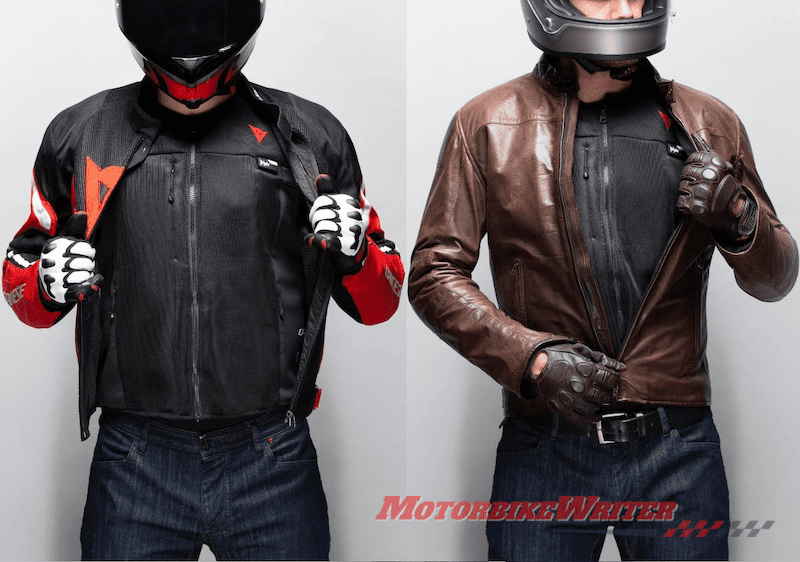 However, we wonder just how baggy your jacket would need to be to accommodate the vest.
Not only do you have to fit the vest under you jacket, but also allow enough room for if/when it inflates!
The extra layer could defeat the purpose of a ventilated summer jacket, but it is ventilated.
We wonder how it might limit movement, but Dainese says it is light and flexible.
It's not cheap at $US699 and replacement components after it has deployed will add to the cost.
Although what price do you put on safety? Dainese says the airbag vest is seven times more protective than the usual back protector.
The vest is also waterproof and abrasion resistant.
How it works
The vest uses seven sensors including GPS, accelerometers and gyroscopes to detect a crash such as low and high-sides, collisions and even being hit from behind when stopped at the lights.
All that tech depletes the batteries which need t be recharged after 26 hours of use.
After it's exploded, you then have to take it back to the shop to get a new airbag system. Apparently fitting is a quick operation.
It arrives soon in six sizes for men and women.