About five years ago I was at the annual Cycle World International Motorcycle Show, wandering around and looking at all the bikes. I stumbled across the Moto Guzzi booth and thought I'd take a peek.
I had only seen one Moto Guzzi "in the flesh" before, and that was a beautifully restored 850 Le Mans 1 from the '70's. I had seen Guzzis in magazines but never quite knew what to make of the brand. They all seemed to have odd names, like Stone and Nevada and California and Eldorado, and, I thought, they were equally odd looking.
To be honest, I just didn't "get" them. Until that fateful day, five years ago.
That was the first time I laid my eyes upon the Moto Guzzi V11 Le Mans, and it was love at first site. I'm not entirely certain what it was that got me hooked — but love is unexplainable, right?
I immediately returned home and told my wife that if there was ever an occasion to surprise me with a new motorcycle, the Le Mans was the one that I wanted to have.
A few years passed and obviously that wish never came to be. In fact, for a while it seemed that Moto Guzzi had ceased to exist — there was at least one year at the show that I don't recall seeing any Moto Guzzi presence at all. This was about the time that Aprilia came to the rescue, but they had problems of their own and the scooter giant Piaggio finally rescued both brands from financial ruin.
One good by-product of that time was a concept bike called the Griso, which brings us to our story today.
Time marches on, and two years ago, while wandering around yet another Cycle World show, I came by the expansive Piaggio booth and there amongst the scooters from Vespa and the Sportbikes from Aprilia sat a Griso.
The V11 Le Mans was no more — my heart was now possessed by a new love. I updated my wife and told her that the Griso had replaced the V11 and made sure that if she ever happened to have $13,000 laying around that was not allocated for anything else — and on the off chance that I had been very, very good — this was the bike I wanted.
Sadly, yet another year passed with no sign of a Griso in the garage, but at the next motorcycle show, there beside the Griso was a sign: "No Interest, No Payments for One Year".
If, that is, you buy before December 31, 2006.
Hmmm…let's see: I'm turning 50 next year and this would be an excellent present to myself and the "easy financing" terms could sell the deal to my wife….
Now the challenge was finding a dealer that wanted to sell me a Griso. There are two dealerships in the area and I contacted both via email. The response from one was pretty typical; lukewarm, but the other dealership fell all over themselves wanting my business. Guess which one I went with?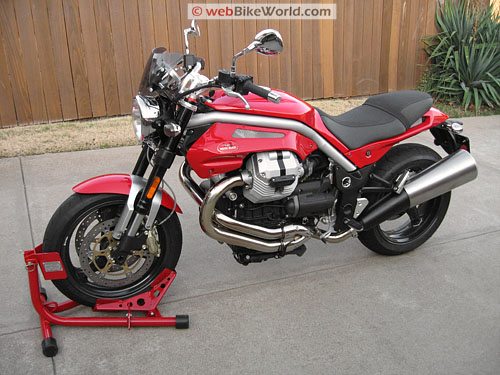 Even stranger was the general vibe of the dealership. We've all been in shops full of sullen, pretentious staff who act like you're doing them a favor if you want to buy a bike, right?
The flip side of that coin is the over-aggressive, hyper-active staff who only want to sell you the hottest Sportbike or dirt bike known to mankind and waste your time letting you know how uber-cool they are.
But this wasn't like any motorcycle dealership I'd ever been in . . . maybe because it really wasn't. This shop is owned by a scooter fanatic who has a collection of vintage and rare scooters on display in a "museum" in the back of the store.
He also owns  two shops and both are located in very high income areas that serve a very affluent customer base. These are people who consider dropping several grand for a Vespa, Piaggio or Aprilla pocket change. That Moto Guzzi comes with the Piaggio franchise deal is a bonus for this shop as it offers a high end "motorcycle" alternative to the scooter set.
I was a bit concerned, since they had only recently added Aprilia and Moto Guzzi brand to their stable — and since scooters account for probably 80% of their sales — that the motorcycle genre would be treated as an afterthought.
I couldn't have been more wrong.
After a personal call from the owner and almost an hour on the phone with him talking about motorcycles and scooters (and learning that the only group more fanatical than hard-core scooter lunatics are hard-core Moto Guzzi fanatics), it was a very simple decision to buy the bike from him. By the way, just so you know: the second oldest motorcycle brand in the world is Moto Guzzi, who just celebrated their 85th straight year of production.
One thing that the owner of the shop told me: Moto Guzzi owners ride first, talk later and they are serious about bikes.
That was encouraging to hear because people who ride don't have time for unreliable, finicky bikes. If you're working on a bike, you're not riding. I enjoy doing regular maintenance on my bikes as much as the next guy — but I would much rather ride than wrench.
So I ended up buying what I believe was only the second Griso they had sold. The first was bought sight unseen over the phone and delivered by them to a customer in Louisiana.
I've had the bike in once for the initial break in service and again when a pinched valve cover gasket started leaking oil, and the service has been so far beyond what I've ever experienced at any motorcycle shop and I couldn't be more satisfied.
The service manager is polite, he listens and he's focused on…customer service. He's committed to getting your bike fixed and back in your hands without delay. Seriously, it's more like getting your car serviced at a high end, luxury car dealership than a motorcycle shop.
But what about the bike?
The Griso is the first V-twin I've ever owned. All of my prior bikes have been inline fours, and the feel of the V-twin is so different than what I'd been accustomed to — but this is a good thing.
The Griso is more than just a stylish bike — and trust me, if you want to get looks on a motorcycle, then the Griso is like having your own personal spotlight following you around.
Whenever I'm in a crowd of bikes parked somewhere, people walk right past the dozen cookie cutter cruisers/sport bikes and gather around the Griso. If you're an introvert – buy another bike. My other ride is a Kawasaki Concours and nobody ever asked me about that, but people will roll down their window at a stop light and ask about this Griso.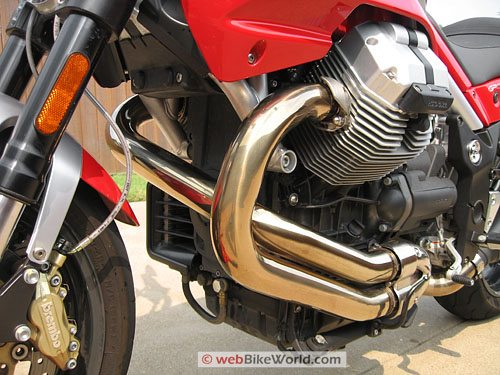 The Griso is also a great bike to ride. It loves to rev and it loves be ridden hard. The wide handlebars make it a breeze to turn even with its long wheelbase. The Brembo brakes stop RIGHT NOW. For a bike that's not a lightweight, it's very maneuverable and corners like it's on rails. Sure, there are sport bikes that can out accelerate, out-brake and out-corner it, but who cares?  The Griso doesn't claim to be a race bike.
If you appreciate a bike that balances performance and looks, this is your ride. There are side bag and rear bag options available from Moto Guzzi and other aftermarket sources like Hepco-Becker. There's a small "flyscreen" and a larger windscreen available from Moto Guzzi also; I mounted the small 'screen (see photo) and it does a serviceable job of helping to deflect the brunt of the wind from my body.
At 70 MPH and above there's plenty of lift to offset the slightly forward lean towards the bars. I don't regularly travel higher than 80 MPH and I don't find the buffeting that bad. If it was an all day journey at those speeds I would probably have a different perspective but that's what the larger screen is for.
I was surprised though that a 1100cc V-twin would "lug" as easily as the Griso does. I don't know if that's indicative of it being tuned for maximum horsepower at higher revs or not. It's not an issue in normal operation, since my responsibility as the operator is picking the right gear and RPM for the situation – just a little surprising.
The two other things that take getting used to is the ominous sound coming from the gearbox and drivetrain. But from reading the postings of long-time Guzzi owners, it seems that this is an aspect of the bike's "character".   There is a definite "sound" that goes with the gear change.
There's also a fair amount of play in the driveshaft linkage, so when you quickly roll off the throttle (especially in lower gears and at lower speeds) you can really feel and hear the linkage taking up slack. Again, other Guzzi owners say this is not outside the norm and not necessarily indicative of any specific problem.
Certainly at higher speeds, higher RPMs and higher gears, this issue diminishes greatly. I'm still trying to decide if my particular riding style exacerbates the situation. When I have a passenger I'm much more attentive to minimizing the "slack" since I'm trying to also minimize the "helmet to helmet" contact that often occurs with a pillion on board.
A couple of areas that really bring a smile to my face is the responsiveness of the engine. To me, when I'm on the bike, I feel like I'm riding a luxurious Supermotard. That seems silly given the obvious size and weight difference, but the Griso really does love to be ridden in a "spirited" manner if you catch my drift. The wide bars, slim seat and streamlined view from the cockpit encourage that feeling too.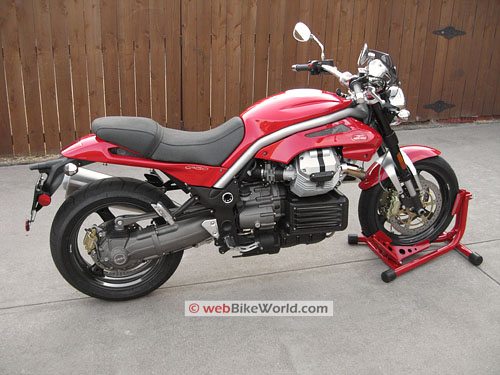 Another area that really is appealing on the Griso is the attention to detail that went into the design. The oil cooler on the right side is an example; this could have stuck out like a sore thumb but the designers made it fit into the overall scheme very nicely. The eccentric cam adjustments on the shift and brake levers are small items but well thought out.
Running the brake and electrical lines under the swingarm driveshaft to discreetly hide them from view is another example. And not using plastic reservoirs for the clutch and brake assembly on the handlebars is another little thing that adds to the overall polished look of the bike.
Even the design of the CARC swingarm assembly looks like as much thought went in to the aesthetics as the engineering. Of course, bikes do have "sex appeal" and this view of the bike from above brings to mind the curviness of other attractive Italians as well .
Several options are available to replace the somewhat large-ish stock muffler. I don't really have much of a problem with it but some people do and  there are several replacements available, including a right hand version that exposes the single sided swingarm and looks pretty cool.
Some things will need to be ordered either from a site overseas or from an outlet here in the states that will handle the transactions. That's probably standard fare for the more Euro-centric brands like Moto Guzzi, but it's a bit unusual for those used to buying from the large mail order houses that serve the United States.
New Moto Guzzi owners , join the MGNOC (Moto Guzzi National Owners Club) and you get a monthly newsletter about all things Guzzi. Also the Guzzi Tech website is basically a clearing house for information on the web for Moto Guzzi related content. There's also a very informative forum dedicated to the newer models, like the Griso,Breva, Bellagio, Norge and Sport 1200 with lots of great information and advice from seasoned MG users around the globe.
One of the most enjoyable aspects of owning a Moto Guzzi Griso is answering the question "What is that?". To answer that question, I've taken the advice of a poster on the Guzzi Tech forum: "It's a limited production, hand made, Italian motorcycle."
Usually, that answer results in a nod of the head and "Ohhh".
But, if the person really is interested in finding out more about this fascinating motorcycle that delivers looks as well as performance, more questions will follow. They will come to understand what makes this bike stand out from the cookie cutter cruiser and sport bike crowd.
If you don't want to see yourself at every corner, if you want something with unique style and modern technology that still respects what motorcycling has been for the last 85 years — then this is the bike for you.
Note:
 For informational use only. All material and photographs are Copyright © webWorld International, LLC since 2000. All rights reserved. See the webBikeWorld® 
Site Info page
. Product specifications, features and details may change or differ from our descriptions. Always check before purchasing. Read the
Terms and Conditions
!
Owner Comments and Feedback
---
From "K.B." (November 2012): "I´m a German guy and all the time had Japanese bikes like Suzukis and Hondas and at last 3 Kawasakis (now a VN1700).
Since March 2012 a have a 850 Moto Guzzi with Sidecar. It is a 25 year old Guzzi (850-T5) and I had to invest a lot of money to make it rideable.
But from the first minute on the sound the mechanic and all you can imagine what a bike can do to make you smile and happy, "She" did it. Of course she isn´t fast but she has a soul … she lives and in the sidecar my wife and our little dog are happy as well.
So we decided to sell the Kawasaki and buy another Moto Guzzi may be a Griso or 1200 Sport for me alone, because my wife decided to only drive in the sidecar.
Nobody can imagine what it means to drive a Moto Guzzi until he or she did it. Try it out and get the smile in your face, really it works… And never forget to say the magic words when you put her back to the garage : Gracie mille Signora 😉 Best regards from Germany, K.B."
---
From "M.B." (May 2012): "I have read the review and relative comments on the Moto Guzzi Griso. I live far from Italy and I have not had a bike for years, but my parents have both worked for years at Moto Guzzi and I was born in Mandello del Lario, where all Guzzis are born as well.
Reading such enthusiasm for Moto Guzzi from overseas gives me goose bumps and pride. I hope the legend will live for 85 years more and longer."
---
From "C.P.":  "Hi – read this excellent review – the owner should check with his dealer reference a gearbox technical mod (fitting two thrust washers) to quiet the gearbox and final drive. They will have a list of chassis numbers affected. It's free of charge."
---
From "R.C.":  "I really enjoyed the article today describing a new owner's delight with his new Moto Guzzi Griso. I am a former Guzzi owner, of a LeMans Mk II, which I bought 1 year old from a friend. It was an absolute delight to own and ride… Spirited and more fun than my previous R90S, with way, way more "curb appeal".
I rode it thousands of miles over 10 years, and to this day, regret having sold it. Last summer I was able to ride the Griso at a demo day, and it really rekindled my love of all things Guzzi. If I hadn't just bought a Ducati S2R 1000, I would likely have purchased another Moto Guzzi. With the new swingarm/shaft drive set-up, it's a great ride, and it seemed to have the best shaft drive handling on the market today.
I never really notice the 'cookie cutter' bikes everywhere, but I still turn my head and look, whenever I hear that Moto guzzi rumble… If you change the pipe, you'll understand…"