Motorcycle Airbag Jacket Review Summary
Motorcycle Airbag Jacket Image Gallery
Potential for motorcycle riders not quite realized.
Back in the old days, automobiles didn't have seat belts or padded dashboards, much less "passive restraint systems" like airbags.
Airbags were something you read about in a Popular Mechanics magazine "Cars of the Future" article.
Why would anyone possibly need or want an airbag?
Mention the words "motorcycle airbag jacket" and you'll get about the same 1960's type reaction.
Let's face it, most motorcycle riders in the U.S. think of a T-shirt and high-top sneakers as protective riding gear, and many states are actively working to eliminate helmet laws.
Why should anyone want a motorcycle airbag jacket?
But webBikeWorld visitors are smart, and any new technology that has the potential of providing better safety is of interest.
Motorcycle airbags are at the very beginning of working their way into the general riding public's consciousness.
If you haven't seen one, it's hard to imagine what they look like or how they work, many people envision some type of bulky backpack, styled by the Geek Brothers.
But the future is now, and the motorcycle airbag is here and ready for retail.
MotoAir is a Taiwanese firm that has developed a fashionable array of airbag jackets for motorcycling and an array of outdoor activities, including water sports, scooter riding, bicycling, horseback riding and others.
My guess is that you'll soon be seeing more and more motorcyclists equipped with these products on a road near you.
In fact, I'll go out on a limb and predict that some day almost all motorcycle jackets (and maybe pants?) will offer the option of an airbag lining.
Until then, MotoAir has a large selection of airbag jackets ready and waiting.
Styling and Details
The summer mesh jacket (Model YR5010B) shown here is just one of many different styles available. MotoAir offers both 3/4 length and short motorcycle jackets, several of which include CE-approved armor in addition to the airbag.
ests (or waistcoats) are also available, and they can be used under all types of motorcycle jackets, providing there's enough room for the airbag to inflate.
The Model YR5010B is a quality garment that could very well stand on its own even without the airbag insert.
It's made from the now somewhat ubiquitous nylon mesh hot weather fabric, albeit denser than I've seen on other summer mesh products.
The jacket has decent styling and a full-length internal open mesh liner.
It seems to be sewn together carefully and it's very comfortable. It also includes 3M Scotchlite reflective piping that demarcates the red fabric from the black.
The waist and the sleeve cuffs do their job with the liberal use of sewn-in elastic, which gives the garment the comfort of a casual golf jacket.
There's a "hook and loop" type fastener at the bottom of the jacket that secures the zipper, and quality YKK lightweight zippers are used throughout.
The neck has a short (about 55mm, or 2-3/16″) collar, lined with a very soft velvet-like material and a snap closure.
Jacket Details
The jacket has two external slash hand pockets, each 160mm wide by 160mm deep (~6-1/4″).
These pockets are lined with nylon, but they don't have a zipper or other type of closure.
This limits their usefulness, but I try to make it a habit not to carry anything in my pockets when riding anyway, especially hard items.
I have two fears: one is that something important will go floating out of a pocket whilst I'm riding; and the other is that I don't relish the thought of bouncing a rib against, say, a cell phone during a crash.
An additional chest pocket on the left-hand side is about 130mm wide (~5-1/8″) and 170mm deep (~6-3/4″), and has a zipper closure.
An internal pocket lives just under the jacket's left flap; this pocket does have a zipper closure and is about 140mm wide (5-1/2″) by 130mm deep (~5-1/8″), and it's useful for stowing something soft, like a wallet.
This summer mesh airbag jacket has a neat feature:  the sleeves are removable, turning it into a vest that can be worn alone or under other types of motorcycle gear.
Just be aware that the MotoAir jackets all fit slightly bigger than normal to make room for the inflated airbag, so if you use the vest under another jacket, make sure there's enough room for it to inflate (more on this later).
Each MotoAir jacket includes an airbag vest fitted between the outer shell and the inner liner.
The jacket has the appearance of a motorcycle garment and the airbag functionality is not noticeable.
But the airbag's design differs, depending upon the intended use of the jacket (e.g., motorcycling, horseback riding, skiing, etc.).
The jackets that are designed to be used when riding a motorcycle include a large upper section that emerges from the back of the jacket's collar when the airbag is deployed, and is designed to cushion the rider's neck area.
The airbag is made from a thick vinyl material, probably similar to what one might find in an airliner's life vest or other inflatable marine personal safety device.
It consists of several roughly tubular-shaped chambers, two in the front of the jacket, and two running up the back of the jacket.
There's a figure-8 shaped set of connected tubes that cover the back; one circles around the upper back and one down low.
Airbag Jacket Inflation
The process of inflating the MotoAir airbag is fairly simple. The MotoAir airbag is not inflated with sodium azide or the other harmful explosive materials that are used to inflate automobile airbags.
A simple compressed carbon dioxide cylinder is used instead.
Each airbag has a triggering device that is can pierce the carbon dioxide cylinder when mechanically activated.
The trigger is attached to a 2mm thick plastic covered cable with a breakaway device in the middle and a safety clasp on one end.
The clasp must be attached to the motorcycle; to do this, MotoAir supplies a couple of extra lengths of plastic covered cable with screw ends.
One of these can be used to loop around the motorcycle's frame, or some other sturdy attachment point on the bike.
When the rider is ejected from the bike, the force on the cable triggers the pin that pierces the carbon dioxide cylinder, and the idea is that the weight of the rider's body will cause enough force for the breakaway connection to separate.
The carbon dioxide cylinder is located on the outside of the airbag in the area of the right hip.
When the airbag inflates, presumably the inflated airbag will protect the rider from landing on the hard metal cylinder and triggering device.
The airbag is reusable by simply unscrewing the empty cylinder and replacing it with a new one.
The inflatable neck section of the airbag must also be tucked back in under the jacket's collar and the "hook and loop" closures hold it until next time.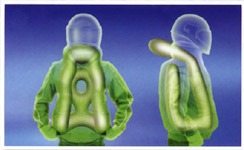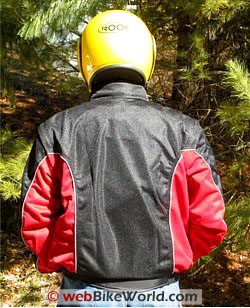 Where to Mount the Release?
It may be difficult to find a location on some motorcycles near enough to the cable to get everything connected.
I'm not sure what the maximum recommended length for the entire cable assembly should be; I assume that if it's too long, the rider might theoretically be too far away from the bike before the airbag deploys.
It takes a few rides to get used to hooking oneself up before starting out, but it can quickly become a habit, similar to buckling a seatbelt before driving a car.
I'm also not sure how a rider's body weight comes into play with the adjustment of the breakaway device.
There are a couple of screws on the breakaway unit, so I assume it can be adjusted, but I didn't find any directions that described this.
MotoAir is in the process of setting up U.S. distribution, so perhaps some of the details will be worked out later.
There's enough play (about 30-60cm, or 12″ – 18″) in the coiled cable to allow dismounting with the device still attached, but it's not hard to remember that you're connected to the bike.
As soon as I swing a leg off my bike, I can feel the tug of the cable, saying "Hey, remember me?".
The directions indicate that it takes somewhere around 8-12kg (~17-26 lbs.) of force before the airbag will activate, so it's unlikely that it would inflate just by walking away from the bike with the cable still attached.
The airbag assembly doesn't seem to add much weight to the jacket. It's hard to tell, because it isn't possible to remove the vest from the jacket, but the entire jacket only weighed in at about 4 pounds.
It feels slightly heavier than a non-airbag equipped mesh jacket, but the extra heft doesn't seem noticeable.
Now I really don't know how much extra protection the airbag might provide, and I'm sure no one will offer any guarantee of its performance. Sorry, but I don't plan on crash-testing it to find out!
I can say that when the device is triggered, it instantaneously (or thereabouts) inflates, and it immediately forms a very tight layer around the body.
The jacket goes from feeling like it's about one size too big to feeling like it's about 3 sizes too small in very short order.
The zipper must be completely closed for the full effect; in fact, I'm kind of surprised that there isn't some feature that forces the wearer to zip it all the way up before riding.
It would seem that much of the potential protection would be neutralized by an open jacket, because the airbag wouldn't be able to tightly hug the rider's body.
The combination of the airbag and the jacket sure seems to me as if it would provide extra protection in a crash.
I can't, for example, imagine voluntarily tossing myself onto the ground without the airbag inflated, but it wouldn't take too much of a bet — maybe a single pint — to get me to try this when the airbag is full.
So I have come from a perspective of not considering a motorcycle riding airbag device as anywhere within the realm of possibility to now having the opportunity to try the MotoAir product.
I can easily foresee a day when this feature could (and probably will) be added to any type of motorcycle jacket.
I would like to have all of my riding jackets equipped with airbags…
Conclusion
Some questions remain though, like how to adjust the breakaway device and the length of the attachment cable based on body weight.
Or, if an airbag can co-exist with armor inside a motorcycle jacket. And also what is the optimum expansion size of the airbag?
Since the airbag expands to several times its original size, it might not work when worn with a motorcycle jacket that's more confining than the MotoAir summer mesh.
It would be nice if an independent standards organization ran some sort of tests to determine the efficacy of the airbag, which could help determine how much, if any, extra protection it does offer. I wonder if in our litigious era perhaps no one wants to take the responsibility?
Too bad… But if gut feel still means anything, I would have to say that if I had to crash, I'd rather have my airbag vest between me and any immovable objects.
w

BW

 Review: MotoAir Motorcycle Airbag Jacket
Manufacturer: MotoAir
List Price: Varies with model.
Colors: Red/black and blue/black.
Made In: Taiwan
Review Date:

 

April 2004
Note:
 For informational use only. All material and photographs are Copyright © webWorld International, LLC since 2000. All rights reserved. See the webBikeWorld® 
Site Info page
. Product specifications, features and details may change or differ from our descriptions. Always check before purchasing. Read the
Terms and Conditions
!
Owner Comments and Feedback
---
From "L.M.M." (6/09):  "Just wanted to add my 2 cents. I bought a hit-air style airbag jacket …It is from Japan.
I low-sided 6 months ago and the jacket inflated when the bike slid away. Not a single bruise above the waist and I hit and slid hard. I recommend these to everyone now."
---
From "R.P." (4/09):  "I bought an airbag jacket jacket … at the Excel Bike Show earlier in the year.
I had the misfortune of coming off my bike a couple of weeks ago. I was doing about 60 MPH when a car pulled out on me and I simply had nowhere to go. I managed to avoid the car but came off the bike.
The airbag jacket inflated and absorbed all of the impact and i simply stood up and walked away. Unfortunately my bike was in bits!
I can honestly say I owe my life to my airbag jacket! I would highly recommend them to anyone and would not consider riding without one again."
---
From "D.W." (3/09):  "I bought a jacket … at the Ally Pally Bike Show.
I am not very happy with it as the neck surround is too high, constantly catching on my helmet when I try to do my lifesaver checks. There is no lining on the neck surround so it scratches every time I turn my head.
Also the metal clip has done a nice job of scratching the paintwork on my bike.
I have tried to resolve the above by getting the neck surround lowered by a tailor on the basis that it's worth it if it saves my life but I would look at the Japanese version – www.hit-air.com which has a vest option to go over any jacket and is far more comfortable."
---
From "M.C.":  "I recently saw a news report of a rider in Maryland being the first in the US to be saved by an inflatable Impact Jacket. I was so impressed by what I saw, I tried to order a vest.
They were out of stock (apparently I wasn't the only impressed viewer), so they offered to send me their new Delta Cruiser jacket for the same price as the vest. Have you guys reviewed these jackets?  The technology is really different and warrants your serious attention.