Morning After Ride 2012
ABOVE: We meet behind Hobbe's.
THE MORNING AFTER RIDE 2012
RIDE 'EM, DON'T HIDE 'EM!
As a follow-on to the Clubmans Show on Saturday, March 31, 2012, the BSA Owners Club of Northern California (BSAOCNC) sponsors the Morning After Ride. It's their invitation to the show entrants to take their lovely old classic & vintage bikes out onto the road for a little ride through the mountains. The Santa Cruz Mountains, to be exact, with pine forests, apple farms, rolling hills, groves to tall redwoods & quaint little towns with funny names like Pescadero and Bonny Doon. This is the 25th year for the Clubman's Show, and it was a record turn-out. And so this Morning After Ride 2012 was also one of the biggest I have participated in.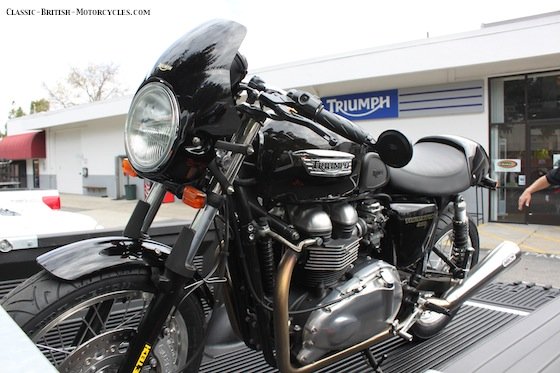 Loading the Thruxton in my rent-a-truck, outside California Triumph-BMW-KTM in Mountain View CA.
---
MORNING AFTER RIDE 2012
I BORROW A THRUXTON!!
I've been so busy preparing for the Clubmans Show, that I never got my '79 Bonneville done. With the Morning After Ride looming, I had a decision to make. I could ride my '08 Harley Dyna, but felt it would be out of place with this vintage British group. So, I visited my local new Triumph dealer (they also sell BMW & KTM), CalMoto in Livermore CA & spoke to the owner, Mike Meissner, with a crazy idea: Loan me a new Triumph for the Morning After Ride & I will do a story about it (good publicity for him). He generously offered me the use of his own personal bike, a 2009 Triumph Bonneville Thruxton. Being without truck, I rented a U-Haul on Friday before the Clubmans & headed for Mountain View, where the bike was located, at his other store, California Triumph/BMW/KTM. What a bike!!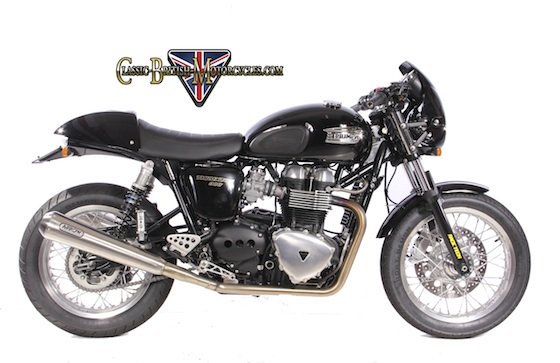 I couldn't resist doing a photo shoot of this gorgeous bike!
---
MORNING AFTER RIDE 2012
THE THRUXTON: WHAT A MACHINE!!
When I arrived, Mike gave me a walk-around on the bike, showing me all the basics I would need to know about it, as well as the many cool mods he had made: titanium Arrow exhaust, upgraded suspension & brakes, cool hand controls, custom rearsets, the works. It was freshly serviced & he had just installed new tires. Honestly I was glad I was picking it up in a truck rather than trying to ride an unfamiliar bike home from an unfamiliar area through 40 miles of traffic. I still had the Clubmans Show to do the next day, before I could get much of a chance to ride it, but I took it for a quick spin around the block, just the same.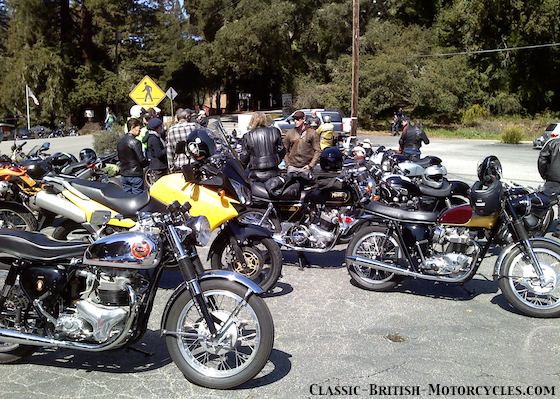 A gaggle of gorgeous Brit bikes out for a day's ride.
---
MORNING AFTER RIDE 2012
A 90-MILE LOOP THROUGH PARADISE
I got up early Sunday morning, pooped from a big day at the Clubmans Show the day before, and rode the 45 miles from Pleasanton to Los Gatos. We met up, as we do every year, behind Hobee's Restaurant in Downtown Los Gatos with a scheduled departure time of 10:00 am. The Thruxton got plenty of attention as I pulled in. There were some other modern Triumphs there as well, but I think I had the only Thruxton. After maps & a quick meeting we were off, first to Saratoga, then out Highway 9 & into the hills. This is some of the most beautiful riding country on Planet Earth, I feel blessed to live so close to it. There are hills & trees, & dense forests of pine, then groves of tall redwoods, punctuated by lovely valleys with little farms and apple orchards, and cool little houses. The smells always impress me. First you smell pine, and the air is cool, then you break out into the sunshine as you pass a field of grass waving in the wind, you can smell it. Then you're back into dense forest, this time they're redwoods, and when you pop out, you can see the Pacific Ocean and smell the salt. God! It's no wonder I ride!!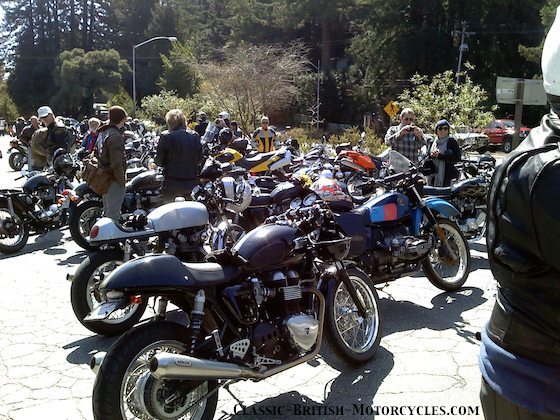 A typical Sunday at Alice's.
---
MORNING AFTER RIDE 2012
FRIENDLY & WELL-ORGANIZED
As is the case with every BSAOCNC ride I've been on, it was well-organized, and full of friendly people who all seemed to be in a universally good mood. The weather, while a little chilly, was clear & bright, with blue skies topping off a perfect day. We rode the first loop over about 2 hours of gorgeous twisties, then ended up at the legendary Alice's Restaurant for a break. There are usually a hundred or more bikes at Alice's on a weekend anyway. But we added to it with our masses of cool old Brit bikes, and in my case, cool new Brit bikes. The Truxton performed brilliantly, by the way. And the roads were nothing short of fantastic. At one point along Skyline Road, riding along the ridgeline you can look to your left and see the Pacific Ocean, and to your right and see the San Francisco Bay.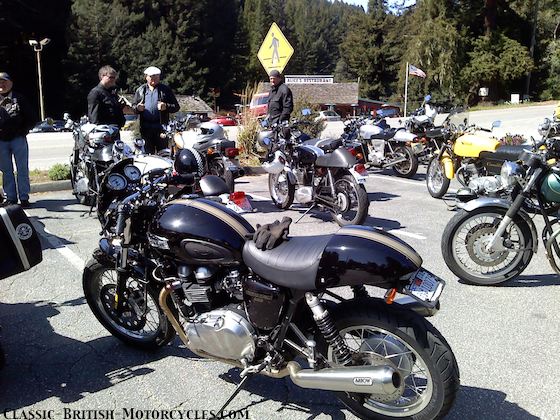 The Thruxton at Alice's. You can see Alice's sign in the background.
---
MORNING AFTER RIDE 2012
AN AMAZING RIDE
After an appropriate amount of leg-stretching, our lumbering group took off again, for the second half of our ride, this time towards the coast. We rode past tumbling creeks and towering redwoods, through hill and dale and through it all, the Thruxton was a pure pleasure to ride. As smooth as silk at all speeds, it always had good pulling power no matter which gear you were in, even if you came out of a corner in too-high a gear. The handling was impeccable and the suspension just soaked up the bumps. Mind you, I'm accustomed to classic British bikes, so all of these things seem like high-tech luxuries to me. My only complaints were the riding position, which probably appeals to many people, but not to me so much (a little too bent over for my weary old bones), but I got used to it. And of course the ride itself was nothing short of breathtaking. The scenery in the Santa Cruz Mountains and the California Coast are among the best anywhere, and the roads are fantastic for motorcycling (except for all the bicyclists clogging up the roads on this first nice day of the season).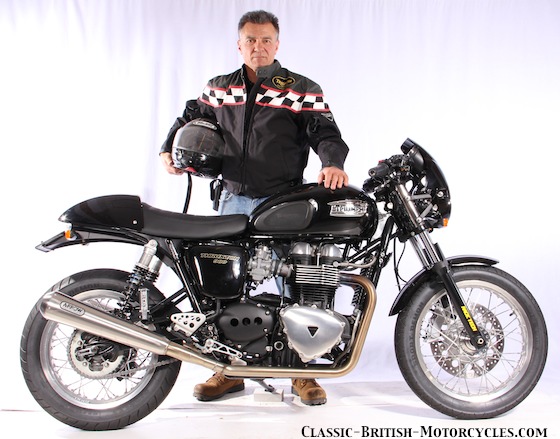 Yours truly, A.C. Tallone, with my Thruxton-for-a-day.
MORNING AFTER RIDE 2012
IT'S BEEN A LONG WEEKEND
After all the preparation going into the Clubmans Show, then working the show itself with my photo booth, and doing some judging along the way, I also had to rent a truck to pick up the bike on the other end of the Bay Area from me, then do it again on Tuesday to return it. But, riding with good people on this incredible bike seemed to make it all melt away. I had a wonderful day, capped by a lunch at Hobee's Restaurant upon our return to Los Gatos around 1:30. Good company and lively conversation accompanied the food. I rode home and called it a day, only to get up on Monday morning and re-erect my photo backdrop & lights to do a photo shoot in my garage of the Thruxton. When I returned the bike on Tuesday, I brought Mike Meissner 2 gorgeous 13″ X 19″ color prints of his bike as my way of saying thanks. But, in the end this will be good for him in another way. Because now I'm hooked on getting a new Triumph Bonneville for myself, not a Thruxton, but the retro-styled Bonnevilles that follow the classic lines of the 1960's Meriden Bonnevilles. I was blown away to find that they sell for less than $8,000. I could hardly believe it. I'll have more than that into my old '79 T140D Bonneville 750. No wonder they can hardly keep them in stock. Now I just need to see if I can own a site about classic Brit bikes, but also own a modern one. Hey, I know guys in the BSAOCNC with 30 bikes, that all run, of all sorts. So, why worry?
NEW TRIUMPHS
If you're interested in knowing more about the incredible motorcycles that Triumph is building today, contact CalMoto at (925) 583-3300, and make sure to tell them you heard about it on Classic-British-Motorcycles.com.