Motorcycles are the fastest-growing form of transport – and fun! – in Australia.
Motorcycle registrations have increased by 22.3% in the past five years, according to the Motor Vehicle Census.
Registrations stood at 807,215 in January 2015, compared with 660,107 in 2010 and 780,174 in 2014 which is an annual growth rate of 4.3%.
Growth in registrations last year was 3.5%.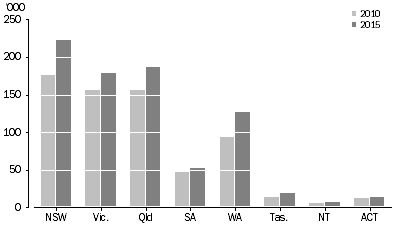 That compares with light rigid trucks at 4.1%, campervans 3.9% and light commercials 3.5%.
Motorcycles represent 4.5% of the more than 18 million registered vehicles in Australia and over the past five years the average age of bikes has increased by one year.
Top two-wheel state is NSW with 222,111 registrations, followed by Queensland with 187,167, while Western Australia and Tasmania have recorded the highest growth rates, up 35.4 and 30.2 respectively.
Remember, these are census figures and the actual figures may be even higher. For example, the Queensland Government says motorcycle registrations stand at 190,283 at the end of 2014, which is 3116 or 1.6% higher than the census figures.
If you project that across the nation, we are much closer to the magic one million registrations.
Motorcyclists are truly becoming a force to be reckoned with! So why are we still largely ignored and treated so badly by the politicians and bureaucrats?
While registrations are up, sales of new motorcycles, scooters and ATVs in the first half of this year were slightly down by 1.3% to 51,578, according to the official figures released by the Federal Chamber of Automotive Industries.
Road bike sales were solid at 0.08% to 21,668, ATVs were up a whopping 11.3% to 11,049, while scooters continued to slide, down a massive 25.9%, and off-road motorcycle sales were down 5.8%.