This air pump can be used for motorcycle tires — it's easy to carry and can be powered from a motorcycle battery or other 12-volt battery.
I was on the lookout for a cheap, lightweight and effective motorcycle tire air pump.
This would be something to carry in a saddlebag or tank bag in case of a flat, or to use at home for inflating motorcycle tires.
Motorcycle tires should always be checked before each ride to make sure they are inflated correctly, so it pays to have a simple air pump handy.
I have a flat repair kit, that I usually only carry on long trips, but it won't do much good if I can't get the tire inflated.
After looking around at hand pumps, cans of tire inflator gas, CO2 cartridges, etc., I happened to read a post on a motorcycle email list that discussed converting an air pump.
It said that if you can find a small, inexpensive Campbell Hausfeld air compressor, you can rip the guts out and make a small and lightweight pump that can be used for motorcycle tires.
I'm not the only person to think of this — there are other websites out there with similar information and some photos.  But I was definitely intrigued, so I had to try it for myself, and I figured I'd post this information for others to see.
It's very easy to turn one of these small air compressors into an even smaller carry-on motorcycle tire air pump.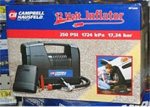 Here are the instructions for making this motorcycle tire air pump:
If you really get carried away, you can strip this pump down to the bare essentials by cutting down the air hose and electrical cable to minimum lengths.
I elected to leave my cables at full length; I figure that the whole assembly is pretty small, and you never know when you may need the extra length to pump a buddy's tire or to connect to a car's cigarette lighter.
Plus, I planned on using this in the garage, and leaving the length as is makes it easier to get to my motorcycles.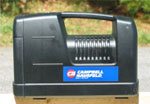 You should be able to find this Campbell-Hausfeld RP1200 (or similar) air pump at your local Wal-Mart (Photo 1).  I found mine just by chance for $9.96.  A definite bargain!
Take out the 3 screws at the locations shown in Photo 3.  Split the case apart — it may take some force with a screwdriver, but there's really nothing in there that can get hurt.  You'll hear some serious crunching, but this part is trash anyway.
Note:  wBW Visitor "J.M." wrote to tell me why I probably had to use a screwdriver to force it apart — a fourth screw!  He writes: "Yes, I bought one of the Campbell-Hausfeld compressors at Wal-Mart. This is really a nice small package.
My comment is that in your instructions, you say to remove the three screws when there is actually a fourth screw hiding under the pop off cover. Using a knife to slice the stickers along the seams allows the case to easily separate".  Thanks J.M.!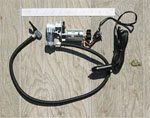 Rip out the guts!  Here's what you're left with, shown in Photo 4 (minus the clump of grass on the right-hand side of the photo!); the only difference is I used some electrical tape to attach the on/off switch to the cable.  That's a 12-inch scale at the top of the photo.
I didn't cut the electrical cable and the air hose to make them shorter, although you can do this if you want an even more compact assembly.
The arrow in Photo 5 points to the fan that keeps the pump cool when it's in the case.  I used a hacksaw to cut the shaft to remove this piece; I figured I wouldn't need it, since the case is history.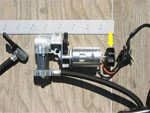 Be careful if you do this — the shaft that the fan runs on is made of some pretty tough metal, and you don't want to bend the internal part of the shaft.smaller carry-on motorcycle tire air
Note:  For informational use only.  All material and photographs are Copyright © webWorld International, LLC – 2000-2011.  All rights reserved.  See the webBikeWorld® Site Info page.  NOTE:  Product specifications, features and details may change or differ from our descriptions.  Always check before purchasing.  Read the Terms and Conditions!