This is a long overdue Quick Look of the Micatech Roof Racks — it has only taken six months or so to complete.
But in reality this is OK, as it has been time well spent in validating the functionality and durability of these versatile and attractive additions to my aluminum panniers.
Need some additional capability to carry stuff? Whether you think so or you just want to look gnarly, the Micatech Roof Racks will do it: simple in design, superbly functional and a piece of cake to install.
The evenly spaced wide and narrow cutouts are perfect for using ROK Straps (wBW Store)
, the middle slot cutouts form comfortable carry handles and the two round cutouts are perfect for holding drink containers, including Tim Horton or Panera coffee cups!
Micatech is renowned for their unique and totally functional luggage components: quality is second to none. For the price and for what they do you can't go wrong with a set of Roof Racks.
Roof Racks for Motorcycles?
This might sound a little off the wall, but trust me, it will make sense shortly.
While attending the BMW RA rally in Pownal, Vermont last July, I purchased a newly released product from Micatech for the F800GS, marketed as the Pack Rack. As is the usual routine at many rallies, I brought the motorcycle up beside their stall to install it on the spot; that it was located inside the (cooler) main display hall was just bonus.
In taking the SW-Motech plate off and getting ready to fit the Pack Rack, all while participating in multiple discussions with other GS owners who were all basically doing the same thing I was, a black rack welded to the top of a new Micatech V2 pannier caught my farkle eye.
Turns out it was one half of a set of the Micatech "Roof Racks" that had been custom welded to a set of Micatech V2 panniers mounted on a Yellow F800GS belonging to a fellow Canuck. When I asked Sue of Micatech if they were for sale, she reached under the table and offered up a production set to try.
I know there is probably a story behind the "Roof Rack" name, but needless to say once I had positioned them on the lids of my BMW Adventure panniers, there was no doubt about it — roof racks they are.
A black powder-coated set was dug out and the deal was sealed on the spot. Showing patience for a change, I didn't actually install them until after reaching home. But some double-sided tape and a set of trusty small ROK straps kept them in place during the ride back. Where else was I going to carry them and show them off?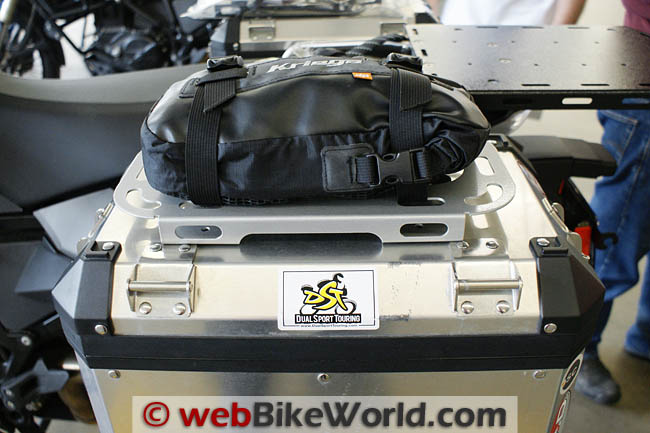 What Are They?
The Micatech Roof Racks are small and very lightweight components and they are an easy way to add some stylish extra carrying capacity to a compatible set of hard saddlebags or panniers.
The precise bends and folds reflect extremely close tolerances and high build quality, like everything that comes out of the Micatech workshop.
Made of sturdy 2 mm aluminum, each Roof Rack measures 13.5 inches long by 6.75 inches wide and 1.0 inch high. The four mounting points or holes are seven inches apart (lengthwise) and five inches apart (widthwise). With large circular cutouts provided on the surface of the Roof Rack, mounting them up is very simple and a set can easily be done in 30 to 60 minutes typically, including some admiration time for a job well done.
A lot of thought (experience) went into the shape and placement of the cuts, folds and cutouts on the components and as such, most users will have no trouble in putting them to good use immediately. Numerous side and top slots make perfect pass-through points for straps or small hooks, as do the top slots. Long-oval surface or deck cutouts are perfectly placed to form a centre carry handle. Two 2.67 inch (68 mm) round cutouts on each surface can even hold most standard beverage containers.
Designed as an accessory for the new Micatech V2 Cases (which look perfectly at home on the F800GS) the Roof Racks are sized for the Micatech Pilot cases as well. As such, they are more than suitable for a wide variety of other hard case or pannier systems, like the BMW Adventure luggage that is available for the R1200GS/GSA and F650/800GS models.
The Roof Racks come in black, silver (aluminum) or grey to match most cases. A simple instruction sheet and a small bag of stainless steel hardware including some compressible seals to provide a water-tight mounting is included with each set of Roof Racks to make installation a one-stop event.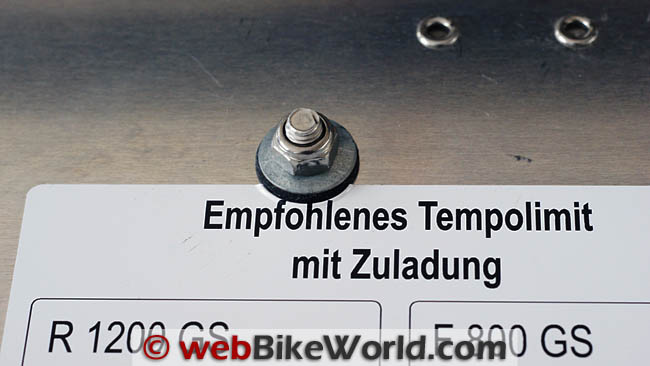 Installing the Roof Racks
Installing the Micatech Roof Racks couldn't be easier, especially when they are going on the flat aluminum lids of BMW Adventure panniers.
Despite a tailored shape designed for each individual pannier, the lids are of uniform shape and identical, so getting a balanced installation and look is guaranteed — if one drills the holes properly, of course.
Although I could have made a paper template, once the individual Roof Racks were positioned on each lid, with some duct tape hold them in place, a thin lead pencil inserted straight down through the mounting holes made a centre mark needed for the starter hole.
After drilling a small diameter starter hole at each mounting point, I drilled the holes out just slightly oversize for the supplied 6 mm bolts. Another ten minutes with a fine rat-tail file cleaned the holes up top and bottom — which is an important step in providing a flat surface for the underside water seals that compress as the bolts are tightened up.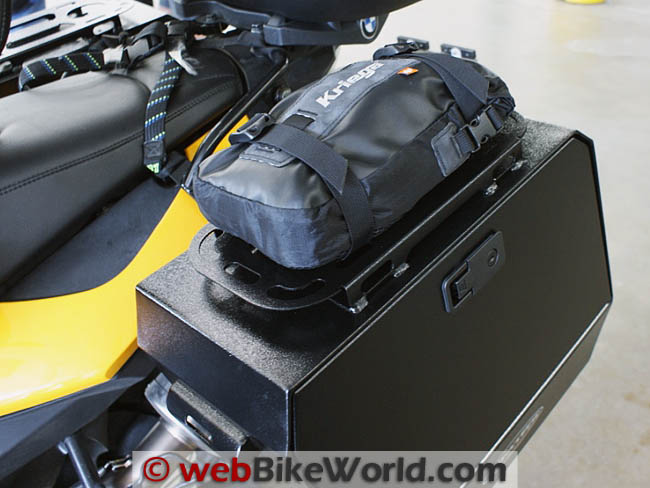 Conclusion
For a crusty adventure-touring type like myself, the Roof Racks are hard to resist….so I didn't. What more can I say, they handle anything, take no maintenance and look great.
More: Micatech Pack Rack and Top Case Review
w

BW

 Review: Micatech Roof Racks
Manufacturer: Micatech
List Price: $75.00 USD
Colours: Black or Silver.
Made In: U.S.A.
Review Date: February 2011
Note:
 For informational use only. All material and photographs are Copyright © webWorld International, LLC since 2000. All rights reserved. See the webBikeWorld® 
Site Info page
. Product specifications, features and details may change or differ from our descriptions. Always check before purchasing. Read the
Terms and Conditions
!
Owner Comments and Feedback