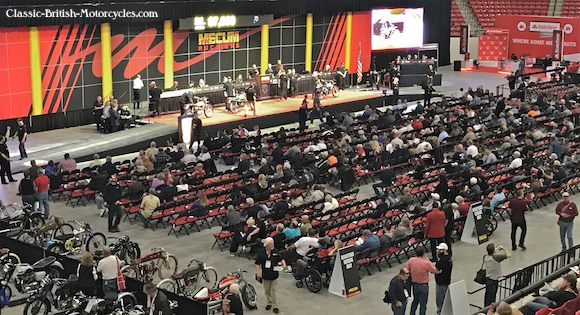 MECUM LAS VEGAS MOTORCYCLE AUCTION 2017-ONE HELLUVA WEEK
I just got back from nearly a week in Las Vegas, and what a week. Mecum's 2017 motorcycle auction ran 4-days, from Wednesday through Saturday, at the South Point Hotel & Casino, as usual. And also as usual, I stayed at the South Point myself, which is the way to go. On Thursday, Bonhams Auctions held a one-day classic motorcycle sale at the Rio with about 200 bikes. In between all that, I got a Swedish massage and some kind of fancy facial, I visited the set of the TV show "Counting Cars" and going through their museum of cars from the show, visited "The Auto Collections" (about 100 awesome classic cars in the Linq Hotel & Casino), and the Carroll Shelby Museum, which actually turned out to be the factory where they build Continuation Cobras and hot Mustangs. (In case you didn't know, I also have a website called American-Muscle-Cars.net, so I'll build pages on that site about the car stuff.) And we drove, 9 hours each way. Like I said, one helluva a week!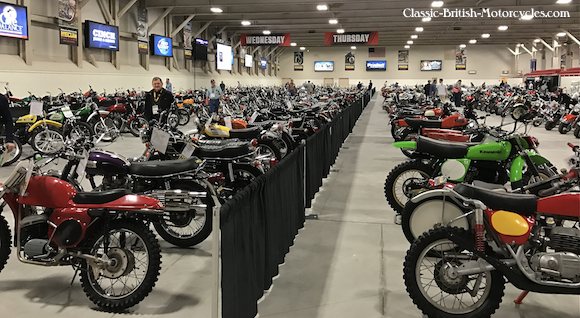 1,000 BIKES AT MECUM LAS VEGAS MOTORCYCLE AUCTION 2017
The actual count was just shy of 1,000, but a very impressive number nonetheless, easily earning it's title as "The World's Largest Classic Motorcycle Auction". And Mecum Auctions, the consumate professionals, honed by years of classic car auctions, handled it smoothly and logically, running at a buzz saw-pace for 3-1/2 days of solid selling. That many bikes can get confusing to buyers, trying not to miss out on something good. But Mecum laid them out very logically, by day and number, matching the daily run list that they handed out every day, so it was easy to figure out where everything was and when it was running. Sales were brisk and as is usually the case, the high-end bikes were going for crazy money, and the run-of-the-mill bikes went for pretty reasonable prices. Of course, its different every time, some bikes went high and some went low.
BIDDING AT MECUM LAS VEGAS MOTORCYCLE AUCTION 2017
For example, five basically identical '79 T140D Bonneville Specials sold for as little as $3,000 (Lot #T194) and as much as $13,000 (Lot #T78), and everything in between. Why the big difference? Condition may have had something to do with it certainly it, but mostly it comes down to timing. If at least two bidders are in the room at the moment the bike rolls through who both just have to have it, the price could go through the roof. If it rolls through and only one guy is there who wants it, he just may steal it.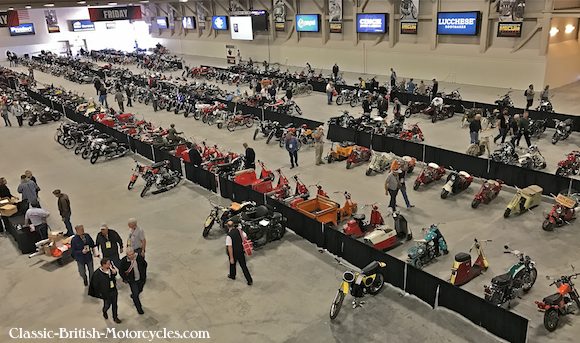 MECUM LAS VEGAS MOTORCYCLE AUCTION 2017 LIKE A SHOW
It would be hard to find a motorcycle show with more motorcycles in it that this year's Mecum auction. Imagine walking down aisle after aisle of every kind of motorcycle you can imagine from every country and every era, all indoors. All set to the cadence of the machine gun-staccato of the auctioneer. There's nothing else like it. The whole place is alive with action and excitement, which is something you don't normally get at a motorcycle show.
TAKING PICS AT MECUM LAS VEGAS MOTORCYCLE AUCTION 2017
Despite that, for my purposes, I like to get there early, before the auction starts, another benefit of staying at the South Point. That way there are fewer people about, which makes it much easier to take pictures of the British bikes that I'm there for. It's difficult enough taking bike pics in a situation like this, with the bikes lined up fairly close together, many on side stands. Nice full-side shots are out of the question, most of the time, and you'll see that in the photos that I took there. They will not only be displayed here (just some of them, of course), but I'll also build entirely new pages around some of them, if I didn't have a page covering that year, make and model already. Following are just a few of the literally thousands of pictures I took on this trip. Look for more on the list of New Pages on the lower-right of every page on this site. Enjoy the pictures, presented in order from oldest to newest.
The bikes of the Mecum Las Vegas Motorcycle Auction 2017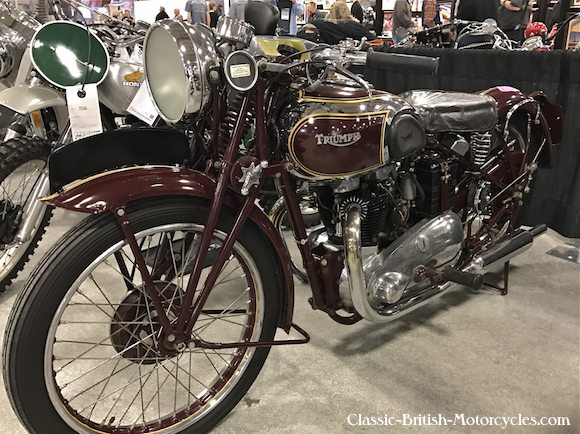 ABOVE & BELOW: This mint 1938 Triumph 5T Speed Twin is a perfect example of the bike that started it all, the first "modern" parallel twin, the brainchild of Edward Turner that nearly everyone else in the industry copied. This particular bike was perfect in every way, but what really made it interesting was the registration plate (below) showing that the bike was owned at one time by motorcycle legend Bud Ekins. Ekins was a movie stunt man, got Steve McQueen into desert racing and built several motorcycles for him, and did the stunts in many movies including McQueen's legendary "Bullitt" and "The Great Escape". In fact, Ekins did the actual motorcycle jump over the fence in Escape. Despite it's star power provenance, Lot S36 bid to $47,500 but failed to meet the seller's reserve and didn't sell, during the Mecum Las Vegas Motorcycle Auction 2017.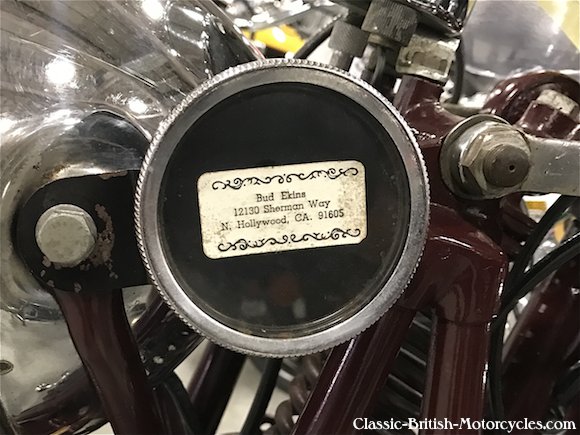 ABOVE: This totally-restored 1946 Triumph 3T 350 twin sold on Saturday, the last day of the Mecum Las Vegas Motorcycle Auction 2017, for $12,000.
BELOW: This lovely 1947 Triumph T100 Tiger sold for $8,250 at the Mecum Las Vegas Motorcycle Auction 2017.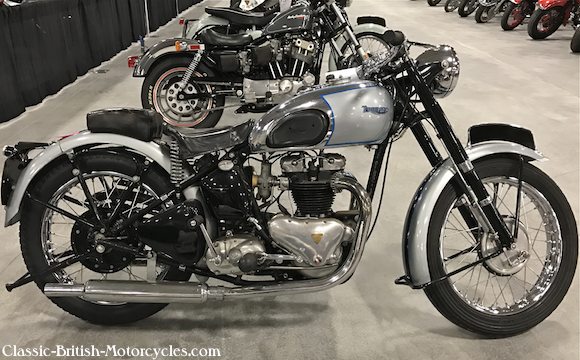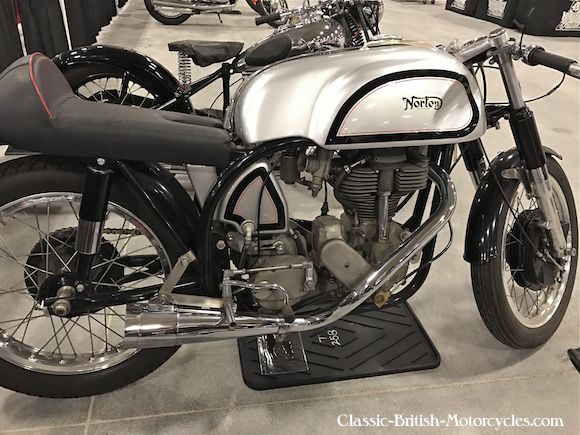 ABOVE: This 1949 Norton Manx road racing bike had the Model 30 500cc engine and was formerly owned by road racing legend Bob Hansen. It was Lot # 135 and it sold for $20,000 at the Mecum Las Vegas Motorcycle Auction 2017.
BELOW: Triumph's first 650, this 1950 6T Thunderbird, Lot #S193 sold for $17,000 at the Mecum Las Vegas Motorcycle Auction 2017.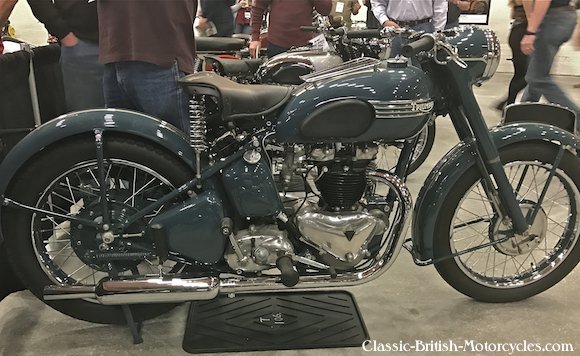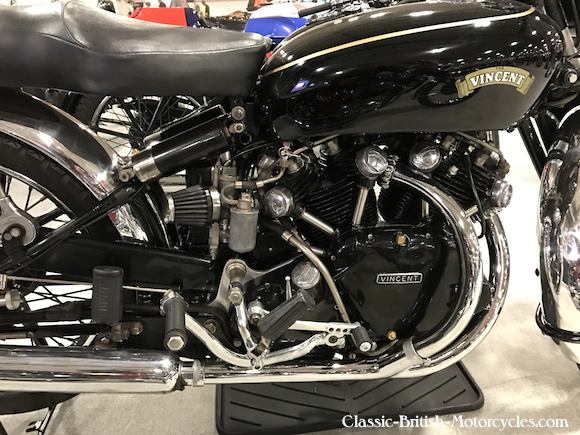 ABOVE: While the gloss black engine cases would indicate that this is a Vincent Black Shadow, it is in fact a 1950 Vincent Rapide that has been made to look like a Black Shadow. It was Lot #F125 and it sold for $45,000, which is about right for a Rapide. The Mecum Las Vegas Motorcycle Auction 2017 was loaded with Vincents.
BELOW: Lot #S161 was a gorgeous 1951 BSA Gold Star that told for $15,500 at the Mecum Las Vegas Motorcycle Auction 2017.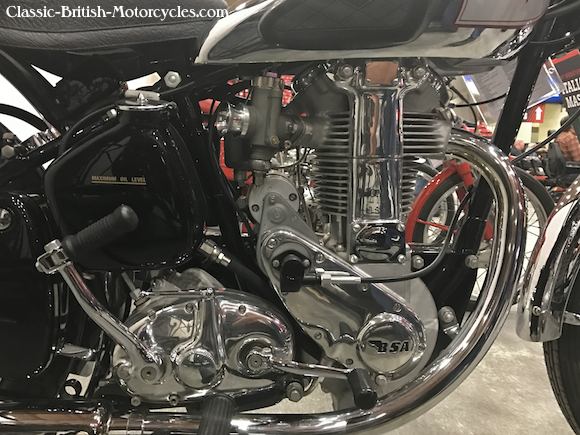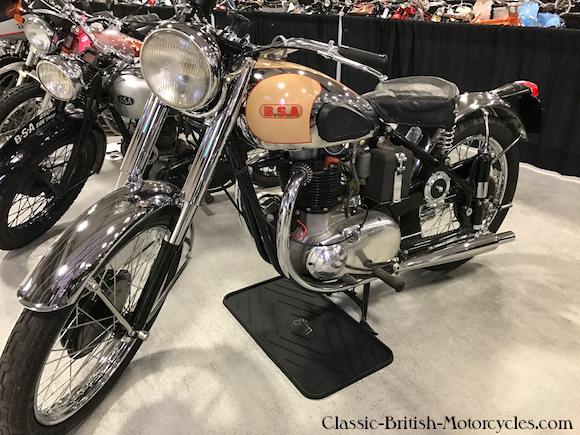 ABOVE: This is a 1951 BSA 650 A10 has a plunger-type rear suspension, considered the gold standard prior to swing arms. Triumph didn't use them, they used a rigid frame with their dreaded sprung rear hubs. At the time, BSA was considered a premium brand, a cut above Triumph, so a more sophisticated suspension system was in order. As Lot # F35, this beautiful classic sold for just $6,000. There were some super deals on great classic Brit bikes at the Mecum Las Vegas Motorcycle Auction 2017.
BELOW: This 1951 Norton International shows just how naturally pretty Norton motorcycles have always been. Lot # S96 sold for $20,000 at the Mecum Las Vegas Motorcycle Auction 2017.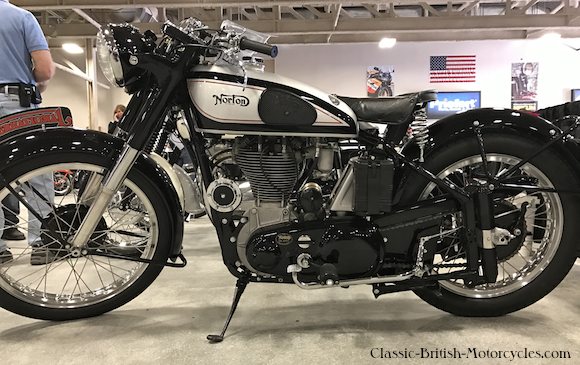 DON'T MISS THE MECUM LAS VEGAS MOTORCYCLE AUCTION 2017
The Mecum Las Vegas Motorcycle Auction 2017 was incredible. I try to go to this event every year. Even if I'm not buying or selling any motorcycles. It's like the biggest classic bike show in the world! Where else can you see 1,000 bikes all in one place at one time? Much less indoors, where you can drink and gamble. It just doesn't get much better than that. The auction action is fast and gripping, bikes sell like candy. And if you are buying and/or selling, the allure is even more compelling. I'll be there, and if you can possibly make it, you should be there also. And have a little fun in Vegas while you're at it. Check out all the info on Mecum's own website at www.Mecum.com. See you there.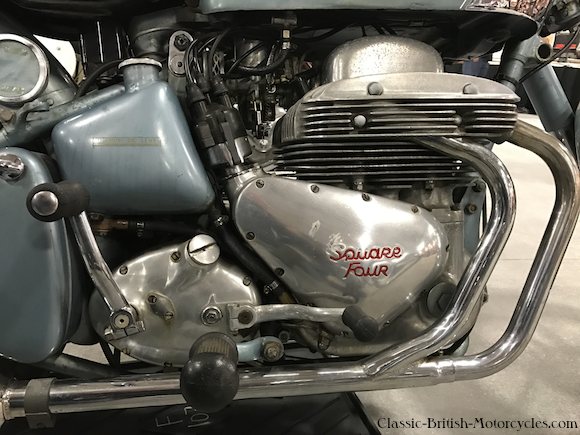 ABOVE: This chunky engine is in a 1954 Ariel Square Four Mark II. Square Fours had two counter-rotating crankshafts, each running two cylinders, sort of like two parallel twins, one-behind-the-other. They were smooth, but hampered by restricted intake and exhaust ports, and only one carburetor. This one was Lot #S113 and it sold for $13,000.
BELOW: This incredible 1954 Triumph 6T Thunderbird 650, Lot #F207, failed to sell, with a high bid of $22,000. 1954 was the year that the T-Bird switched over to a swing arm rear suspension. This must be a very early version, still sporting the rigid frame and sprung rear hub. Beautiful bike.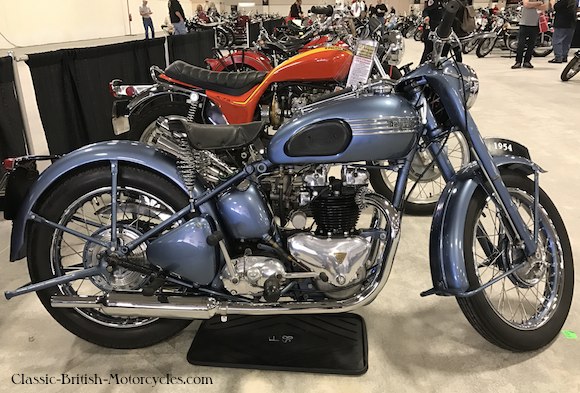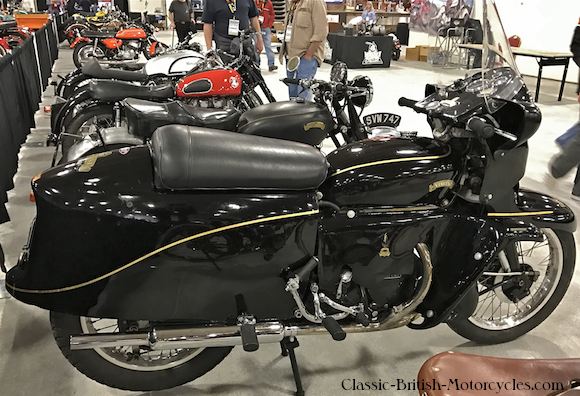 ABOVE: The 1955 Vincent Black Prince was Vincent's last gasp at relevancy and survival. Unfortunately it didn't work, and Vincent closed their doors for good in 1955. Part of a growing trend in England at the time, the Black Prince was a fully-enclosed touring bike, built over a Series D Black Shadow. This perfect, and incredibly rare example was Lot #S131 and sold for $70,000. That seems cheap to me, considering Black Shadows routinely break the $100K mark, these days.
BELOW: Lot # F210 was this lovely 1955 Ariel Square Four that sold for $18,000.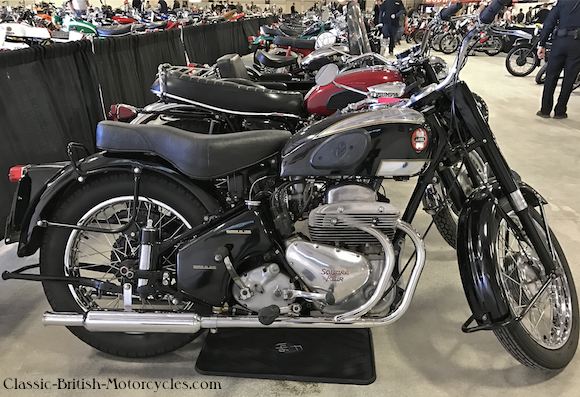 ABOVE: A finely-detailed pre-unit engine is a beautiful thing. This impeccable 1956 Triumph T110 Tiger was the hottest bike Triumph built at the time. This gorgeous bike, Lot #F147 sold for just $14,000. Restoring one of these would cost much more than that, and that's after already owning the bike!
BELOW: This 1956 Ariel Red Hunter is a prime example of Ariel's workhorse 500 single. Nice bike. Lot # F146 sold for $12,000.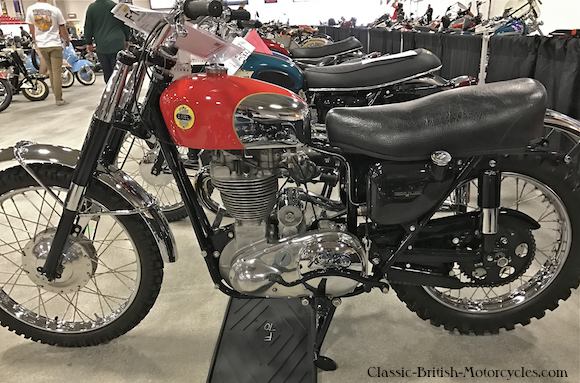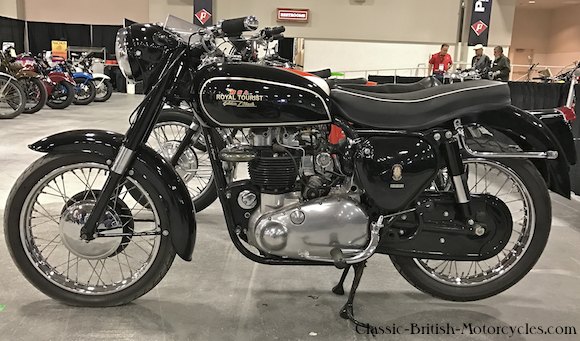 ABOVE: This is a 1959 BSA A10 Golden Flash "Royal Tourist" 650 twin.
BELOW: This sweet little 1959 Triumph 250 Junior Cub shows the "bathtub"-styling of Triumph's bigger twins at the time. Lot #S38, it sold for $5,000. An interesting trend that I've been noticing over my years of attending these auctions is that Triumph Bonnevilles and TR6s have been the stars of the show for so long that now those two models seem to be cooling off, and every other Triumph model is catching up. 500 twins are red-hot right now, and often fetching more than a similar 650 twin. Crazy, huh? And the little 350 twins and now the 250 Cubs are catching on. You can pay as much for a 250 single as you can for a 650 twin right now.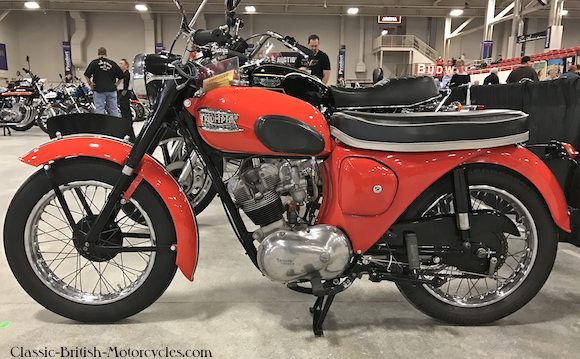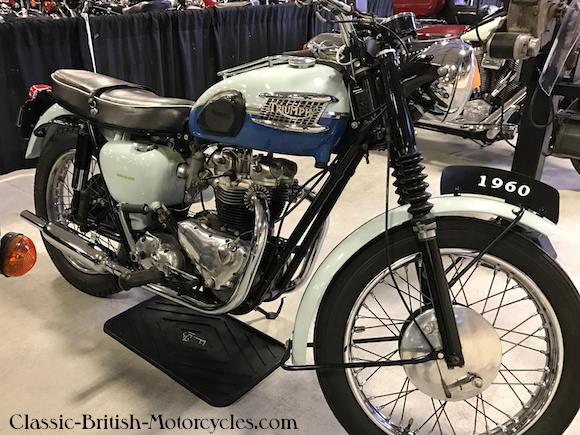 ABOVE: This 1960 Bonneville shows how Triumph very quickly ditched the stodgy 'old man'-bodywork of the first-year '59 Bonnie (it was shared with the plebeian Thunderbird & Tiger series). From 1960 on, Bonnevilles received the same stripped-down styling as the TR6, each model with it's own distinct color scheme, which changed every model year. This was Lot #F37 and it sold for just $9,000. I can hardly believe it as I write it! Someone got a screaming deal!
BELOW: This 1961 Matchless Typhoon 500 single is what would later be called an "enduro", and is now called a "dual-sport" bike. Lot #F43 sold for $8,250.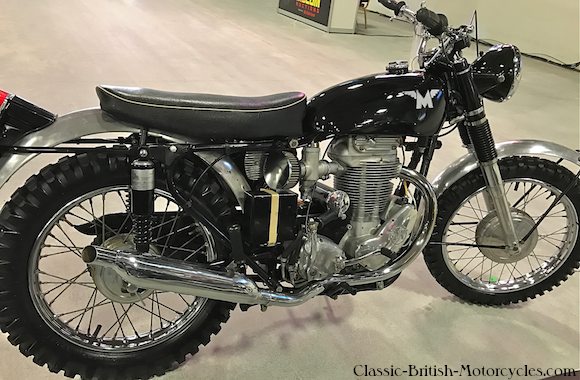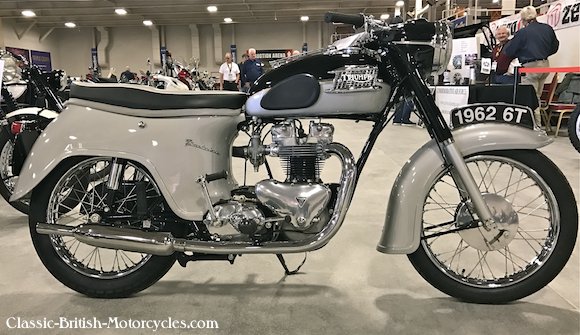 ABOVE: This 1962 Triumph 6T Thunderbird shows why they called them "Bathtub Bikes". It was Lot #94 and it sold for $17,000.
BELOW: This 1966 Velocette Thruxton was the hottest bike Velocette built. Lot # F66, it sold for a whopping $26,500.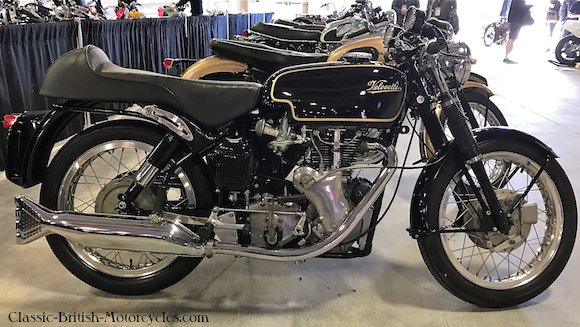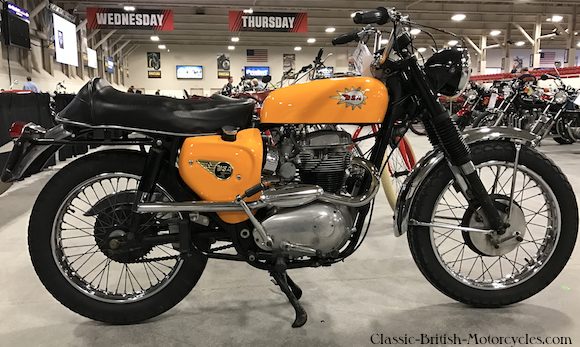 ABOVE: This 1967 BSA A65 Hornet was the high-pipe "scrambler" version in the BSA 650 lineup. It was Lot #T65 and it sold for only $5,000. Well bought.
BELOW: This 1968 BSA A65 Lightning represents the BSA 650 at its zenith. Twin carbs, TLS front brake, and all the bugs had been worked out by this time. And they finally got the looks about right. This one was F233 and sold for $10,000.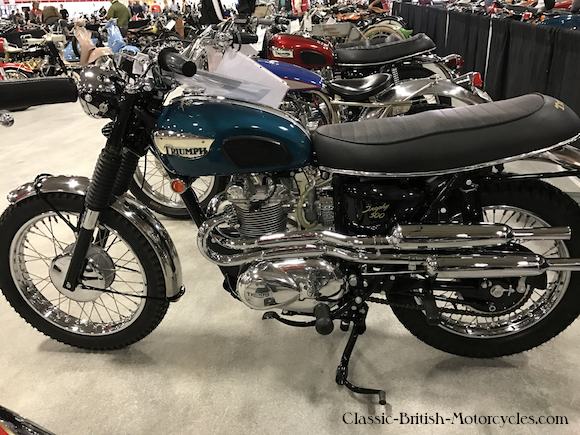 ABOVE: A lovely little 1968 Triumph T100C Trophy 500. Triumph 500 twins are bringing as much auction money these days as 650s. Funny how that works. This one was Lot #F145 failed to sell, with a high bid of $12,500. It was professionally restored by "The Triumph Guy" Rod Wheeler, so the restoration probably cost more than that.
BELOW: This ugly little mutant is a 1970 Velocette LE. Quite a story here. LE stands for "Little Engine", and it was. The tiny 200cc horizontally-opposed flathead made all of 8 horsepower on a good day. They ugly looks result from its radical stamped-steel construction that was designed to bring production costs down. Unfortunately, it ended up costing more and Velocette never actually made a profit on them. Too bad too, because it ended up being their biggest seller EVER! The one saving grace was that the British Police adopted it as their official bike. This one is a police model. Lot #S241 went for a whopping $4,000.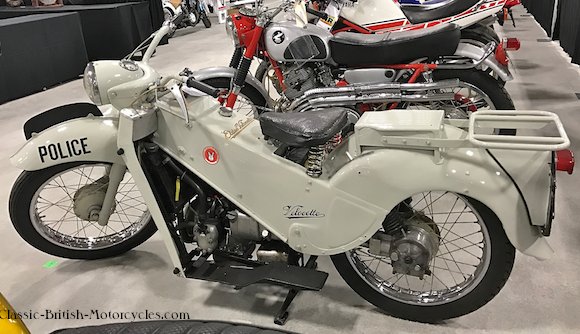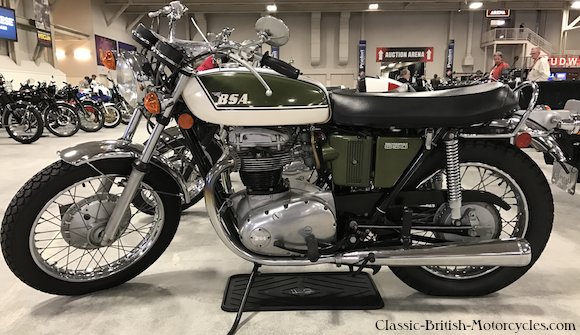 ABOVE: This 1971 BSA A65 Thunderbolt was BSA's first 'Oil-in-Frame' bike, sharing its frame with the Triumph 650 twins. While not very popular among BSA purists at the time, and with BSA itself struggling at the edge of insolvency, the A65 "Oilers" were actually quite handsome and rode well. This one was Lot #234 and it sold for only $4,000. That sounds like a steal to me!
BELOW: I love these bikes. This is a 1971 BSA B50 SS Gold Star 500 single. Great looking bikes, big conical brakes of the big twins, gobs of torque, and great handling. Too bad BSA couldn't make it selling great bikes like this. Lot #F57 sold for $5,250.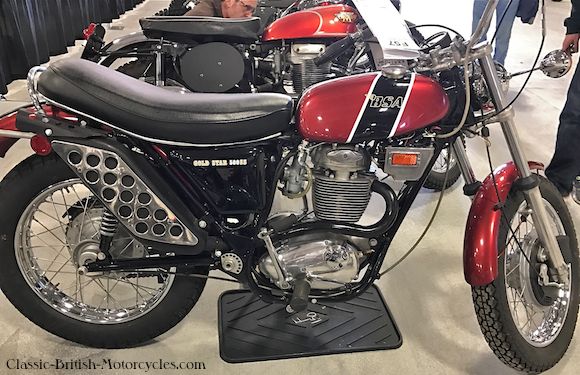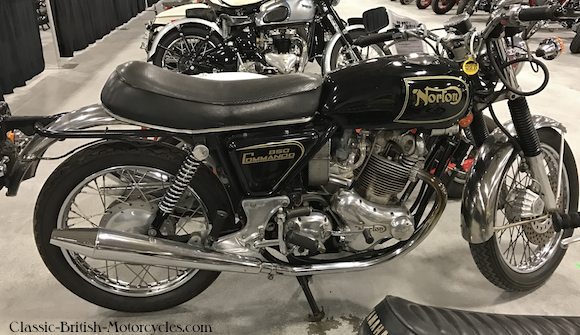 ABOVE: This 1973 Norton 850 Commando Roadster was #T222 and sold for just $8,500. That's a lot of motorcycle for $8,500.
BELOW: In 1974 Norton released a special limited-edition bike called the John Player Norton to celebrate its collaboration with British cigarette maker John Player (as sponsor) on their factory racing program. The 1974 John Player Norton was also called the Norton JPN, and was essentially an appearance-package hung on a stock Commando. No performance upgrades were made to the bike whatsoever. Only about 200 were built. This one is actually a clone. The factory sold the appearance packages to dealers who could install them on customer bikes. This is one of those. Which explains why this one, Lot #F232 sold for just $10,000. Still sounds like a bargain to me. And this way, you might actually get to enjoy the bike, get out and ride it. Unfortunately, truly rare bikes like the real JPNs are too valuable to ride on the road.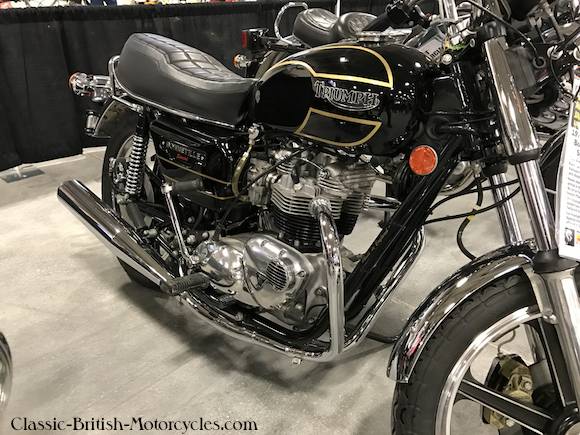 ABOVE: This lovely 1979 Triumph T140D Bonneville Special was one of five T140D that ran through the Mecum Las Vegas Motorcycle Auction 2017. This one was in absolutely mint condition, but so were a couple of the others. They were all quite nice. But their sales prices swung wildly from a low of $3,000 to a high of $13,000, which is what Lot #T78 here sold for.
LOTS MORE BIKES AT MECUM LAS VEGAS MOTORCYCLE AUCTION 2017
I took literally thousands of pictures during my week in Vegas, and somewhere around 100+ bikes at this Mecum auction alone. These were just a few nice original bikes for you, the British bike faithful. There were tons and tons of Japanese bikes, Harleys, choppers, antique bikes, European bikes, and crazy stuff, like Evel Knievel's Sky Cycle (below). This absurdity was designed and built by bike legend Bud Ekins (he was riding buds with Steve McQueen) for Evel to ride in his equally ridiculous movie "Viva Knievel". It was Lot # F200.1, it bid to a whopping $50,000, but failed to meet the seller's reserve. Just goes to show the kinds of things you see when you come to the big Mecum motorcycle auction in Las Vegas. I'm already planning my next trip. If you stay at the South Point, then you're sharing elevators, and restaurants, and gaming tables with other motorcycle nuts, which is always fun. And let's not forget that it's in Vegas, the land of opulence and mischief. Go out and have a blast while you're there. Maybe I'll see you there. I'll be the guy taking all the pictures of the British bikes.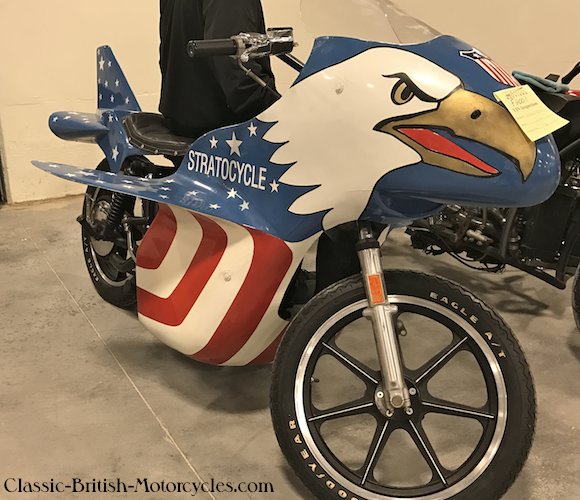 ---