X-Head Cylinder Guards Image Gallery
I've never had a bad experience with a MachineArt Moto product.
And the new X-Head DOHC cylinder head guards keep that record intact.
Designed for the BMW R1200RT engine, they add virtually nothing in way of weight.
But they add everything in way of protection and looks.
Once again, timing is everything.
A week before heading down the 416 at speed, south to the 2011 BMW MOA Rally in Bloomsburg, Pennsylvania, I received an email from MachineArt Moto.
The long-awaited X-Head cylinder guards for the new BMW DOHC engines were now shipping and, as luck would have it, they would be available at the company's booth at the rally.
While the MachineArt Moto X-Head cylinder guards for the 2005 to 2009 BMW model years have been available, delays held up production of the new units, so I for one was glad to receive the positive news.
Anything new from MachineArt Moto tends to get me excited, especially since their product offerings are focused on great looking totally functional pieces for a wide range of Beemers.
The MachineArt Moto X-Head Cylinder Guards
The new MachineArt Moto X-Head DOHC cylinder guard is, if there was any doubt, designed specifically to fit the BMW R1200 DOHC motors.
Owning a slightly more breathed-on DOHC boxer, first introduced in the form of my 2009 BMW HP2 Sport, I can attest to just how effective and exhilarating the DOHC motor really is.
Unfortunately, given plans to participate in the (first) GS Giant and Gypsy Tour activities that were running before and during the rally, the F800GS test mule along with its yellow stable-mate, with almost fresh sets of Heidenau tires installed, were chomping at the bit.
This meant the big stealthy RT was going to be left sitting at home for this rally. Needless to say, some form of farkle was going to be required upon our return and the new X-heads would be just the ticket.

Wrapped in protective bubble wrap, the two X-Head cylinder guards, with their elastomeric liners installed, are accompanied with a small sealed plastic bag containing the hardware and instructions.
This includes six stainless steel M6 x 24 mm hex-head bolts and washers and a single-sided Installation Guide that textually and visually describes the simple process of getting the X-Head components installed.
Although other cylinder head guards are available for BMWs, the MachineArt Moto components just seem to stand out from the (small) DOHC product crowd.
Design, execution and, finish is first rate, which is all I've ever experienced with MachineArt Moto products.
So with the new farkle pieces unpacked from the Adventure luggage, it was time to make amends to the neglected 2010 R1200RT by way of giving the motor some added and attractive, protection.
Precision molded of light-in-weight but tough nylon polymer, the shape of the X-Head causes a dropped machine to roll onto the face of the X-Head and not a cylinder edge.
The molded elastomeric liner then helps absorb any impact force.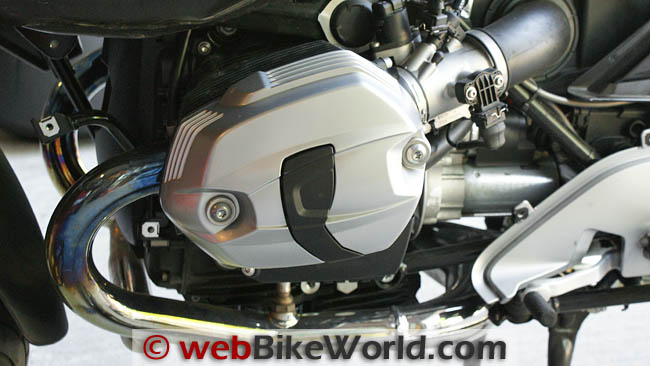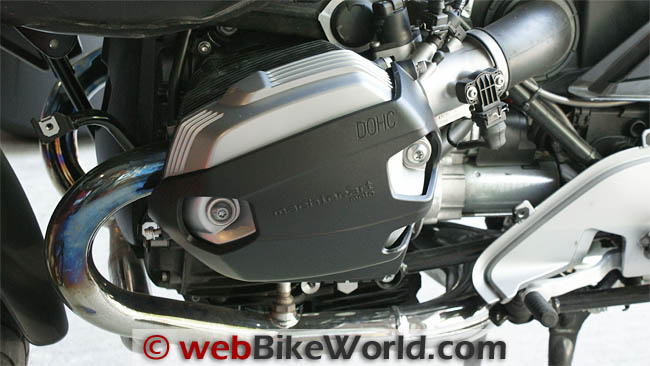 Installation
Outside of any necessary bodywork removal (like the left and right upper and side fairing panels on the RT), installation is simple.
The only tools needed are a T-30 socket or key, a 5 mm Allen head key or socket (torque wrench) and just a wee bit of muscle.
With the RT on its centre stand and the motor cool, I removed the three (T-30) M6 x 12 mm Torx head screws from each cylinder head; there are two bosses at the back and one at the front.
All six were subsequently put into a small bag, appropriately labeled and put into a plastic storage container holding all the other removed OEM pieces.
Before installation I did a quick check of the elastomeric liner inserts.
They are molded to fit snugly inside each cover, with small dimples that match up to small posts on the covers fro alignment.
Slippage may occur during packaging or handling so it is best to make sure the liners are aligned and sitting flat against the covers.
Next, position one of the X-Head components; I started with the left side. The process is simple — just slip it over the cylinder and align the three holes with the machined bosses on the cylinder.
But I found that the left X-Head cylinder guard was a bit snug, so slipping it up into place from a below-level angle worked well for initial positioning.
The snug fit of the left X-Head required a little extra energy being expended in gently putting pressure on the X-Head and its rubber liner so that each of the three M6 x 24 mm screws (pre-coated with Nylock threadlock) could be started.
In contrast, the right side X-Head almost installed itself — it slipped on and lined up perfectly with all three bosses with about 1-2 mm of clearance between the rubber liner and the cylinder head as well — definitely the easiest one to fit.
Maybe the new DOHC Beemers do get "swelled heads"?!
With both cylinder guards in place and all six screws started, they got tightened up carefully to the specified 7 lb./ft. (10 Nm) with a 5 mm Allen head socket.
Don't forget that the Nylock patches will cause initial resistance during tightening. As the Instruction Guide states, do not over-tighten and if there is any doubt, less is better.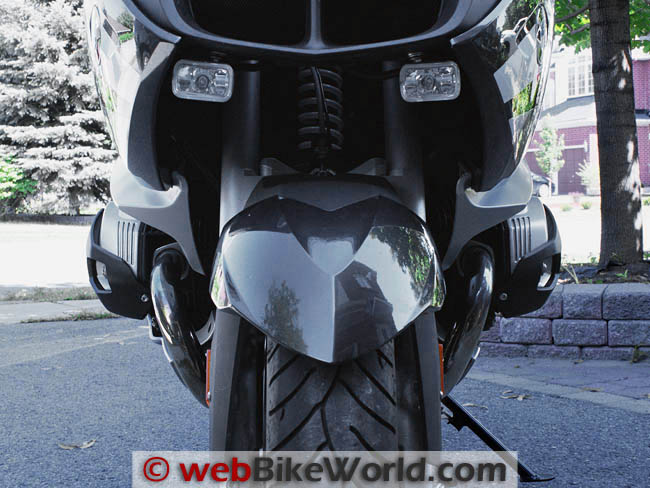 Function
Hmmm…hard to assess — or at least I hope it will be! While the left side X-Head is a wee bit snug, both fit perfectly otherwise and they provide plenty of coverage without hiding completely the new head.
I'd much rather put the X-Head pieces to the test if the bike tips over before the very expensive BMW cylinder head covers.
Also, between the three-point mounting of the cylinder guards and their close fitment and liners, any resonance or vibration between the cylinder covers and the molded pieces should be eliminated; so far, this has proven to be the case.
The X-Head cylinder guards add virtually nothing in the way of weight but everything in way of protection.
Conclusion
Easy: another lightweight and totally affordable work of art from MachineArt Moto that complements and protects the new R1200 DOHC motor.
See Also: MachineArt Moto Avant Review  |  MachineArt Moto Mud Sling Review
w

BW

 Review: MachineArt Moto X-Head Cylinder Guards
Manufacturer: MachineArt Moto
List Price: $189.00
Colors: Black
Made In: U.S.A.
Review Date: August 2011
Note:
 For informational use only. All material and photographs are Copyright © webWorld International, LLC since 2000. All rights reserved. See the webBikeWorld® 
Site Info page
. Product specifications, features and details may change or differ from our descriptions. Always check before purchasing. Read the
Terms and Conditions
!
Owner Comments and Feedback
---
From "K.D." (August 2011): "Super review, especially the installation notes. Thanks.
Question for H.B.C. and any others who have tried these or others on current and older RTs: Does this hinder heat dissipation in a measurable way?
Hot days in heavy traffic (not typical, but for those of who commute on our bikes are likely to run into it) can be pretty touch and go with regards to keeping the motor from over-heating."
HBC's Reply: A good question, but my answer will probably seem a bit inconclusive.
I haven't noticed any increased heat or dissipation issues on the 2010 RT with the X-Head pieces installed, nor did I notice anything with a similar product that got installed on a since-traded GS Adventure.
The materials used for the guard — outer molding and inner liner — stand up well and heat transfer off the head covers seems to continue without negative impact on the covers, or vice versa.
The very slight clearance between the covers, at least on the right side, allows additional air flow across the head, planned or not.
I hear you regarding slow speed travel including commuting, but the newer Oilhead/Hexhead (1995 onwards) engines typically cope better in this regard as opposed to the pure air-cooling/flow principle applicable to the Airhead engines.
I guess my bottom line would be that if a head cover is installed, it needs to be specific for the engine and it always pays to monitor the situation to get a sense of how well, or not, the accessory will work.
Browsing some Boxer related forums is likely to provide some more concrete testimonials, or concerns, as to how well this type of guard works.