You may not want to spend a lot of money on helmets if you don't ride your bike very frequently. However, you can't compromise on safety and comfort just because you do not have the budget. If you are looking for a great helmet that can fit well within your budget, the new LS2 Stream Solid Full Face Motorcycle helmet is a good choice – it offers you all the standard features you need without breaking your bank.
The LS2 stream helmet review probes deeper on the various features that make this helmet one of the best buys. In our review, we will take a look at the features and find out if they are really useful. You will know if it fits your head comfortably, whether the safety standards are at par and other convenient benefits of the biking gear.
Benefits
Bikers all over the world love LS2 helmets. You can find helmets priced differently, that fits to the needs of different types of bikers. Even the mid-range helmets come with several features such as twin shield protection, removable fabric liner, and accurate fit. It is one of the reasons for the extreme popularity of LS2 helmets.
• The LS2 stream helmet is a budget friendly helmet with built-in twin shield system.
• It comes with a sun shield that can be retracted with a switch.
• The cheek pads fit comfortably, and the fabric liner is washable.
• The vents provide adequate ventilation, and full face coverage is useful for longer rides.
Features You Will Love
The Stream helmet from LS2 is a no-nonsense full face helmet that has all the standard features you expect from a high-quality gear. The twin shield system is useful to ride in different weather conditions because you don't have to change the visor. The aerodynamic design and lightweight constructing make it comfortable to wear this helmet for a long duration. It has a weight of 5 pounds.
Perfect Fit
When you pay less for a helmet, you generally prepare yourself for an uncomfortable fit. There will usually be hot spots when the helmet squeezes your cheeks.
All this discomfort will disappear if you choose the Stream helmet from LS2. The cheek pads are made by cutting a single block of high-quality foam using the 3D laser technology. These cheek pads will contour your face perfectly, giving the most comfortable fit.
The intermediate oval fit will suit most head shapes. Some bikers are happy that the helmet doesn't press on their foreheads making it uncomfortable. This helmet can even be worn with goggles if that is what you want.
Twin Shield System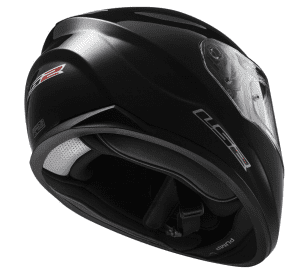 Sun shield and face shield visors are usually available only in high-end helmets. Bikers have to change the visors manually if they want to ride on sunny roads. Breaking the trends, Stream design brings twin shield system to budget friendly helmets too!
The drop down sun shield can be activated simply by pressing a switch. Even with a gloved hand, you can activate the sun visor without any problem. The face shield is optically correct, and it has a pin lock system. It takes less than 15 seconds to swap shields.
It provides the best protection from sunlight when you ride in direct sun during the day.
Ventilation
You won't feel stuffy when you wear the Stream helmet on a hot day. The top vent and chin vent allows an adequate supply of air circulation using the dynamic flow through ventilation. However, the vents are not adjustable, and you have to be cautious when you choose to wear this helmet on cold days.
The exhaust vents at the back push back the warm air, keeping you cool inside the helmet. It is an ideal helmet if you want to drive in relatively sunny weather.
Comfort
Surprisingly, the LS2 stream helmet is comfortable to wear even though you pay less for it. The breathable and hypoallergenic fabric liner helps you avoid the stinky helmet sweat smell.
The inner fabric liner is washable, but it needs to be hand tended. It eliminates moisture keeping you dry even if you ride in humid conditions.
The breadth deflector and magna tech liner help you to reduce wind noise while riding the bike.
Safety
With DOT and ECE approval, the Stream helmet is an ideal choice for all kinds of riders. You should ensure that you buy the proper fit so that your head is protected at all times.
Multi-density EPS provides solid protection when you are involved in a crash. The neck roll supports and protects your neck while riding at high speeds.
It comes with reinforced chin strap and quick release strap which offers adequate protection while making it easy to put on and take off the helmet.
Other Factors for Consideration
The matte black finish is a popular choice for Stream helmets, but you can find the helmet in various colors as well. Bikers who need more attractive helmets can choose the models with attractive graphics.
When you put on the helmet for the first time, you may feel that the cheek pads are a little too tight. However, these foam pads are meant to adjust according to your face structure, and you will get comfortable after a few uses.
The LS2 Stream helmet is good for bikers who prefer a solid helmet for a lower price. According to several bikers, this helmet is pretty strong and reliable in case of crashing accidents. After all, helmets are meant for protection more than anything else.
With a manufacturer warranty and twin shield system, this helmet is truly a steal for budget conscious bikers.
[table id=75 /]