Piece Leather Suit Review Summary
Piece Leather Suit Image Gallery
The Lookwell Leathers one-piece leather suit is surprisingly comfortable.
It has nice overall styling that looks better than the photos may indicate.
The perforations and vents work well.
It has good elbow and shoulder protectors but no hip padding and the knee protectors is not adjustable.
We've been surprised at the response from webBikeWorld visitors to our recent series of articles about back protectors (see the Knox Ricochet and Knox Stowaway reviews).
We have two more back protector reviews in the works, but in the meantime, let's take a look at a very reasonably priced one-piece motorcycle racing leather suit.
What does a one-piece leather suit have to do with back protectors?
Well, apparently many of our visitors are interested in products that offer the best protection available, and a one-piece leather suit ranks right up there at the top.
One-piece leather suits are often called "motorcycle racing leathers" because many riders, at least in the U.S.A., associate this type of leather suit with motorcycle racing.
But, as our street riding cousins in Europe have learned, a one-piece leather suit is not just for racing or track days.
It's very unusual to see an American motorcyclist out for a casual ride in a one-piece leather suit, but there's really no reason why this should be the case. I had never worn a one-piece suit myself until trying on the Lookwell Viper recently.
But now that I'm wearing it on a regular basis, I don't know what took me so long.
I feel better when I'm wearing it, knowing — or hoping — that if I fall I'll have some of the best protection available. Climbing in and out of a one-piece suit can be difficult and it takes a while to get familiar with the routine.
Peeling off the suit can also be difficult, especially when the rider's skin gets sweaty.
But I'm sold on the concept, and we recently ordered another set of leathers from the brought-back-from-the-dead Clover company in Italy.
The design of the Clover RC-100 suit that we purchased is biased towards motorcycle racing, where the Lookwell Viper shown here is really aimed at the street/sport rider, although it certainly could be used for track days or club racing events.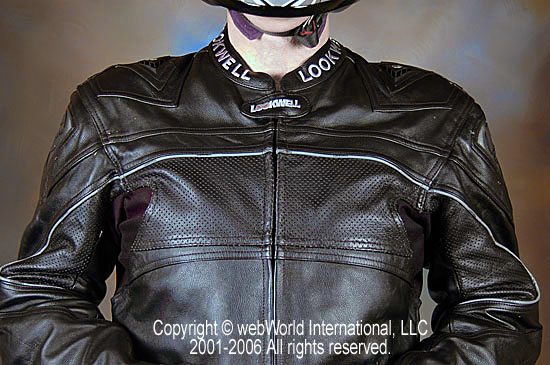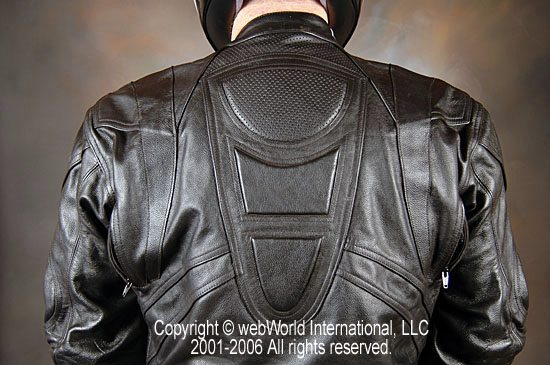 Fit and Sizing
The vast majority of motorcycle riders seem to wear their riding clothes at least one size too big. Look carefully next time you see a motorcyclist and I think you'll agree. What's the difference?
Next time you watch a motorcycle race on TV, check out the fit of the racers' leathers. Other than the seat of their pants, which always look baggy unless the rider is in a racing crouch, their leathers fit like they were painted on.
Of course, their leathers are custom-made, and that makes a huge difference. I can tell you from my recent experience in trying on off-the-rack one-piece leather suits that it isn't easy for even a boringly average body shape like me to find a set that fits.
But it is important to keep trying, because each manufacturer will have a slightly different concept of the ideal body type for their suits. Dave Young covered this subject also in his interesting webBikeWorld article on choosing a leather one-piece suit.
Dave is about the same height and weight as me, although he's certainly in much better shape! But he ran into lots of problems trying to find an off-the-rack set of leathers that would fit over his large diameter calves.
I'm 5'10" tall (178 cm) and weigh about 185 lbs. (84 kg, or 13.2 stone). I have about a 35/36″ waist (89 cm) and a 30″ inseam (76 cm). It's hard to tell from the motorcycle leather manufacturers' sizing charts, but I'm supposed to theoretically fit into a size 54 or 56 (Euro) leather suit. I picked the size 56 Lookwell Viper and it honestly feels like it fits me perfectly.
I was surprised to see the photos (above) of me from the rear, because the suit looks too big and baggy from the waist down. It does not feel that way when I'm wearing it; in fact, I really have to squeeze to get my legs and butt into the bottom half of the suit. I think it's tighter than it appears in the photos.
Just for grins, I ordered the Clover RC-100 suit in a size 54. We'll see if I can squeeze into that one — I may be asking for trouble, since Clover is one of the few European leather manufacturers left that still manufacture their products in Europe. Italian sizes are notorious for being way narrower than us corn-fed Yanks can handle…
The trick is to find a leather suit that fits as snug as possible, while still at least providing enough give so that the owner can move around without cutting off circulation. The higher quality leathers used in even the most inexpensive suits usually stretch and will break in very quickly, so even though the suit may feel way too tight at first, chances are it will loosen up after only a few rides.
Why is tighter better? Two basic reasons. One is that the protectors and padding must stay in place during a fall so that it can do its job and protect the rider. If the suit, jacket or pants are too loose, the protectors can easily move out of location, greatly diminishing their protective qualities.
The second reason is that the loose sections of leather can grab and cause the rider to tumble during a slide, potentially causing more damage than might otherwise take place. So the bottom line is to get used to wearing tight leathers and try to choose motorcycle clothing that has a snug fit.
In some cases, this isn't possible because of the manufacturer's sizing quirks; for example, we'll see if the size 54 Clover suit will fit me. I hope so, because it's been on order for 2 months now and if it doesn't fit, it will probably be spring before we get a replacement!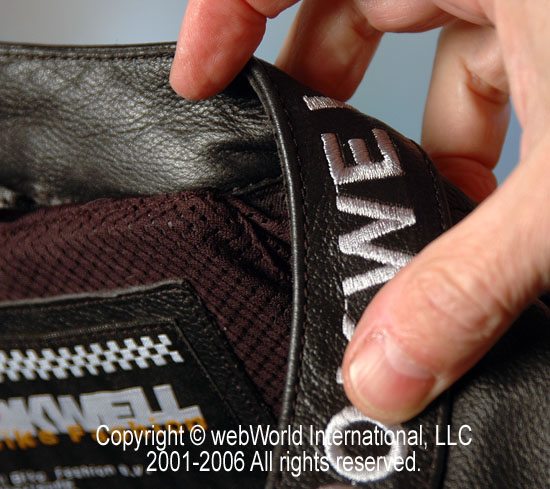 Features
The Lookwell Viper suit is the Lookwell's basic one-piece design. It weighs 10.5 lbs. (4.8 kg) and it's made from 1.2 to 1.4 mm thick leather.
It's my understanding from discussions with Lookwell representatives that it has all of the same features as their best suits, but without the "speed hump" on the back and without the race-quality protectors (more about that later).
It's not easy to tell from the photos on the Lookwell or Lookwell USA website, but the Viper suit is perforated across the chest and in front of the arms. This suit includes flexible fabric panels under the arms, the crotch and the back of the legs that also flow some air.
Leather clothing can make the rider get very hot, but the Viper's perforations work well. I am comfortable in this suit up to about 74-75 degrees Fahrenheit (23-24 Celsius). Hotter than 75 and I'm too warm; cooler than about 72 (22 C) and it's actually too cool.
Cooler is better, because the temperature can be controlled by limiting the airflow, which can be done using something like the Biker's Comfort in Action windproof underwear.
In fact, here's a trick I've used successfully over the years: to get the most out of a set of leathers, buy the fully perforated version.
Then buy a set of windproof underwear and you not only have a year-round suit, but the undies come in handy for many other types of adventures. The fully perforated leathers can keep you comfortable even in very high temperatures, at least as long as you're moving.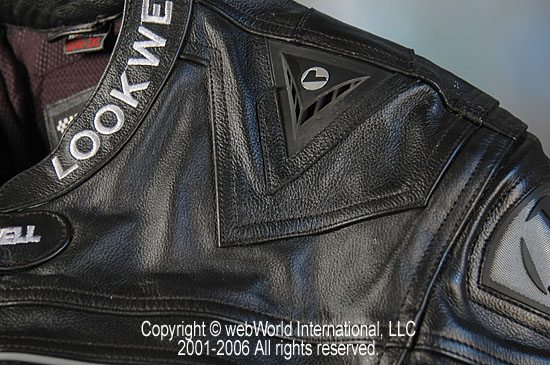 Stitching and Construction
This is usually the feature that separates the pretenders from real motorcycle racing leathers. I'm not an expert on stitching or suit construction, but it only makes sense that hidden stitching, reinforced and double-butted seams and the like will handle the incredible stresses of a crash better than something like a double row of exposed cotton thread on an overlapped seam.
It takes lots of time and labor to fold the leather and to sew hidden seams, and that means money. There's almost a direct correlation between quality and safety in this regard, although many leather manufacturers will disagree.
When (if) the Clover suit arrives, I'll compare the quality and type of stitching to the Lookwell suit. In the meantime, I have nothing to compare it to, but the Viper's stitching seems to be adequate.
The seams are mostly all double-stitched, and the seams that could potentially bear the brunt of the impact and slide are hidden. These include the seams on the back of the arms, the seat (which also is a double layer of leather) and around the knees.
Other seams, such as those on the front of the arms, back of the legs and upper chest and shoulders are overlapped and double-stitched.
I'm slightly concerned about some of the overlapped leather on the shoulders and upper arms. I wonder if the leather might separate during a hard slide, but I have absolutely no data to back this up. This is where it will be interesting to compare the Clover suit ($1280.00), which costs slightly more than twice as much as the Viper ($595.00) to see if there is a difference.
But one thing to remember is that Lookwell, although not a household name in the U.S.A., has been making leather clothing and motorcycle racing leathers for over 30 years, so they know what works and what doesn't.
Many famous racers have worn Lookwell leathers; do the names Mike Hailwood and Phil Read ring a bell?  The Royal National Police and other police forces in the Netherlands also wear Lookwell.
Can you imagine a Police Motor Officer in the U.S.A. wearing a leather suit (or a full-face helmet, for that matter? Motorcycle Police protective clothing in the U.S.A. is at least 50 years behind the times, but that's another story…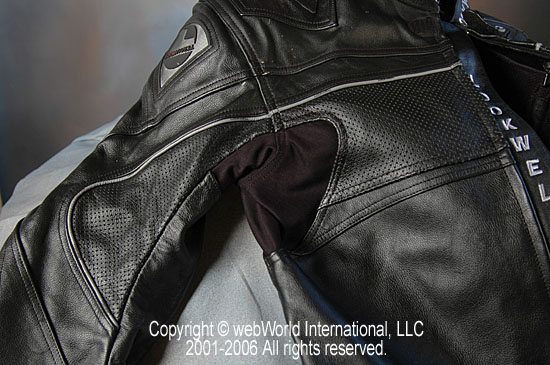 Protectors, Safety and Protection
The lower price of the Viper apparently means less padding and protection.
The suit comes with hard-backed shoulder, elbow and knee protectors, and a very thin back pad (see photo below). There are pockets for hip protectors, but none is included.
Part of the problem with off-the-rack suits is that there will most likely be one dimension or another that will not fit exactly right.
In my case, it always seems to be the legs. Every leather suit or leather motorcycle pants that I've tried are too long from the crotch to the knee.
This always places the knee protectors down on my shins, leaving my knees unprotected.
It's no different on the Viper suit, even though it otherwise fits me perfectly. The knee protectors are about 2″ too low for me.
This problem can be rectified by forgetting about the protectors that come with the suit (or jacket or pants).
Also, by using products like Bohn "Cool Air" Body Armor (review), which includes knee protectors and hip padding.
Also, the Knox Ricochet Back Protector (review) or theKnox Stowaway Back Protector (review) or others.
The issue here is deciding whether to pay more for a better protector package or even upgrading to a better set of racing leathers.
Or, forget about the included protectors and wear some of the Bohn or Knox protectors.
Of course, if you can scratch up the cash to get fitted for a custom suit, this shouldn't be a problem.
But for the rest of us mortals (if these one-piece suit reviews prove to be popular, I may order up a custom suit just to write about the process), off-the-rack is the only way to go.
The shoulder and elbow protectors in the Viper are located correctly for me, so I removed the knee protectors by zipping open the pockets on the front of the knees.
Then, I wear the Bohn "Cool Air" Body Armor underneath.
The Bohn suit fits very snug and I have much more confidence that the protectors will stay in place anyway, plus it has some decent hip and coccyx padding, so I'm all set in the nether regions.
I took out the thin padding in the back of the Viper and ever since, I've been wearing the Knox Stowaway Back Protector (review).
It covers a much larger area than any original equipment padding probably could anyway, but note that the cost of the Bohn and Knox auxiliary protectors can add $200 – 300 to the overall expense.
The upside is that those products can be used with virtually any other motorcycle clothing, adding lots of flexibility — and safety — to a motorcycle wardrobe.
Styling
The Lookwell USA and the parent Lookwell website have very little useful information on their products.
The result is that I purchased the Viper virtually sight unseen.
At first I thought that I didn't really want an all-black suit, but once it arrived, I'm really glad I didn't go for the "boy racer" look with gaudy colored leather panels.
The black suit is understated yet stylish. The cut of the leather sections look good and they're also rather flattering to the body, forming a sort of "V" from the shoulders down.
A long strip of reflective piping sets off the top of the suit, and the V-shaped air vents on the shoulders give it a sort of Stealth fighter look.
The Viper includes two zippered vents in back, outboard on either side in back of the armpits.
These really do seem to allow the air to exhaust out the back — I can feel them work, especially when the temperature drops down to around 72 Fahrenheit or below.
The legs have 11″ (~28 cm) zipper openings on the inside; not my favorite place for a zipper on leather pants, because the zipper pull can rub against the ankle.
My suggestion to leather motorcycle pants manufacturers: Why not put the zippers on the back of the leg?
The arms have a short 5″ (13 cm) zipper up from the cuff, and the cuffs close with a simple metal snap. YKK zippers are used on the pant and arm cuffs.
We have been disappointed with YKK quality lately.
They were once some of the best made zippers around, but we've had trouble with several jackets and pants lately that use the YKK brand zippers.
The Viper has two inside breast pockets, but I have not been able to open the zippers — they're absolutely stuck.
The main zipper is an "OPTI" brand, and it has Nylon teeth.
This is probably where some of the money is saved on this suit, because brands like Vanson or custom suits by Syed use big, heavy brass zippers in the front.
The Viper's neck is leather and I'd rate its comfort as acceptable. It would be nice if it had a neoprene liner to make it a touch softer.
Conclusion
All in all, I'm very pleased with the Lookwell Viper leather suit.
I like the styling; it fits me very nicely, it uses 1.2 – 1.4mm thick leather, the edges of all the leather sections are folded before they're stitched and it carries decades of Lookwell experience.
You can quibble with some of the features, like the cheap zippers and the lack of hip padding and a back protector, but at $595.00, this is probably one of the most inexpensive one-piece "motorcycle racing leather" suits on the market.
Throw in a few more bucks for some decent protectors and you'll have a great one-piece suit with protectors that can be used in all your other clothing.
w

BW

 Review: Lookwell Leathers – Viper One-Piece Leather Suit

Available From: Lookwell USA
Suggested Retail Price: $595.00
Colors: Black. Other suit styles and colors available.
Made In: Unknown
Review Date: November 2005
Note:
 For informational use only. All material and photographs are Copyright © webWorld International, LLC since 2000. All rights reserved. See the webBikeWorld® 
Site Info page
. Product specifications, features and details may change or differ from our descriptions. Always check before purchasing. Read the
Terms and Conditions
!
Owner Comments and Feedback