Lions Rd will remain closed over the Easter weekend as continued rain creates delays in bridgework on the famous motorcycling road on the Queensland-NSW border.
The popular road was closed most of 2017 and reopened in December 2017. However, there were dirt detours while the last three of seven wooden bridges are updated to modern two-lane concrete bridges. 
Kyogle Council had pledged there would be no more full closures on the Lions Rd for bridgework and detours will be road-bike friendly.
Bridge closed
However, persistent rain has closed the road to through traffic at McIntoshes Bridge.
The detour around the bridge replacement works is closed at the northern crossing which is under water due to continuing rain.
Kyogle Council confirms that the Road Closed signs means it is closed to all vehicles, including adventure and trail bikes.
It is expected to open again on Friday, April 6, depending on the weather.
You can still cross the border via the Summerland Way and Mt Lindesay Highway or Kyogle Road to Murwillumbah and the Gold Coast.
Lions Rd bridgeworks update
Gradys Creek and Lions Rd bridge renewal program update March 28
Trihey Bridge

(formerly known as Boyles No.1 Bridge)

Gradys Creek Road

Demolition by contractor was commenced 19 March 2018. No impact on traffic flow

Bridge opened early March. Approaches sealed last week

Jack Hurley Bridge

(formerly known as Boyles No.2 Bridge)

Gradys Creek Road

Demolition by contractor was commenced 19 March 2018. No impact on traffic flow

Repairs to approaches and road surface of Brindle Creek Road will be carried out in April under traffic control. Only short delays expected

McIntoshes Bridge

Lions Road

Deck was installed Saturday, 24 March 2018

Approach slabs to be poured Thursday, 28 March 2018

Open to traffic by Friday, 6 April 2018 (weather permitting)

  Causeways

   Gradys Creek Road

Northernmost causeway closed due to persistent wet weather

Causeway replacement planned for August 2018
Lions Rd detours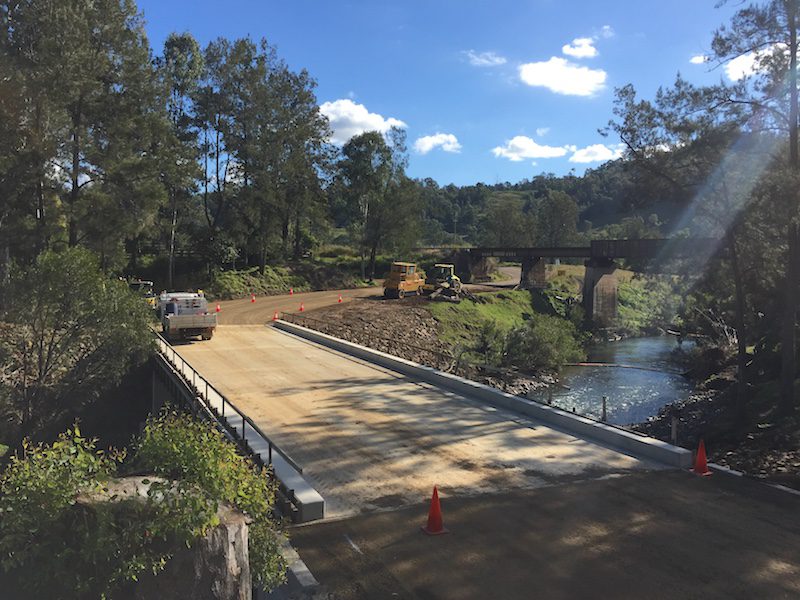 Kyogle Council spokesman Tony Lickiss has defended the unsealed detours on the Lions Rd.
He says the road has had "an enormous volume of riders over the low road in the last month and we have received some complaints".
"But when viewed over the number of riders accessing the road the percentage is diminishingly small," he says.
"If people take a common sense approach to the crossing there is no issue and full-fledged road bikes are negotiating it without issues. If you take it as a stage in a TT then yes, you will have issues.
"Our anecdotal feedback from the vast majority is it's a bit of an adventure and there is no problems.
"We will be touching up the crossings as soon as possible when and if the river ever goes down. Until then the Summerland Way is the primary route."
Summerland Way roadworks
Good news is that the major roadworks on the alternative route between Rathdowney and Kyogle over the Summerland Way are now finished.
We suggest that if you plan riding anywhere in NSW this Easter, first check the RMS Live Traffic website for updates and alerts on closures and delays.