Lindstrands Blaze Jeans Image Gallery
The Lindstrands Blaze pants may just be one of the best motorcycle jeans you've never heard of. Lindstrands Blaze jeans are one of the few bike jeans that don't use Kevlar or aramid fibres for abrasion protection and are all the more comfortable for it. The Blaze jeans are available in both men's and women's
You've probably never heard of Lindstrands. The motorcycle gear brand started out in Sweden in the 1950s as a bootmaker and expanded ever since. Naturally, the Lindstrands name is more well known in Europe and its biggest export market currently seems to be the United Kingdom, judging by the number of stockists it has online.
Lindstrands is part of the Jofama clothing group in Sweden, which also makes fashion clothing and snowmobile gear. Its motorcycle gear lineup has three sub-brands: Lindstrands, Jofama and Halvarssons. All of those names may be unfamiliar to webBikeWorld visitors outside of Europe, although the Halvarssons Safety Grip gloves were reviewed on webBikeWorld way back in 2010.
There's some synergy between the brands, since snowmobile gear has the same priorities as motorcycle gear in impact and weather protection, plus the application of technology. To use a motorcycle industry metaphor, it's similar to the strategy of Polaris owning Victory.
Lindstrands is "the more adventurous brand" of the three and is positioned as the more sporty or extroverted brand compared to the Jofama range, which is more tech-heavy. In fact, Jofama motorcycle gear is apparently worn by Swedish motorcycle police.
And finally, Halvarssons is marketed as the "classic" or "retro" brand.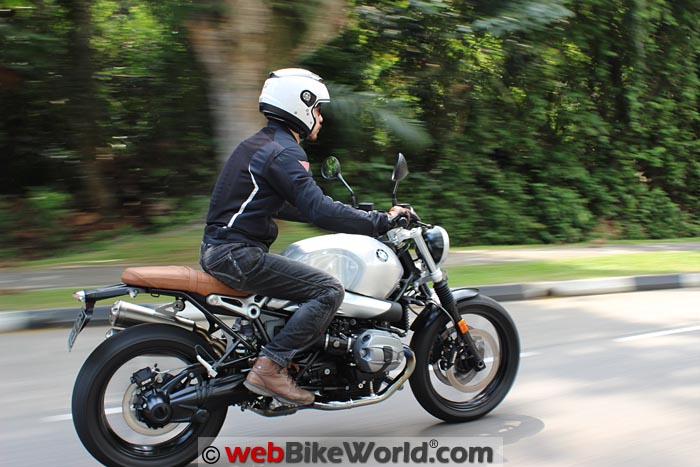 Lindstrands "Blaze" Jeans
There's been a bit of a boom in the motorcycle jeans segment in recent times.
It's driven by desire for motorcyclists to be able to wear a pair of pants that offer the crucial, protective properties of bike gear but without making the wearer seem like they'll be seized by the sudden urge to go fly fishing.
Gore-Tex pants are great for dirty weather, but they sort of look like gaiters right?
The upswing in motorcycles designed to draw in a different crowd — such as the Ducati Scrambler or BMW's R Nine T Scrambler — also fuel the demand for bike pants that look cool.
We've reviewed Kevlar jeans before and the experience hasn't always been positive.
The main reason is that Kevlar weave is heavy and it can also feel very much like you're wearing pants made out of three-ply nylon potato sack.
Like the potatoes, you're covered up and protected from chafing.
But like potatoes, it also makes you feel a bit steamed — especially if you're riding a sportbike or supernaked, because of the lack of breathability and moisture retention some lined pants don't provide.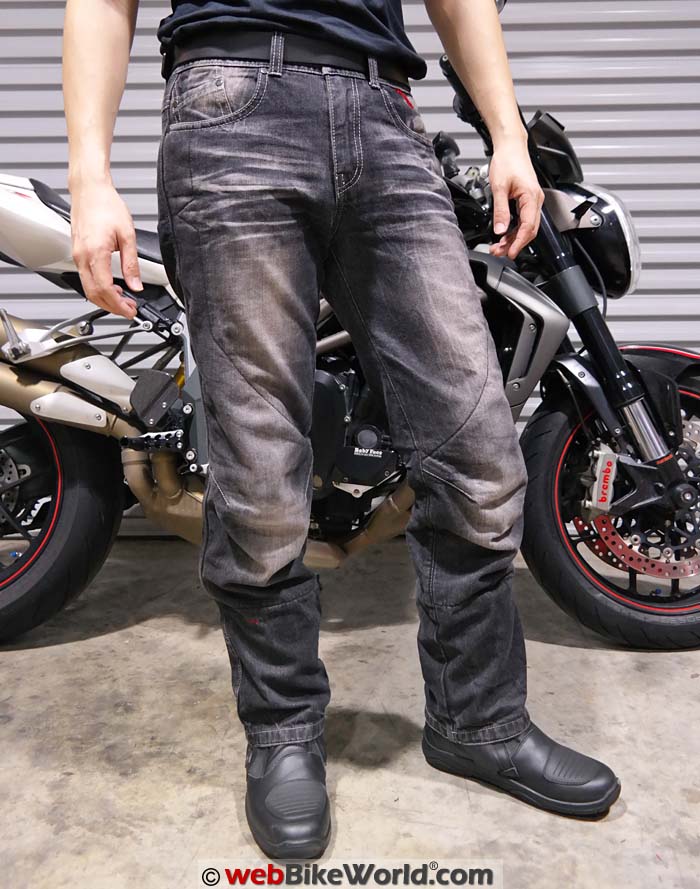 Technology
The Lindstrands jeans caught my eye for one particular reason. The protective, anti-abrasion layer is made of a technical fabric called Hi-Art, which was developed by Jofama and has been used in many of their products for many years.
Hi-Art is said to be a Kevlar/polyamide analogue, used by the company to reinforce its textile and leather garments.
Jofama claims the stuff makes leather "200 percent stronger and textiles 500 percent stronger" (Hi-Art was also used in the Halvarssons Safety Grip gloves (review) I mentioned previously.
Resistance to tearing is of course the thing which keeps a garment together when being dragged on tarmac; we all know regular jeans simply become shredded nearly instantly in such a situation.
There isn't much detail on how it works, but the company describes it as so:
"By turning fabric threads to face outwards in the form of small loops, friction works against the short ends of the fibres. It's like cutting a piece of wood; it's much harder to cut with the grain."
It sounds just like how leather works, which is abrasion resistant because of the many intertwined collagen fibres.
The Hi-Art material itself feels like a thick terry cloth, and you can actually see the loops in it, but it more slippery.
Since the pants label says the product cloth is made of 100% cotton, while the lining is made from 100% polyester, we can safely assume that Hi-Art is the latter.
"Hi-Art" Construction
Hi-Art is used in the entire seat of the Blaze jeans, extending down the side of the thighs and the front of the knees, although the front of the thigh and back of the knee isn't covered.
It makes sense, since these are the areas that are most likely to be affected by a slide.
The areas lined with Hi-Art also have a mesh lining for improved comfort.
Knee and Hip Protection
The Blaze jeans don't come with knee or hip protectors, although like many Lindstrands pants, the Blaze jeans have their "SAS" (Safety Attach System) for the Jofama pants protector kits.
The SAS protector kits are available for both the men's and women's pants. The kit includes knee and hip protectors, CE approved to Level 2, EN 1621-1:2012 and the list price is £29.00.
The SAS system includes pockets for hip protection and "loop" sections of hook-and-loop on the inside of the knee for mounting knee protectors.
I used Knox Flexiform hip protectors but I wear the jeans without knee protectors, though something like these D30 units would work perfectly.
Both knee and hip protectors have scope for adjustments thanks to hook-and-loop, although the larger expanse of the pocket in the knees gives more flexibility in that area.
For added security, Lindstrands also offers the ability to connect a jacket to the pants, with a waist zipper attachment for all belts, which is far less expensive than the REV'IT! Safeway belt (review).
Fit and Sizing
I bought this pair of Blaze jeans from Motolegends , which is a UK online retailer, although in this case I visited their lovely "showroom" in Guildford personally.
In US measurements, I typically wear size 31 jeans with a 32-inch inseam (short leg option). I was impressed with the choice Lindstrands gives, as it offers sizes from 46 to 60 (US 28 to 42) in regular or short leg (SL) lengths.
The women's Blaze Lady jeans are available in the same three colors, in European sizes 34-46 with a regular or short leg length.
While a 46 would have offered a more fashionable, closer fit, it was hard to squeeze the protectors in afterwards, so I opted for the roomier 48.
As you can see, they offer a regular, straight fit, which makes more sense for motorcyclists that need to fit pads, spend hours with their knees bent and want the flexibility of tucking the pant legs into their boots or out.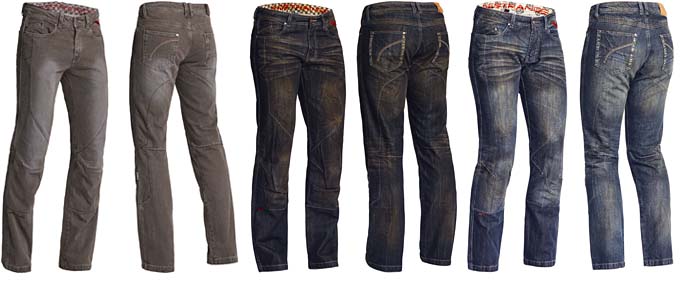 Styling
From afar, they look like a normal pair of fashion jeans. Possibly the only thing to give it away is if you spot the extra thick seam down the leg or the stitching of the Hi-Art areas and the articulation joints around the knee.
The aged finish is unique and the result of an enzyme wash, says a label on the jeans, and the jeans come in three colour choices as shown above. Mine are black and there's also a classic dark blue denim and gray-green "Lava" option. Black is more grey in some areas, while the blue is typical denim blue, and lastly the Lava looks almost grey-beige in real life.
Both in the hand and on the body, the Blaze jeans feel heavier and sturdier than regular jeans, as they should.
The Lindstrands product description is short on hyperbole, but it's obvious there has been extra reinforcement where needed, such as the thicker seam that runs down the entire leg and hip area.
As a garment, it feels very high quality and well put together without any obvious negatives, and there's also considerable attention to detail in places, such as hanging loops, the Lindstrands logo on the button, the waistband, hip patch in leather.
There's even a name tag on the inner leg too, although if you end up in a situation with lost pants, ironically, it's likely the least of your worries.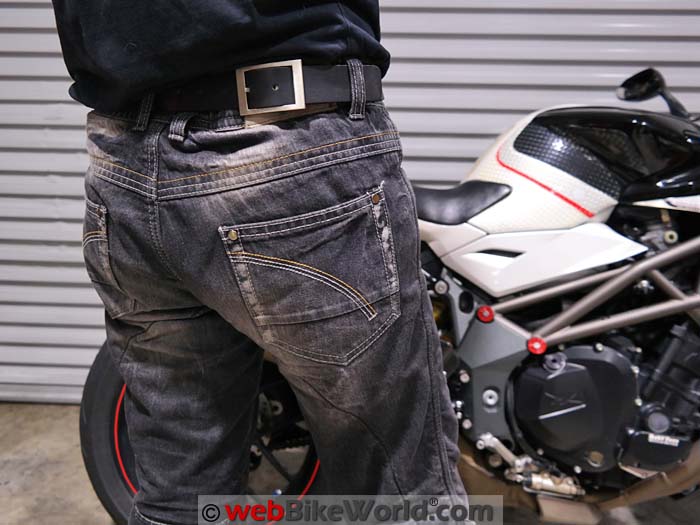 The Comfort Factor
As the build suggests, the Blaze pants wear comfortably. With knee and hip protectors they'll be heavy, as riding jeans are, but otherwise they feel like a pair of heavy-weight work pants.
They're light enough to walk around in and not really noticeable. Also, more importantly, they don't make you look like a clanking knight.
On the bike, the comfort is equally good.
The jeans feel natural and roomy without being loose, while bent knees pose no problems, nor do they cut off circulation to your limbs (it's surprising how many "bike oriented" pants don't actually feel particularly comfortable for riding).
I ride in mostly hot, humid weather (33 C degrees or more and humidity above 70 percent), which was the reason for the earlier baked potato analogy.
The non-Kevlar construction of the Lindstrands Blaze jeans was one thing that appealed to me on those grounds.
Despite being thicker than normal jeans (and despite the name), the Blaze jeans are surprisingly comfortable in hot weather, even on an Italian bike with a penchant for slow-roasting riders' feet.
These can definitely be classified as summer riding pants, although if you choose a more generous size like me, they'll surely fit a warmer base layer underneath.
The single thing that I can pick on is that the hip protector pockets are weirdly shaped and don't quite fit the Knox protectors perfectly, which results in them migrating when putting on or taking off the pants.
Wider hip protectors — or ones that can mount directly to the hook-and-loop "rail" — would do better.
Aside from that, the only major qualifier in my mind is that Lindstrands doesn't offer any detail on just how protective the jeans are, unlike other makers who either have CE approval, like theResurgence Gear jeans (review).
Nor does Jofama (Lindstrands) demonstrate as much by dragging people clad in their products behind trucks and so forth.
But there is some proof that other riders have had offs in Hi-Art equipped gear and walked away unscathed. Also, Jofama provides a two-year warranty on their products.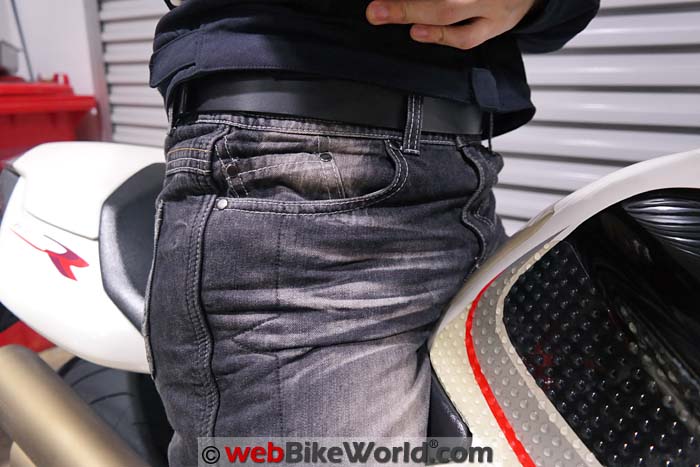 Conclusion
The Lindstrands Blaze jeans offer a great combination of comfort, usability and protection with an impressive attention to detail and overall appearance. While European brand quality comes with a price, the Blaze pants are a slightly cheaper alternative to brands like REV'IT! and Dainese.
Many jeans regularly command USD $200.00 or (lots) more for their jeans (and you'll need to factor in the cost of a protector kit also).
Lindstrands — and its sister brands — is certainly a name which deserve more recognition in the motorcycle gear world.
More wBW Motorcycle Jeans Reviews and Motorcycle Clothing Reviews
wBW Review: Lindstrands Blaze Jeans
Owner Comments and Feedback
Please send comments to editor@webbikeworld.com.
Comments are ordered from most recent to oldest.
See details on submitting comments.
From "BL" (May 2017): "After searching for a hot weather motorcycle jean for years I may finally found them! However they do require a little alteration IMO.
I wear a 34×34 Levi 501 so I ordered the size 52. The sizing is spot on.
The waist is a little bit more of a low rise, the thighs fit slightly more snug but overall you can't expect a better fitting jean without trying them on. They look great and I received a compliment the first time I wore them!
The strange thing about them is how they retain the knee armor. The pocket opens from the BOTTOM of the leg, end even though there is a vertical line of Velcro inside of the pocket, there is NO Velcro along the bottom opening.
The Velcro is supposedly matched to the Halverson leg armor which I did not buy.
So in theory if your pad becomes dislodged from the vertical Velcro, it can fall out the bottom of your jeans! So I brought them to my local tailor and had them sew in Velcro along the bottom, thereby closing the the pocket when sealed.
Then I purchased a pair of SAS-TEC knee armor and it fit perfectly. The armor I put in doesn't have much airflow and I will upgrade to a newer honeycomb style in the near future.
I rode in 70-75 degree weather yesterday up to Milwaukee and upon approaching the city the temps dropped a bit and I actually found my legs feeling cold, which never happens in normal jeans.
I should note I am sitting behind a Harley Batwing fairing. The shin area and thighs breath better then my Dainese Kevlar jeans for sure.
Once I replace the knee armor with a more modern honeycomb design I hope my hot weather jean search is over, but initial impressions are good.
Thank you webBikeWorld for all your excellent reviews. I still use my Dainese Jetstream helmet (review)!"