Bond University JD law student Kristoffer Diocampo looks at the legal implications of helmet camera injuries:
Ambiguous Australian legislation makes it difficult to determine exactly what constitutes an 'approved helmet' under motorcycle traffic laws.
For example, Max Lichenbaum in Victoria was fined $289 and three demerit points in Frankston for having a camera attached to his motorcycle helmet on March 2014. A decision on whether or not this really violates the law will not be determined until his twice-adjourned hearing date on Wednesday, September 16, 2015.
New South Wales police are following suit by warning riders that they will be fined $311 and three demerit points for specific helmet offences including the fitting of cameras.
But how can police expect to enforce these fines when the rules themselves are unclear? Until the courts can interpret the legislation, we are forced to consider the implications that can be drawn from the situation.
It is acknowledged that our road rules are made in order to address the safety of road users. Approved Australian motorcycle helmets are those that comply with the AS1698-1988 and AS/NZS1698-2006 manufacturing standards. In Queensland and Victoria, the UNECE 22.05 standard is accepted as well.
Yet, these standards apply to the initial manufacturing only and do not apply to third party modifications such as cameras.
Risk of injury
There has been no conclusive evidence to suggest that a significant increase of risk arises from wearing a helmet camera.
Veteran Formula 1 commentator and journalist, Jean-Louis Moncet, sparked controversy when he suggested that Michael Schumacher's head injury during a skiing accident was exacerbated by a GoPro camera mounted on his helmet. However, he later stated on his Twitter account that the rumour was his opinion and not factual. GoPro is considering suing the journalist.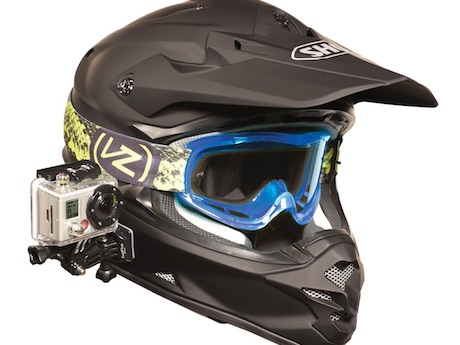 However, due to the uncertain nature and outcomes of a motorcycle accident, there continues to be a worry that mounted cameras may exacerbate an injury.
A research paper entitled, 'The Mechanisms of head and neck injuries sustained by helmeted motorcyclists in NSW, Australia' summarised the following:
"The attachment of Bluetooth and video camera devices to the outside of the helmet shell is a relatively new issue. This tends to go against what is prescribed in motorcycle performance standards, such as in AS 1698 which requires a smooth outer helmet shell to minimise friction or snagging that may promote helmet rotation. This study found a higher proportion of cases sustaining diffuse type intracranial injury when these devices were attached than when they were absent, although the difference was not significant."
We also sought advice from Ed Becker, the chief engineer and executive director of the Snell Memorial Foundation that independently tests and sets a safety standard for helmets in the United States:
"We generally advise against post-market modifications to helmets in case they might interfere with protective capability. Helmet mounted cameras are particularly worrisome. They may become loading points for tangential forces and torques in crash head strikes and afterwards as the wearer slides across a roadway… the threat to the structural integrity of the helmet [may be] minimal…The concern is whether the shock and loading will degrade the helmet's protective capability and allow dangerous levels of shock and loading to be transmitted to the wearer's head and neck."
Managing the Risk
The Motorcycle Council of NSW warns that riders wearing mounted cameras must manage the risk of diffuse axonal injury (DAI). This is why the exterior of a helmet is smooth so that it slides on a surface instead of rotating your head upon impact.
The risk can be managed by wearing a camera with a 'break-away' type of mount less than 5mm high from the helmet.
Research also suggests that a larger proportion of helmet impacts occur on the front and sides of the helmet. As such, it may be safer to consider a top-mounted helmet camera as opposed to a side-mounted one.
The Icon Airframe Statistic motorcycle helmet (pictured below) illustrates this well by showing impact areas by percentages with the lowest being on top (0.4%) and the highest being at the front and side (19.4%) where most people attach cameras.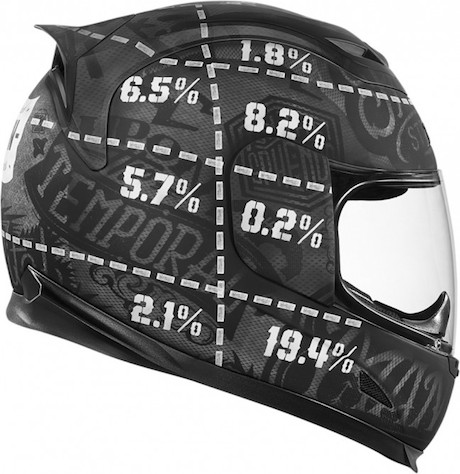 Legal Liability in an Accident
Motorcycle Lawyer, Tina Davis, from East Coast Lawyers says helmet cameras may be helpful to prove liability in a road accident as they can record data that may be otherwise unattainable in the circumstances. In fact, the previous Queensland Police Minister encouraged cyclists to wear helmet cameras for evidential purposes.
Tina says it should the rider's responsibility to properly manage their risk if they choose to wear a helmet camera.
She also strongly advises against riders modifying their helmets or refusing to follow the helmet camera manufacturer installation instructions.
"With respect to contributory negligence, it is unlikely that a rider will be deemed to contribute to their own injury in an accident caused by another road user by simply choosing to wear a helmet camera," she says.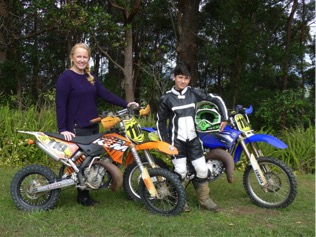 The Legal Future for Helmet Cameras in Australia
Clear precedent needs to be established on what the law defines an 'approved helmet' in Australia. Until this distinction is made, each state has a different approach on how police will tackle this issue.
Riders should manage their risk by assessing the inconvenience of a potential fine and even a confiscation of their helmet cams for evidence of a traffic offence, with the legal evidence afforded in case of an accident and the general enjoyment of being able to record a ride.
For more information on the legal clarifications of GoPros and other cameras, read this article.