LEDwear LED Safety Review Summary
LEDwear LED Safety Image Gallery
The LEDwear jacket is a lightweight windbreaker with mesh and removable sleeves.
It includes battery-operated very bright LEDs in the reflective piping.
The LEDs can be cycled through three different modes for the ultimate in visibility.
Hands down the most highly visible article of clothing we have ever seen!
So you want to be visible, right?
You've checked out all of the webBikeWorld LED and lighting reviews; got your Scorpion EXO-700 Neon helmet (review) and maybe a pair of Fieldsheer Aquasport gloves (review). Great!
Now it's time for the icing on the cake:
The LEDwear high-visibility, neon yellow, highly reflective jacket with its own eye-popping, retina-burning LED light show!
Hands-down the most highly visible jacket any of us have ever laid eyes on, this is a must-have for visibility freaks.
The high-visibility yellow and bright reflective vertical stripes alone would be probably be enough to warn away sleepy cagers, but the LED light sequences are phenomenal.
I'm not sure if the LEDs used in the jacket — 10 white LEDs in front and 10 red LEDs in the rear — are specially designed for this application or not.
But, they sure are bright.
LEDwear has a patent on the design, so it's possible. But they are certainly very intense — more so than the typical LEDs used in motorcycle brake lights or LED flashlights I've seen.
The LEDs are powered by three AAA batteries, stored in a housing in the lower left-hand front inside the jacket (photo below).
LEDwear says the batteries should last about 100 hours and the LEDs have a projected lifespan of 100,000 hours.
The battery box has a rubberized membrane switch on top, and each time it's pressed it cycles the lights through 3 different stages.
First, the LEDs will blink in an intermittent mode that looks very much like the light cycling seen on a police or fire vehicle.
Press it again and the lights will come on in a steady blinking pulse.
The third press puts the lights into the "always on" mode, which would probably be best for motorcycle riding at night, because some local laws may prohibit riding with blinking lights.
One more press turns the lights off, and then they can be cycled through the different modes again.
The location of the switch on the battery pack is a little difficult to access when the jacket is zipped up and you're on a motorcycle; you have to feel for the battery pack through the outer material and squeeze the button.
By the way, there's an interesting twist to this story: LEDwear, the company that developed the technology, found the webBikeWorld review of the Roadgear LED vest (review) and read the comments submitted by wBW visitor "D.J.W.".
They sent us an email to let us know about their LED safety jacket, which at the time was just being released to production. They quickly sent one over and this review is the result.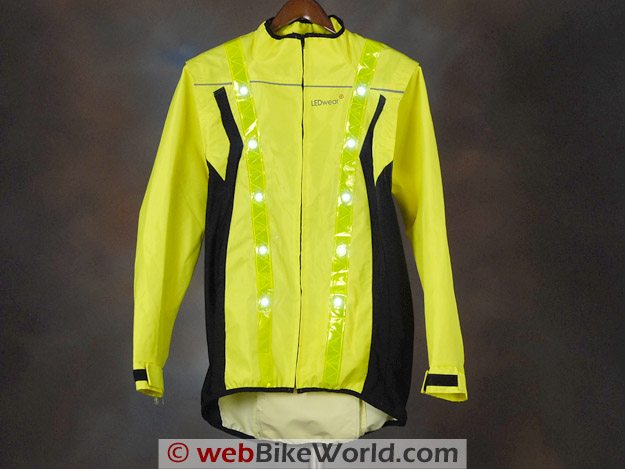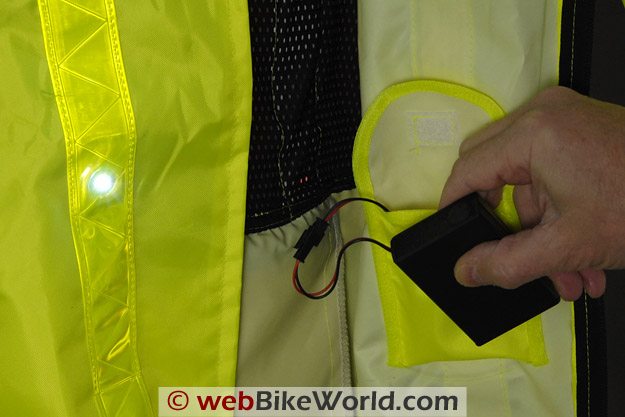 The body of the jacket has vertical reflective yellow stripes down the front and back, and the LEDs are mounted underneath, with just the clear plastic "bubble" protruding from below.
There are 5 white LEDs on either side in the front for a total of 10, and 5 red LEDs mounted on either reflective strip in the rear for 10 more.
The red LEDs are not quite as eye-poppingly bright as the white LEDs in front, but that's probably due to the different light wavelength.
We took a video at night, in pitch black darkness, to illustrate the different modes.
But remember that neither the camera lens or the video come close to showing you the real effect — these lights are very bright, and the blinking effect is extremely visible, especially at dusk and dawn, from long, long distances.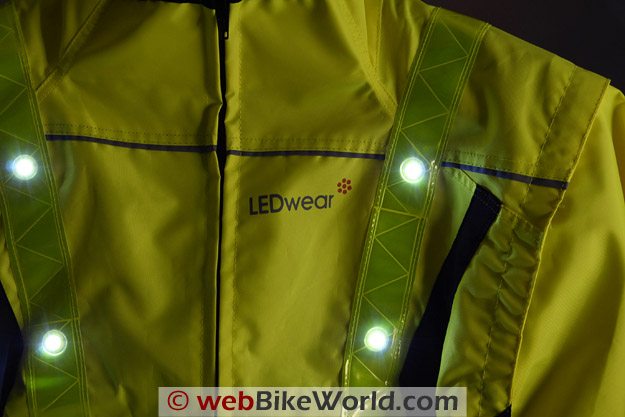 Construction
The body of the LEDwear safety jacket is made from a light- to medium-weight windbreaker-type material.
The rear of the jacket has a large mesh panel across the back; the black section seen in the photos.
This contrasts nicely with the high-viz yellow and to a certain extent provides a different type of visibility due to the contrast.
The sleeves of the LEDwear jacket are removable, so the jacket can be worn as a vest.
Since the jacket really isn't designed as a waterproof (but provides some protection against light mist or drizzle when used for walking), the vest portion might be best to wear over a motorcycle jacket.
The garment isn't designed strictly for motorcycle use, but LEDwear promises more uses of the technology in other apparel designs.
I definitely suggest they start talking to some motorcycle clothing manufacturers to see if the technology can be licensed for use on a motorcycle jacket with a built-in system.
The jacket is also perfect for wearing when bicycling, walking the dog or rescue and emergency use or traffic direction.
This jacket definitely wins the visibility contest when compared to non-powered, reflective-only garments.
Some of those include the BikeSeen reflective jacket (review) and powered safety jackets and vests such as the Roadgear LED vest (review), the Poly Brite LED vest (review) or the Safe Lites Beaconwear Vest (review) with it's "GlowSkin" flat stripes that self-illuminate.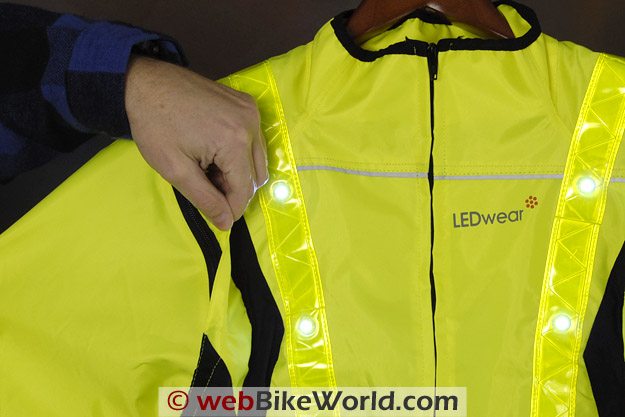 w

BW

 Video: LEDwear Jacket
Sizing
This jacket is a size large and it fits as expected with a bit more room. You may want to order one size larger to fit over a heavy motorcycle jacket.
Wearing an LED Jacket
Also, just to be clear, this is not a replacement for a motorcycle jacket; it could be worn as a jacket or vest over a motorcycle jacket for added visibility or nighttime reflectivity.
The LEDs could then be turned on in foggy conditions, in stop/go traffic, when pulled over to the side of the road, during maintenance or on courier duty in the city.
Also, use them when slowing down to find addresses or any other time extreme visibility may be required.
Conclusion
The importance of motorcycle visibility is finally being realized by many riders, and even some of the major manufacturers are starting to address the demand for colors beyond basic black.
The LEDwear jacket and vest is definitely one of the most highly visible apparel items that can be found.
And it could be a potential lifesaver in nasty weather situations with fog, rain or darkness.
Without using the LED function, the jacket is a highly visible outer garment with excellent reflectivity.
The LEDs could be used in fog, at night, in the city, in stop/go traffic or for couriers. The jacket is light weight, can be easily stowed and has multiple uses for a variety of sports.
w

BW

 Review: LEDwear LED Safety Jacket
Manufacturer: LEDwear (UK)
Suggested Retail Price: £49.95
Colors: High-visibility yellow w/white and red LEDs.
Made In: Unknown
Review Date: March 2009
Note:
 For informational use only. All material and photographs are Copyright © webWorld International, LLC since 2000. All rights reserved. See the webBikeWorld® 
Site Info page
. Product specifications, features and details may change or differ from our descriptions. Always check before purchasing. Read the
Terms and Conditions
!
Owner Comments and Feedback
---
From "G.M." (3/09):  "I have to admit my first reaction to this jacket was "if your scooter already has 'Geek Squad' logo all over it, you've got nothing to lose wearing this jacket".
That is to say, my first reaction was that even our desire to be seen can be taken to an excessive level, where our "cool factor" is totally negated by our outerwear (let's face it, motorcycles are cool, implying that we, too, are cool).
Have any of us ever seen a rider wearing one of those Last of the Mohicans headdress things on their helmet and wondered if they know how they look?
And I am not a slave to looking cool. I admit to having added an extra flashing LED brake light and flashing LED turn signals to my cruiser.
Sure the brake light flashes "Bored to be Wild", but that probably doesn't offset the geek factor [no I didn't misspell bored].
But the more I thought about it, the more I realized that this jacket would be a very good idea in less than ideal visibility, such as rain or fog. In those conditions, there is no such thing as being too visible.
You could carry this jacket with you and put on the jacket or vest in rain or fog. In these circumstances, I could care less about the "cool factor". In poor visibility, survival trumps the geek factor.
The only down side I see to this item would be if the female scientist from The Andromeda Strain happened to drive up behind you.
The flashing red lights would put her into an epileptic seizure, and she would plow through you and your bike like a hot knife through butter, never even knowing she hit you.
All seriousness aside, I wonder if anyone has ever spent a few hundred million taxpayer dollars studying the effect of flashing lights on motorists. The flashing pattern is somewhat mesmerizing.
I started to faze out a little just watching the video. Is that drool on my keyboard?
All kidding aside, for rain or fog or poor visibility, this looks like a great idea."
Editor's Reply:  I think you're right on the money here, I should have emphasized this more, the idea wasn't to wear it all the time with the LEDs on (although I suppose it could be done).
It could be worn as an over-jacket/vest for the high visibility and reflectivity, then turn on the LEDs when necessary, especially if suddenly riding into heavy fog, stop/go traffic, or other "visibility challenged" situations.
---
From "R" (3/09): "I would not pay 100 CAN $ for something that in my opinion needs an important modification from day one : cutting the wires to the front LEDs or installing a switch.
All that front illumination would be dangerous as it would create reflections on your windshield, your arms (covered in bright yellow material), handlebar, etc.
It would simply impair your night vision.
What is the use of all that visibility if you can't see?  Scary stuff. Definitely not for motorcyclists! For that they would have to install a switch for the front LEDs and make the vest fully waterproof."
Editor's Reply: Sorry I wasn't clear — the jacket does indeed have a switch (see the photo in the article). See the comments above in reply to G.M.
Also, the jacket was designed to wear over a motorcycle jacket, and not as a replacement. It was not designed to be waterproof and makes no pretense to be.
It works very well as a highly visible over-garment; the reflective stripes provide visibility at night; and the LEDs are there for emergency or low-visibility conditions.
If this added visibility prevents an accident or saves a life, it would be well worth the minor cost, which is within the range of other lighted LED safety gear we've reviewed.