Leatt Brace Image Gallery
Modern motorcyclists have a great range of choices when it comes to helmets, body armor, back protectors and clothing.
But the choices in neck protection systems have so far been limited.
The Leatt Brace offers a comfortable, flexible neck protection solution created by a motorbiking neurosurgeon.
The Leatt Brace has been under development for a considerable amount of time and it was first prototyped for testing since 2004.
Touted as "the helmet for your neck", the Leatt Brace is designed to prevent neck and spinal injuries by working in conjunction with a helmet.
The basic idea of the Leatt Brace is "to bring the head to a controlled stop", according to the company.
"Helmet impacts otherwise transmitted from the helmet to skull and then to the neck are re-directed from the helmet to the brace to other body structures in a safe way."
There are a few reasons why the Leatt Brace is probably the most popular neck brace system on the market today.
First off it's the eponymous brainchild of South African neurosurgeon Dr. Chris Leatt, who quit doctoring to develop the brace.
Dr. Leatt is familiar with our sport, because he's also a participant in motorcycle enduro and road racing.
In addition to that experience, the Leatt Brace has gotten some high-level endorsements from the BMW and KTM factory race teams.
The Leatt Company also produces badged versions of the brace for both these teams which can be purchased as official accessories from BMW Motorrad and KTM. The Leatt Brace from these teams can be seen in photos from the 2009 (transplanted) Dakar Rally.
According to the manual, the GPX is designed to prevent a whole range of injuries with names in medical terminology, which I have transcribed into English:
Hyperflexion, Hyperextension and Lateral Hyperflexion: Extreme forward, backward and sideways movements of the head.
Axial Loading: Compression of the spine. An extreme example is jet pilots ejecting from their planes and coming out a few centimeters shorter.
Posterior Hypertranslation: I'm no neurosurgeon but from what I gather this basically means having the head travel backwards at high speed to somewhere it's not usually supposed. It plays a key part in whiplash injuries.
The Leatt Brace shown here is the "Moto GPX Club" version. It is positioned under the range-topping GPX Sport in Leatt's 'Moto' product line for motorcycles.
The company also makes a variety of braces for other uses, such as karting.
The Sport brace features more extensive carbon fiber construction and a hefty $200 premium, but otherwise has the same amount of adjustability as the other Leatt neck braces.
Leatt quotes the weight of the Club as 850 g, while the Sport comes in at 780 g. Logic dictates most of us will go for the Club, or at least those without a factory team budget.
The cheaper and recently-introduced Adventure brace has much more limited adjustability and a plasticized rubber liner, but retails for just $195.
There does seem to be a huge debate as to whether the Leatt Brace actually works or if you should even purchase one.
Personally we think if it doesn't impede your mobility or vision and provides protection then it's a sure bet.
According to this Australian study, almost one in ten injuries in accidents are to the neck, which isn't as often as say, arm or chest injuries but the neck is one of the most fragile parts of the body and it doesn't take much to have a serious or even paralyzing injury.
The Leatt website lists the results of several studies, including a South African Bureau of Standards test completed in 2004 which "incorporated high speed video and digital camera capture and dummy sensor downloads".
The tests used standard protocols for restraint systems developed by various countries, and showed that the Leatt Brace (Moto GPX model) reduced flexion from 90 degrees with no brace to 60 degrees with and extension from 85 degrees with no brace to 50 degrees with.
Do You Need It?
The only reason I can think of for not wearing a Leatt Brace would be the possible impairment to vision.
The brace operates on the same principle as the HANS (Head and Neck Restraint System) as seen in most major-league auto racing events, i.e. it prevents injury by limiting movement of the head.
Now racing car drivers don't need the same field of vision as a commuting motorcyclist does, so the big question from the start is if the GPX brace is able to deliver all it claims without dangerously blocking the rider's sight.
If you haven't worn a Leatt Brace, you might imagine that it would be similar to the neck restraint you might get in a hospital, which you might imagine would prevent you from seeing that lane shark in your blind spot. But thankfully it's far from that, although not without some hitches.
As far as tested standards go, the Leatt Moto R Brace designed for car racing has passed testing regulations according to SFI 38.1 (which pertains to head and neck restraints), but the company is "still awaiting a test standard for the GPX," since there are currently no DOT or SNELL-type standards for neck braces.
But does the Leatt Brace actually work? You can judge for yourself watching some tests from the Leatt site.
A colleague of mine recently got to test his GPX Club first hand when he was involved in a hit-and-run accident and flung over the handlebars of his ride.
He walked away with a minor concussion and some bruises, but the catch is that because the impact also caused amnesia he can't clearly remember how it occurred.
My guess is that it saved him from some serious neck injuries.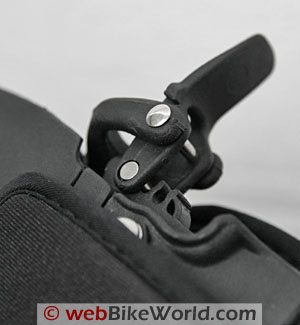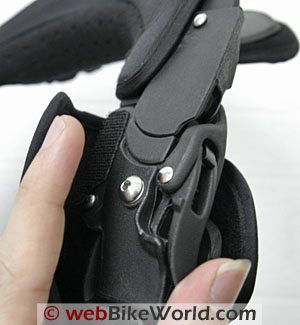 Leatt Brace lock open (L) and closed.
Construction
The Moto GPX Club Brace has five main components: front upper and lower members, rear upper and lower members and finally the thoracic member.
It comes out of the box assembled except for the thoracic member which you have to slot in as part of the adjustment process.
As described on the Leatt website, the Moto GPX Club brace is constructed mainly of 'injection-produced glass-reinforced plastic'. The front and rear members are all made of the plastic.
The thoracic member is constructed similarly, except for main strut, which is made of carbon fiber.
All of the areas that come into contact with your body are clothed in removable padding made up of foam lined with a felt-like material, attached to the members by means of Velcro tabs.
Overall, the brace is very well constructed and feels like it could last a long time, aside from some problems I had with the pins described below.
A nice touch is that while the pins are plastic, the hook itself is actually embedded metal for strength and wear resistance.
Sizing
Leatt offers two sizes, small and medium. Small is for children of 4 to 16 years of age of 'thin build', and Medium is for everyone else. Custom or larger pin sizes are available from Leatt itself.
Video: Fitting a Leatt Neck Brace
Assembling the Leatt Brace was pretty simple, following the steps outlined in the manual.
Since it comes mostly preassembled, all you have to do is slot in the thoracic member. The front and rear members clamp together with a catch on both sides and are hinged, so you can don the brace from either side.
In the GPX Club and Sport, the front and rear upper members can be pivoted up or down to adjust the amount of clearance you need by means of two screws: simply loosen, adjust and tighten again.
To adjust the overall size of the brace, there are three pairs of pins provided that slot into the rear member, held in place by two Allen key screws.
I experimented with the small and medium pins, although I had to file down one of the pins to get it to seat properly, which wasn't something I expected from a $300.00 product.
For additional fitting tweaks, the thoracic member slots into a box with two shims for adjustability and the carbon fiber strut can be replaced with a more angled version supplied (10 degrees and17.5 degrees to be exact) for thinner people.
Slight workmanship grumbles aside, the only real difficulty I had was the lack of information from the manual.
The photos and text are clear enough but sentences like 'ensure a comfortable fit' aren't precise enough.
Given that we're dealing with a quality, protective device just like a helmet, there needs to be more extensive information as to exactly how the brace should fit.
But even more important is a set of guidelines on what a normal field of vision is like.
For example, I did a rough fitting just wearing my T-shirt, according to the assembly instructions in the manual.
Of course I foolishly left out my jacket and backpack which I use for my everyday commute.
I then discovered in my normal riding position, having the jacket on coupled with pressure from the backpack on the rear of the brace forced my head down uncomfortably.
So I switched back to the medium pins and lowered the rear upper member all the way, which helped.
I also dug up an instructional video (see above) which gave more useful and descriptive guidelines, like 'expect light pressure from the front and rear upon inhaling'.
Eventually after about an hour of tweaking, I managed to get the whole package to work, including putting all my riding gear on and taking it off numerous times as well as loosening some straps on my backpack.
Riders who do not wear any backpacks should have much less trouble than I did.
Another thing to note is that the Brace should be set up in your regular riding position, not standing up straight like in the manual, unless you actually ride sitting up straight all the time, like possibly on an Adventure Touring or Touring bike.
Leatt Brace – 

w

BW

 Lightbox – Click photo to view.
Rider Upright
Rider at Slight Forward Lean
Rider at Full Lean
Looking Over the Shoulder
Leatt Brace Comfort
At the quoted 850 grams, the GPX Club can certainly be felt while riding, but the padding is comfortable and the brace doesn't exert any uncomfortable pressure during normal wear.
Leatt says the brace is designed to fit under chest protectors but I don't own one so can't comment on wearing it with full motocross gear.
As mentioned, the Brace should be set for the owner's normal riding position.
The main reason for this is that if it is set while the rider is standing, the rear member will tend to push the head and eyes, forward and downwards when the rider is seated on the bike leaning forward
The company says the brace is "compatible with all motorcycle helmet types and our design allows riders an adequate range of movement."
But the catch here is my Leatt Brace doesn't allow extreme angles of forward lean as illustrated in my photos, like in a full racing crouch.
Even with the thoracic shims set, the 10-degree thoracic strut in place and rear member lowered fully, I simply can't lie flat on the bike and preserve my vision without straining, as seen in my photos.
Of course this may not apply to everyone – my advice is, as with any sort of motorcycle gear, to head on down to your dealer and try it out for yourselves if you can.
For everyone else though, it's a small price to pay for the added peace of mind it provides.
As long as you don't have extreme riding positions, the only thing you have to put up with is a slight knock as the brace and helmet contact when looking fully over the shoulder.
The Leatt Brace does take some getting used to but it doesn't impede vision significantly when set-up properly.
Comparison
It's difficult to compare with other neck protectors on the market since they're mostly unheard of and untested.
But the EVS RC-Evolution Race Collar retails for about $200 and the Alpinestars Bionic goes for a whopping $679.95 on the official Alpinestars site.
Conclusion
Overall I came away with a very favourable impression of the Leatt Moto GPX Club Brace. It's obvious that a lot of thought has been put into making a quality neck brace that can fit a wide range of people and is comfortable to wear.
The only complaints would be the fitting of the pins, a more informative manual and the fact that I really can't recommend it for those with extreme riding positions.
w

BW

 Review: Leatt Brace (Moto GPX Club Brace)
Available From: Leatt Brace
List Price (2009): $395.00
Colors: Black
Made In: Unknown
Review Date: January 2009
Note:
 For informational use only. All material and photographs are Copyright © webWorld International, LLC since 2000. All rights reserved. See the webBikeWorld® 
Site Info page
. Product specifications, features and details may change or differ from our descriptions. Always check before purchasing. Read the
Terms and Conditions
!
Owner Comments and Feedback
---
From "P.J." (2/09): "Following an accident I had on my motorcycle where I thankfully walked away without too much pain and injury I looked into the brace to complete my protection since it was the only "missing link" between my helmet, back protector and full leathers, boots and gloves.
I found the (Leatt Brace) instructional video to be adequate and the information on the site to be well presented.
I have now had my Leatt brace for over two years and here are some quick observations:
The brace does fit well over my Joe Rocket leathers (I don't have an aero hump), but I have to wear the brace over the leathers and the back protector (not under as they suggest) since the brace cannot fit under the jacket;
On that note I tried to get some advice from the distributor but did not find them to be very helpful or mindful of the queries;
The brace is unobtrusive for highway or track use (though at high speed it has a tendency to add some resistance and wobble);
The brace is more obtrusive for urban use as it does limit your ability to turn your head completely from side to side when lane changing;
The brace does add some heat in summer, by limiting your ability to open your jacket for venting;
At low speed, in the rain, the brace acts as a scoop which funnels water runoff from the helmet to dump it in the jacket around the neck.
It can be cumbersome to carry around when you are off the bike (taking a break or walking around) so I loop it through my visor opening on my helmet and use it to hold my helmet.
I have become quite accustomed to wearing my brace and hardly ever ride without it. Just as my back protector has become an essential element of my protection, I feel very naked without my brace especially in traffic.
You don't get to pick your accident so maximum protection is a must. Once you get used to it you won't want to ride without it!"
---
From "C.T." (1/09): "I would certainly welcome more devices like this with open arms as most riders currently leave their necks unprotected AND add another 3-4 pounds of helmeted mass to their heads.
I do have a practical question, however. My racing leathers have a "back hump" and I am wondering if this device will fit over such a suit. Do you have any input?  Thanks!
Derryn's Reply: Not that I know of, but take a look through the manual and they suggest that those with aero humps you should unstitch a portion of the hump to fit the thoracic member.
Needless to say those with custom made kangaroo leather suits might not appreciate this, but the things we do for safety…."