Lazer Rider Superskin Helmet Review Summary
Superskin Helmet Image Gallery
The Lazer "Rider" is the first helmet available with the new Superskin technology.
Lazer has a very long history of motorcycle helmet manufacturing.
In fact, the company history can be traced back about 90 years, which is a long time and many helmets ago.
Although not as well known in North America (but now available again!), Lazer has been marketing helmets in Europe and in many other countries around the world for many years.
The company had a brief online presence in the U.S. in the early 2000's (and, in fact, were one of the first motorcycle helmet manufacturers to sell helmets online about 10 years ago).
I purchased a Lazer Century (review) flip-up back then and it was the first helmet ever reviewed on webBikeWorld. Lazer then partnered with AGV for a while, but it now back as an independent company with lots of plans for the future.
wBW Video: Lazer Superskin Technology
Lazer Superskin Technology
I had the opportunity to chat with Alexander de Vos van Steenwijk, the CEO of Lazer Helmets, at the 2009 Powersports Dealer Expo in Indianapolis last month.
He is both passionate and committed to making Lazer Helmets a preeminent brand, featuring the latest technologies that can make helmets safer and more enjoyable.
The first of these technologies (more are promised!) is Superskin.
We first described Lazer's Superskin technology in a webBikeWorld Special Report in early February of 2009, but to summarize my non-technical understanding of the product, Superskin is a rubbery sort of plastic type of "skin" that covers the helmet.
It provides a lubricity to the helmet surface and it's designed to move when the helmet strikes a surface (i.e., if the rider falls).
This movement dissipates some of the energy, which can help to reduce the rotational forces that the rider's head might suffer.
In our Special Report and in the extensive information on the Lazer Helmets website, Superskin is described in technical terms. Videos and charts illustrate the differences in forces on a Superskin-covered helmet and a helmet without the Superskin covering.
That information and data was collected through extensive testing in certified European labs and in various studies.
We received many questions about Superskin, some of which have been posted in the Comments section of the Special Report. Lazer Helmets also created an FAQ page on their website, with answers to rider questions.
But that was then; this is now. Superskin has indeed made it to production, and the Lazer Rider is the first publicly available motorcycle helmet, on sale now in Europe.
The Rider is a "Jet" styled helmet, a design first made popular in Europe among scooter owners. Jet styled helmets are now becoming popular with motorcycle and scooter riders around the world, probably due to the combination retro/modern helmet design.
The Rider is available in two Superskin colors, but it's also sold in a wide variety of colors and graphics without Superskin, including an interesting version with what appears to be leather covering the bottom half of the helmet.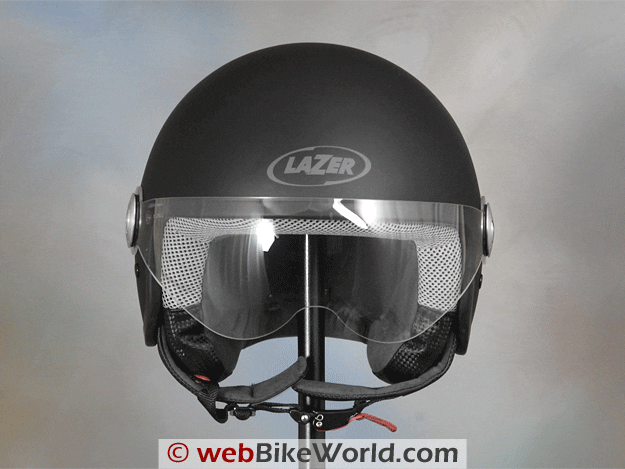 Paint, Graphics and Overall Quality
Some of the new "Jet" helmets are out at the edges of the style envelope; one that comes to mind is the Dainese Jet Stream Tourer we reviewed some time ago. The Lazer Rider is much more subdued and, in fact, probably has more DNA from something like the Bell Shorty than the Dainese.
Honestly now — can you picture a Harley owner wearing the Dainese Jet Stream Tourer?  I didn't think so… But I could indeed imagine a cruiser owner tooling along with the Lazer Rider, perhaps with a dark smoke visor.
The paint on the black version of the Rider is nicely applied and it has a not-quite-matte finish that gives it a luster when illuminated. The paint is applied over the Superskin covering, and a few very tiny ripples might be apparent here and there, but only under very close inspection.
Overall, I doubt very much that anyone would know that this helmet has something special under the paint if I didn't tell them, as you can see from the photos. There just is no way to tell that this helmet has something special under the paint unless it is demonstrated.
The "Transparent Mat" version of the Rider is also available; I guess that some "rat bike" owners might like this one. I thought it was a sample unpainted helmet designed to illustrate the Superskin, but apparently Lazer is selling this version also.
I'm not sure if owners can or should paint over the Superskin, but anyone looking to avoid any semblance of respectability might like the anti-style that the Transparent Mat version provides.
These are pretty basic helmets and were apparently the easiest to use for the initial Superskin applications, but Lazer promises more colors and more helmets, including full-face versions, coming soon.
It's relatively easy to apply the Superskin to the uniform surface of the Rider, but some difficulties remain in fitting it to a helmet with vents and other openings, because the Superskin must be able to have some movement over the surface of the helmet to remain effective.
Because of the limited color availability at this point, it's a bit difficult to draw any hard conclusions.
But based on the black version of the Rider shown here, I can say that it seems well made and it has no quality flaws that I can find. I especially like the well-padded and comfortable liner; the fit; and the hefty aluminum visor rotating mechanism — no plastic here.
Also, the underside of the back of the liner has a section of reflective material, which is a nice touch.
Score: The Lazer Rider gets an "Excellent" score for overall quality, paint and finish.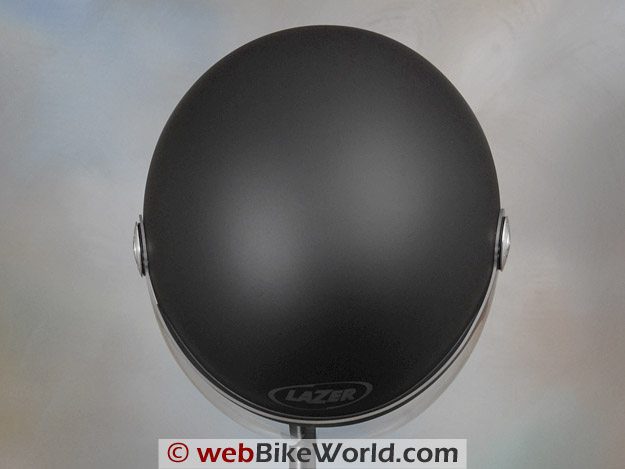 Helmet Fit, Internal Shape, Liner and Comfort
The Rider in black shown here is a size large, while the Transparent Mat version is a medium. The size large fits me perfectly with what I would call a textbook neutral internal shape.
The Lazer size chart indicates that the size large should fit a 59-60 cm head, and I agree. My head is just a touch over 60 cm, and since open-face or flip-up helmets have a bit more play towards the bottom of the shell, a size large usually fits.
The helmet feels slightly top heavy, as some of the Jet styled helmets will, mostly because the shape of the helmet shell normally doesn't continue down as far as a deep full-face helmet by design.
But the padding is generous for this style helmet and the liner is very comfortable, with probably softer fabric than most or all of the open-faced helmets I've tried.
Unfortunately, there are no ear pockets in the Rider, so only very thin speakers or ear buds might work under the Rider; I have tried neither.
The chin strap is wide and well-padded, which adds to the comfort.
The helmet uses a European style quick-release buckle which works well in this application once it's set for the rider's range of desired sizes.
The extra length of chin strap has a snap on the end but there is no matching snap on the opposite side, which is an apparent oversight. However, the extra length can be secured by threading it back through the friction adjustment buckle.
Overall the Lazer Rider is a very comfortable helmet; I don't often wear open-face helmets, but this is a good choice for touring or carousing on a retro, vintage or cruiser styled motorcycle with modern levels of protection.
For more information on choosing and fitting a motorcycle helmet, please see the wBWMotorcycle Helmet FAQ page, which also includes a discussion on head shapes.
As always, remember that helmet fit is crucial to safety and comfort, so make sure you try the helmet on before buying, and try a variety of sizes. The smallest size that fits comfortably is usually the safest.
Score: I'll give the Lazer Rider an "Outstanding" for a comfortable fit and a very comfortable fabric used in the liner.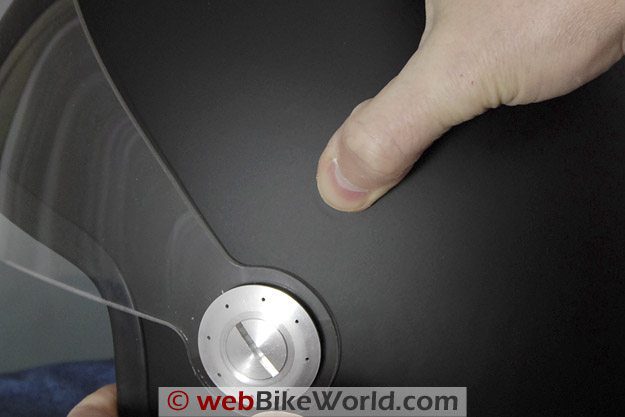 Venting and Visor
Since there are no vents on the Rider and indeed, on most helmets of this type, there's not much to say here. There's plenty of ventilation, whether you need it or not!
The helmet comes with a simple clear visor and tinted visors are optional. The visor rotates smoothly up and down, with a slight detent about half-way, allowing it to be raised just enough to give that cool pilot look when you're stylin'.
The visor is held with friction via the aluminum rotating mechanism on both sides of the helmet.
The visor on the black helmet shown here is 2.4 mm thick and has excellent optical qualities with no distortion or waviness. The lower rear edge of the visor on either side has been ground at an angle to allow it to pass over the thick shell gasket without damage to either part.
I would definitely recommend buying the optional dark visor with the helmet, both for looks and for function.
Score: I'll give the Rider an "Outstanding" rating for air flow and ventilation and for the operation of the visor.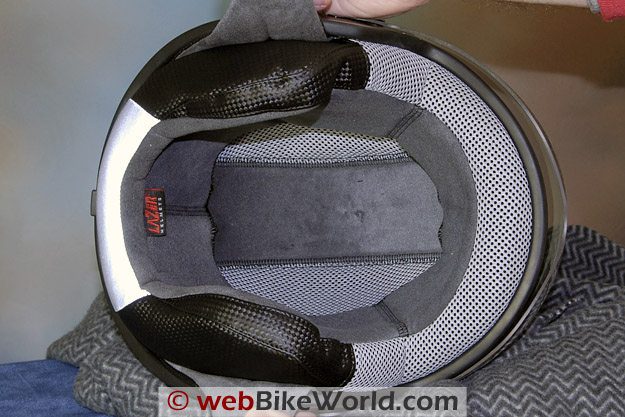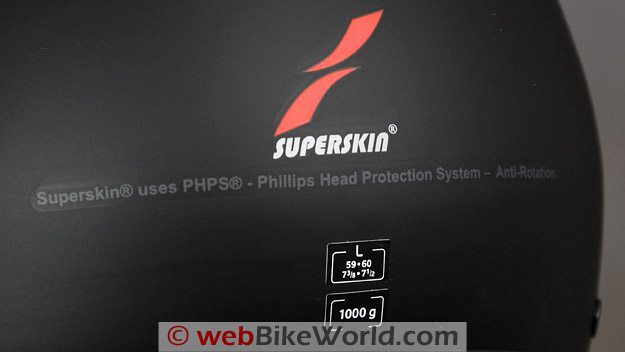 Helmet Weight
We haven't reviewed many open-face helmets on webBikeWorld (8 total), and some of those are size large while others are XL's. So it's difficult to compare, but the Lazer Rider fits right in the middle at 1266 grams (2 lbs., 12-3/4 oz.).
For comparison purposes, the URBAN N350 Moto (review) in size L weighs 1056 grams (2 lbs. 5-1/4 oz.) and the Bell Shorty (review) in size XL weighs 1143 grams (2 lbs. 8-3/8 oz.).
The Dainese Jet Stream Tourer (review) in XL weighs 1179 grams (2 lbs. 9-5/8 oz.) and the Draxtar P-104 (review) (XL) is 1341 grams (2 lbs. 15-1/4 oz.).
When you're talking about open-face or Jet styled helmets, weight is basically a non-issue.
Although full-face helmet wearers may require some time to get used to the feeling of an open-face helmet, which has most of the weight sitting up higher on the head, giving a slightly top-heavy feeling until you get used to it.
To compare the Rider with other helmets, see the wBW Motorcycle Helmet Weights page for charts comparing the weights of all of the open-face, full-face and flip-up helmets we've reviewed.
Score: The Rider gets a "Very Good" rating for its light weight.
Noise Levels
Again, there's not much to say here, because there's a certain level of noise that comes with wearing an open-face helmet, although they can be surprising and some are actually quieter than some full-face helmets we've tried. The Rider is about normal in this regard.
Note that our helmet evaluations are a combined effort of several riders over time on different types of motorcycles with and without windscreens.
Evaluators wear correctly fitted, high quality ear plugs (even when evaluating motorcycle intercom systems).
Always protect your hearing when riding a motorcycle. See the wBW Earplug Reviews for more information on choosing and wearing earplugs.
Note also that perceived noise levels will vary, depending on the individual.
Noise can be caused by many factors, including helmet fit, the type of motorcycle and windscreen, wind speed and direction and even the rider's clothing.
For more information on helmet noise, visit the wBW Motorcycle Helmet Noise page.
Score: The Lazer Rider gets a "Very Good" rating for noise control.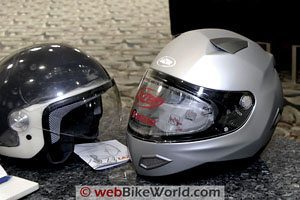 Superskin
So far the Lazer Rider seems like a decent, well-made Jet style motorcycle helmet, and I've reviewed it as such. But the hidden bonus is the Superskin feature, and the fact that the Lazer Rider is a revolutionary helmet in that it is the first to receive this treatment.
Again, I'll direct you to our webBikeWorld Special Report with all the details on Superskin.
That page features a quick video taken at the 2009 Powersports Dealer Expo, but we produced another video below that I hope more clearly demonstrates this technology.
In normal use, the Superskin feature is pretty much completely transparent, if you will — it's there, but you'd never know it.
I can pretty much guarantee that I could hand this helmet (or the black version, at least!) to 100 motorcycle riders and I'd be surprised if a single one would realize that there is anything different about this helmet.
And that's the way it should be. Just like the EPS foam lining; the helmet shell; the padding or whatever else, it's there, it makes up part of the helmet and you hope it works to save your skull in case of a crash.
If you have any questions on this helmet or Superskin, please contact us at the address in the Comments section below.
The Lazer Rider is currently sold only in Europe and meets ECE safety standards. Lazer is currently negotiating to initiate North American distribution for the Superskin helmets and all of their other cool helmets, and we'll definitely keep you posted on that.
wBW Video: Lazer "Rider" Helmet With Superskin
Conclusion
The Lazer Rider is a nice-looking, high-quality Jet style helmet. It's comfortable and well made.
The Superskin is icing on the cake and it took a huge amount of work and resources to bring this technology to a point where it is now actually offered on a real, live motorcycle helmet available for sale.
Congratulations to Lazer for their persistence and for developing this technology that has the potential to make motorcycle riding a little safer!
wBW Review: Lazer "Rider" Helmet With Superskin
Manufacturer: Lazer Helmets (Belgium)
List Price: €249
Colors: Black, transparent.
Made In: Europe
Sizes: XS-XL Shell Sizes: Unknown
Review Date: March 2009

Rating Scale is subjective: Unacceptable, Poor, Neutral, Very Good, Excellent, Outstanding.
Note: For informational use only. All material and photographs are Copyright © webWorld International, LLC since 2000. All rights reserved. See the webBikeWorld® 
Site Info page
. Product specifications, features and details may change or differ from our descriptions. Always check before purchasing. Read the
Terms and Conditions
!
Owner Comments and Feedback
---
From "D" (3/09):  "I find it odd that a company so focused on producing a safer helmet chooses to release the first Superskin model as a jet style in the colors of black and nearly black (distressed, natural, whatever).
I commute year round and when I'm on the roads around here, my highest priorities are full face, fit, and visibility. I suspect many others that are attracted to the safety aspect of Superskin will feel the same as well.
I'll be trying one of these on if they bring them to the states as a full face in a visible color."
Editor's Reply:  I believe it was rather difficult to get the first versions into production, so they picked the easiest helmets they could find with the easiest colors to use.
There are many more on the way and hopefully some day it will be available on every helmet in their lineup. Like any revolutionary new technology, it will evolve pretty quickly I'd imagine, but they had to start somewhere.