Italian scooter brand Lambretta returns to Australia in August with six models, nine dealers and a public invitation to the launch.
Scooter fans can get a sneak peak of the Lambretta model range at the Mailing Rd Auto Classico Event, held at Mailing Road, Canterbury in Melbourne on Sunday, 19 August, 2018.
Official launch
Otherwise, they can attend the official launch on Saturday 25 August, 2018, at any of the following nine official Lambretta dealers:
5/257 Balcatta Road
Balcatta, WA
08 9300 1719
29/31 Magill Road
Stepney, SA
08 8130 0700
15 Regent Street
Redfern, NSW
02 9319 6811
5 Lionel Donovan Drive
Noosaville, QLD
07 5474 4016
4 Cameron St,
Broadmeadow, NSW
02 4957 0674
3/27 Southern Cross Drive
Ballina, NSW
02 6686 4662
83 Alexandra Parade
Fitzroy North, VIC
03 9482 2212
551 Pittwater Road
Brookvale, NSW
02 9938 5858
41 Allison Street
Bowen Hills, QLD
07 3161 4071
The scooters will come in 50cc, 125cc or 169cc models in V and V Special variants differentiated by the front guard.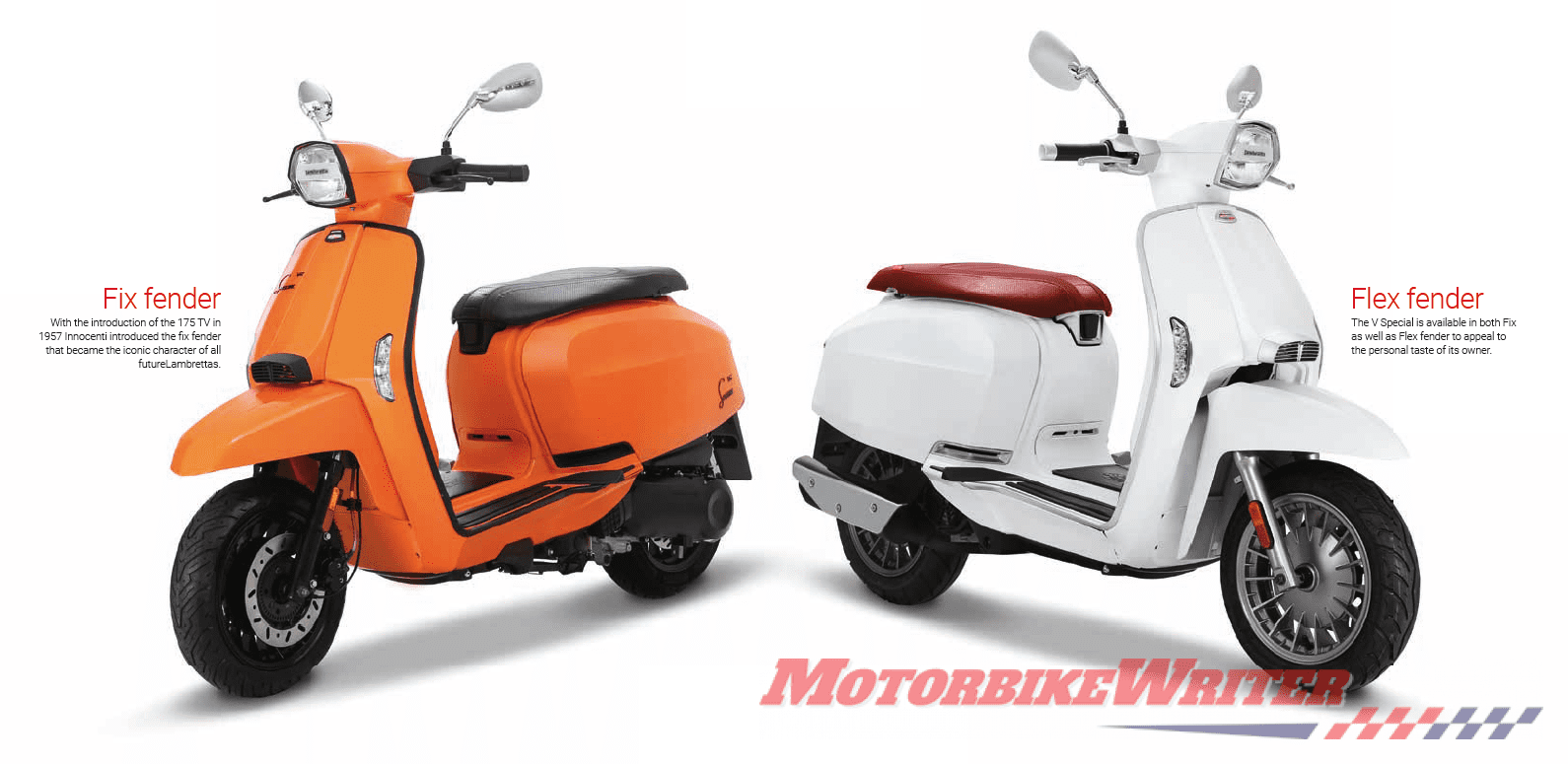 Lambretta V has a conventional "flex" front guard that moves with the steering like most scooters. 
V Special scooters come with the iconic "fixed" front guard introduced in 1957 on the 175 TV. Ever since, it has been a signature Lambretta design feature.
There are eight colour options across the range (although the supplied photo shows only seven).

Prices (plus on-road costs) are: V50 and V50 Special $3590, V125 and V125 Special $4290, and V200 and V200 Special $4990.
As expected prices are more than Asian scooters, but come with steel body and frame, LED lighting, USB port, Pirelli tyres and Italian design flair straight from the fashion centre of Milan.
However, prices do undercut their main competitor, Vespa, made by Piaggio in Pontedera.
The Vespa Primavera 50cc scooter is $4490, Primavera 125 iGET is $5790, Primavera 150 iGET $6590, PX150 is $6490 and the Sprint 150 iGET s $12,490.
There is no word yet on the promised electric version.
Lambretta features
Real steel body and framework construction;

Italian componentry and finish;

Aluminium front grill, handlebar components and trim;

Interchangeable panels for personalisation;

Front and rear disc brakes (50cc has a rear drum brake);

V125 & V125 Special features combined braking system;

V200 & V200 Special comes with ABS;

LED headlight, taillight with integrated and indicators;

Combined digital/analogue dashboard display;

Ample underseat storage;

Glove box with USB port;

Side stand and centre stand; and

Pirelli Tyres.
Lambretta history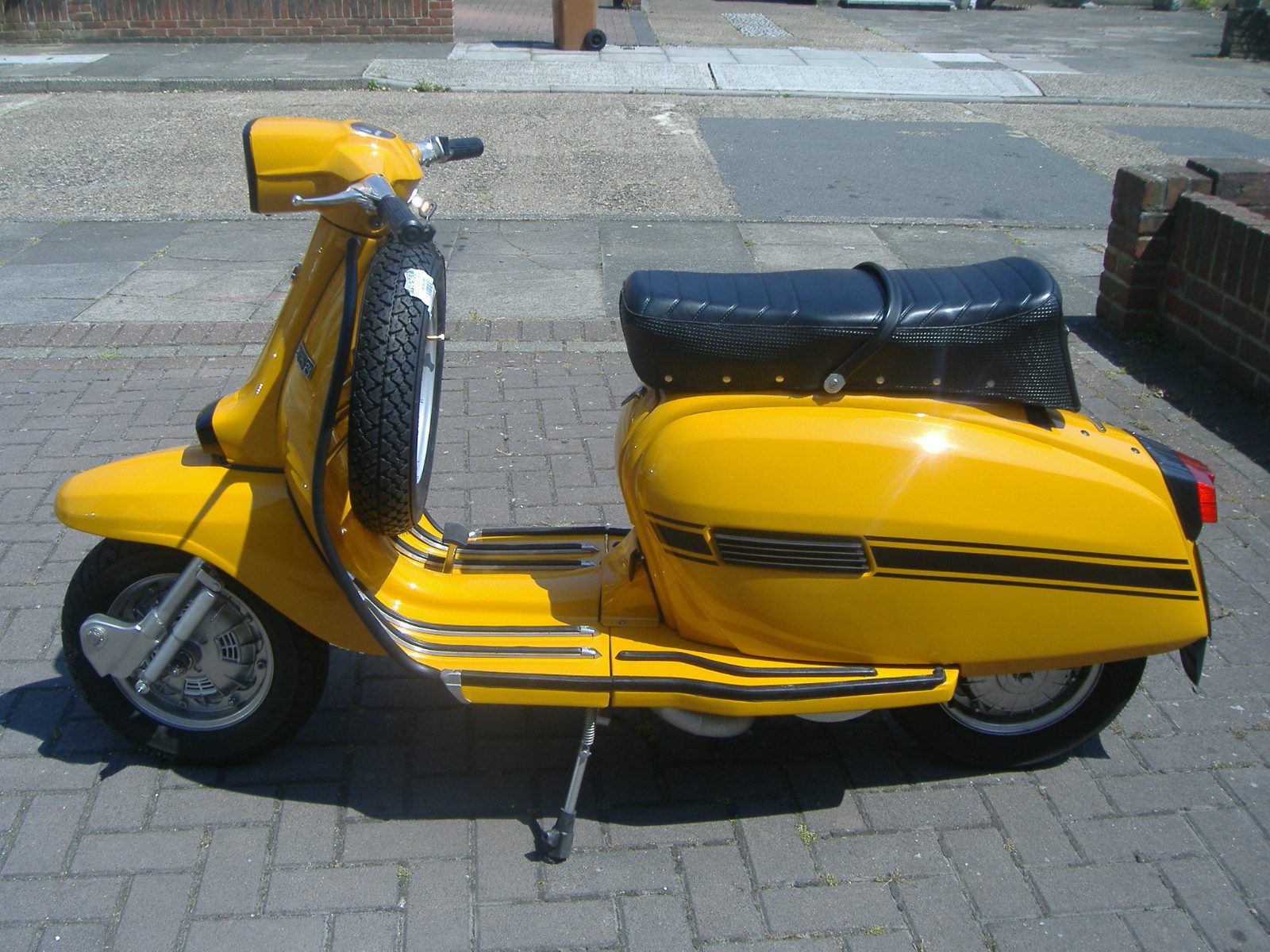 The name Lambretta comes from Lambrate, the suburb of the Milan where it all began in the Innocenti factory. Lambretta the brand name came from a mythical water spirit that was associated with the local river, which runs next to the former factory.
Lambretta scooters were quickly adopted as an affordable mode of transport in post-war Italy, due to its low running costs.  
In the early 1960s, the Lambretta Series 3 was embraced by young Mods, but as wealth increased, they switched to cars.
Innocenti to close its doors in 1972, but Lambretta scooters have continued under license in several countries and under different brand names.