There are too many two-wheeled pieces of pretty that should come with the warning label "not as advertised;" luckily for us, KTM isn't one of them and their 30-year anniversary of the iconic Duke has birthed a slew of new stuff for MY2024!
Team Orange's triple decennial festivities include a trifecta of naked nougats, with every featured Duke touting KTM's brand new, Euro 5.2-compatible engine. 
Other perks include new frames, a lightweight swingarm, and some sweet color schemes, so let's dive right in, yeah?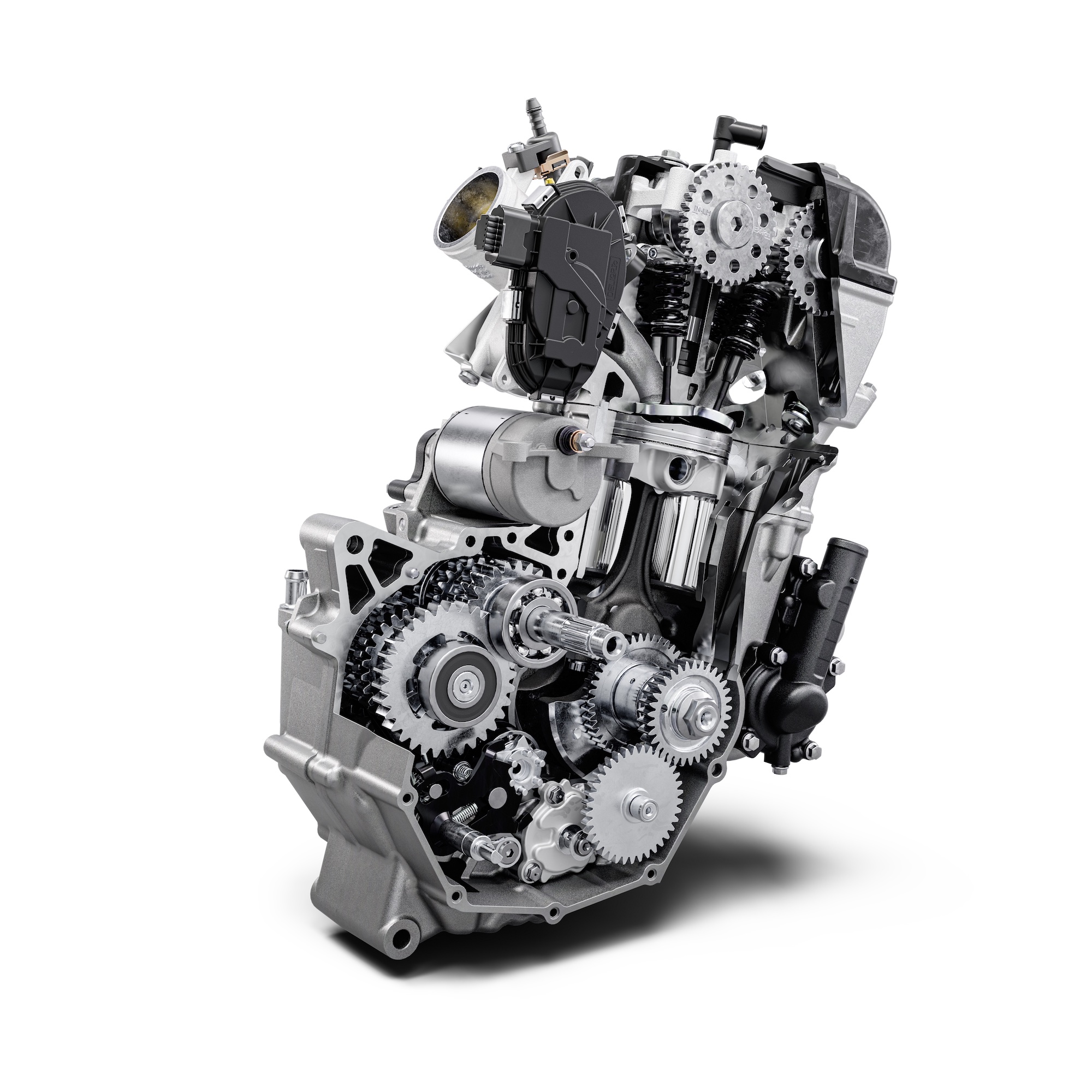 The New KTM LC4c Engine
For MY2024, KTM tweaked their bleedin' orange heart, proffering a handy-dandy, single-cylinder LC4c (available in 125cc , 250cc and 399cc, respectively). 
In their press release, KTM describes these engines to be created from "the experience gained with the previous generation," resulting in a big overhaul that includes "newly optimized cylinder heads, and gearboxes, as well as meeting Euro5.2 compatibility standards."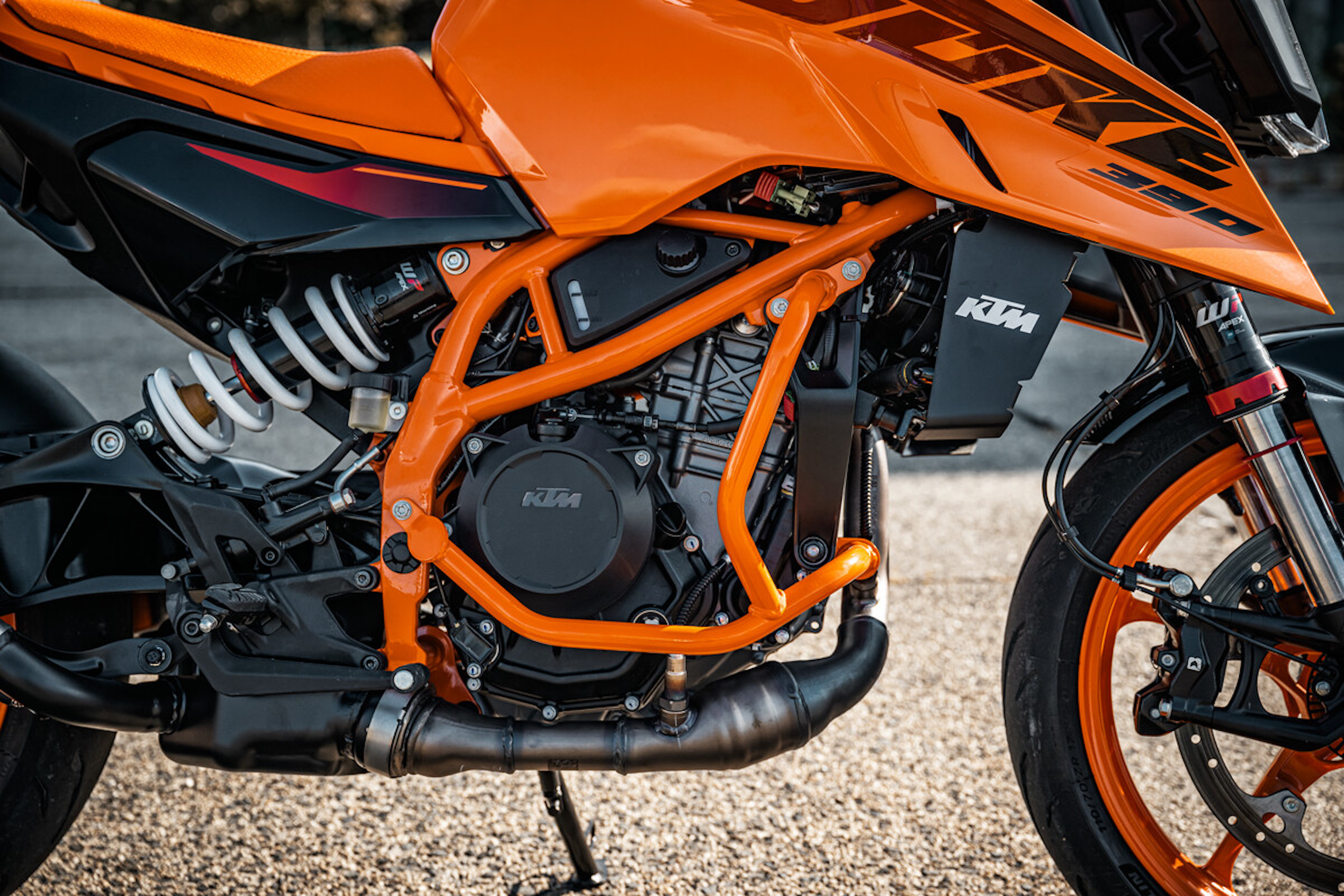 The New KTM Chassis
KTM's dynamics were also improved for the new year, thanks to a two-piece chassis that sports a new steel trellis design mated to a pressure die-cast aluminum subframe. 
The end result? 
Augmented torsional rigidity, better agility/feedback, and a bump up in stability/control, thanks to the new triple clamps and a revised offset.
Very nice.
The New KTM Swingarm
Instead of working with a rear shock absorber in the traditional location, Kronreif & Trunkenpolz Mattighofen decided to design their new lightweight swingarm around the shock, deliberately mounting off-center "to allow for a larger airbox design while reducing overall seat height."
Thanks to this adjustment, more people can ride the new 2024 Duke range with the assurance that stability/handling is still out of this world. 
This slideshow requires JavaScript.
2024 KTM 125 Duke
The refreshed KTM 125 Duke may be a smaller-capacity than its siblings, but it is no less mighty; an uber-bright LED headlight and tank spoilers accompany the new "Electronic Orange" and "Atlantic Blue" color schemes, which sets off the same 5" TFT screen as the 390 Duke. 
Perhaps the most pleasant continuation into MY2024 is the 125 Duke's WP APEX suspension – a "43 mm WP APEX Open Cartridge non-adjustable front fork with 150 mm travel and a WP APEX Separate piston shock absorber with tool-adjustable preload."
Pricing hasn't been announced yet, but expect the 2024 KTM 125 Duke to be available for a tad more than 2023's neat MSRP of $4,799 USD.  
This slideshow requires JavaScript.
2024 KTM 250 Duke
Coming in slim and swinging, KTM's 250 Duke flaunts trim tank spoilers as well as a seat height that's been lowered for "greater accessibility, without compromising on stability or handling." 
A new SOHC tweak gives the 250 license to even better power-to-weight ratio figures, while KTM's press release also tells us that ride-by-wire and power assist slipper clutch are newer features. 
Keep in mind, ride by wire simply regulates the power electronically; this means riders can look forward to a better combustion burn, as well as better mileage, and a less jarring ride. 
Color options include "Electronic Orange" and "Ceramic White," and we are anticipating the KTM 250 Duke to flaunt something a tad more than the MY2023 MSRP of $4,500 USD.
This slideshow requires JavaScript.
2024 KTM 390 Duke
And now, to the leader of the Duke lineage. 
Nicknamed the "Corner Rocket," KTM's 390 Duke is outfitted for 2024 with longer tank spoilers, big radiator covers, and external running lights (LED for those). 
"Electronic Orange" and "Atlantic Blue" are the livery choices here, dressing the 390's EURO 5+ compatible 399cc heart as well as the 43 mm WP APEX Open Cartridge front fork with 5-click adjustment on rebound and compression.
A split piston rear shock absorber with adjustable rebound and preload completes the floating duties, while the front is dressed with a 5" TFT ( the same as the 125 Duke), aiding in the initiation of three Ride Modes: STREET, RAIN and TRACK Mode.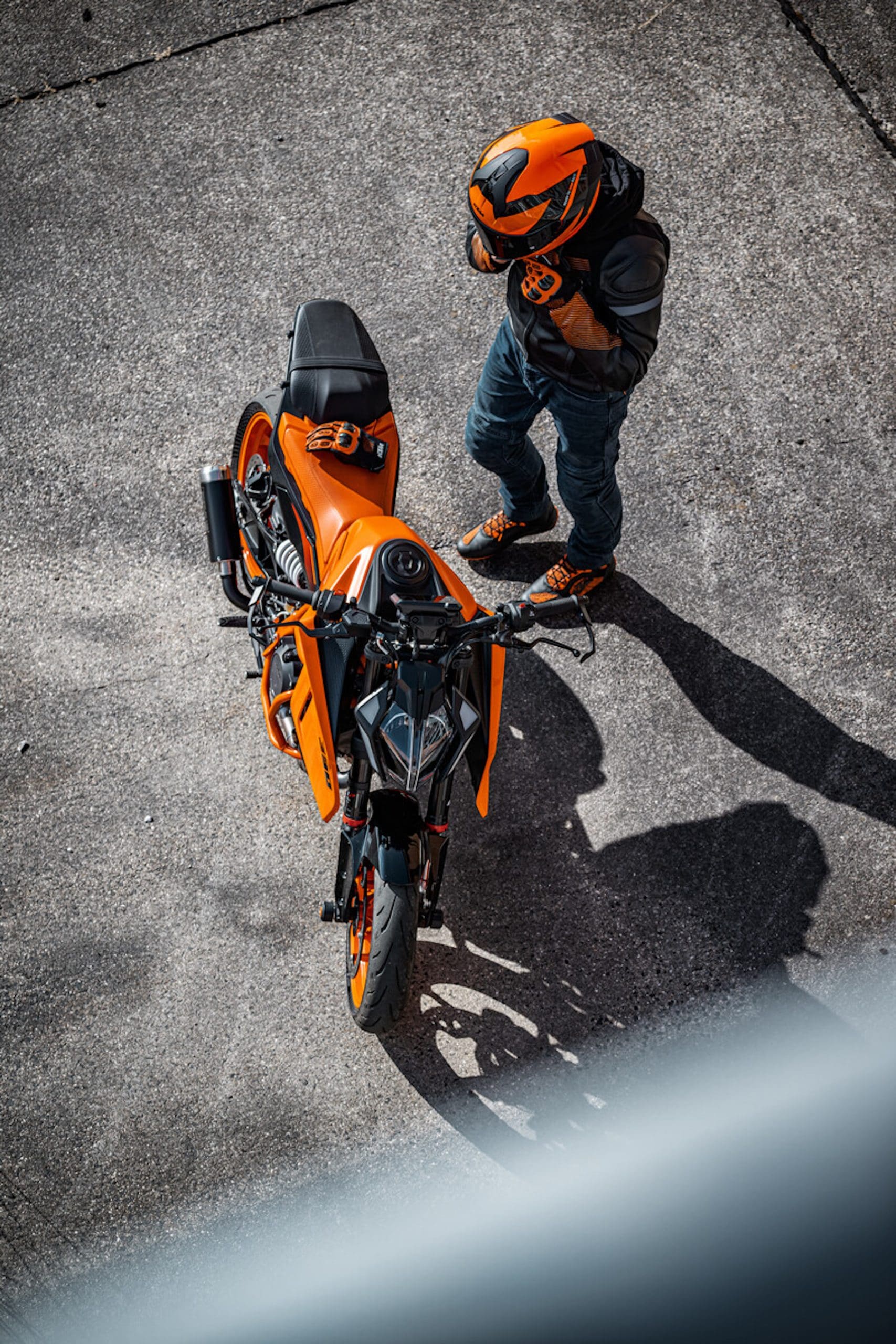 By the way, this is the first time that a 390 Duke has a TRCAK Mode, and from the sounds of it, the program is absolutely necessary, even including minute details like a lap timer, a bigger RPM display, and minimized fluff that won't be necessary when screaming down a straightaway. 
What do you think of KTM's refreshed 2024 Duke lineup?
*Media sourced from KTM*