Hot on the heels of the 2022 KTM 450 SMR comes the release of its younger sibling to the dual-sport world.
Meet the updated 2022 KTM 350 EXC-F Factory Edition – it's torquey, it's got a fresh outfit, and it's got a list of updated specs as long as my arm proving the beastie is ready to tear up the road and take names.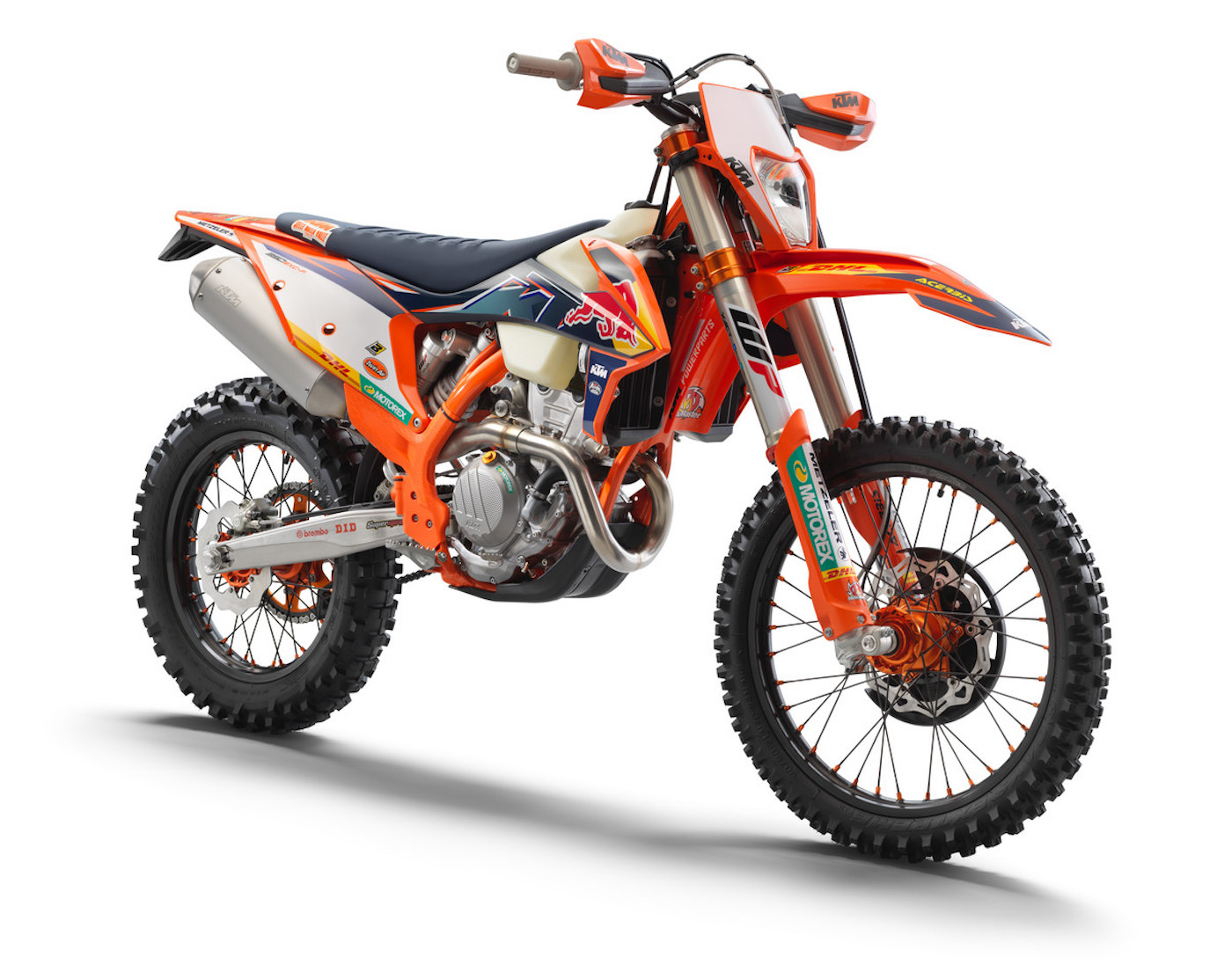 There are two things that a motorcycle needs to count as a top-notch enduro motorcycle; an easy-access air pump/clickers for the fork and the potential to adjust the travel. The 350 EXC-F Factory Edition has been blessed with both, sporting WP XACT air fork technology to keep the conditions balanced and endurance-friendly, regardless of the topography.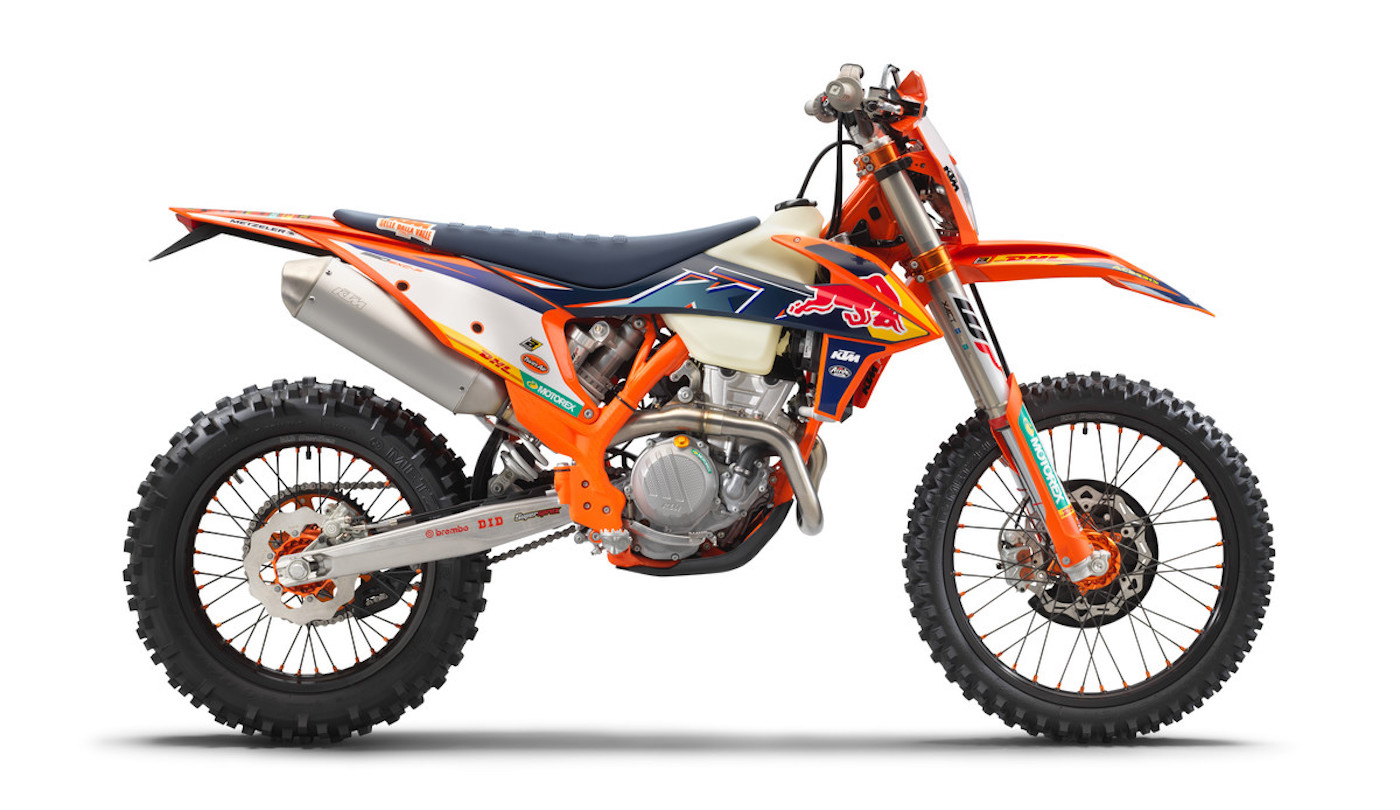 Built with the support of Red Bull Factory Racing stars, the 2022 350 EXC-F Factory Edition sports a shiny, championship-ready 28 kg 350cc fuel-injected DOHC engine that's braced against a lightweight (yet tough-as-nails) chromoly steel frame.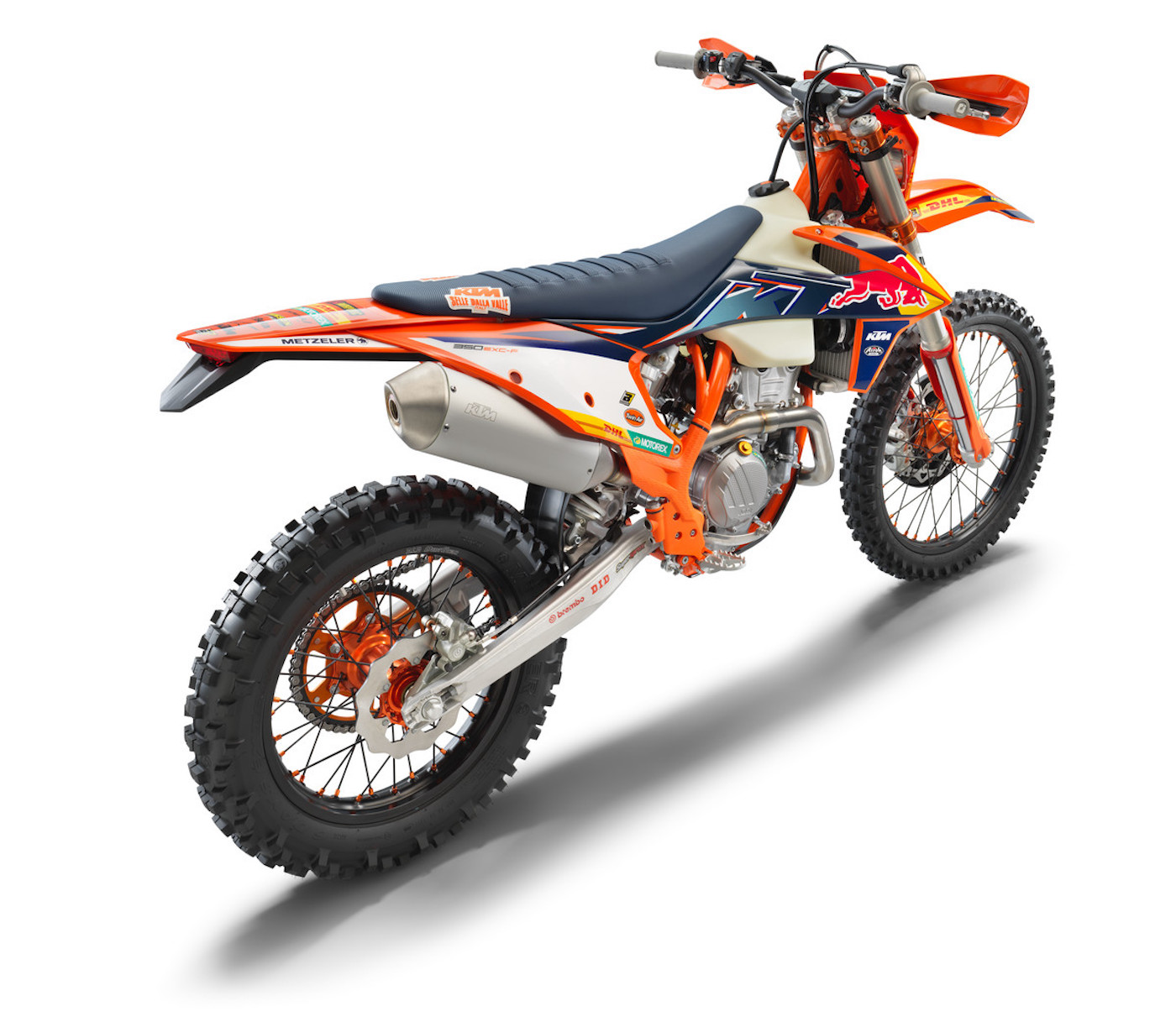 The whole kit and caboodle rides on factory wheels (as well as anodized hubs) and is protected from the chaos of a good rip by an engine skid plate as well as a front brake disc guard, radiator protection for the fan, a map selector switch, and a Supersprox Stealth rear sprocket.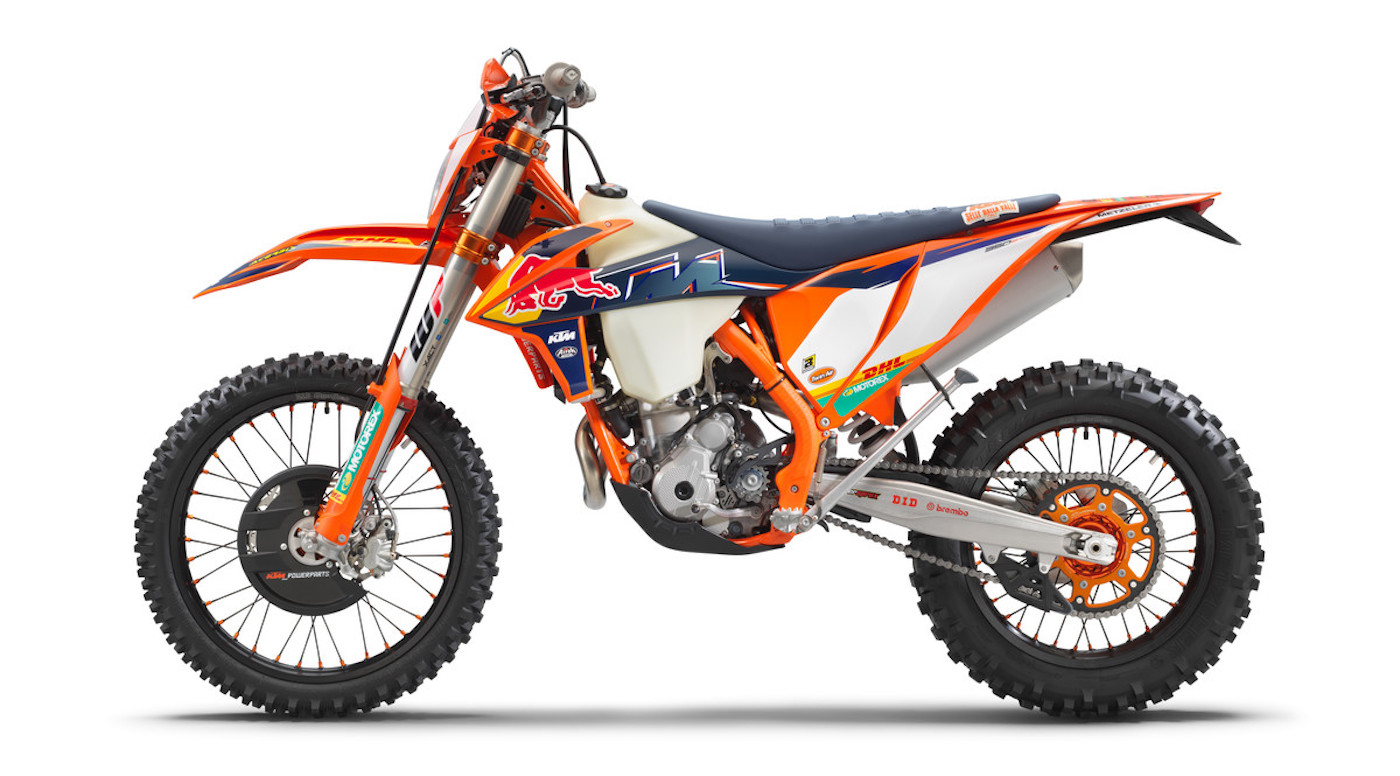 We're going to finish the introductions with KTM's descriptive for the new visual aesthetic – "sumptuous." 
They're not wrong, as the race-inspired graphics combined with the factory blue seat, orange oil plug, and CNC-machined orange triple clamps brings to mind a lickable orangesicle…only it's powered by 45 pretty ponies. And you can ride it to filth. 
My kind of treat.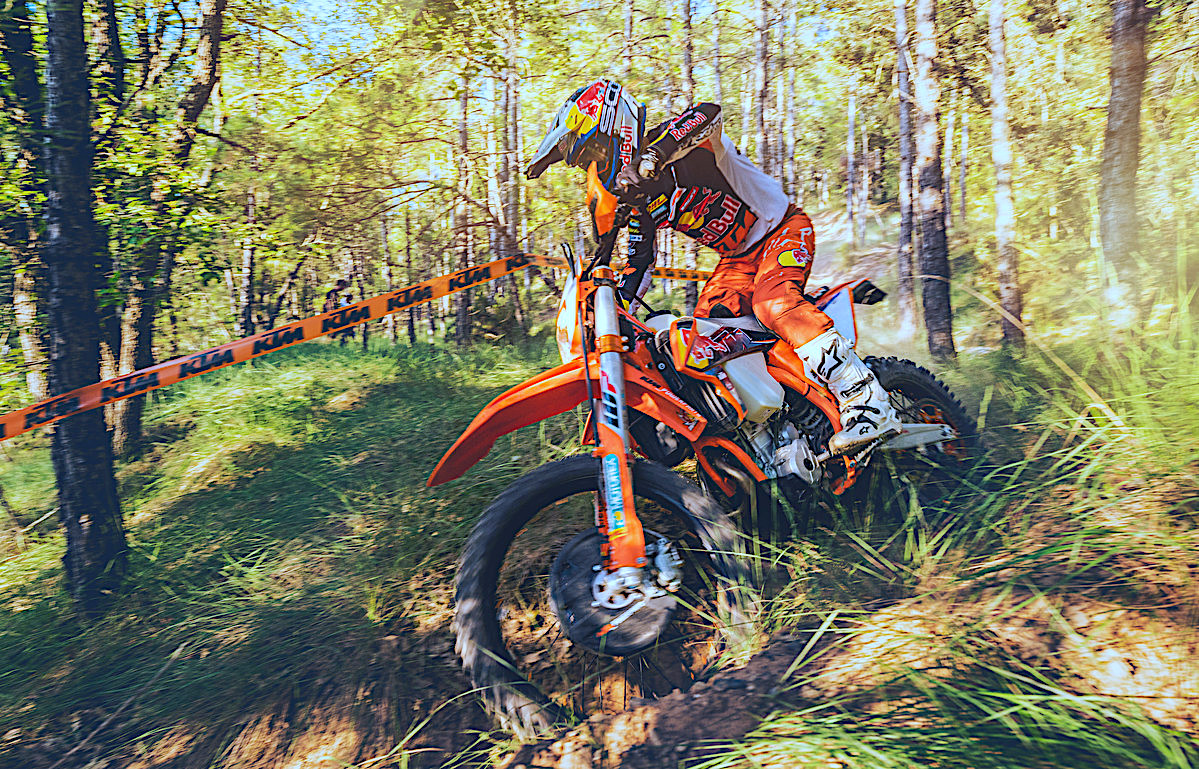 Stay tuned for the reveal of the 2022 KTM Lineup + Our Take On Each Model…in the meantime, we still have the 2021 KTM Lineup to compare bikes and get you all ready for the next reveal from KTM.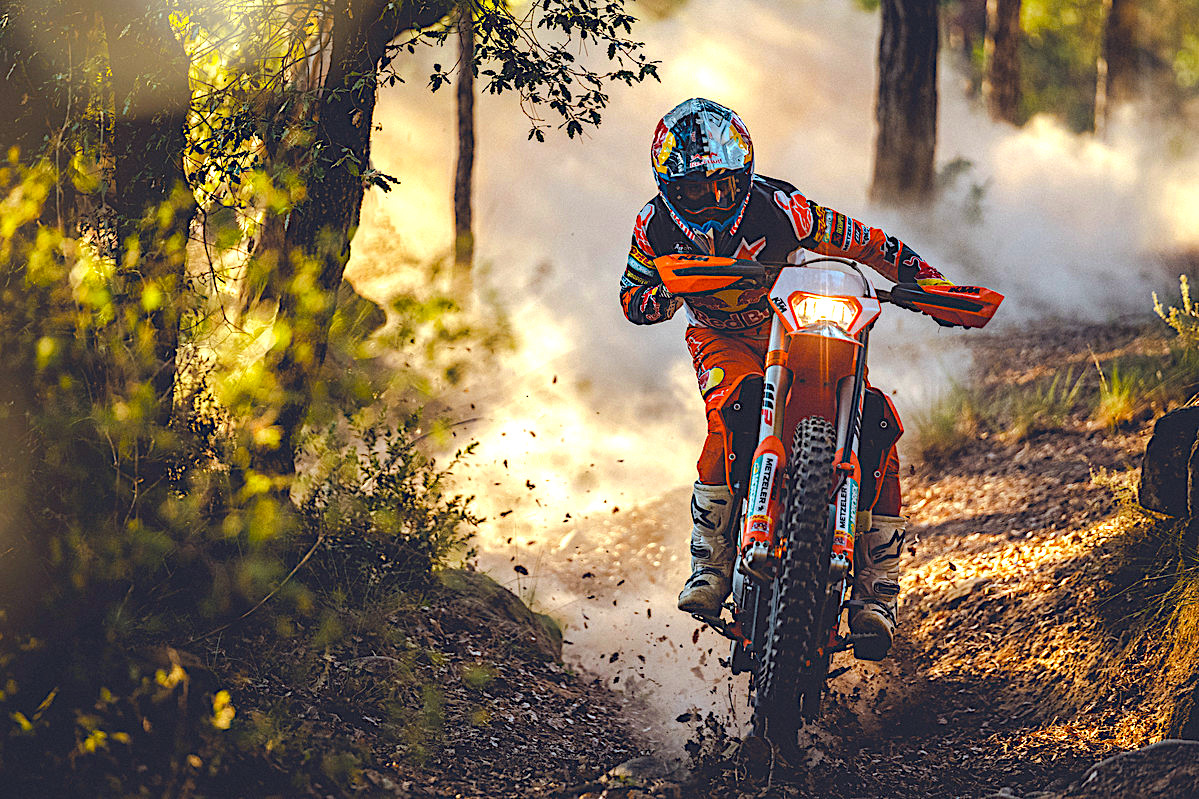 Stay safe on the twisties, and get an orangesicle for me – I'm going to go ride a bike.