This is a "Quick Look" because it's really a follow-up to the original webBikeWorldKoolin' Klothz review of October 2006.
I did not even realize that the product had been reviewed previously until I had already written this one and found the original as I was doing some research!
What's amazing is that I never talked to Bill (the original author) about this product.
And even more, we ended up with nearly identical results and words, right down to the Absorber reference (see below)!
So either we've been hanging around too much (or not enough, because neither of us realized the other had tried this product) or we're on the same wavelength when it comes to hot weather riding.
But that's good news, because it proves that the product must work.
When I talked to Rick about all this, he said go ahead and submit it, because the new version of the Koolin' Klothz are much different from the simple yellow rectangle in the 2006 review. So here you are:
The nasty and wet winter turned into a nasty and wet spring, then in typical fashion, all of a sudden it turned hot and humid, and here we are.
I'll take cold over hot any day for motorcycle riding, especially when you add in the steamy humidity that's typical around here.
I don't know why, but I'm just miserable when the weather is like that — my British ancestry I guess.
And I agree with Bill – I've also tried the evaporative cooling vests, but I just don't like riding around in what feels like a wet mop clinging to my ribs.
But these "Koolin' Klothz" neck wraps, helmet liners and other evaporative clothing items are a good compromise.
I've been using the bandanna wrapped around my neck and the helmet liner, and they really do seem to make a difference.
Koolin' Klothz are available in a variety of shapes, sizes and colors, with head bands, neck bands, "Koolin" Angles" (what I call a bandanna) and the helmet liner or hat inserts. They're hand made by a little ol' (young) lady in Texas.
The absorbent material on the bandanna is sewn inside a fabric triangle, made from 100% cotton.
The hat insert is made from "raw" absorbent or evaporative material, but it's nicely sewn together to fit just on the crown of the head, above the ears.
The actual absorbent fabric is similar to those German "Absorber" towels mentioned by Bill, the ones used to dry a motorcycle. But the material used in these newer Koolin' Klothz is different; the fabric seems softer and thinner and not as rubbery.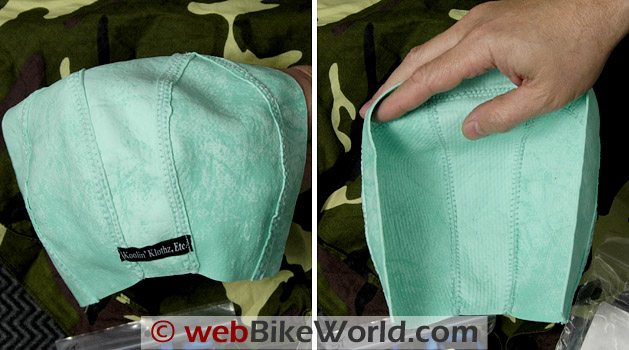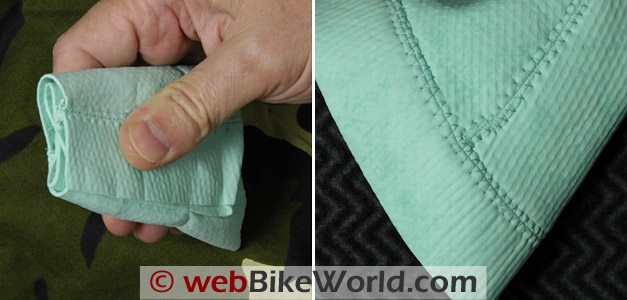 These things are as hard as a rock when they're dry, and it takes a bit of soaking to get them to loosen up and absorb all the water the first time out of the package.
I found that it uses less water if I fill a bowl and just let the Koolin' Klothz soak in there for a while, rather than wasting water by running it in the sink.
Once they're wet, they're wet for a long time.
I rode with the bandanna for a couple of hours, took it home and threw it over a chair back, and the next morning it was still damp. This may be due to the cotton, which takes forever to dry.
I'm kind of wondering why they didn't use some type of wicking poly fabric, but I'm not sure if that would be better or worse.
I can wear the bandanna for a couple of hours in very hot weather and it still feels damp. the "cool" thing about it is I can take it off, shake it out and wave it in the air for a few seconds, then it feels cool again when I put it back on.
A cooling bandanna around the neck is a good idea, because of the large amount of blood flowing up through there to, uh, most people's brains.
Cooling down this blood and the neck has a nice effect, and the best thing is that I don't feel all sticky like I do when wearing an evaporative vest.
The Koolin' Klothz hat insert is less effective I think, probably because on some/most helmets, the ventilation is a joke, and the product seems to work best if it gets a little air flowing over it to evaporate the moisture.
Most of the Koolin" Klothz are available in either a solid color or print, and it looks like they occasionally have other colors or might make up special or group orders also.
The prices seem a bit on the high side, but this is a product that should last pretty much forever, and it's cheaper than one of those evaporative vests.
Conclusion
I definitely think the Koolin' Klothz neck wrap or bandanna is a useful device for riding in hot weather. It's kind of a simple idea that's well executed, and they're easy to use — just add water!
w

BW

 Review: Koolin' Klothz Evaporative Wraps
List Price (2009): $3.50 to $50.00
Made In: U.S.A.
Colors: Grey/khaki
Sizes: Many
Review Date: July 2009
Note:
 For informational use only. All material and photographs are Copyright © webWorld International, LLC since 2000. All rights reserved. See the webBikeWorld® 
Site Info page
. Product specifications, features and details may change or differ from our descriptions. Always check before purchasing. Read the
Terms and Conditions
!
Owner Comments and Feedback
---
From "D.M." (7/09): "I have been using these for years, and they have been a big hit with every one I show mine to. As a firefighter, we are always looking for an easy way to stay cool on long hot incidents, and these are the ticket. And yes they do last forever even with the abuse our department can give. I still have one of the originals, its over 5 years old now and still looks new!"