Knox Roseberry Jeans Review Summary
Roseberry Jeans Image Gallery
Roseberry women's jeans by Knox, the armour specialists, offer protection combined with comfort and style.
And that's everything you want from a pair of motorcycle jeans.
I've never been a big fan of motorcycle jeans.
It seems to me that they try to do two jobs and fail at both: not as comfortable as jeans, not as safe as bike trousers.
As a rule, I'd rather wear over-trousers and slip them off at my destination.
So when our Editor asked me to review a pair, I went in with some scepticism.
However, these were no ordinary motorcycle jeans.
Produced by Knox, who have specialised in armour and protective motorcycle clothing since 1981 and made from Cordura denim, the Roseberry jeans had a pedigree that gave me confidence.
The Roseberry women's jeans are part of Knox's Studio Collection, a range of motorcycle gear designed to be used as a modular system and for wear on and off the bike.
At around £109.00 (and currently available only through Planet Knox UK), the price is similar to a midrange pair of over-trousers, but with a much better look.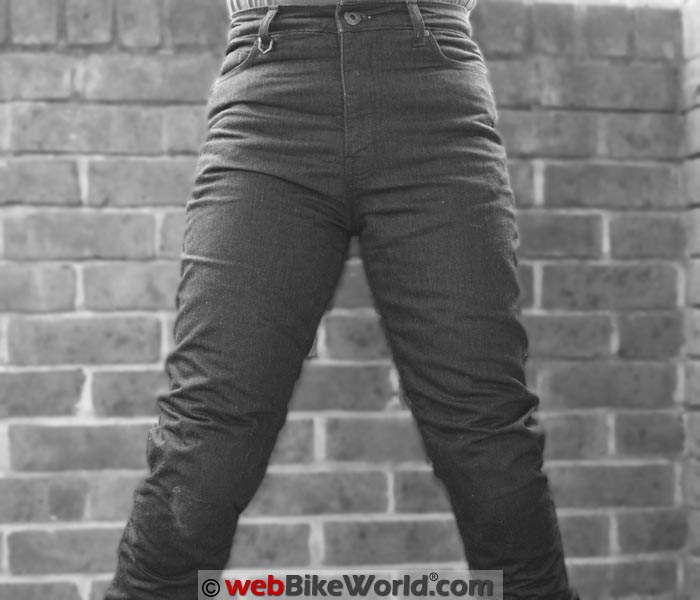 Appearance
The jeans come in blue or black. I ordered black, to match my bike and the rest of my gear. The dye is even, solid, and deep.
In the black colourway, absolutely everything visible from the outside is black: the stitching, the button, the rivets, the leather tab on the back with a subtle embossed Knox logo.
The button and every rivet is branded "KNOX STUDIO COLLECTION".
And the Knox name is stamped on each side of the cute hexagonal key ring that dangles from one of the belt loops, ready for your keys or any other use you can think of.
On the hanger, it's obvious from the drape of the jeans that they are thicker and heavier than the average non-biking pair, but this difference vanishes when the jeans are on.
The protectors, especially at the hips, is barely visible, so they don't look like bike jeans at all.
Fit and feel
I ordered a UK size 12 (US 8, EU 40), labelled as a 30 inch waist. My waist size is 29″, yet I found the jeans a fraction tight.
Maybe that's just my vanity speaking, though because once they're on, they are very comfortable and I don't notice the increased thickness and weight.
The Roseberry jeans have a zip fly, with a single button at the top. This was a little stiff and fiddly to fasten, but will undoubtedly loosen up over time.
I don't often wear slim fit jeans, favouring straight, boot cut, or what Gap is pleased to call its "sexy boyfriend" cut. But it's easy to see why a narrow leg works best on a motorcycle: no flapping around or catching on the pegs, and the protectors stay in place.
The jeans only come in one length, which is a little too long for my 28″ inside leg, but since the Kevlar lining stops at mid-calf, you can alter them yourself, take them to a tailor, or, as I did, simply turn up the cuffs.
You'll have a job getting the tapered legs over boots though; I chose to tuck in, which looks fine and feels comfortable.
I've worn the Roseberry jeans in a range of summer temperatures from chilly mornings to blazing hot afternoons, and my legs have been comfortable throughout.
Knox marketing information states that the Roseberry jeans are breathable, flexible in two directions, abrasion resistant and all-season suitable for use in four seasons.
I was concerned the black colouring and thick fabrics would make me feel too hot, but on the move the jeans admit enough breeze to feel pleasant without getting too cold.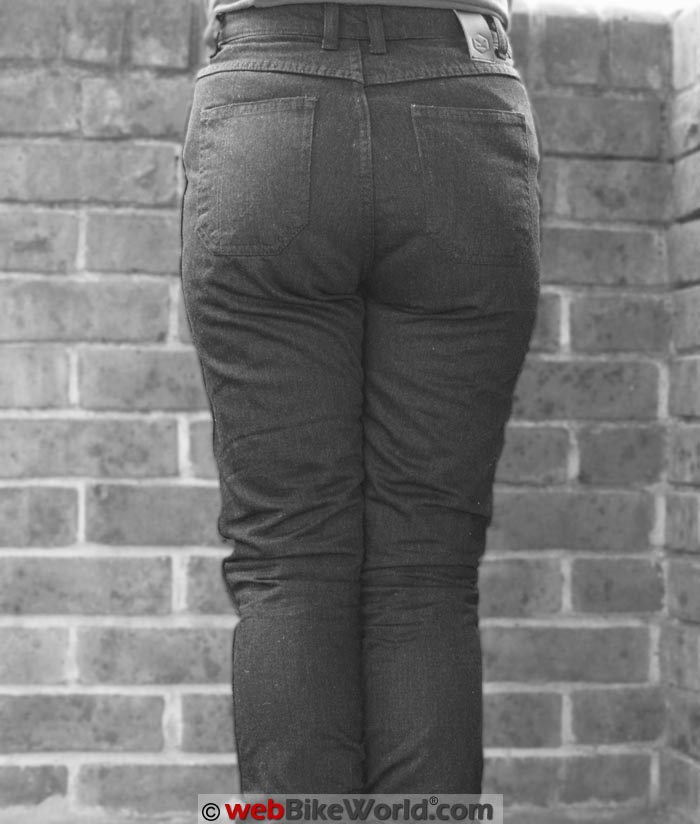 Weight
With the protectors, the Roseberry jeans weigh twice as much as another pair of jeans I weighed for comparison (from Gap, as it happens.
And please note that we don't endorse Gap jeans for riding or otherwise), though less than my unlined summer over-trousers.
Here is a weight comparison:
Gap jeans: 540 g
Knox Roseberry jeans without protectors: 842 g
Knox Roseberry jeans with protectors: 1094 g
REV'IT! over-trousers: 1135 g
Materials
The Knox Roseberry jeans are made from 12 ounce Cordura denim (85% cotton, 15% nylon). This gives a light and stretchy fabric, with all the appearance of standard denim but perhaps a slightly harder feel to the touch.
Cordura, a registered trademark, is known for its durability, as well as abrasion and tear resistance.
The lining is "100% DuPont Kevlar", according to Knox, which is the usual material for lining motorcycle jeans and it offers resistance to abrasion, cuts, and heat.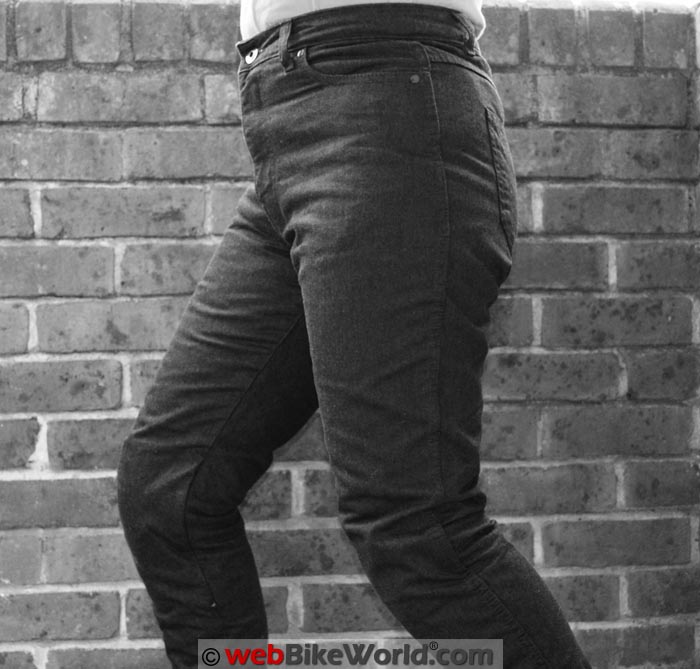 Protection
A set of Knox hip and knee protectors are included with the jeans, which are CE marked and come with a five-year warranty.
The yellow protectors are flexible and not too thick, making them a good match for the jeans.
The zipped knee protector pockets are accessible by a short, external zipper on the inside of the leg and the protector goes in easily.
The pull tag on the zip is very small; this helps it go unnoticed but it's fiddly to operate and I'm concerned it might be fragile.
The hip protectors fits into cotton pockets inside the jeans. These pockets are open at one end and feel a little flimsy however.
Once the protectors were in though, they stayed in place with no problems, but had a tendency to slip out when I was taking the jeans off, or carrying them around.
When you reach your destination and hop off for refreshments or a walk, the knee protectors are easily removed, even when the jeans are being worn, so you can put it aside and stroll or sit in comfort.
It's slightly trickier to put them back in, but still only a matter of seconds.
If you can't be bothered, forget, or don't have anywhere to stash the removed protectors, you will be aware of its presence, but it's not at all uncomfortable or obstructive.
I wouldn't attempt to remove the hip protectors with the jeans on because it would require an assistant and look highly suspect. But the protectors in this area are so unobtrusive that it doesn't matter.
I was impressed by how snugly the protectors fitted and by how completely invisible they are from the outside.
The knee protectors in particular is immovable, sitting firmly over my knee and the upper part of my shin.
By comparison, the protectors in a pair of loose-fitting over-trousers can shift around, potentially ending up in the wrong place if you come off the bike.
I was also impressed by how comfortable the jeans are when walking around, even with the knee protectors still in place. Without it, I noticed little difference between these and regular jeans.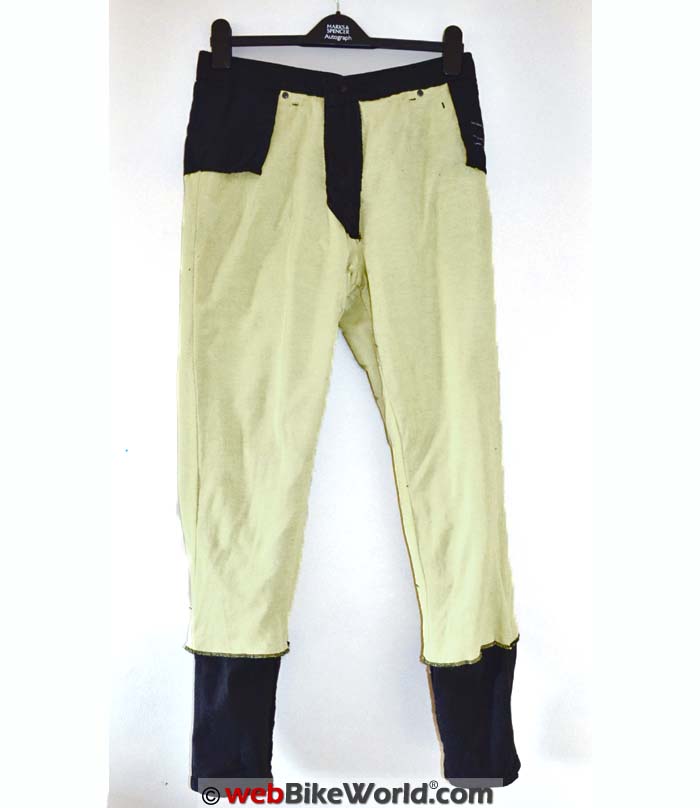 Notes on Washing
I don't wash my over-trousers often, if ever. I know, I know — eww — but they're for wearing over the top of my clothes.
That attitude wasn't going to work with jeans though and I've washed them a couple of times, following the label's instructions to wash at 30 degrees, no harsh detergents, no tumble drying.
They take a long time to dry, longer than a standard pair of jeans, and that's worth bearing in mind if you're planning to wear them every day, or if you get caught in the rain.
Also, the jeans came out of their first wash a slightly lighter shade of black, but this is one of the basic properties of denim, and, in my opinion, just makes it look better with wear.
For more information, here is the DuPont Kevlar product washing guide (.pdf).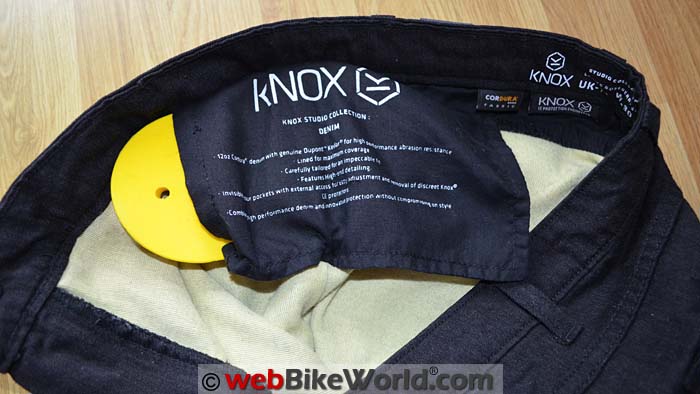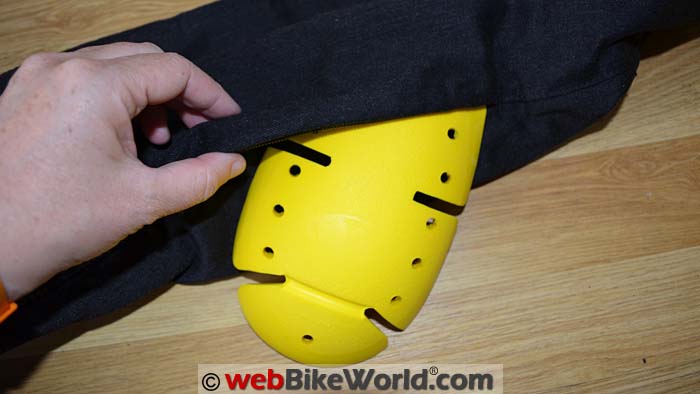 Pros and Cons
Riding in jeans feels great! There's no restrictive feel when I swing my leg over to mount and dismount, no bulk, no cuffs to get in the way. Best of all, I feel completely safe.
If I think about it while riding, I'm aware of the knee protectors and of that ever-so-slight tightness at the waist.
Overall, however, the experience is a much comfier one than wearing my usual over-trousers.
It's also a pleasure to hop straight off the bike and walk around, or sit to have a meal, without waddling like a duck or removing and storing over-trousers first.
The main disadvantages of jeans are the lack of rain protection and the need to wash them occasionally.
They also won't be warm enough for me in a British winter, so they will soon be going into storage for a few months while I jump back into my thermal lined, waterproof textiles.
I would stop short of wearing motorcycle jeans for my commute, as I wouldn't want to sit in them through a day at the office (even though I'm lucky enough to work in the kind of place where that would be just fine).
For most other applications however, as long as it's reasonably warm and mostly dry, the Roseberry jeans are just great.
I've worn them for day trips, weekends away, popping to the shops, and evenings at the theatre.
I even selected them for a week-long trip to Scotland, although, Scotland being Scotland, I ended up wearing waterproofs over the top as often as not.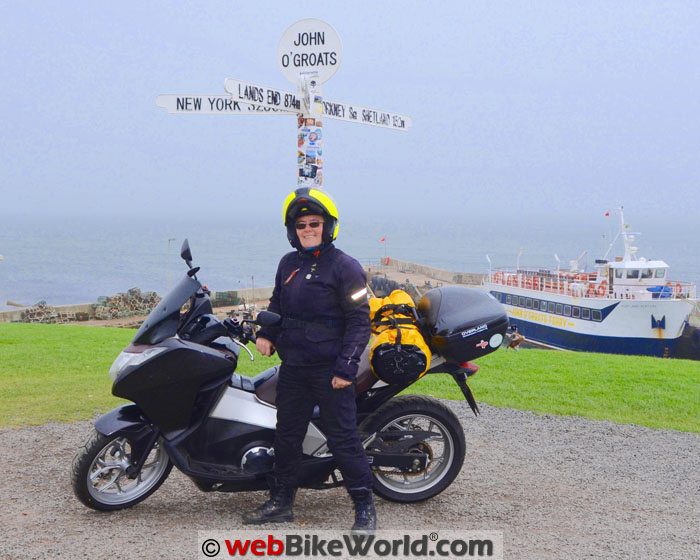 Conclusion
Thanks to Knox, I'm a convert to motorcycle jeans.
I wouldn't wear them for my commute, because they're not quite what I'd choose to wear when sitting around in the office.
But for the kind of day trip or tour where you're putting in the miles while making regular stops for coffee or a look around, they're brilliant.
To be perfectly honest, I had originally planned to wear these a couple of times for the review then put them on eBay.
Now, you can have them when you prise them from my cold, dead legs!
More wBW Motorcycle Jeans Reviews  |  Motorcycle Clothing Reviews
w

BW

 Review: Knox Roseberry Women's Jeans
List Price (2016): $108.33
Review Date: September 2016
Note:
 For informational use only. All material and photographs are Copyright © webWorld International, LLC since 2000. All rights reserved. See the webBikeWorld® 
Site Info page
. Product specifications, features and details may change or differ from our descriptions. Always check before purchasing. Read the
Terms and Conditions
!
Owner Comments and Feedback
---
From "B.P." (October 2016): "Nicely complete review by Alice Dryden of the Knox Roseberry jeans. It made me curious about a men's version, so I visited Knox's site.
The equivalent version — Kevlar, and the same price — for men is called the Richmond.
I went far enough in a pretend checkout to have the shipping calculated; to upstate New York, it's a reasonable £17.47 (US$22.67). This puts the total cost at £125.80 (US$163.27).
I don't know whether Knox's "Hassle free refund or exchange" policy covers return shipping, if the size is off.
Ms. Dryden's comment about a snug-fitting waist has me concerned — at about 39″, this puts me in their XXXL category (I guess the British are generally thinner than those of us across the pond). I'm thinking about it …"