Klim, the leading motor sport clothing gear company, has revolutionized the modular helmet design by producing the first Grand Touring helmet, TK 1200. With this model, Klim has set a new standard in the lightest and best performing flip-up helmet category, suitable for the longest rides of the world.
TK1200 is immensely comfortable, easily adapts to the changing riding conditions, and is already setting an unparalleled high benchmark for premium touring comfort and convenience in a lightweight product offering meant to make your long rides more enjoyable.
Features
Clear Vision in any Light Condition
KLIM TK 1200 comes loaded with proprietary adaptive lens technology from TRANSITIONS®, the first advanced optical shield system. This system enables this gear to be competent at the best level of performance and have instant adaptability to any kind of light conditions including different UV levels. Due to this feature, riders can experience better protection against light and harmful rays and feel less fatigue in their eyes. Also, due to reduced lens distortion in this system, users enjoy superior visual clarity.
KLIM has removed the dated internal visors and has delivered a top-quality motorbike-riding experience with complete field-of-vision and easy adjusting lens technology.
Solid Shell
The KLIM TK1200 features a heat-polymerised and molded, pre-impregnated, full carbon-fiber weave outer shell construction for maximum comfort. The attention-to-detail ensures a high-quality construction and unrivalled hand-made consistency that is so unique to the premium helmets from KLIM.
Safety First
TK 1200 features KLIM's exclusive break-away chin bar which is responsible for reducing the force on the neck and head of the rider in case he meets with an accident with the flip-up system in the open position.
Support Features
TK1200 features an intermediate oval fit, one shell size. With the help of KLIM's sizing system, riders can now have a helmet that is perfectly well-fitted without any pressure points. KLIM claims that this comfort will extend for many years after the purchase. This helmet features efficient 3D padding that can be removed and washed, with a moisture-wicking, hypoallergenic liner for the ultimate comfort.
High Standards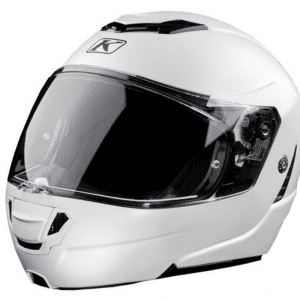 Because of the innovative construction techniques and premium materials, TK1200 meets ECE and DOT standards for street helmets at reduced weight in comparison to the competition. Modular helmets are generally heavier than full faced helmets, but TK 1200 is a pioneer in the category of lighter modular helmets. It only weighs approximately 3.26 pounds.
Efficient Ventilation
KLIM has engineered a more effective ventilation system to achieve ample airflow. There is also the adjustable intake port. It helps enhance the ride experience by directing the airflow to the crown of the head, helping in cooling more rapidly.
Quick Release
KLIM's micrometric buckle allows for easy and faster one-hand release. This helps in giving the rider a custom-fit experience that comes on and off quite easily.
Focus and Comfort
KLIM's improved Aero Acoustic performance helps the rider to focus on the road easily by tuning out unnecessary noise. The company ensures a comfortable and pleasurable ride every time by combining intelligent ventilation design, sleek and stable aerodynamics, and a premium liner system.
Anti-Scratch Face Shield
The TK1200 modular helmet comes equipped with a premium polycarbonate anti-scratch face shield, and the pinlock lens enables the rider to enjoy his ride in any weather condition, any time of the day or night.
Pros
Clear vision in any light condition due to Transitions adaptive lens technology
Light weight makes it easy to carry around
Anti-scratch face shield for perfect vision
Superior ventilation for ultimate comfort
High quality, handmade consistency with the outer shell
One shell size for snug fit
Meets every industry standard
Cons
Challenging fit if one is not an intermediate oval
No instruction manual provided; makes the installation tricky
User Reviews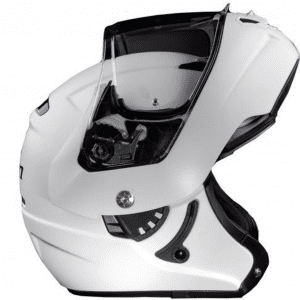 The users of TK 1200 are mostly very satisfied with the product and rate it to be one of the best in the genre. They find the Transitions visor a definite boon during different riding conditions. Also, users are very happy about the fact that this helmet is so light, much more than any of its competition. Real users have commented on various review sites that most of the features of TK 1200, whether it's the comfortable inner liners without any pressure points or the improved ventilation system, this helmet ticks every box in the checklist.
For some users though, the sizing has been a challenge. They feel the size is a bit smaller, hence the recommendation for going a size up to get the right fit.
Though most of the users find the advanced ventilation system in this helmet quite useful, some have also felt that it still falls shorts in higher temperatures like 90 and above degrees.
Absence of any user manual is also a pain point. But other than these small flaws, users are generally positive about the product and feel TK 1200 worth every penny that they have paid for it.
Conclusion
With a bevy of so many unique and useful features, Klim TK 1200 seems to be a good investment to go for. It's undoubtedly one of the lightest modular helmets available in the market. With smart features like a Transition face shield for high adaptability in any light condition, carbon-fiber outer shell, intelligent ventilation, aero acoustic tuned interiors and many more, this is definitely a riding gear that will make your riding experience a lot more pleasurable. So, don't hesitate anymore and order this helmet right now. You know you can count on this for the ultimate riding experience.