The "king of biker films", William Smith, has died of natural causes, aged 86, after a long battle with alzheimers disease.
Born on 24 March 24 1933, in Columbia, Missouri, on his family's ranch, Bill was riding horses before he could walk. By the time he reached his teens he was a skilled rider.
When his family moved to California, the 17-year-old started riding motorcycles which served him well in his career as an actor.
He had a successful career in television as Joe Riley, on the western comedy TV series Laredo where he rode horses, along with his appearances on Wagon Train and The Virginian.
They were part of an impressive list of nearly 300 film and television appearances.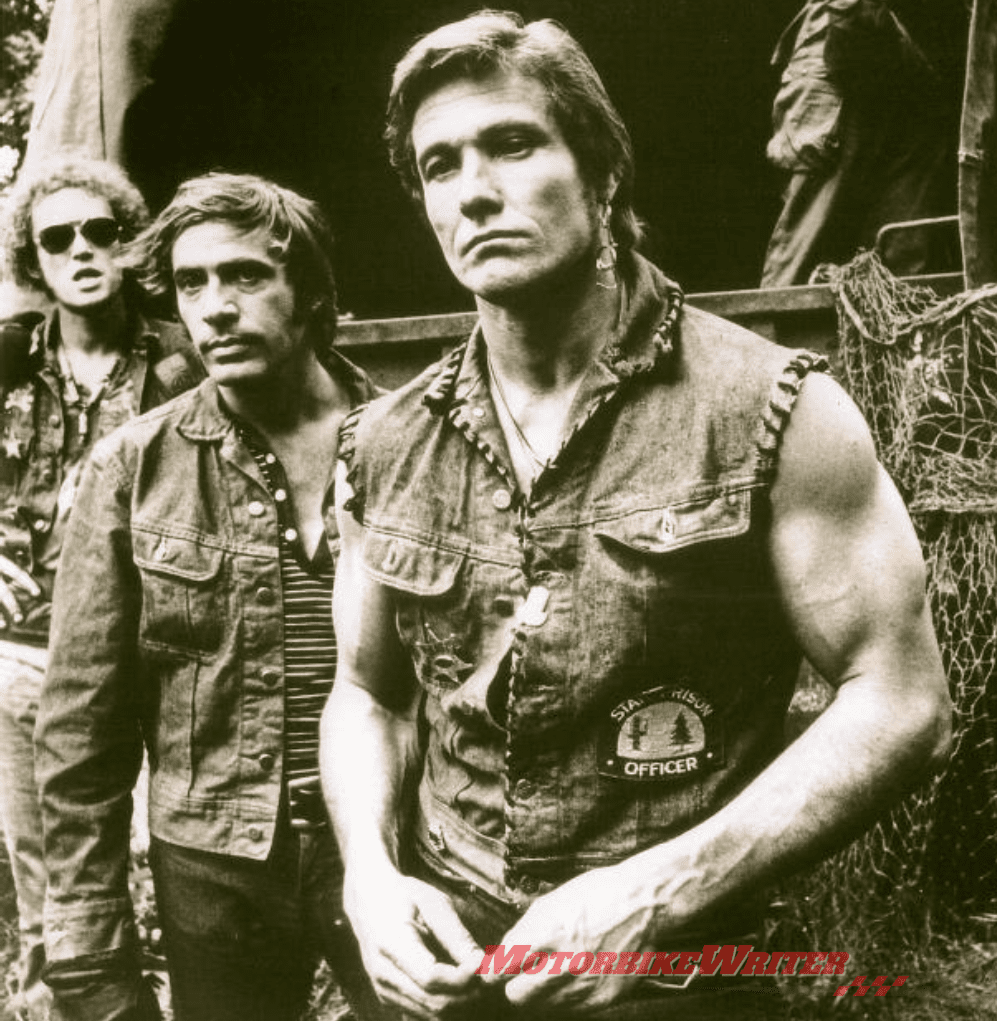 He has performed in TV series such as Perry Mason, Combat, Batman, Hawaii Five-0, I Dream of Jeannie, The Rockford Files, CHiPS, Hunter and Rich Man, Poor Man.
His film credits included Conan's father, Corin, in Arnold Schwarzenegger's movie Conan The Barbarian and Clint Eastwood's fighting revival in Any Which Way You Can.
However, his claim to fame as the king of the biker films began with the first of many biker films with Run, Angel, Run! in 1969.
With a rumoured budget of around $85,000 and a two-week production schedule, Run, Angel, Run! grossed an estimated $13 million at the box office, solidifying Bill as the go-to biker guy.
It got to a point that if you were watching a biker movie in the early part of the 1970s, then most likely, William Smith was in it, says American freelance writer Joe Zimmerman.
He wrote about Smiths life in his 168-page biography, The Words and Images of a Hollywood Legend: William Smith.
Here are excerpts freom an article Joe wrote for us last year:
Bill's profession as an actor and his early association with motorcycles catapulted him to biker stardom for several reasons, but the basic explanation is that there simply wasn't anyone like him. Since the early days of films, motorcycles have played an important role. Bikes were used by comedians such as Buster Keaton and Charlie Chaplin to make people laugh. They were used by actors like Marlon Brando to create drama and suspense, and they were used by screen legends such as Steve McQueen to create action and thrills. By the closing of the 1960s, biker-era audiences had seen it all when it came to motorcycles in film. Actors had used motorcycles on film to their advantage and audiences responded. But, motorcycles hadn't yet used an actor to their advantage. And now they would. Dirt bikes, choppers, cruisers, three-wheelers … Only one "actor" legitimately rode them all on screen … William Smith.

A larger than life figure, standing 6'2" (186cm) with a muscular frame and rugged good looks, Bill exemplified power and danger, and by all accounts, suited what motorcycle films needed. And, although his father was no fan of him riding motorcycles, lucky for the movie industry that didn't stop him.

In 1970 alone, Bill headlined such biker gems as: The Losers (a.k.a Nam's Angels), Angels Die Hard and C.C. and Company with football great, Joe Namath and legendary Vegas sex-kitten Ann-Margret. C.C. and Company is today considered a cult classic biker film and the opening sequence alone is worth the price of admission with title song "C.C. Rider" sung by Mitch Ryder & The Detroit Wheels.
Bill's presence from the very moment he's introduced on screen during the opening credits is pure classic (biker) William Smith. This guy was baaaad-to-the-bone, exuding danger, and dare I say, a tad of insanity. A stick of dynamite with 18½ inch arms ready to explode at any moment, and audiences loved it. Bill based his character of Moon on a real Hell's Angels biker he knew; "a real asshole" as Bill once described. Despite his unconventional performance as the brawny and twisted leader of "The Heads", a gang of outlaw misfits roaming the desert roads of Tucson Arizona on their choppers, Bill was pure magic and never looked so comfortable on a bike as in this role.As for the film itself, Bill once proclaimed "it was probably the most fun I ever had acting in than any other film." And as he recalled, "Joe Namath was still playing for the New York Jets at the time, so was limited on set to riding his chopper. And whenever possible, Joe was trailered and pulled behind the camera truck for much of his riding, which supposedly upset him." Though Ann Margret was herself a real-life skilful rider, she had very little screen time actually doing so in the film (which coincidently was written and produced by her husband, Roger Smith). But as for Bill, they couldn't have cast a more ideal sinister biker gang leader to help propel this little film to cult classic status.

Even the infamous Hell's Angels admired Bill and semi-inducted him into their crowd by piercing his ear and bestowing a small tattoo along his scalp (under his hair, so his mom couldn't see it). As Bill stated, "real bikers in those days all had pierced ears and tattoos." Because the Angels were at their peak in notoriety during this time, and were assigned as "consultants" on his films, staying on good terms with them was the wise approach for this actor.

Although by day, during filming, their relationship was pleasant enough and they got along, Bill was wise enough not to socialise with them at night because during after-hours these guys were dangerous, loaded with drugs and booze. Bill's co-stars that did party with the Hell's Angels during after-hours, learned the hard way that if you're not a "real bona-fide Angel" you usually got yourself beaten up by them pretty bad.

As well as the Hell's Angels, who were arguably the most famous of the biker clubs, Bill also got the respect of the world's largest biker club, The Bandidos, while shooting a film in Houston, Texas. He was so respected by this gang, club president Don Chambers made him an honorary VP. By Bill's account, "The Bandidos were the most dangerous gang" he had ever met. But, what all these biker gangs (and film audiences) had in common, was that they all simply respected Bill as a biker.
For anyone doubting or wanting to get a load of his actual riding ability, you only need to watch him ride in his 1972 film Piranha where he races his former, Laredo co-star, Peter Brown, through the Amazon jungles of Venezuela for nearly 10 minutes (Note, I didn't say watch the movie). Or, for more of his riding talents keep an eye out for 1976's Scorchy, where star Connie Stevens, in a dune buggy, chases Bill who's riding a Kawasaki F11 250 through the streets of Seattle.

Truth be told, Bill was simply more comfortable riding a bike than driving a car.

He owned a 1972 XLCH Harley Davidson that was customised by Crash Ridderhoff, Gary Littlejohn and Dan Haggerty (pioneers in the world of early chop-shops, decades before companies like Westcoast Choppers came out). They spent many months fabricating it, extending the front end with Paugho drag bars that were mounted on 7" risers, installing Weber carburettors, welding the tank to the frame, it had a chrome-plated engine, oil tank, chain guard, basically in the end they turned it into a dragster with drag pipes and mufflers. Billy Westbrook applied the lacquer finish spraying it in sanitary black. It was very fast.

We lived on Laurel Canyon at the time and dad usually push-started it coasting down the hill; it was murder on the leg trying to kick-start it. It was such a one-of-a-kind motorcycle that dad and that bike ended up in the 1977 March issue of Custom Bike magazine.

Eventually he traded that bike for a 1965 Fastback Shelby Cobra from a stunt buddy of his.

Although not well known, Bill use to ride with fellow rider and movie star, Steve McQueen. Often Bill's son, Willie, and Steve's son, Chad McQueen, would race their dirt bikes at competitions at Indian Dunes motocross park in Valencia, California.

Bill was a physically exceptional man, and was known to do his own stunts. Whether it was a 15-foot jump on to Nick Nolte in the 1976 Rich Man, Poor Man ABC mini-series or actually brawling it out (and busting three ribs) with Rod Taylor in 1970's Darker Than Amber, or being attacked by dogs in 1982's Conan The Barbarian, on motorcycles it was no exception. In the film The Losers where Bill again played the leader of a biker gang that takes on the red army in Vietnam; he did all his own stunt riding for the exception of one jump over a building. Producers, like in The Great Escape with Steve McQueen (not being allowed to jump his bike over the barbed-wire fence), had Bill step aside for contractual reasons and let his buddy Gary (the "Whiz Kid") McLarty perform the bold stunt. Otherwise, what you got was all Bill. Transferring from a speeding bike to tackle a fleeing person, or power-sliding his bike and flying off into a tuck-n'-roll while shooting the enemy with his machine gun, Bill did it all in that film. With a production schedule of approximately 4-6 weeks and a budget of around $275,000, The Losers eventually went on to gross over $15 million, and Bill doing his own stunt riding only helped to legitimise the film's preposterous storyline.

Even when not actually on camera acting, if there were motorcycles in the background, Bill grabbed a helmet. In C.C. and Company, while production was filming his gang watching the dirt bike motocross race, Bill grabbed a Ducati 350 and raced the course with fellow stunt riders, Paul Nuckles, Gary McLarty, Alan Gibbs and Gary Davis. As well, the end chase sequence crash, which wasn't planned, was Bill himself. Riding big choppers with small handlebars around the flat track was very difficult and he and stunt rider Paul Nuckles, doubling Joe Namath, went crashing into a wall. Incidentally, though Bill did his own riding in that film too, it was legendary stuntman Hal Needham that doubled him at the end of the film for a crash into and over a parked car.

In one of Bill's real-life tough-guy biker encounters while shooting Run Angel, Run! in Santa Monica, California, the biker gang that controlled that area at the time were Satan's Slaves. This genuine biker gang mistook Bill, and his co-star, Eugene Cornelius as part of a rival biker gang and harassed the actors at an outside hamburger stand. Needless to say, Bill and his co-star found themselves fighting off several of Satan's Slaves thugs, and as Bill put it: "They weren't as tough as they thought." Because one of them pulled a knife out, Bill hit him pretty hard and did enough damage to cause the man to go into convulsions. Eventually concerned, Bill rode with him in the ambulance to the hospital, holding his hand. Police later informed him that the biker was wanted in other states for attempted murder and rape.

Although one of the most gracious gentlemen one could ever meet, outside of brawling with real biker gangs (and getting the best of them), Bill also has the distinction of being one of – if not the most feared – villains in film history. With performances as Matt Diggs in The Frisco Kid with Gene Wilder and Harrison Ford, or as Carrot in The Ultimate Warrior with Yul Brynner, Bill could out-terrify and intimidate Darth Vader if he wanted to. His performance as Anthony Falconetti in the ABC mega-hit mini series Rich Man, Poor Man alone caused millions of people to hate and despise him like no other man in motion pictures.

His performances were so good that his life had been threatened several times by overzealous viewers, with one man in South Africa shooting a handgun at him during his live theatre stage performance and another throwing a bottle at him (which missed) but shattered a storefront's plate-glass window behind him as he was walking to his Harley on Sunset Blvd.

Yes, Bill could intimidate anyone. He's the man that in real life put fear in the hearts of tough guys like Charles Bronson (Death Wish) in a stare-off and who caused powerhouses like Arnold Schwarzenegger to walk off after being beaten by him in an arm-wrestling match, just prior to  Conan The Barbarian in 1982. Although Bill respected both men, they too respected him.

At age 36, braun, brains and smarts, Bill owned the biker genre, and while continuing to work on established television projects (Here Comes the Brides, Dan August, Longstreet, Mod Squad, Columbo, A-Team etc.) he also continued contributing to the biker genre with films like Chrome and Hot Leather in 1971, Hollywood Man in 1976, Eye of The Tiger in 1985, (again, playing the leader of an evil biker gang, this time out to harm actor Gary Busey), he also appeared in The Last Riders in 1992 with Television's CHIP's star, biker Erik Estrada. Even today, Bill's famous admirers like Hollywood director, Quentin Tarantino, have called upon Bill, and even used footage of his bike films in his movies. It's not unusual to watch Quentin's films like Pulp Fiction and see C.C. and Company or The Losers playing on a television screen in the background of one of his scenes.
Awards
Joe leaves a legacy of the archetypal biker in the world of cinema at a time when motorcycles reached their peak in popularity in the United States in the 1970s.
During this time, the On Any Sunday documentary was a hit in theatres worldwide and stunt-rider Evel Knievel was at his peak jumping busses and selling toy motorcycles on national television.
Bill was in the right place, at the right time with the right talent.
For all of Bill's genuine motion picture motorcycle riding and physical talents throughout the many years, he was eventually presented with an honorary membership into the "Stuntmen's Association of Motion Pictures" in 2000.
There were so many other awards: 2005 Southern California Motion Picture Council Award; 2008 Silver Spur Award; being inducted into the Venice Muscle Beach Bodybuilding Hall of Fame in 2010.
Regardless of all these awards and numerous other accomplishments as a producer, writer, athlete, U.S. Air Force specialist (with CIA and NSA clearances), or acting on mega TV shows such as Gunsmoke, or bodybuilding with first time Mr Olympia (Larry Scott), or maintaining friendships with legends like Lee Marvin and Kurt Russell – it's William Smith's compelling work on film as a motorcyclist which inspired so many, including Joe, to ride and certify him as the "KING OF BIKER FILMS."
(All Photos Courtesy of William Smith's Estate)