Do you still have burn marks on your legs from riding pillion on a motorcycle as a child?
It seemed a rite of passage to ride on your uncle's or friend's older brother's motorcycle when you were a kid. It was painful, but I'll simply never forget the first time I was taken for a ride.
These days I'd love to be the person that gives that experience to my grandkids – without the pipe burns!
However, many jurisdictions now legislate against children riding pillion.
In Australia, all states and territories, except the Northern Territory, require children to be at least eight years old. Queensland also has that age restriction on sidecar pillions.
In the UK, anyone can ride pillion so long as they can comfortably reach the footpegs. The law even allows you to fit higher footpegs so children can reach them.
In America, there is no set age, but they must be able to reach the footpegs. Like motorcycle helmets rules in some states, it is a matter of letting the rider decide.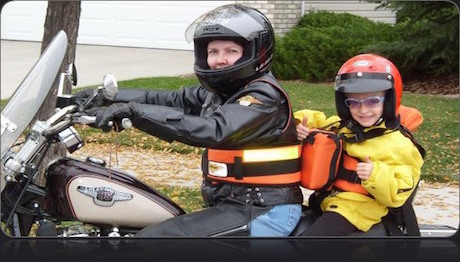 A South Carolina state representative tabled a Bill requiring babies and small children to be secured to a motorcycle with seat belts.
Such devices do exist and some riders think they are a great idea.
The failed Bill had called for a rear-facing child safety seat for motorcycle passengers from birth up to one year old and a booster seat with belts for kids up to seven.
Need for pillion laws?
Do we need such laws?
In parts of Asia, there are few rules about pillions.
In some countries, the only rules are that children have to be positioned in front of an adult, whether it's the rider or a pillion – which means you can carry more than one pillion! They don't even have to wear a helmet.
If you've been to Asia, you will no doubt have seen whole families on bikes, with mums carrying babies in their arms and children sitting on the handlebars or carry racks or standing in front of the rider.
It looks highly dangerous, but should we judge them? How else are they going to get around?
Have we got too many rules?