We've seen the Kawasaki supercharged Ninja H2R closed-course and thoroughly-road-illegal H2R. Now we can sere the street-legal version in the latest teaser video.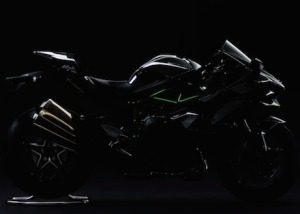 Kawasaki has been teasing with an even dozen videos so far and unveiled the H2R closed-course model at Intermot in Cologne last week. However it is holding back the road-legal Ninja H2 for the EICMA show in Milan on November 4.
The latest video shows the two bikes in silhouette and the most significant and obvious difference is that the road-legal Ninja H2 has twin exhausts, rather than the single exhaust.
Of course, the H2 also has indicators and wing mirrors, but it surprisingly has a lower and more raked winsdcreen. From the minimal amount we can see, that's about all that has been revealed. It appears to have all the aero wings and fins opt the H2R although they are probably made of plastic, not carbon fibre.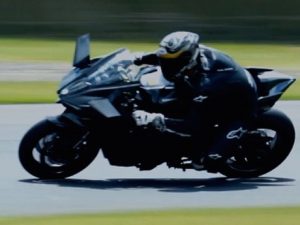 Top speed and horsepower are still a mystery, but it is believed Kawasaki will break the agreement to limit the bike to 300kmh.
However, Kawasaki has revealed that the H2R produces "roughly" 300ps (220kW) and will be shod with 120/600R17 front and 190/650R17 rear Bridgestone V01 slicks.
The teaser videos appear to have picked up pace to one a day. That's a loot of videos between now and November 4.