Joe Rocket Speedmaster Pants Image Gallery
Ask me what the Joe Rocket brand represents and I'd probably say "a line of decent, serviceable motorcycle apparel, sold at reasonable prices".
While their products might not be the most stylish or the most innovative (although I'm sure they'd argue with that), one thing's for sure: you can find the stuff anywhere.
Joe Rocket gear is sold by just about every motorcycle retailer on the planet, which surely is one of the reasons for the popularity of the brand — it means you can find what you want, when you want it, all at a competitive price.
Now you may be surprised to learn that even with all of the cool gear we have around here, my normal, everyday, run-of-the-mill, go-out-for-a-ride clothing usually has a Joe Rocket logo on it.
Between the Phoenix 4.0 jacket for summer, the Ballistic 7.0 jacket for winter and the Blaster perforated jacket and pants outfit for in-between, Joe Rocket has me covered 365.
Only one problem, and no fault of theirs: my legs are about 2″ shorter than the standard for a pair of men's size large motorcycle pants.  The knees and knee armor end up half-way down my shins on just about every pair of motorcycle pants I've ever owned.
I do have a work-around — I rip out the armor wear a pair of Bohn Bodyguard Adventure pants underneath.  That's been my solution with an old pair of Joe Rocket Blaster perforated pants I've owned forever and a day.
But recently I decided to bring the pants to a leather tailor and have a couple of inches taken out of the knees so the things would fit the way they should.  Bad move!
As it turned out, the tailor did just what I told him, which brought the lower part of the leg up a couple of inches, which then made the pants too tight to fit around my calves.  An ignominious end for the much-respected Blasters, and there was only one thing I could do: go to Plan B.
Those old Blasters were definitely not stylish, but they did one thing — they protected my butt.  They must have been made from elephant hide — big, honkin' slabs of the stuff.  Joe Rocket unfortunately doesn't make 'em like that any more; it was probably too expensive to use multi-millimeter thick leather.
But I liked those pants — they felt like they'd last forever and I figured they'd save my bacon during any high-speed getoff imaginable.  So I looked around for another pair of perforated Blaster pants, and although Joe Rocket does list them in the catalog, for some reason they seem to be rarer than hen's teeth.  Thus, I ended up with the perforated Speedmaster pants instead.
Speedmaster is the name that Joe Rocket uses for their high-end line of race/track day clothing.  My feeling is that the Speedmaster lineup isn't quite what it used to be, probably because customers searching for real race leathers were either going the custom route or buying one of the premium Italian brands.
Actually, the Blaster line also doesn't seem as to be as robust as it used to be either.  I purchased a matching Blaster perforated jacket a couple of years after the Blaster pants, and it didn't have the same feeling of invincibility.  The newer version of the Blaster jacket, while admittedly not marketed as race quality, was thinner than the pants, with padding instead of armor and only an 8″ attachment zipper; they left out the full-length zipper to save money I guess.
The Speedmaster gear I've seen recently is decent, but not really what I'd call race quality.  These new Speedmaster 5.0 pants are a good example.
The leather also seems thinner than the old Blaster pants, and thinner than the leather on my older Speedmaster non-perforated jacket.  There's an upside though — the leather is definitely more flexible than the heavy stuff used on the old Blasters, which makes the Speedmasters more comfortable.
The Speedmaster pants also have large swaths of textile in the lower legs and a few other spots, like the bend areas in the waist.  This is acceptable, because it again makes the pants more comfortable.  But it does make me wonder — my old and cheaper Blaster pants were all leather.
Now I probably wouldn't be kvetching about all of this if I hadn't already owned the more robust Blaster pants.  A newcomer to the Joe Rocket line would probably think the Speedmaster 5.0 pants are just fine as is.  They do fit well, although that issue with the knee armor is still there, but if I hike the pants up about an inch or so, the armor does fall into place.
The pants run true to the Joe Rocket sizing chart.  These are the 36 waist version and they seem right on the money.  There's a bit of an adjustment on the sides, but I wish if they were going to use textile that they would use it in the waistband to add some extra comfort for those post-lasagna rides.
The waistband-to-crotch distance is kind of short though — it seems like it could be about an inch longer.  I have to wiggle around a bit to get everything to fit correctly, although once it's all cinched up I'm OK, even on the bike.
The legs also seem to run true to size; Joe Rocket says they're 32 inches and although I haven't measured them, I'd say that's about right.  This does mean that the zippers and cuffs run a little long on my 31″ inseam, but that's not a problem, as I stuff the cuffs inside the boots anyway.
The zipper is slightly narrower than the one used on the Blaster pants, and it doesn't rub against my ankle when I'm wearing the race-style boots, which is good.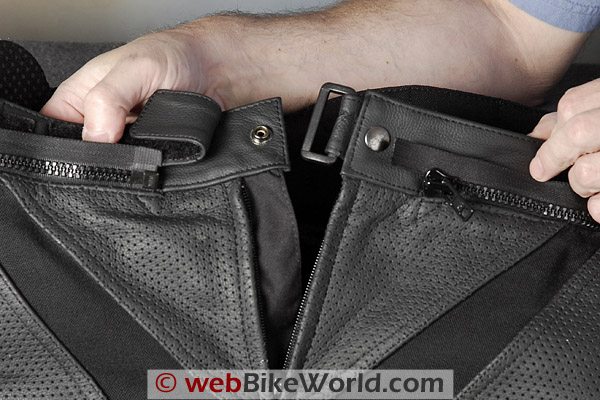 Up top, the waist has a short zipper for attachment to other Joe Rocket jackets, like the Phoenix 4.0 or the Blaster perforated jacket or, of course, the Speedmaster.
But there's one thing that really bugs me.  These are supposed to be race pants, and they have a snap rather than a metal hook and loop on the waistband, at the top of the zipper.  The snap pops open as soon as I breathe hard or when I sit on the bike.
All motorcycle pants — and especially pants with any pretensions of being used for track days or racing — should have a metal hook up top.  The Triumph Classic Jeans aren't "race" pants and they have a metal hook, so why don't the Speedmasters?
It's not just Joe Rocket either — other manufacturers are guilty of this.  So here's my advice to them: never use a snap in the waistband of motorcycle pants — use a metal hook and metal loop, like Triumph.
The Speedmaster pants do have CE-rated armor in the knees, padding in the hips and they come with knee sliders.  The padding (see photo below) is located with hook-and-loop, and it's sort of in a weird spot — the top of the padding pokes out above the waistband.
Again, I'm just not sure that the new Speedmaster pants are really race- or track-day-ready, but on the other hand, they probably offer much better protection than just about any pair of textile pants and certainly way more than a pair of jeans.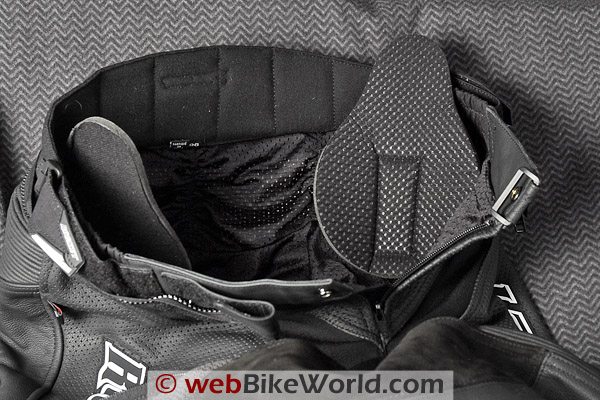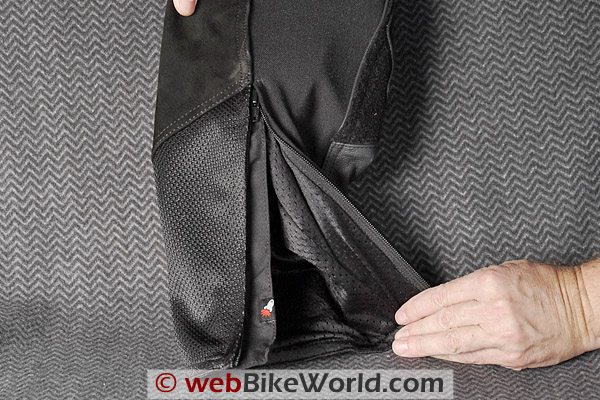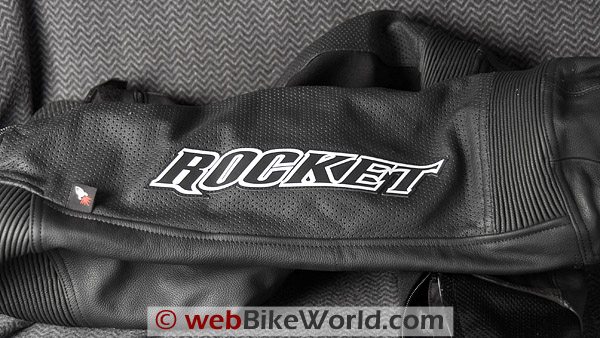 The perforations do their job, by the way; I wouldn't want to wear these when the temperatures go above 85 or so, but otherwise, they do flow a decent amount of air for what they are, and much more air than, for example, the Triumph non-perforated leather pants.
Conclusion
I may sound critical of the Joe Rocket Speedmaster 5.0 pants, but I do like them.  They're relatively comfortable (for a pair of leather pants), they flow a decent amount of air, the price is right and maybe some day I'll scuff up a knee puck on the road.  They also connect to my complete portfolio of old and new Joe Rocket jackets.
I only wish the waist had a hook instead of a snap…
Product Review:

  Joe Rocket Speedmaster 5.0 Perforated

 Pants
Available From:  Joe Rocket
Suggested Retail Price:  $ 349.99 to $ 364.99
Colors and Sizes:  30-42 waist, proportional lengths.
Made in:  China
Review Date:  August 2008
Note:  For informational use only.  All material and photographs are Copyright © webWorld International, LLC – 2000-2011.  All rights reserved.  See the webBikeWorld® Site Info page.  NOTE:  Product specifications, features and details may change or differ from our descriptions.  Always check before purchasing.  Read the Terms and Conditions!
Owner Comments and Feedback
Comments are ordered from most recent to oldest.
Not all comments will be published (
details
).  Comments may be edited for clarity prior to publication.