Nitrogen Gloves Review Summary
Nitrogen Gloves Image Gallery
An inexpensive foul weather glove with good protective features but doesn't quite live up to the waterproof labeling.
Recently I stopped by one of my local motorcycle dealers on the hunt for a tail bag for one of my old Honda motorcycles.
While I didn't find one that suited my needs, during my search I happened by their "clearance" table.
I love clearance tables and displays at motorcycle shops and this day I found the one thing I had given up on finding…and another that looked interesting.
The first was a brand new original pair of Joe Rocket Highside gloves (review), in red, size medium; you can read my review of the Highside gloves to find out why I was very happy to find these!
The other item I found was this pair of Joe Rocket Nitrogen gloves.
Now I already had a pair (two actually) of waterproof, cold weather gloves, but one pair I find somewhat bulky for just "cool" conditions (Coretch Scarab gloves (review)) and the other pair — Shift Torrent gloves (review) — I gave to my girlfriend and she loves them so I don't see them much anymore.
The Joe Rocket Nitrogen gloves appear to be less bulky than your typical winter riding gloves and they are claimed to be completely waterproof.
Much like what Bill and Rick were looking for in their recent comparison between the Icon PDX and the Teknic Tornado gloves I too wanted: a reasonably priced pair of motorcycle gloves for cool and/or wet weather.
The timing on publishing that comparison review was excellent in my case. The Joe Rocket Nitrogen gloves not only offer a similar feature set and purpose to the Icon and Teknic gloves but at $62.99 (MSRP $69.99), they fit into the budget range as well. So now I'm here to throw a third contender in the ring…
Compared To…
Whenever a manufacturer makes a claim like "100% waterproof" (actually, they state "100% waterproof Dry Tech midliner) as Joe rocket does with the Nitrogen gloves, one of the first things we do at webBikeWorld is take the item to task.
For motorcycle gloves, this involves putting them on and sticking the gloved hands into a bucket (or sink in my case) full of water for a full five minutes. If the gloves hold out the water for a full five minutes they pass the "Bucket test".
In the case of the Nitrogen gloves, they did not pass. Or rather, I should say, one glove didn't pass. The index finger of the right glove started leaking after 1 minute and 10 seconds, which was rather disappointing.
It seems to have fared a little better than the Teknic Tornado gloves that Bill and Rick tested, as the Nitrogen glove did take some time before it started leaking — but it leaked nonetheless. I'll go into some more detail about the waterproofing in a little bit.
Below I have borrowed the matrix used in the beginning of the Icon vs. Teknic review and added the Nitrogen gloves to help illustrate, at a glance, the feature set differences:
Icon PDX Gloves

Teknic Tornado Gloves

Rocket Nitrogen Gloves

– Passed Bucket Test.
– Textile shell.
– No secondary wrist strap.
– No hard knuckle protectors.
– Not insulated.
– No reflective panels.
– Comfortable liner.
– Snug fit feels slightly small.
– No-seam fingertip design.
– Thin leather wear patches.
– No visor wipers.
– Size range S to 4XL.
– Black, Gray, Red, Blue.
– List price $59.99.
– Failed Bucket Test.
– Cordura & leather shell.
– Secondary wrist strap.
– No hard knuckle protectors.
– Insulated.
– Large amt. of reflectivity.
– Comfortable liner.
– Roomy fit feels slightly large.
– "Box" type fingertip design.
– Leather palms plus patches.
– Visor wipe left index finger.
– Size range S to 3XL.
– Black.
– List price $59.99.
– Failed Bucket Test.
– Leather/textile shell.
– Secondary wrist strap.
– No hard knuckle protector.
– Insulated.
– No reflective panels.
– Comfortable liner (break-in).
– Fits true to size (break-in).
– "Box" type fingertip design.
– Leather palms plus patches.
– Visor wipe both thumbs.
– Size Range S to 2XL.
– Black.
– List Price $69.99.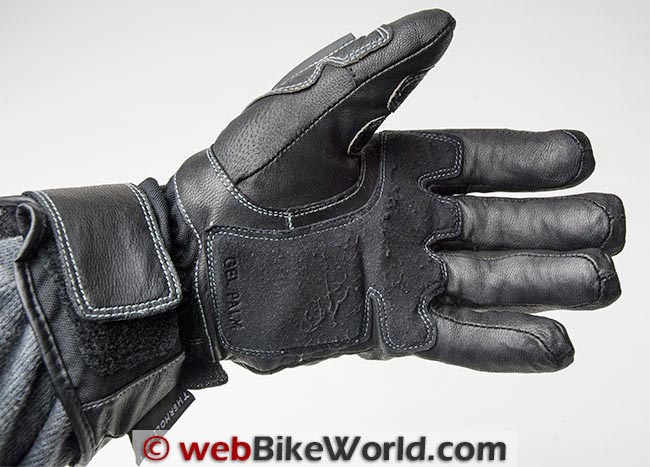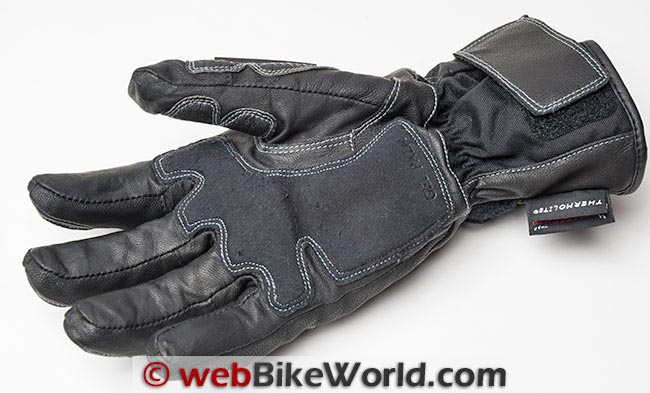 Joe Rocket Nitrogen Gloves
The Nitrogen gloves have been in the Joe Rocket lineup for at least a couple of years, as I that is the first time I remember seeing that name used on their gloves but they could have been around longer. The fact I'm seeing them "On Sale" could be an indication that there may be a version 2.0 coming down the road but I have no solid proof (yet).
One of the most important features in a pair of motorcycle gloves for me and other webBikeWorld contributors is having a proper wrist strap, and the Nitrogen gloves don't disappoint.
There is a 3/4″ (20 mm) thick leather strap over the back of the wrist that attaches with hook-and-loop fastener that provides a strong hold and will keep the gloves from sliding of the hand in a crash. Care should be taken though to cinch this strap down firmly as the insulated interior layers need to be compressed a bit or the glove can still slide off.
The Nitrogen gloves are mostly leather versus mostly textile and there are several areas where there is an extra layer of leather for added protection. I would say off-hand (pun!) that the shell of the glove is about 75% leather with the remaining being textile (I am uncertain as to the type).
The textile area starts in the middle of the back of the hand and stretches back to the rear edge of the gauntlet. On this patch of textile is an embroidered "Rocket" logo. Under the wrist the gauntlet is also more of the "unspecified" textile but on the sides there is a patch of leather running to the hilt of the gauntlet. There is no padding or other impact protection type features in this area.
The rest of the glove, however, does seem to take impact protection a little more seriously. While there is no hard protection on the Nitrogen gloves, there are sections of high density foam armor under leather on the knuckles and on the tops of the fingers. This style of armor is similar to the Joe Rocket Highside and Atomic Joe Rocket gloves and all areas where this armor is sewn in are double stitched for durability.
The thumbs don't get any of this armor but they are wrapped with an additional patch of leather that also includes a 1.75 inch (44 mm) visor wiper blade on both left and right gloves. The palm area is leather and has an extra layer of "Chamude", a synthetic suede-like material, for extra abrasion resistance. Closer to the heel of the hand there is a thin (~1/8") gel pad under the Chamude for comfort.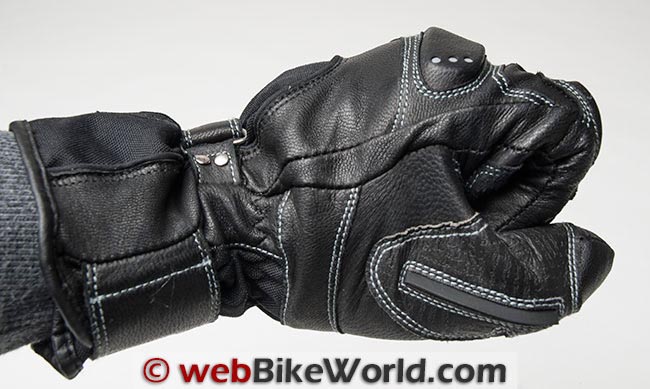 Build Quality and Details
I've found the build quality a bit better on the Nitrogen gloves than expected for their price. Double stitching is used in a majority of the glove which aids in durability but the even-ness of the stitching could be better. Still, I found no loose or pulled stitches on the Nitrogen gloves.
The Nitrogen gloves do seem well insulated and contain 80 grams of Thermolite insulation. Having several mornings recently where the temperatures were in the low 40's (~5.5 C) provided the opportunity for some good cold weather testing. My 17-mile (each way) commute has me on 50-mile-per-hour main roads as well as about 5 miles of interstate. The entire trip is usually just under 30 minutes each way and I do not run into much traffic so I will get to run often at speeds generating plenty of finger-numbing wind blast.
I was surprised how well the Nitrogen gloves insulate my hands, considering their styling and appearance. I feel confident that when the temps are in the higher 40's (~9 C) and above that these gloves will keep most hands warm enough for 30-minute commute like mine.
Get into the low 40's (~5.5c) and lower and supplemental heat from heated grips may be required to keep your digits warm. This of course is how they work for me and my hands don't get cold very easily so as they say, your "mileage" may vary.
Although I have not tried the Icon or Teknic gloves Rick and Bill reviewed in person, I feel confident in saying that I would prefer to have the Nitrogen gloves on in the event of a crash versus the other two. I am basing this on the level of armor and higher percentage of leather that these gloves include in their construction as well as how durable they feel.
I would  take this recommendation with a "grain of salt" though, as a true sport/track glove would most likely offer better impact and/or abrasion resistance than any of these more "touring" oriented gloves.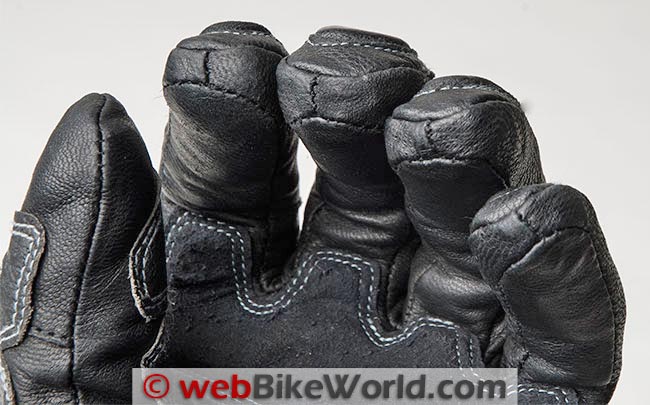 Fit and Comfort
When I first purchased the Nitrogen gloves I ended up buying a pair of size large because medium, my usual size, seemed very tight. I wore the size large the next day on my commute to work and found that they seemed to loosen up quite a bit. This made them too large in the form of too much space from my fingertips to the end of the finger boxes and overall just too much glove for my medium mitts.
I was able to return and swap the size large for a pair of medium gloves and hoped that wearing them would get them to fit a bit better. I did feel a bit silly driving my pickup back from the shop while wearing the waterproof riding gloves — but I've done sillier things in my life. Still, when I got home the gloves had not loosened up much. Patience, however, is the key and I'll get to that shortly.
The snug feeling was compounded by the insulating and "waterproof" liner that made it difficult to remove the gloves without pulling some of the liner back out of the glove when removing them.
Special care is even advised on the tag inside the gauntlet to be sure to pull one's fingers out while grasping the end of the glove finger with the other hand so as not to turn the liner inside out. The liner is not bonded to the outer shell and this creates a literal disconnect between a rider's hands and the bike's grips.
It took me a few minutes when riding in the gloves to get used to the slight delay in twisting the throttle and the throttle grip actually moving. This was being caused by the liner sliding a bit inside the leather outer shell of the glove. After a few times riding in the Nitrogen gloves I got used to this and I don't notice it anymore.
The interior liner also feels rather bulky, considering the outward appearance of the Nitrogen gloves, which look more like slightly swollen sport gloves than foul weather gloves. I was surprised how thick they feel when I first put them on and is why I tried purchasing a size large initially.
While the liner is soft enough, I can feel the stiffer portion of the liner (or mid-liner) inside. All of this lining adds up to sort of vague feel at the controls…for a little while.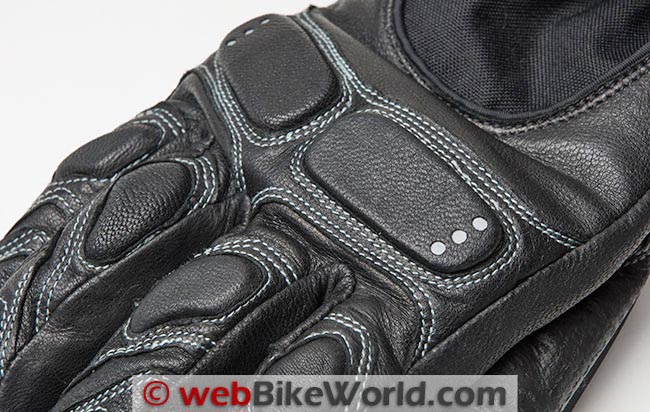 I mentioned earlier that patience is the key to getting the Nitrogen gloves to fit properly and here's what happened:
After about several days commuting to work and back in the Nitrogen gloves I noticed a change. One morning I put them on and noticed they went on rather easily. Also taking them off no longer seemed to require tugging at the ends of the fingers to assure the liner didn't back out. This really shouldn't have been too surprising as most any leather (or mostly leather) glove will take some time to break in.
Still, I was very pleased with the results as the gloves no longer felt restrictive and tight and actually felt like how medium gloves from Joe Rocket usually fit me, which is very well. The lining seems to have also compressed a bit over time and has less tendency to slip around inside the shell and wants to stay in place better when removing the gloves. It will still come out of a finger if you try to remove them too fast.
I read several reviews from other people who purchased these gloves from various online retailers during my research on the Nitrogen gloves. Many buyers seemed to feel the gloves were sized too small and recommended one buy one size up. If you're considering these gloves I would get your normal size and bear with them for a bit until they break in. The transformation of my pair was that good.
The gauntlet on the Nitrogen gloves is a bit on the small side of what I would prefer but this also seems to be the trend with gloves that have come out over the past several years. While I have no problem getting them over the cuffs of my textile jacket, currently a Joe Rocket Nova 2.0, heavier winter riding jackets may test the limits of the gauntlet opening.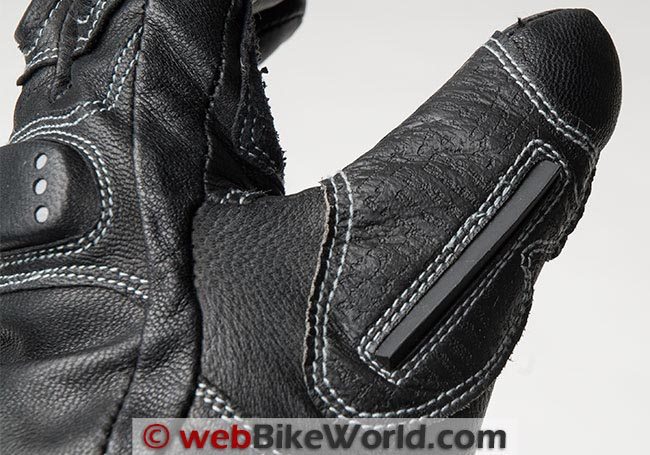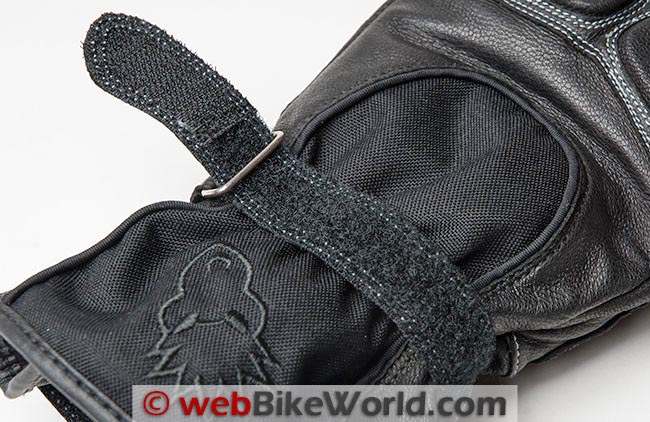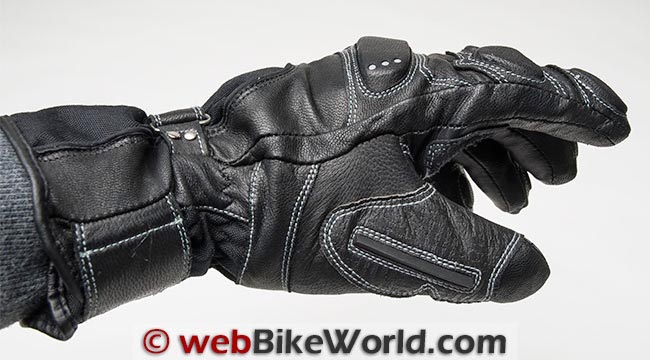 Conclusion
The Joe Rocket Nitrogen gloves tick almost all the right boxes in that they fit well (after break-in), they are well insulated, and they have some good protective features for the price. The fact that they failed the bucket test and proved not to be completely waterproof is a disappointment, however.
I did have the occasion to test them on the road in some heavy rain and during the 45 minutes or so of that rain event my hands did stay dry so they are water-resistant enough for my infrequent wet rides. Those who need a glove that will hold out all that Mother Nature can throw at them might want to look elsewhere.
Compared to the Icon PDX and Teknic Tornado gloves, I would have to say the Joe Rocket Nitrogen gloves are a very worthy competitor based on the details in the webBikeWorld comparison review that was done on them.
I would venture to say that the Nitrogen gloves have the edge when it comes to the protective features and that's an important factor in my book. If only (both of) these gloves were completely waterproof and they had some degree of reflective material on them I'd say they would outshine the others by a good margin.
w

BW

 Review: Joe Rocket Nitrogen Gloves
List Price (2012): $69.99
Made In: China
Colors: Black
Sizes: S-2XL
Review Date: December 2012
Note:
 For informational use only. All material and photographs are Copyright © webWorld International, LLC since 2000. All rights reserved. See the webBikeWorld® 
Site Info page
. Product specifications, features and details may change or differ from our descriptions. Always check before purchasing. Read the
Terms and Conditions
!
Owner Comments and Feedback
---
From "M.G." (February 2013): "I've had these gloves for a year and four months now; they're suitable down to 10 F, although the tips of my fingers get a bit cold at those temperatures.
Also, the gel pad in the palms wears a bit over time. It's not affecting the gloves' utility, but I think that'll be the part of the glove that breaks down first.
On the plus side I can (unfortunately) vouch for the gloves' durability in a wreck. A clueless driver drove through my rear wheel while attempting a U-turn from a parked position. I took the first impact on the back of the right hand and had a bit of sliding. I can't see a mark on the glove and my hand was fine."
---
From "S." (December 2012): "Read your recent review and thought I would offer my thoughts as I have had a pair for 6 years.
My disappointment with the gloves is the gauntlet is too short. I think it should be about 1 inch (25 cm) longer to help keep the cold air out and water out. This way it could stay tucked inside a rain jacket sleeve better or over the outside of a leather jacket sleeve.
Mine have always kept my hands dry even in 2 hour long rides in heavy, severe thunderstorms on a sportbike. Mine have the gel pad in the palm area which is nice on long trips for vibration damping and overall comfort."