Custom bike builders Klock Werks Kustom Cycles of South Dakota have again joined forces with Indian Motorcycle to show the potential for the popular Scout to be personalised.
The bike is similar to the Scout owned by Sturgis Rally founder J.C. "Pappy" Hoel as depicted in this famous painting.
Previously Klock Werks have produced the Scout Pathfinder as a tribute to the US Army and the Scout Outrider bobber by Laura Klock who also built a Bonneville salt flats speed machine from a Victory Hammer.
Now, the modern interpretation of the Indian Scout is based on the "Spirit of Sturgis" motorcycle on an the original painting, titled "Pappy".
It was painted by renowned artist David Uhl using a well-known photograph of Hoel and his 1936 #56 Scout in front of Hoel's Indian dealership in Sturgis.
"I have painted hundreds of pieces from this era and I believe the 'Pappy' work epitomizes the aesthetic of the era," he says.
"This piece has an inherent understated narrative that speaks volumes about our unique American heritage. The entire background – his bike, the dealership, the rack on the wall – sums up the true spirit of Sturgis."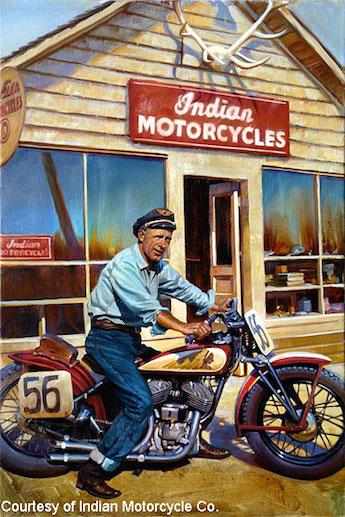 S.D. Hoel opened the retail location and formed the Jackpine Gypsies in 1936. Two years later, the Jackpine Gypsies held the first rally known as the Black Hills Classic that has now become the largest and most iconic motorcycle rally in the world.
The "Spirit of Sturgis" Klock Werks has a modern front fender with classic braces, a newly designed number plate holder surrounding a D.O.T. headlight, a Klassic handlebar style with Motogadget bar-end turn signals, and Klock Werks' new mid controls.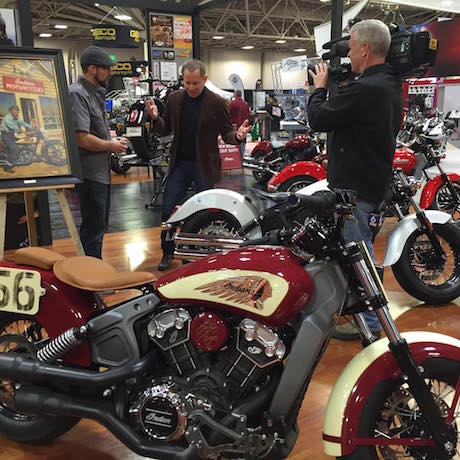 The tail has been bobbed with number plates and fender pad colour-matched to the seat, and a Vance & Hines Grenade exhaust Cerakoted black to match the black spoke wheels from the Indian Motorcycle Accessories catalogue.
It has been painted the same red and cream colour scheme, topped with reproduction tank decals and patina on the number plates for an authentic look.
The "Spirit of Sturgis" is owned by Mark Marshall, a friend of Indian Motorcycle Sturgis proprietor Bruce Eide, who also owns the "Pappy" painting. The bike was unveiled at the Progressive International Motorcycle Shows tour stop in Minneapolis and will go on to be displayed together with the "Pappy" painting at Indian Motorcycle Sturgis.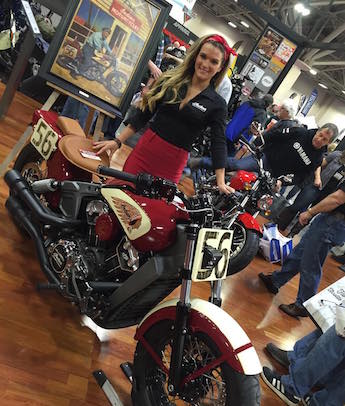 Builder Brian Klock says the goal wasn't to make it look "super old", but more of an acknowledgment of Pappy and his commitment to motorcycling.
"I think it turned out great because it's an absolutely ride-able custom but also tells a great story," he says.