Indian motorcycle is recalling their current fleet of  Thunderstroke-powered motorcycles after two American bikes appeared to have a ghost in the machine and started themselves.
The problem is that corrosion in the starter switch can cause an electrical short and start the engine if the key fob is nearby.
Apparently two Indian motorcycles in the USA have a ghost in the machine and started themselves. There were no related injuries.
Bikes affected are certain models of Indian Chief, Chief Classic, Chief Dark Horse, Chief Vintage, Chieftain, Chieftain Classic, Chieftain Dark Horse, Chieftain Elite, Chieftain Limited, Springfield, and Springfield Dark Horse.
A list of Vehicle identification Numbers (VINs) of affected bikes is at the end of this article.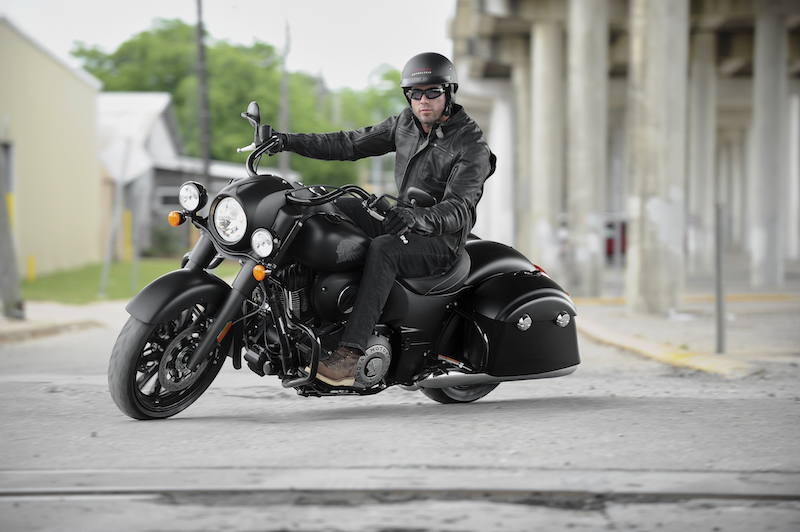 Indian Motorcycles Australia and New Zealand spokesman Peter Harvey says they have started alerting owners.
"The standard procedures for recalls were enacted earlier this week as soon as we were advised," he says.
"All affected customers are being or have been advised."
Owners will have to book in their bike with their local Indian dealers who will replace the switch for free.
The official notice is expected to be issued by the Australian Competition and Consumer Commission next week. 
Indian Motorcycle has issued several recalls for their Thunderstroke models since their were introduced in 2015 including wiring issues, non-compliant halogen headlights, fuel leaks causing fire risks and rear brake failures.
Even though manufacturers and importers contact owners when a recall is issued, the bike may have been sold privately to a rider unknown to the company.
Therefore, Motorbike Writer publishes all motorcycle recalls as a service to all riders.
In Australia, recall notices are issued by the manufacturer and the Department of Infrastructure through a voluntary industry code under the Australian Competition and Consumer Commission.
While any recall is not good news for the manufacturer, it shows that they are largely diligent in fixing problems.
If you believe there is an endemic problem with your bike that should be recalled, contact the ACCC on 1300 302 502.
To check whether your motorcycle has been recalled, click on these sites:
• USA
• UK
• Canada
VINs of affected bikes.
56KCCDAA1J3358155 56KCCDAA2J3357662 56KCCDAA3J3357685 56KCCDAA3J3359890 56KCCDAA4J3357680 56KCCDAA6J3357809 56KCCDAA6J3358409 56KCCDAA7J3358242 56KCCDAA7J3358306 56KCCDAA8J3358136 56KCCDAA9J3357576 56KCCDAAXJ3358039 56KCVAAA0J3361458 56KCVAAA3J3357582 56KCVAAA4J3357591 56KCVAAA4J3358496 56KCVAAA4J3359938 56KCVAAA4J3360295 56KCVAAA4J3360362 56KCVAAA5J3360094 56KCVAAA5J3360256 56KCVAAA5J3361438 56KCVAAA6J3360153 56KCVAAA7J3357570 56KCVAAA7J3357729 56KCVAAA7J3357889 56KCVAAA7J3358024 56KCVAAA8J3360087 56KCVAAAXJ3360558 56KTCAAA0J3359912 56KTCAAA0J3360042 56KTCAAA0J3360106 56KTCAAA0J3360672 56KTCAAA1J3355013 56KTCAAA1J3356243 56KTCAAA1J3360275 56KTCAAA1J3360759 56KTCAAA1J3360776 56KTCAAA1J3360857 56KTCAAA1J3360924 56KTCAAA2J3356249 56KTCAAA2J3357613 56KTCAAA2J3359796 56KTCAAA2J3359989 56KTCAAA2J3359992 56KTCAAA2J3360219 56KTCAAA2J3360334 56KTCAAA3J3358513 56KTCAAA3J3359807 56KTCAAA3J3359905 SB‐I‐18‐04‐ABC 56KTCAAA3J3360195 56KTCAAA3J3360259 56KTCAAA3J3360665 56KTCAAA4J3360142 56KTCAAA4J3360271 56KTCAAA4J3360691 56KTCAAA4J3360710 56KTCAAA4J3361128 56KTCAAA5J335992 SB‐I‐18‐04‐ABC 56KTCDAA5J3360815 56KTCDAA7J3360511 56KTCDAA8J3358525 56KTCDAA9J3360476 56KTCDAAXJ3357781 56KTCDAAXJ3360244 56KTCDAAXJ3360969 56KTHDAA0J3357418 56KTHDAA0J3357466 56KTHDAA0J3358424 56KTHDAA0J3360285 56KTHDAA0J3360299 56KTHDAA0J3360383 56KTHDAA0J3360805 56KTHDAA0J3360867 56KTHDAA3J3360202 56KTHDAA3J3360748 56KTHDAA4J3359950 56KTHDAA5J3360279 56KTHDAA5J3361240 56KTHDAA6J3359755 56KTHDAA6J3359853 56KTHDAA6J3359934 56KTHDAA6J3360081 56KTHDAA7J3358274 56KTHDAA7J3358565 56KTHDAA7J3360025 56KTHDAA8J3358509 56KTHDAA8J3359921 56KTHDAA9J3358390 56KTHDAA9J3358583 56KTHDAA9J3359863 56KTHDAA9J3360236 56KTHDAA9J3360785 56KTHDAAXJ3356258 56KTHDAAXJ3359824 56KTRAAA0J3360184 56KTRAAA0J3360458 56KTRAAA0J3360654 56KTRAAA1J3357567 56KTRAAA1J3358203 56KTRAAA1J3361800 56KTRAAA2J3360056 56KTRAAA2J3360090 56KTRAAA2J3360283 56KTRAAA2J3360364 56KTRAAA2J3360378 56KTRAAA2J3360641 56KTRAAA2J3360705 56KTRAAA3J3357750 56KTRAAA3J3358218 SB‐I‐18‐04‐ABC 56KTRAAA3J3360003 56KTRAAA3J3360051 56KTRAAA3J3360521 56KTRAAA4J3360530 56KTRAAA4J3360544 56KTRAAA5J3360066 56KTRAAA5J3360164 56KTRAAA6J3358195 56KTRAAA6J3359959 56KTRAAA6J3359962 56KTRAAA6J3360318 56KTRAAA6J3360643 56KTRAAA6J3360707 56KTRAAA7J3359971 56KTRAAA7J3360179 56KTRAAA7J3360344 56KTRAAA7J3360392 56KTRAAA7J3360487 56KTRAAA7J3360683 56KTRAAA8J3352740 56KTRAAA8J3358232 56KTRAAA8J3360370 56KTRAAA8J3360451 56KTRAAA8J3360532 56KTRAAA8J3360692 56KTRAAA9J3360006 56KTRAAA9J3360409 56KTRAAA9J3360586 56KTRAAAXJ3360046 56KTRAAAXJ3360421 56KTREAA2J3358377 56KTREAA6J3358060 56KTREAA8J3357573 56KTREAA8J3360425 56KTREAAXJ3358465