Indian Motorcycle and Jack Daniels have come together in a barbecue custom build outfit and a limited-edition Indian Chief Vintage which could be coming to Australia.
An Indian Scout has been turned into a Jack Daniels barbecue outfit in the first Indian Motorcycle global dealer custom build competition.
It's called Project Scout and dealers around the world have been invited to enter their modified Scouts to showcase their talents.
So far dealers in the US, Canada, Germany, Austria, Switzerland, Portugal and France have entered.
While there are no entries from Australia, Victory and Indian Motorcycles Australia country manager Peter Harvey says they will "do our own thing" this year, so stay tuned for some interesting customs.
Our pick of the Project Scout customs is the Jack Daniels barbecue outfit from Quebec.
It features a Jack-Daniels barrel that has been turned into a barbecue. The bike has been stretched at the front, a 21″ wheel added and the speedo is now mounted in the tank.
It's interesting that it should feature Jack Daniels as Indian Motorcycle has announced it has joined forces with the Jack Daniel Distillery to create the Limited Edition Jack Daniel's Indian Chief Vintage motorcycle.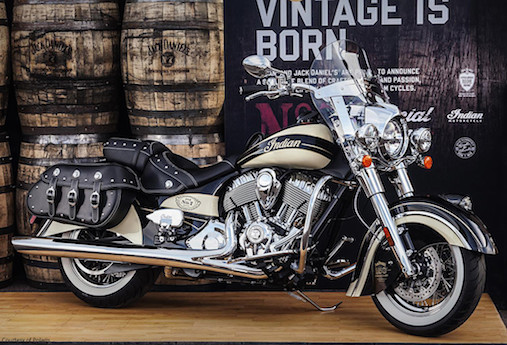 Peter says they are trying to get some for Australia.
"But that's not confirmed because they are in very small numbers," he says.
Meanwhile, the JD BBQ bike is not the only three-wheeler entered in the Project Scout competition.
There is another more conventional outfit from Germany and a reverse trike from Wayne, New Jersey.
Other inventive customs include board trackers, scramblers and a couple with leaf-sprung front wheels.
The dealer contest has no rules or restrictions on bike theme, cost or build style.
The only rule is that they must use a 2016 Indian Scout or new 999cc Scout Sixty models and a minimum of three Indian Scout accessories.
Fans can vote on Project Scout until February 19, 2016, and the top three finalists will receive an all-expenses-paid weekend trip to the 75th annual Daytona Bike Week for themselves plus a guest.