Sure, helmets are great for protecting yourself while enjoying a peaceful ride on your motorbike.
However, some helmets also make great showpieces that make an excellent addition to those who love collecting helmets even if they seldom get chances to play with them.
If you are a helmet fan, we have some great options for you, whether you are a serious biker or are just looking for some super stylish ones.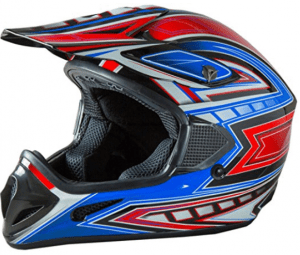 This eye-catchy, comfortable and sturdy helmet is the one for you, especially if you are looking for an amazing helmet at a reasonable price. It is packed with features, is lightweight and gives you your money's worth.
Features
It is made up of a lightweight thermoplastic shell.
Has an extra large port with dual rubber grips for accommodating the goggles.
It has the approval of DOT FMVSS No. 218.
The graphics are unique and colourful.
Pros
Reasonably priced.
Lightweight means you can wear the helmet for long hours without getting uncomfortable.
Is a tough and sturdy helmet giving you all the protection that your skull needs.
The adjustable visor angle is very welcoming.
Is available in different sizes to fit heads of different shapes and sizes.
Cons
Sometimes, the trim and padding may need to be reattached.
The mesh in the chin bar vent is made of cloth, so it will not hold up long on rocky and bumpy rides.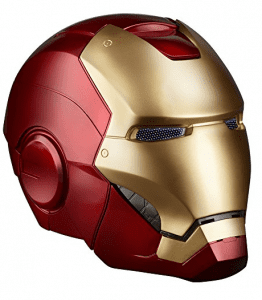 If you have been an Iron Man fan, then this helmet is going to make you fall in love with it the second you lay your eyes on it. Even if you are not that big a fan of this character, the make and quality of this helmet will leave you wanting to add this in your helmet collection.
Features
It comes with 2 LEDs to light up the eyes section.
The magnetized faceplate is detachable if you want a more sober look.
The finishing and detailing is of superior quality.
The buyer gets an electronic helmet and instructions.
Pros
The attention to details means that it is the exact replica of the Iron Man Mask.
Is the perfect addition to your prized collection.
Great value for the price.
Cons
The bummer is that this helmet needs 3AAA batteries which are not included in it.
It's really not the ideal choice for bike rides. It's more of a tribute to the contribution made to technology by Stark Industries.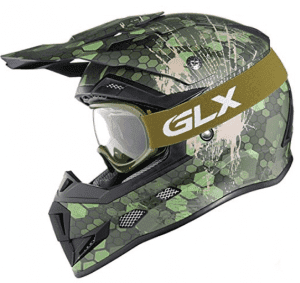 When it comes to children, you need to get them a stylish helmet that is attractive enough for them to agree to put it on their heads. The Motocross ATV dirt bike helmet is strong enough to take care of their heads as they go about playing. Moreover, this one is so good looking, they'll refuse to take it off!
Features
It is a high quality helmet, made with lightweight and durable materials with attention to details.
It meets the safety standard requirements of DOT FMVSS No. 218.
Is made up of ABS Thermal Plastic Composite Shell and EPS impact foam for the superior quality protection.
The cheek pads are easy to clean and wash, which means that the helmet will be clean and fresh everytime the children put it on.
Pros
Comes with gloves and goggles that makes this helmet all the more irresistible.
The buyer gets a helmet bag and goggle pouch to protect them when not in use.
Reasonably priced product.
Cons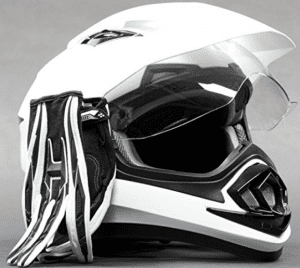 When it comes to helmets, Typhoon Helmets have built quite a stellar reputation for themselves. The superior designing and attention to details, the good quality of the materials used, and the overall fit and comfort have won them admirers all over the world. That is why it is not a surprise, that this helmet features on this list of ours!
Features
The helmet can easily change from a shield configuration one to one without it so that it can be used with goggles.
It meets the DOT FMVSS No. 218 standard for safety requirements.
The liner can easily be removed and washed keeping it clean and fresh every time you put it on.
The intake, channel, and exhaust vents provide excellent ventilation.
Pros
The first exchange for size problems is free!
The helmet comes with gloves that make it an excellent combo.
The 3 point sun visor add extra style and strength.
Cons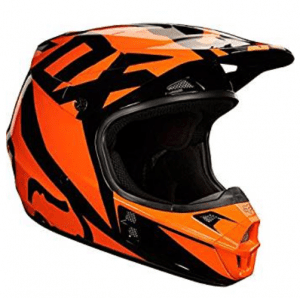 Combining the ultimate fit, comfort, ventilation and protection, the V1 race helmet is the stuff that dream helmets are made of. What's more? It gives you all this and much more without burning a big hole in your pocket. If that is not enough to convince you to go and get one for yourself now, we don't know what will?!
Features
It is made up of injection molded polycarbonate and ABS shell.
The 3 shell sizes and 4 EPS sizes means there is a size for all the different head shapes and sizes.
There are 9 intake and 4 exhaust vents.
It meets the safety standard certifications of ECE 22.05 and DOT.
Pros
The vents ensure excellent ventilation as you move at high speed.
The shell is lightweight and comfortable meaning it will keep you comfortable even on long journeys.
Cons
Is a bit expensive, but considering the features it offers, it's worth every penny.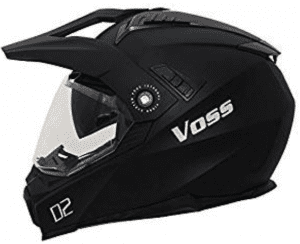 A stylish, comfortable and strong helmet in the most coveted matte black shade. If it is making you want to reach out for it already, then just go on to read the amazing features that this helmet has. Trust us, you'll love it and you can always thank us later.
Features
It sports an aerodynamic design with huge airway gaps which minimizes the wind resistance.
There are dual intake vents as well as a large exhaust vent.
The Drytech liners have moisture wicking antimicrobial properties ensuring that sweat never bothers you when you are on the road.
Pros
The integrated sun lens and ratchet quick release system makes it an extremely comfortable one.
With the numerous vents, ventilation is well taken care of.
Cons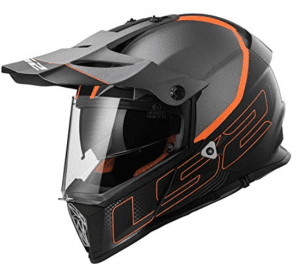 This helmet has the right combination of all the features of a good helmet. With all the features that it has to offer, it will tick off all the boxes on your checklist.
Features
It has DOT approval when it comes to safety standards.
Can easily be put on the head and taken off, thanks to the quick release chin strap system.
The shield system can easily be operated.
The eye port is wide which means it can accommodate goggles from most of the different brands in the market.
The built-in sunscreen adds extra convenience.
Pros
Stylish and lightweight helmet meaning it is suitable for both long and short journeys.
The lining will absorb the sweat so that you can concentrate on the roads.
Is made of strong materials making it extremely functional and will do an excellent job of protecting your head.
Cons
Is a bit on the expensive side, but worth every penny.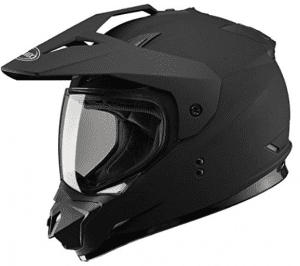 There are many reasons why everyone loves this helmet – from its looks to its functionality, this helmet has been one of our favorites! Give it a try, just once, and you shall love it just as much as we do, if not more.
Features
A well-designed and sturdy helmet with attention to details.
The vents on the top, front and jaw piece have bold designs and can easily be operated, even with gloves on the hand.
The cheek pads can be removed and washed easily.
Pros
There are different sizes available so that every buyer gets a customized fit.
You can completely raise the shield or bring it lower even with the goggles.
The eye port is wide enough to allow the user to wear different types of goggles.
Given the quality and make, it is reasonably priced.
Cons
This is such an amazing helmet, that you will never find any flaw in it, no matter how hard you try.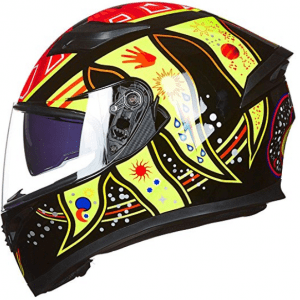 Now this is a colourful helmet that will get you all the attention on the road. If you want more thumbs ups and whistles as you zoom away on that motorbike of yours, this helmet is a must-have!
Features
The streamlined design improves your concentration by minimizing the wind noise.
It is made up of the lightweight and much popular ABS shell.
Meets the DOT safety standards as well as those of FMVSS-218.
Pros
A colourful, well made and sturdy helmet.
It is a lightweight helmet making it your best companion for long journeys on your bike.
The strap can release pretty fast for extra convenience of the wearer.
Given the features and quality, it is extremely well priced.
Cons
There have been some complains of noise not being controlled when riding the bike at high speed.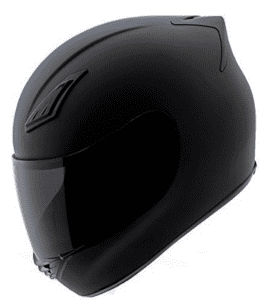 One of the most popular helmets from the GDM helmets, just one look will tell you why it is so much in demand. With its ninja inspired look, you will be the centre of attention on the road as soon as you step out.
Features
It is made up of advanced lightweight composite poly-alloy
It exceeds the DOT FMVSS No. 218 motorcycle helmet safety standards.
Pros
The 7 point ventilation system ensures proper flow of air and keeping the insides well aerated.
The visors are UV resistant and clear.
The fairly firm interiors give you a solid yet comfortable fit and feel.
Cons
We tried, but, thankfully, failed.