ILM's sturdy and stylish Modular Flip up Full Face Motorcycle Helmet comes with a variety of features that will instantly catch any motorcycle driver's attention.
This helmet comes with a fully integrated Bluetooth system that is easy to set up. It has an MP3 intercom built into it which includes headphones as well as a microphone, allowing you to receive calls and talk back to the caller without stopping your motorcycle or taking off your helmet.
Weighing 4.4 pounds, the ILM 953 offers a great face shield and an inner visor lens at a reasonable price.
Features
Solid Shell
The ILM 953 modular flip up full face motorcycle helmet is available in sizes medium, large, and XL.
As its name suggests, it offers full front covering when the face shield is down but the whole front can be flipped up like any other modular design. This makes the helmet easier to put on and take off. This also allows you to simply flip it up while your motorcycle is idling at a traffic signal or while you talk to someone or ask for directions.
The ILM 935's shell is also of an aerodynamic design that prevents lift and drag, especially at high speeds.
Face Shield Features
This ILM model has both an external as well as an internal visor. The external visor or face shield moves with the front of the helmet when you flip it open. The internal visor can be accessed and adjusted using a switch on the side of the helmet.
The helmet's external visor does not come with anti-fog properties. Therefore, it would be dangerous to use the ILM 953 in foggy weather or conditions of low visibility or smoke/smog. It does, however, have scratch resistant qualities which make it durable.
The helmet's visors are installed in such a way that it stays in sync with its overall aerodynamic design without reducing the user's field of vision.
Ventilation
The 953 Bluetooth Integrated Modular Flip up Full Face Motorcycle Helmet comes with 3 adjustable air intake vents for proper ventilation. This makes the helmet comfortable to wear in all weather conditions, especially while taking long rides or tours.
The ventilation could cause noise in conditions of heavy wind, especially since modular flip up designs are more susceptible to noise than full face models. This can be very annoying for a lot of motorcycle drivers.
Bluetooth System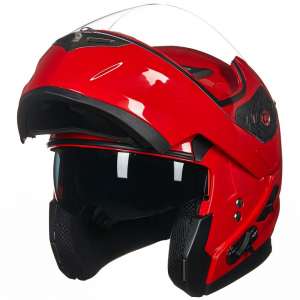 The Bluetooth intercom system is fully integrated into the helmet and all the user needs to do is insert an included Bluetooth receiver into the port at the base of the helmet. The receiver is battery-powered and needs to be charged, but this can be done without ever taking it off from the helmet. The receiver has a charging point on it which can be connected to a power source. Once plugged in, the user doesn't have to worry about it again.
The Bluetooth® 2.0 technology provides 8 hours of talk time and 110 hours on standby mode. It offers one touch control for call answering, rejecting, and redialing. Incoming phone calls automatically override the intercom, music, FM, and GPS navigation audio. So, the user will not have to stop their vehicle in order to answer.
The system works for up to a maximum of 1000 feet from the rider to the intercom. It also offers 2 high quality built-in speakers with full stereo sound.
DSP echo cancellation and noise suppression technology is used to ensure high quality sound.
Focus On Safety
ILM does not offer any out-of-the-ordinary safety mechanisms. The 935 helmet has a good strong shell and EPS to protect the user's head and absorb shock in case of an accident or impact of any kind. The inner visor provides an extra layer of protection to your eyes and also lessens the stress on your eyes from harsh lights.
The helmet is DOT-approved and the visors have ECE certifications. So, the ILM 935 meets all the basic standards required for safety.
Focus On Comfort
With the helmet being available in 3 different sizes, it would not be difficult in most cases to find a comfortable fit.
The ventilation system allows for cooling airflow which would be especially useful in summer, and during long rides.
The flip up feature saves time in removing and putting the helmet back on. This eliminates physical discomfort faced while using a full face helmet.
Pros
Flip up as well as full face.
Integrated Bluetooth system.
Mp3 intercom.
Aerodynamic designed.
Good ventilation.
DOT and ECE certifications.
Sleek, stylish design.
Reasonable price.
Cons
High noise.
Face shield is not anti-fog.
No extra protective features.
Not enough size and fit choices.
User Reviews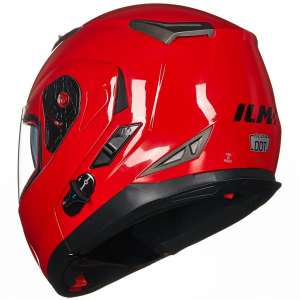 Users have given both negative and positive feedback on the ILM 953 Bluetooth Integrated Modular Flip up Full Face Motorcycle Helmet.
While the most attractive feature of the helmet is its impressive Bluetooth system, many users have claimed that it is not as effective as they expected at higher speeds. However, under normal conditions, a majority of users have agree that the system works well and that the speakers have very good sound quality and clarity.
Some users have found it hard to find the right fit and have had to order a size up from what they would normally buy. The chin straps too have given a small portion of users some discomfort.
However, the visors seem to be a satisfactory part of the ILM 935 with many users providing positive feedback.
Conclusion
While the most notable provision of ILM 953 Bluetooth Integrated Modular Flip up Full Face Motorcycle Helmet is its Bluetooth system, it would be waste of money to buy this model just for this feature.
However, all of the helmet's basic features are quite good, and for that reason, it is a good investment for everyday use. But, if your main requirement is a good Bluetooth system then this may be not be the helmet for you.