Tarmac Boots Review Summary
Tarmac Boots Image Gallery
Very comfortable on and off the motorcycle and surprisingly comfortable for walking.
The Icon Tarmac boots also feature good air flow.
They have a "no-lace" design, which makes them easy to slide on and off.
The Kochmann Scout boots are our short motorcycle boots benchmark. With a good combination of protection and comfort, they're also built to last; they're relatively good for walking and they're put together with excellent quality.
But in the spirit of "the grass is always greener on the other side of the fence", we remain on the lookout for something just a wee bit better.
What could be improved on the Kochmann boots?  Well, although they're more comfortable for walking than most other types of boots, they could be better. The Kochmann boots have mesh panels, but the ventilation could be improved and they can feel too hot in the summer.
And finally, it's difficult to actually buy a pair…unless you live in Germany or Hungary, that is. At one time, Kochmann boots were more widely distributed and they were actually sold in North America, but the Kochmann website currently lists retailers in Germany and Hungary only. That in and of itself is an issue; if you can't buy a product, its benefits are rather a moot point, no?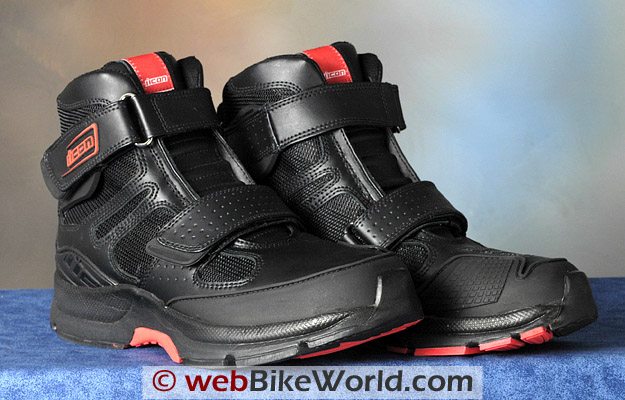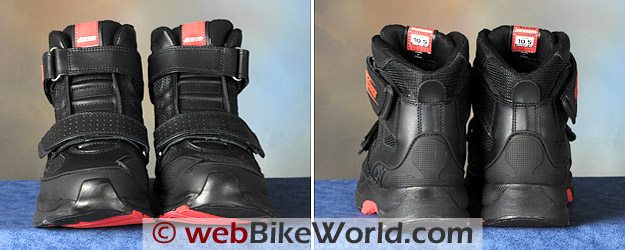 Motorcycle Boots for Walking?
webBikeWorld visitors have told us many times that walking comfort is one of the most important criteria for short motorcycle boots.
Many motorcyclists are interested specifically in the shorter styles of motorcycle boots so they can wear the boots off the bike. Protection is important but secondary, but ultimate protection isn't quite as important as comfort, according to our visitors.
Looking at it another way, a completely wild back-of-the-envelope estimate might put boots made for motorcycle racing at a 95% protection and 5% walking comfort ratio. Touring boots or general street boots might be something like a 75% protection and 25% comfort split, while short boots perhaps come in at, say, 70% for comfort and 30% protection.
Racing boots or motocross boots are just not made for walking; indeed, it's sometimes a chore just to hobble out to the garage!  Once you're on the bike though, they're usually fine. Adventure touring or sport touring boots aren't much better, although some of them are at least management for walking short distances.
The only real solution that allows somewhat decent walking capabilities and which offer a modicum of protection while riding can be found in many of the short motorcycle boot styles. These have become very popular, and we've reviewed several different brands; you can find the links to the reviews in the right-hand column.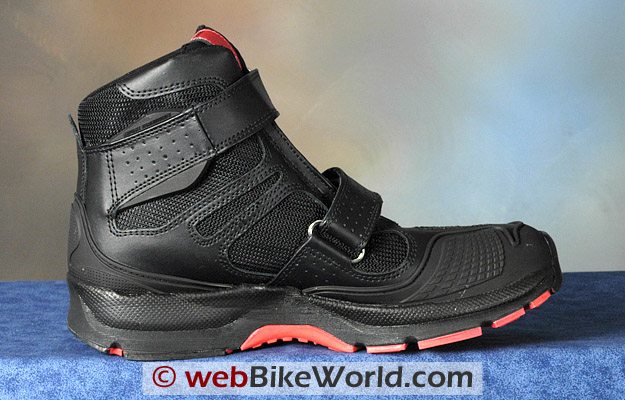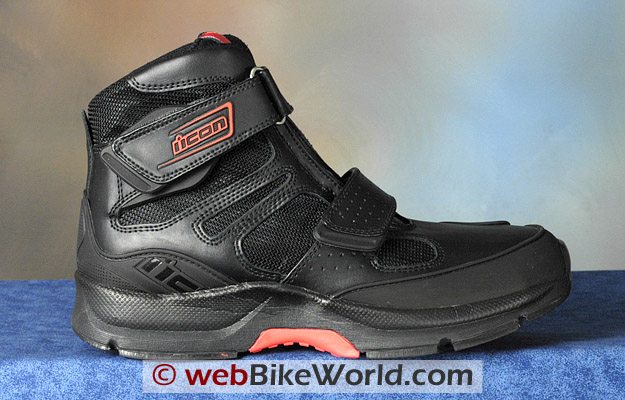 Icon Tarmac Boots
Many webBikeWorld visitors just haven't been able to find the perfect combination of comfort and protection, and they recently suggested that we review the new Icon Tarmac boots, and so I ordered up a pair using some of the funds in our New Enough User Group donation program to see what all the fuss was about.
The Icon Tarmac "Ventilated" Boots are new for 2009. The company now has six different types of men's boots in their lineup; all are what I'd categorize as short motorcycle boots. Icon also has three women's boots, but two of them look, well, they sort of look like they belong in a catalog for "Lucy's House of Leather 'n' Whips!
The Tarmac boots come in white or black, and the white version looks…well, let's just say that I'm sure our sophisticated webBikeWorld readers will prefer black. If you own a white pair, don't tell me about it, please!
Icon's marketing material for the Tarmac boots probably could use one more pass through the Editor. It says that the boots are "all-'Vcentilated" (yep, that's the way they spell it; hyphen, apostrophe and all) and they're built on an "ultra-comfortable athletic bottom unit" (uh, that's athletic shoe bottom unit, no?).
They go on to say that the inside of the boots are "built around a wicked outsole for a custioned [sic] ride". Not exactly sure what they mean by all that…and who knows what an "Axialmetric" steel shank and "Rocpro" mesh is either?
The words and spelling above were as published on the Icon website on the day I am writing this (for their own sake, let's hope they fix it!). Thanks for the chuckle, Icon, but I'm glad the boots are better than what the garbled text promises, because I can say that the Icon Tarmac boots are definitely the most comfortable motorcycle boots I've ever experienced for walking.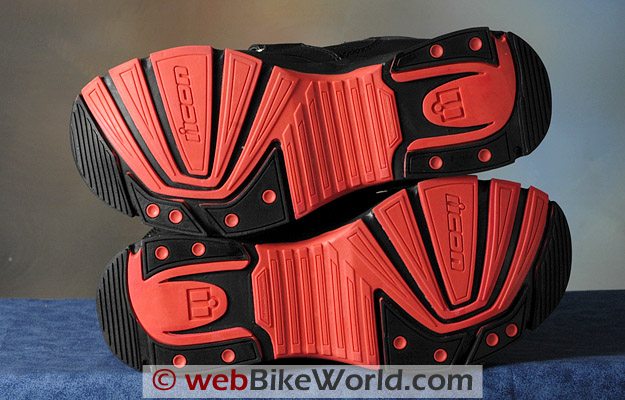 Tarmac Boots: Soles
The thick soles are very cushy, with that athletic shoe bounce, and the material is also pretty grippy once the initial mold release is worn off.
The soles on the black version are a pretty wild black and orange color combination; the white boots have gray and orange soles. The soles are shaped with a small "hump" in the middle, just forward of the heel, which is important on motorcycle boots because it helps locate the foot on the pegs.
One side effect of the thick soles is that they may actually add just a touch of height, which could provide a slight extra boost for inseam-challenged riders.
The downside is that the thickness of the boots can be noticed when riding motorcycles that have a short foot peg to shifter distance. For example, I find that I have to dig my toe down farther than normal to get it under the GT1000's shifter. Not a big deal, but worth mentioning.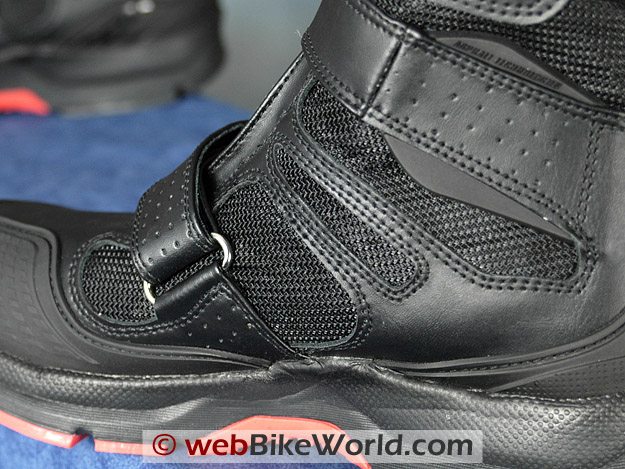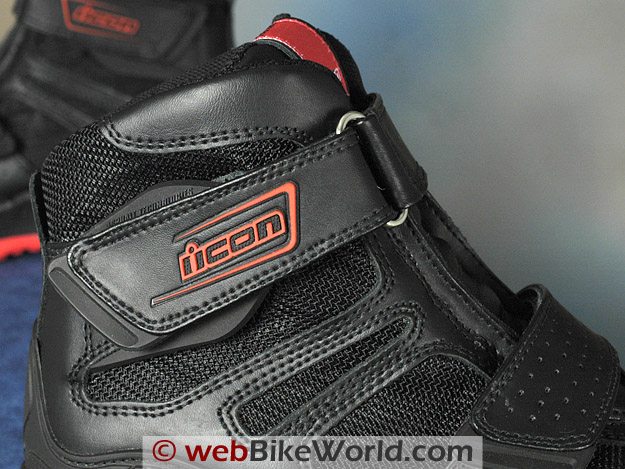 Ventilation
The bonus is that the mesh actually does seem to work. While it doesn't feel like there's a fan attached to the front of the boots, once I get past 20 MPH or so, my feet definitely feel…aerated is a good descriptive word.
Just adding some mesh on the outside of isn't necessary a guarantee that air will actually flow through, as most athletic shoe owners can attest. The problem is usually the thick foam padding and lining material on the inside of the mesh, that may make a shoe feel comfortable in the store but turn it into a hot swampy anchor after a hour or so. I can't tell you how many times I've been burned (pun intended) this way with "mesh" athletic shoes.
But the combination of mesh and lining used in the Tarmac boots does provide a decent amount of ventilation, at least in the 70-80 degree F (21-27 C) weather we've been having lately.
Protective Features
The Icon Tarmac boots are comfortable for walking, but what about protection?  Icon says that the boots have "plastic toe and heel guards", which are relatively stiff external coverings in those areas. The boots also feel like they may have internal toe and heel cups located behind the external guards, but I can't confirm this.
The rubbery-plastic external guard on each boot extends all the way around the toe, continuing along each side, becoming thinner until it ends about mid-foot. The external heel guard also feels nice and sturdy and it covers a good portion of the back of the foot, up to about the Achilles tendon.
The left boot includes a grippy shift wear pad of an interesting design; it consists of a series of three rows of little square bumps made from what feels like the same rubbery-plastic material used on the toe and heel guards.
The rows are actually sewn into the top of the toe of the left boot. It's subtle, and probably will go unnoticed if the boots are worn for casual street use, yet the square nubs provide plenty of grip.
The boots include rudimentary ankle protection, with small sections of foam attached to the upper strap, located so that the foam can protect the ankle when the strap is secured. My preference would be for the boots to have a hard protective ankle cup sewn into the lining on either side.
Or perhaps some harder plastic ankle protectors could have been used in place of the foam underneath the straps. This may be academic though, because the relatively thick leather strap with the foam underneath that covers the ankles on both sides at least does seem like it offers better protection than some other brands of short boots.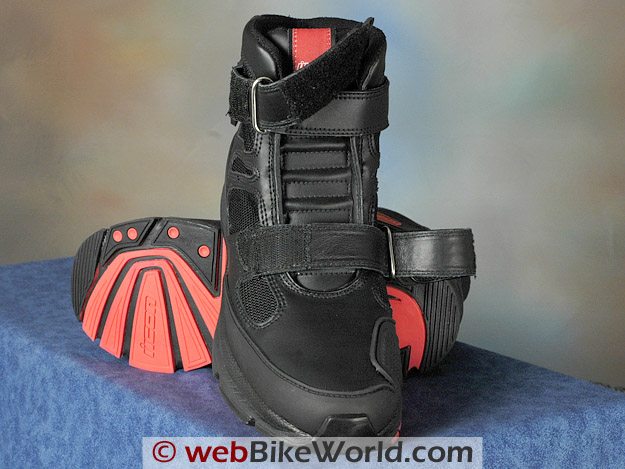 No laces. The boots secure with two hook-and-loop straps, shown unfastened.
Lacing the Icon Tarmac Boots
I didn't notice an important feature until I went to put on the boots for the first time. "Where are the laces?" They look like they have laces — that is, until you give them a closer inspection. There aren't any!
Uh-oh, trouble you say? After all, don't they use hook-and-loop straps on those faux running shoes that sell for about $4.99 in Walmart? You know — the shoes favored by 9 out of 10 nursing home residents?
I was a bit skeptical at first, because I don't think I've ever seen anyone under, oh, about 75 years old or so wearing a pair of shoes with hook-and-loop straps.
Now that's not to say they aren't comfortable; I have never owned a pair, but once and a while I've secretly wondered what it would feel like to wear them — I bet they're comfortable, but the problem is, who'd want to be seen in them?
Icon must have recognized this also, and to appease their young target market, they added some molded raised bars across the tongue which do, in fact, look for all the world like…laces. This is why I didn't notice at first that the boots were lace-less.
Those molded bars actually do hold laces — of a sort. Thin bungee-type round cords connect the sides of the opening of the boots through the tongue. The cords are elastic, so the tongue and indeed the front of the boot stretches across your foot.
You'll get over the no-lace issue very quickly, I guarantee it, the first time you slide these babies on. Now I know why Gramps likes those hook-and-loop strap shoes — they're so easy to put on, snug up and take off, and they're super-comfy!
All you have to do to slide on a pair of Icon Tarmac boots is to open up the top and bottom hook/loop straps, stretch open the tongue and shove your foot in. Cinch up the straps and you're done.
It also makes for a smooth front, so there should be no problems with catching a lace on a shifter or something. I've never experienced this problem, but apparently the motorcycle boot manufacturers are worried about it, because many boots feature various types of solutions to address this potential problem.
The lace-less design of the Tarmac boots are more successful I think than the Rev'it Air Blend and Fighter boots (review), for example, which still have laces but use a full-length cover to protect the laces from getting caught.
No laces also mean less hassles. It can sometimes be a pain to get the laces on a motorcycle boot tightened up enough; you first have to start at the bottom and loosen up each row to get the boot loose enough to put on, then you have to start at the bottom again and pull each row tight before you can lace them up.
Since I'm lazy to the core, the no-lace design is da nutz — a big plus for me. Now you'd think with all the other marketing psychobabble that at least Icon would have come up with a cool-sounding name for the no-lace system, but they simply call it the "quick-fit elastic foot retention system".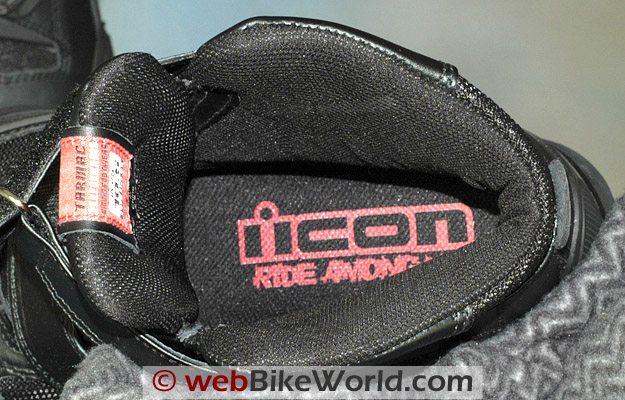 Lining and Comfort
The Tarmac boots are fully lined and the boots include a foot bed that is nice and comfortable with generous proportions.
The lining feels smooth throughout the inside of the boot with one exception — the seam at the end of the tongue is exposed. It would have been better I think to have covered this with lining, because I can feel it against the back of my foot, especially when my foot is bent on the foot pegs when riding.
This may not be noticeable for everyone; it could be dependent on my foot shape, and it's a relatively minor complaint, but I'll note it just the same.
Otherwise, the Tarmac boots are very comfortable — I think I can honestly say that between the thick, soft cushioned sole, the fit and the lining that these are right up there with the most comfortable motorcycle or street boots I've ever owned.
Each boot weighs 628 grams, or 1 lb., 6-1/8 oz., which is light and feels light.
Sizing and Fit
By the way, regarding fit, the toe is designed as a fairly generous "square" box, which should have plenty of room for proportional foot sizes. I like wide toes on all my shoes and boots, and these fit the bill.
Icon uses U.S. sizing for the Tarmac boots sold in the U.S.A. Sizes available are 6 and 7, then 8 through 14 in half sizes. My boots are size 10.5 US, which is exactly the street boot size I normally take. The label says they're a 45 Euro size.
The boots fit me, and I like my motorcycle boots to fit slightly tighter than street boots. But I do think these run just a tiny bit small; maybe about 1/4 of a size short. So I'd say the size 10.5 is really more like a 10.25 or a 44.5 Euro, not a 10.5 and not like any other size 45 Euro boots I've tried.
Again, this is somewhat dependent on foot shape, so not all owners may agree. But I'd suggest that if you're on the borderline, you may want to go with the next size up. As always, try before you buy is a good idea.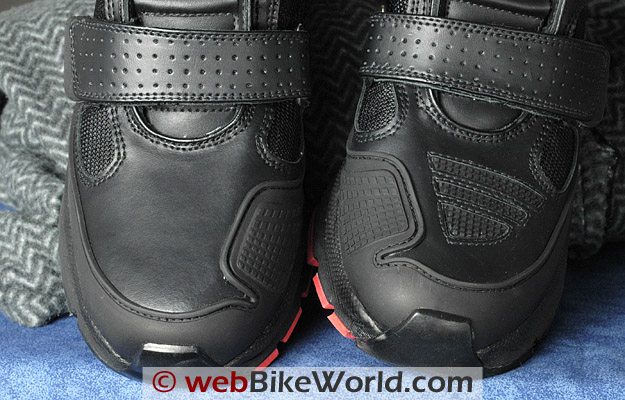 Conclusion
The Icon Tarmac boots are very comfortable and offer what I think is probably slightly above average protection for this type of boot. The combination of comfort, ventilation and ease of use make these a real winner, especially at the list price of $125.00.
w

BW

 Review: Icon Tarmac Motorcycle Boots

Manufacturer: Icon
List Price (2009): $125.00
Colors: Black or white
Made In: China
Sizes: 6 and 7 whole sizes. 8-14 in half sizes
Review Date: June 2009
Note:
 For informational use only. All material and photographs are Copyright © webWorld International, LLC since 2000. All rights reserved. See the webBikeWorld® 
Site Info page
. Product specifications, features and details may change or differ from our descriptions. Always check before purchasing. Read the
Terms and Conditions
!
Owner Comments and Feedback
---
From "L" (April 2014): "I must confess I bought those shoes for the low price and solid look after reading the review here.
However, I soon found their ventilation not so great and best avoid riding with them in the rain. They (are) surely great for walking around all day as they give you a slight high-and-ready-to-go feel and confidence. My view though is to avoid them in any possible way.
First, I discovered that the lower strap was way too short and just barely held on at the last tip. an inch of material will easily have sorted that out. Next was the sole. didn't take too those red strips started pulling off on both legs starting from the front. then the heel opened and had to fix but worst was after a long trip on my bike i notices the right leg ventilation increased only to find half the sole was opened from the inner side.
I still have one of their older boots which has peeled badly and wonder why such issues come up on their shoes."
---
From "S.B." (November 2011): "Well I'm late on this as you reviewed these in 2009, I normally research stuff before I buy, and wBW is where I look most of the time.
Just happened to find these while looking for a different boot…glad I did!! Great boot, I'm an MSF Instructor (Rider Coach) in Denver and use these while riding, and on the range while teaching. Very comfortable on the bike and also while running around on the asphalt teaching newbies how to ride.
I like the sole as it gives insulation against the hot asphalt and the ventilation is great!! When I get done teaching for the day and get on my bike to go home, I can just feel the air going through to my feet.
They do run a hair small, I normally wear a 9-1/2 but the 10's in these fit perfect! I bought these mostly for work but I find I wear them all the time now at least in the warmer months!!"
---
From "T.B." (6/10):  "I read your review of the Icon Tarmac boots from June of 2009 and based on your review, I bought a pair. I have a few comments on the boots based on about 4 weeks of use.
Number one, the sizing was an issue. It's not off a quarter size per your review, it's off a full size. I normally wear a 9 1/2 E men's shoe and based on past Icon purchases, I knew they ran small so I bought a size 10 1/2 in the new Tarmac boot. It fit perfect and I would recommend that anyone interested in these boots try them on first or order a full size up if it's mail ordered.
Per your review, they are very comfortable but the ventilation, while OK, isn't great. The ventilation is better than my old Icon boots (with the ski boot buckles) and they are far lighter than my old Icons as well.
These boots seem to be like new tires – they have some sort of mold release compound on the soles and they are kind of slippery on wet surfaces when new. The traction got better as I wore them but be careful straight out of the box. I'd wear them on concrete for a while to break them in to make sure you don't accidentally dump your bike.
They can be tough to slide on when new and the Velcro straps work good and aren't super visible on the black model I have. Up close they do have that "nursing home" look but nothing is perfect.
Finally, I'm sort of surprised that these boots are still $125. I had expected after a year of so they'd come down in price."
Editor's Note:  From the review above: "Again, this is somewhat dependent on foot shape, so not all owners may agree. But I'd suggest that if you're on the borderline, you may want to go with the next size up. As always, try before you buy is a good idea."