Ixon "RS King" Motorcycle Gloves Review
Thick supple leather, big honkin' gauntlets and a reasonable price make these a winner. I think we found the perfect replacement for Rick's fabled original Teknic Violator gloves! The Ixon RS King gloves review is Part IV of a five-part Ixon motorcycle clothing review series. The final installment will cover the Ixon Los Angeles children's motorcycle jacket.
Ixon is a French company with a huge line of motorcycle clothing items — everything from kid's clothing to accessories to leather race suits. Thunderchild, the UK distributor, sent over a sampling of Ixon clothing for us to review, and we set up a five-part series, starting with the Ixon Courageous jacket review. I count a total of 33 different types of motorcycle gloves on the Ixon website; 34 if you count these Ixon RS King gloves, which apparently have just been released and have yet to be added to the list.
Rick's search for the perfect glove must have gone international, because even Thunderchild picked up on it and stuffed the RS King gloves in the box with a note that read:
These gloves are brilliant and also one of the few gloves that are independently tested to CE specifications
They were right — the RS King gloves come with a folded-up booklet format that serves as an Owner's Manual. It describes the CE approvals and testing that the gloves have passed. The text in the booklet is printed in what I estimate to be about a size 4 font (en anglais et français), so I pulled out my trusty magnifying glass to learn more.
---
Where to Buy Icon RS King Gloves
Check Reviews & Prices on Amazon
Check Reviews & Prices On RevZilla
Also: Motorcycle Jackets, Motorcycle Gloves, Motorcycle Boots, Motorcycle Pants
---
CE Standards for Motorcycle Gloves
After telling us that "These gloves are intended to protect the motorcyclist from external elements without reducing the dexterity of the user who actuates the orders and switches of the motor bike", the booklet goes on to say that the gloves "won't be effective in the event of crushing" or from "wounds caused by penetration of an object".
Thanks for letting us know, I'll remember that!
Anyway, there actually is some good information printed in this mini version of an Owner's Manual, including some details on the CE PPE-1 (Personal Protective Equipment) approval info for EN 13594:2003 ("Protective Gloves for Professional Motorcycle Riders").
The RS King gloves passed the "Abrasion Resistance by Impact" test with a 6.97 and "Energy of Impact Transmitted on Reinforcement" with a 1.15.
Unfortunately, the booklet doesn't say what units these numbers refer to, a rookie mistake that I hope Mrs. MacLean, my 6th Grade science teacher, doesn't see, or Ixon will get a knuckle whacking from her.
To learn all about EN 13594, you'll have to purchase the full text of the standard, which costs something north of $100.00 USD.
Why countries use taxpayer dollars (or Euros or pounds) to set up standards for the public good, then allow private companies to profit from selling copies of the standards so other companies can manufacture the products to the standards is beyond me.
It would be nice to understand the testing schemes that CE-approved gloves endure.
In the meantime, here's an overview of the CE motorcycle glove testing scheme (.pdf file), provided by SATRA, one of the largest R&D and testing organizations in the world.
I didn't mean to get off on this tangent, because the point is that it's sure nice to see that someone has developed a system that that at least start to get at a consistent standard for testing and reporting of motorcycle protective clothing. I just wish I knew whether or not a 6.97and 1.15 is good, bad or indifferent.
There are, by the way, other CE standards for motorcycle gear, including EN 1621, a standard specific to back protectors; EN 1621-1 for on-road elbow, shoulder, hip and knee protectors (aka "armor"); EN 13634 for motorcycle footwear; EN 13595 for jackets, pants and one- and two-piece suits; and EN 14021, for off-road body protection against debris tossed from tires and bikes.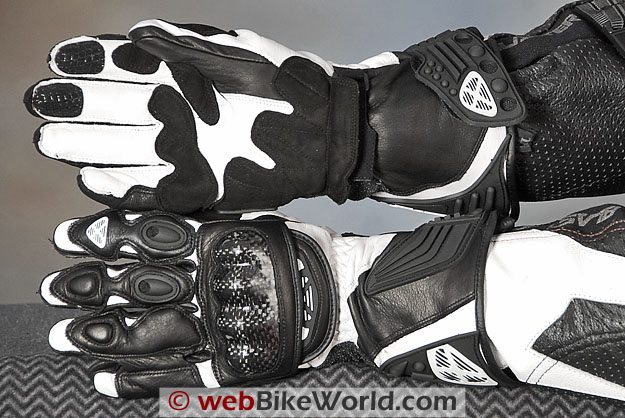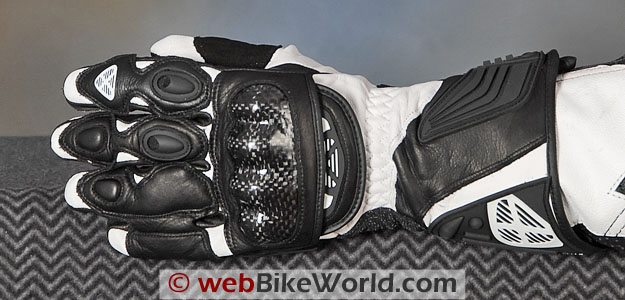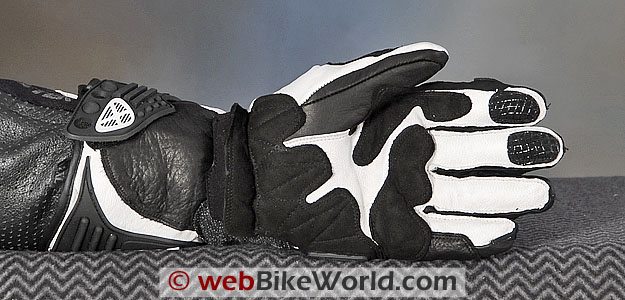 Ixon RS King Gloves
I have no idea where the "RS King" product name comes from for these gloves.
It was mentioned in the webBikeWorld overview of Ixon motorcycle clothing in the introduction to the Ixon Courageous jacket review that Ixon has so many products they probably had to come up with some kind of naming convention just to keep track of everything.
I'm assuming the RS King gloves are in the Ixon "Performance" top-of-the-line category, only because Ixon also has the "RS Queen" women's gloves in the lineup, so it would make sense to match the King with the Queen.
The RS King version is new and doesn't yet appear on the Ixon website.
Real Leather!
The RS King gloves are made from a thick-feeling full-grain leather that feels like cow hide to me. It's interesting to put on a pair of "real" leather gloves after wearing so many different types of synthetic gloves and lab-created leather glove fabrics.
The leather in the RS King gloves feels, "robust" I guess is the word — it feels just like leather!
The leather used in the RS King gloves feels supple and the gloves felt broken in after only about two short rides. As far as I can tell, the entire body of the RS King gloves is all leather.
The gloves have extra sections of suede leather covering the palms and the heel of the hands and generously-sized extra sections of leather covering the backs (tops) of the fingers.
The entire construction appears to be nicely double-stitched, although the edges of some of the leather sections are slightly rough — but this affects appearance more than performance.
The only non-leather material I can find on the gloves (other than the rubber abrasion bits) is a section of silicone padded Kevlar material covering the scaphoid bone(s) on the wrist; it too is doubled-stitched on to the leather glove body.
Super kudos to Ixon for including a full-sized gauntlet on the RS King gloves. Various webBikeWorld reviewers have been ranting about too-short gauntlets for some time (see the article "The Case of the Missing Gauntlet"), but Ixon has given it all back to us.
There should be no problems fitting the RS King gloves over summer or winter motorcycle jacket sleeves.
The gauntlets are also made of leather, with thick rubber wear protectors added on top and bottom of the wrist.
These are single-stitched to the leather, but the stitches are recessed into a channel in the rubber, which should protect them from wear.
By the way, the Ixon booklet that came with the gloves warns that motorcycle gloves are a one-time protection device that, like a motorcycle helmet, should be replaced if involved in a crash, and I definitely agree.
Once the gloves sacrifice their life to save your hide, thank them, hang 'em up on the wall so you'll never forget and make the same mistake and go buy another pair.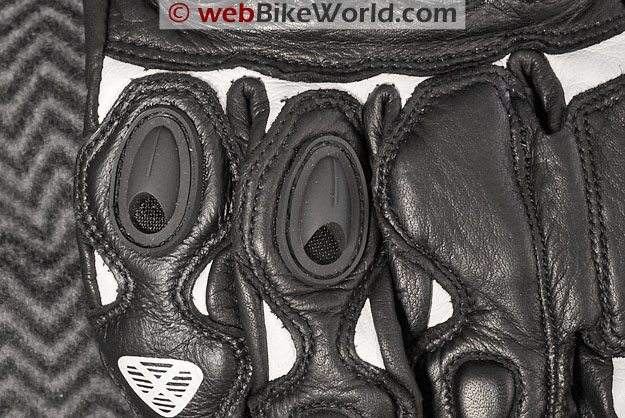 ---
Where to Buy Icon RS King Gloves
Check Reviews & Prices on Amazon
Check Reviews & Prices On RevZilla
Also: Motorcycle Jackets, Motorcycle Gloves, Motorcycle Boots, Motorcycle Pants
---
Race-Style Attached Fingers
As I mentioned above, the RS King gloves also have generous sections of extra leather sewn on to the backs or tops of the fingers.
The forefinger and second finger include those rubber vent scoops that seem to be appearing on every motorcycle glove made in 2008, but in this case, they actually work.
I can blow through them and feel the air coming right down into the fingers, unlike some of the other gloves with similar scoops reviewed on webBikeWorld recently where the glove lining blocks the air flow.
Speaking of lining, Ixon says the RS King gloves have a cotton lining. It's thin and doesn't cover all of the internal seams, but the gloves are pretty comfortable overall.
The third finger and pinky (little or last) finger are sewn together via the large extra leather abrasion protection piece on top, as is the case with many race gloves.
For those who have not tried gloves like this, it may look like they'd be uncomfortable, but I have never noticed a difference and do not notice any difference at all with the Ixon RS King gloves.
The fingers are sewn together to give the pinky finger some stability and to help prevent it from rolling and breaking in a crash.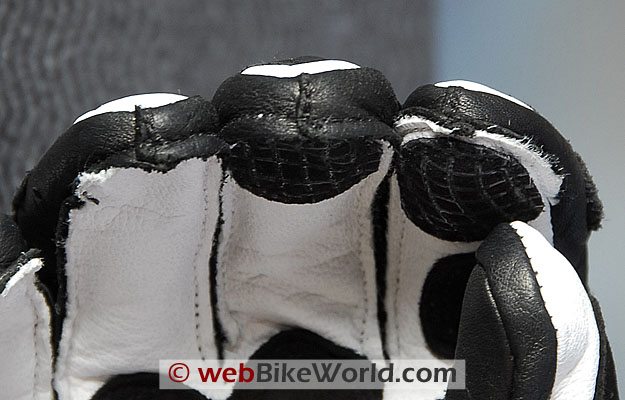 Finger Construction
It's interesting to note that there doesn't seem to be a standard method for sewing motorcycle glove fingers and fingertips, but I guess it doesn't matter, as long as they stay together on impact — their most important quality.
The Ixon RS King gloves have yet another take on finger construction, as you can see in the photo above. In this case, the tops of the fingertips are sewn with a blind seam, so the stitches are on the inside.
It's a sort of modified box construction, so the sides of the fingers are vertical, and they're sewn with an external stitch on to the bottom (palm facing) section of leather to form the base of the box.
The top blind seam places the stitches seam on the inside of the gloves right at the fingernails, so owners with long(ish) fingernails may need to go one size up to allow more room.
I notice it when I first slip my hands into the gloves, but for some reason not when I ride — I think my hand grip forces the tips of my fingers downwards, away from the seams.
The bottom part (fingertips) is unaffected, because of the external stitching on the palm side of the fingers. This actually works pretty nicely to provide more feel on the fingertips.
All told, it's a reasonable solution to fingertip construction for motorcycle gloves.
Note that the thumb uses a different construction, being sewn entirely with hidden internal stitches.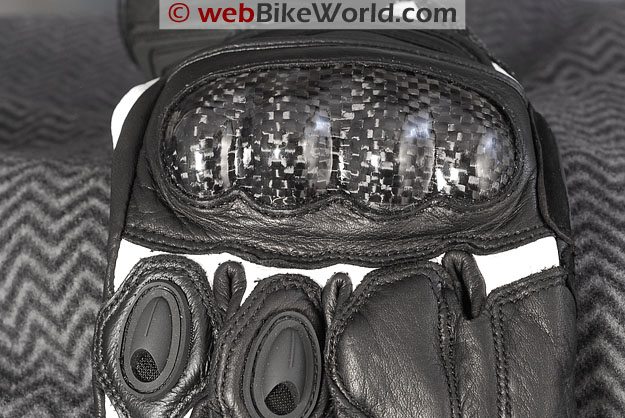 Carbon Fiber
The back of the hand features a large carbon fiber protector covering the big knuckles. It "floats" on top of the glove, although it is not attached with elastic at the sides; instead, the carrier is stitched to each side of the glove.
The back side of the carbon fiber protector is generously molded to fit the shape of the knuckles, and it features a thick section of padding.
Underneath the carbon fiber knuckle protector is a separate flat protector; it feels stiff and is covered with leather on top and a fabric underneath to help is slide smoothly back and forth as the hand is clenched.
This flat protector is sewn slightly too far forward by just a hair on the left glove (or it could be that my left hand has a slightly different size) and it doesn't slide back enough to allow the knuckles on that hand to fit up into the carbon fiber protector.
This is slightly discomforting but I'm hoping that it will resolve itself as the gloves wear in. In any case, it's definitely not a deal-breaker.
---
Where to Buy Icon RS King Gloves
Check Reviews & Prices on Amazon
Check Reviews & Prices On RevZilla
Also: Motorcycle Jackets, Motorcycle Gloves, Motorcycle Boots, Motorcycle Pants
---
Security: Attachments and Straps
The Ixon RS King gloves have a large section of hook-and-loop fastener to cinch up those full-sized gauntlets, and a strap underneath the wrist also attaches with H&L to effectively hold the gloves on the rider's hand.
The gloves include an elastic band sewn under the wrist, which makes it slightly difficult to squeeze the hands into gloves — as it should be.
When the gloves are on and the wrist strap is cinched, I can not pull the gloves off by the fingertips. This is as it should be and a crucial safety feature that is unfortunately missing on too many motorcycle gloves.
A glove must stay on the hand to protect it during a crash, so it's always important to run a simple test to see if they will.
A piece of the suede-like leather that protects the palm has been left long enough to cover the wrist cinch strap. It doesn't attach to the strap but acts as a sort of overlay that will hopefully shelter the strap during a slide.
Ixon Sizing
The slightly different xon sizing routine is at work here also; the gloves shown here are labeled as XXL, which is two sizes larger than the size Large I would normally order.
TThese gloves fit me just about perfectly — when I first put them on, the pinky fingers feel about 1/8″ short and my fingernails just interfere with the internal stitches, but curiously once I get on the bike and hang on to the grips, the fingers feel like they have enough room.
So the RS King gloves at least seem to run about 2 sizes 2 small; that is, you may need to order two full sizes up, which seems scary — as Thunderchild said it would.
I don't have experience with any other Ixon gloves, so I'm not sure if the sizing issue runs across their other products; perhaps some Ixon owners can let us know?
Since the RS King gloves are available in sizes from XS to XXXL, I'll have to also assume that also means that in "real" sizing, the gloves actually will fit sizes XXXS through XL. Strange…
Conclusion
I really like the Ixon RS King gloves; they're a straightforward pair of semi-race gloves that I am now using for almost all my riding.
They're comfortable; I like the thick, soft leather; they have all the protective features I need without feeling too confining but they're not so tricked-out that they lose perspective on the basics.
The wrist cinch that secures the gloves on the hands is an important safety feature that gets bonus points.
The price of the RS King gloves is reasonable for UK motorcycle riders, and I'm not sure how much they sell for at discount.
I will say that £90 translates to about $150.00 USD in today's money, which is fairly expensive for North American motorcycle riders.
But if you're looking for a match for your Ixon clothing or for real leather motorcycle gloves, the Ixon RS King gloves are just about the only game in town.
w

BW

 Review: Ixon RS King Motorcycle Gloves
List Price (2008): £89.99
Made In: China
Colors: Black with White, Blue, Black, Red
Sizes: XS to 3XL
Review Date: October 2008
Note:
 For informational use only. All material and photographs are Copyright © webWorld International, LLC since 2000. All rights reserved. See the webBikeWorld® 
Site Info page
. Product specifications, features and details may change or differ from our descriptions. Always check before purchasing. Read the
Terms and Conditions
!
Owner Comments and Feedback
---
From "M.B." (8/10):  "I just rode 1,900 miles through sun and rain from Dallas Texas (105 degrees) to Cloudcroft New Mexico / Lincoln National forest (64 degrees) and Roswell NM (78 to 98 Degrees) with these gloves. They powered through multiple temp ranges and they were extremely comfortable. I was really impressed with the ventilation and the fit.
I usually wear (size) M+ to L gloves and the XXL fit perfect. I highly recommend them. Thank you so much for your review of these gloves, I would not have known about them otherwise."
Note:
 For informational use only. All material and photographs are Copyright © webWorld International, LLC since 2000. All rights reserved. See the webBikeWorld® 
Site Info page
. Product specifications, features and details may change or differ from our descriptions. Always check before purchasing. Read the
Terms and Conditions
!
---
Where to Buy Icon RS King Gloves
Check Reviews & Prices on Amazon
Check Reviews & Prices On RevZilla
Check Reviews & Prices On Twisted Throttle
See More Motorcycle Helmets at RevZilla and Amazon
---
Owner Comments and Feedback
Other WebBikeWorld Gloves Posts
w