Hooligan 54 Jacket Review Summary
Hooligan 54 Jacket Image Gallery
The Icon Hooligan 54 is a fun — even a little flashy — women's mesh jacket for hot days on the bike.
An insulated, water-resistant liner warms it up for versatility, and CE-approved elbow and shoulder armor are necessities in case of the unexpected.
I think leather offers the most protection, hands down.
Add CE-approved armor, and you have the best protection you can get for street riding.
I'd prefer to wear leather all the time — I feel safer in it. I know I'm safer in it.
However, sometimes Mother Nature doesn't work with us; if she did, it would never rain when we wanted to ride and it would be a constant 75 degrees (24 Celsius).
But once the weather reached 85 degrees (29 Celsius) here, my vented leather jacket became unbearable at slow speeds and in stop-and-go traffic.
I like to ride, but I don't like to sweat; and in hot weather, being overheated can be dangerous.
So finding a cooler jacket suddenly became a priority.
There's a good selection of women's textile and mesh jackets available online, but not so much in motorcycle shops; however, you've already heard my complaint about that…
My main requirement in finding a mesh or textile jacket (besides the obvious: protection, which always comes first), was I didn't want something black. Black absorbs sunlight and would make it feel even warmer.
So a lighter colored jacket was a priority.
Plus, black is not as visible as a lighter, brighter color. Being highly visible helps increase safety because other drivers can see the rider more easily.
It is important to be as visible as possible, yet to ride like one is invisible. So I selected the Icon Hooligan 54 Women's Mesh Jacket in lavender.
Props to Icon for having a big selection of women's specific gear; at the time of this review, they have fourteen women's motorcycle jackets listed on their website.
Construction
The Icon Hooligan 54 Women's Mesh Jacket is made from 100% polyester "Fighter Mesh". The mesh is a fine, tight weave which increases durability, but still allows plenty of air flow.
The jacket also has a permanent mesh lining throughout for comfort, including the sleeves.
An insulated, water-resistant liner is easily removed and attached with a zipper and snaps. This is more than a mere vest; it is a full, long-sleeved liner with cuffs.
The Icon Hooligan 54 Women's Mesh Jacket is machine washable; just make sure to remove the armor and back pad first.
Speaking of armor, the jacket comes with removable CE-approved shoulder and elbow armor and a removable back pad.
However, the back pad is only ¼ inch (0.6 cm) thick, so don't plan on it offering much in the way of protection.
Raglan sleeves permit freedom of movement. The sleeves are plenty long enough and petite women may find the sleeves to be much too long.
The hem of the jacket is shorter in the front and longer in the back, making it ideal for sport bike riders.
There are no adjustment straps anywhere on the jacket, not on the sleeves, the cuffs, or the waist.
The cuffs are narrow enough that they stay down when riding; and some short gloves may fit under them depending on the gloves and size of the rider's wrists.
The neck has a lined, 2 inch (5.1 cm) tall stand-up collar. The neck and collar are wide enough that a hoodie can be worn beneath it.
The front zipper extends to the top of the collar and all zippers are made by YKK.
Two zippered 4-¼ inch (10.8 cm) front pockets are 5 inches (12.7 cm) deep. One internal 5-½ inch (14 cm) zipped pocket is large enough for a cell phone and a few other small items.
The back of the Icon Hooligan 54 Women's Mesh Jacket has one small Icon logo just below the collar.
The front dazzles with a large Icon logo in silver glitter, and the theme continues on the sleeves with four large glittery stars on each arm.
In the sun, it really sparkles (see the quick video!). This jacket is definitely for those want to stand out in a crowd!
The glitter logo and patches also provide some reflection at night. With this in mind, a larger logo on the back or some reflective piping would be great to provide more nighttime visibility.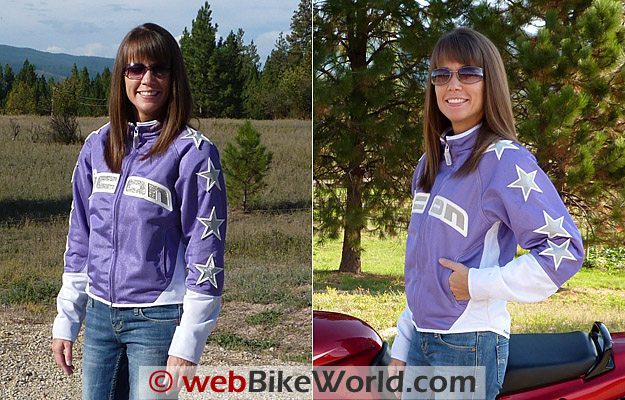 Liner
(For tips on how a motorcycle jacket should fit see my review of the Joe Rocket Jet Set Jacket.)
Murphy. I hate that guy. You know the one that made the law? Murphy's Law?
We had a three week heat wave in Northwestern Montana. But by the time I finally decided on the Icon Hooligan 54 Women's Mesh Jacket, it arrived just in time for a sudden change in weather.
We hit a week in the low 60s (15 Celsius) — in early August. Darn that Murphy!
When the mesh jacket arrived, it was too cold to wear without the insulated liner, so I wore it all week with the liner in place. It seemed to fit well, length was awesome, width was good.
For the well-endowed woman, the Icon Hooligan 54 Women's Mesh Jacket offers plenty of space throughout the chest.
The jacket is also roomy enough to wear with the insulated liner over a hoodie for cooler temperatures; layering is a great way to ride, allowing the rider to peel off layers as the day warms up.
The insulated liner does a good job at keeping me warm. I wore a T-shirt and the jacket with the liner attached in 65 degree (18 Celsius) weather and stayed warm; the only place I felt air coming through was at the front zipper.
There is no flap over the zipper to keep air out; but if there was a flap there, it would block air flow on warm days.
Finally, we got hot weather again and I took out the insulated liner; and in the low 90s (32 Celsius), I stayed cool.
The first time I wore the jacket without the insulated liner, I was amazed at the amount of air flow. It felt like I wasn't even wearing a jacket.
Of course, when at a complete stop in hot weather, it is warm to wear anything long sleeved; but once moving, the jacket has excellent breathability.
Even at stops, if there is a breeze, it flows right through.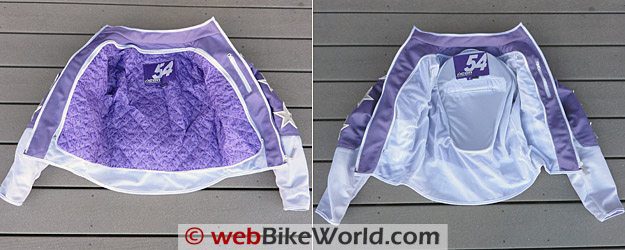 Fit and Function
However, I need to mention after I took out the insulated liner, issues came into play for me. I should have tried on the jacket without the insulated liner when it first arrived.
Without the liner inside, the armor doesn't sit on my body where it should. When the liner is attached, it offers support to the armor and seems to hold it in place.
With the liner removed, the sleeves are large and the armor doesn't stay in place. My worry is in a slide the armor may move to the side and not offer the protection it was designed for.
The Icon Hooligan 54 Women's Mesh Jacket could definitely use some adjustable straps on the arms to hold elbow armor in place.
The elbow armor is in a pocket much larger than what is needed (see picture), which allows the armor to move up and down. In a size small — which I normally wear — the elbow armor rests below my elbow.
Because the armor pocket is large, I can shimmy the armor up in the pocket to be in the right position for my elbow, but it eventually works its way back down.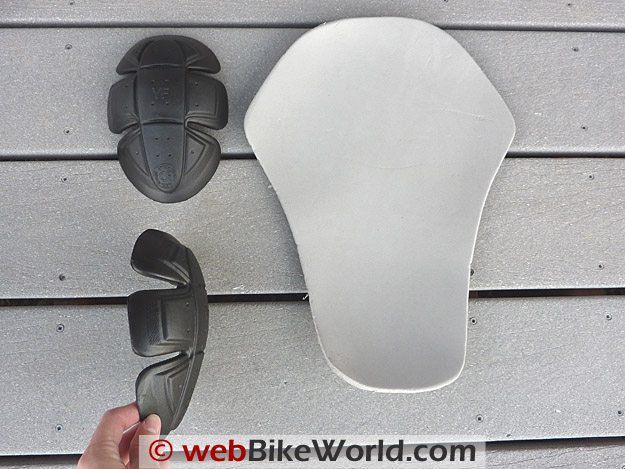 The shoulder armor, when it sits in its pocket correctly, rests on my shoulder in the proper place.
However, the armor moves inside the mesh pocket and slides down below the pocket seam, pulling the mesh with it.
Without the insulated liner in place, this happens repeatedly, causing the armor to sit at the edge of my shoulder rather than on my shoulder, so I have to keep moving it back into place.
When the insulated liner is attached, it offers enough support to keep the armor in place while one is riding. I hope I don't have to find out if it will hold it in place in a slide.
On the Road
In my opinion, the Icon Hooligan 54 Women's Mesh Jacket either runs a size large or the armor isn't in the right place.
The waist has just enough wiggle room for me and I thought a smaller size might be too tight.
Considering the breathability of mesh jackets, there is no excuse for not wearing gear on hot days. The Icon Hooligan 54 breathes so well it feels like I am wearing only a T-shirt.
At one point while riding, I pulled up a sleeve to feel the difference of nothing over my arm, and the difference was barely noticeable.
Be smart. Don't ride without gear. It's not worth the risk. Find a mesh jacket, one that fits you well, and you'll be surprised at how cool you will stay.
w

BW

 Video: Icon Hooligan 54 Jacket
Video: A very quick look at the sparkles on the Icon Hooligan 54 mesh jacket.
Conclusion
The Icon Hooligan 54 Women's Mesh Jacket does the job. Great breathability keeps the rider cool and an insulated, full-length liner adds versatility.
CE- approved shoulder and elbow armor, a must in any riding jacket, is included.
Without the insulated liner attached, the sleeves need straps to hold armor in place – the armor could potentially move in a slide which takes away the point of riding with armor.
Other than that, it is a well-constructed, eye-catching jacket.
w

BW

 Review: Icon Hooligan 54 Jacket
Manufacturer: Icon Motosports
List Price (2009): $195.00
Colors: Black, Lavendar, Blush
Made In: China
Sizes: XS-XL
Review Date: September 2009
Note: Item provided by a retailer, distributor or manufacturer with these Terms and Conditions.
Note:
 For informational use only. All material and photographs are Copyright © webWorld International, LLC since 2000. All rights reserved. See the webBikeWorld® 
Site Info page
. Product specifications, features and details may change or differ from our descriptions. Always check before purchasing. Read the
Terms and Conditions
!
Owner Comments and Feedback
---
From "B.H." (10/09):  "I have the men's version of this jacket and am overall very pleased with it. Very cool in hot weather and liner helps for cooler days.
The cut and material is very comfortable. The shoulder, elbow, and back pads are great and a safety must.
Needs a more comfortable front collar. Also needs collar, sleeve, cuff, and waist snaps to keep it in place in the event of a spill."
---
From "K.M." (9/09): "Great review of the Icon Hooligan 54 women's jacket! Very unbiased and accurate.
I've had nothing but bad luck with Icon apparel. I do feel they are constructed well…but their fitting has become disastrous.
Icon seems to cater to the "stunter" crowd, which likes to LOOK protected without really being such.
Their clothes are made big, baggie, and relaxed. Exactly what you DON'T want for protective gear.
As such, their armor fits sloppy, moves around, and will be nowhere close to where it should be in the event of a crash.
Unfortunately this review did not surprise me in the least. It gets worse though…Icon's newer jackets (not this review) have shoulder armor that is NOT even designed to go over the shoulder!
Icon now feels that the SIDES (only) of the shoulder is sufficient protection! A good example of this is their Arc series. Yikes!
IMHO, Icon is all show and no go. Apparel like this can give someone a false sense of security.
Until Icon starts emphasizing protection and fit BEFORE comfort and style…I will not be using their products ever again.
Again…GREAT review and nice to see one so honest and accurate! Great job guys (Gal, in this case!). Keep up the great work!