The Icon Alliance Dark helmet has an impressive quality that belies its moderate price. Its finishing has a perfect feel and fit that makes it look much more expensive, and is a uniform matte black color that is so well made it has a sort of mild elasticity feel to it. Check Price here.
Using the Icon Alliance Helmet
Before purchasing a helmet of any brand, it's best you understand the unique shape of your head first as everyone has a different head size and shape. It is always advised that you know your own head shape and to take a look at a head shape analysis wheel diagram. You get better comfort and safety when you use a helmet that fits your head correctly. The Icon Alliance Dark is a standard medium size helmet, made to best suit oval-shaped heads.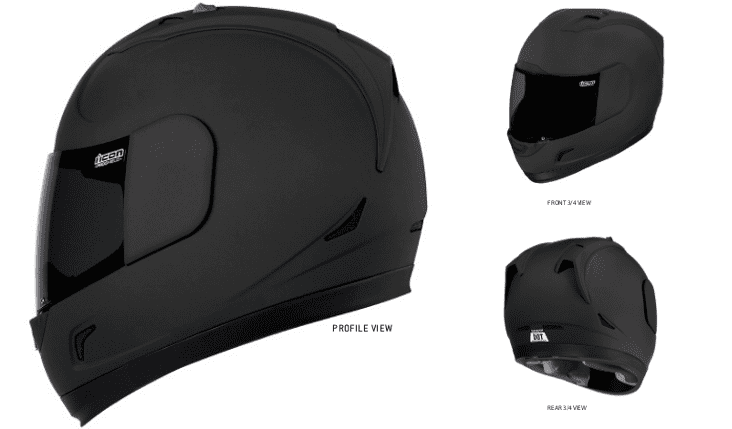 Unique Features of the Icon Alliance Dark Helmet
The superior quality visor offers you a distortion free vision and is also not clouded by fog. It allows you have a clear view so your ride is a smooth hitch-free experience.
The helmet is lined with a special Hydra-Dry Liner that is so comfortable; it feels like laying your head on a pillow. The inner lining is much better than the regular thin padding and Styrofoam that other helmets in the $150 price range have.
The helmet has a sleek futuristic design with an equally outstanding matte black finishing. Regardless of time of day, you will be clearly visible to other road users. For better safety however, you should opt for a colored helmet when you are going for a ride at night.
With gloves on the hands, the air vent of the helmet was still easy to operate so you get sufficient air flow even in hot, humid weather.
Possible Negative Aspects of the Icon Alliance Dark Helmet
While its ProLock Shield Locking System does not flip all the way up so the visor does not suddenly flap shut in windy conditions, the small silver bar that serves to keep the visor in position is rather difficult to operate, regardless of if you have gloves on or not. This makes it quite inconvenient to deal with if you want to raise it up while in motion or while you're talking. Some users do not like this feature on the helmet.
At higher temperatures normal on hot days, the hydra dry liner gets very hot and very uncomfortable for the helmet's user.
The visor lift of the Icon Dark Alliance does not retract as high as it should so the curved end of the visor is always in the line of vision of the user. If compared with other helmets that do not have this issue, it is a huge distraction to the user.
The front vent control of the Icon Dark Alliance is not quite properly constructed so it seems as though rain could possibly seep into the helmet when its open and the control flap would break off after a while.
Its hydra dry liner side padding was not adequate to give the needed comfort for a user who wears glasses although there are slots for eyeglass arms. The shape of your head also affects how comfortable you will be wearing a pair of glasses while you have the Icon Dark Alliance on. If you wear glasses regularly, you may not find the experience comfortable enough.
Across the Board
The helmet gives you the added features of the more expensive ones at a moderate price. Before you make a purchase however, you should thoroughly consider its negative aspects. If you ride with glasses on, you should check out the helmet with your glasses on before purchasing. However, you are likely to be more satisfied with this helmet if you do not use glasses. The visor is not affected by heavy wind because it has a secure helmet lock, and the vents are easy for the user to operate.
I would rate this product 2 out of a possible 5 points for the glasses support features, and 3 out of 5 points if eyeglasses are not needed. The Icon Dark Alliance has great features for its price range, but a few below par aspects hampers it from getting better ratings.
As Analyzed by the ICON
You've heard all the regular clichés – fade to black, back in black, and none more black. We've let go of all that to give you the succinct features – the Alliance Dark helmet offers you. The endearing features of the award-winning ICON products at a lower price. You get the Dark Smoke ProShield, a sleek matte black Rubatone finishing, standard medium size oval head fit, a unique Hydradry wicking lining, ICON's reputation for great products and World Standard certifications. All these features are yours for the moderate price of $150. ICON has delivered according to the street demands.
The ICON brand does not dwell long on its laurels, so it keeps releasing timeless products and here comes the Icon Alliance helmet. It is refined, evolved and perfected. This futuristic helmet is fitted with a lot of revisions as asserted by the Alliance SSR. The initial change was on the EPS liner. In line with customer choices, the EPS liner has been reshaped to have a more oval shape.
Riders gets better comfort because the new head form has a slightly longer inner circumference. This enhancement and the detachable Hydra-Dry TM wicking lining gives an even greater comfort for an optimized user experience. The helmet's venting system has also been revised to suit user needs better. The ports for air intake and exhaust have been enlarged and reshaped to offer enhanced airflow, just like a well tuned motor. You also get increase ventilation as more ventilation ports have been added to the lateral part of the helmet. The helmet's shield has been upgraded to feature the distortion-free Pro-Shield made by Icon. This upgraded shield features fog-resistant coating; graphics enabled side plates, a tool-free shield change interface and the ProLock Shield Locking System. Standardized quality assurance procedures and premier manufacturing processes were observed when constructing the Alliance helmet. The Alliance meets, and even exceeds the world's highest safety standards (DOT, ECE, SG, SAI) due to the observed procedures and rigorous testing during construction. For safety, always remember that for you to be protected by a helmet, you have to wear it, have it well fastened on your head and make sure it is fitted properly.
[schema type="product" url="http://badasshelmetstore.com/icon-alliance-dark-helmet-review/" name="Icon Alliance Dark Helmet Review" brand="Icon " condition="New" ]
Summary of the Icon Dark Alliance's Key Features
The product meets or exceeds the following world safety and testing standards: DOT FMVSS 218(US), ECE 22-05 (EUROPE), SAI AS 1698 (AUSTRALIA) & SG (JAPAN). Unless the product is purchased from a particular country's authorized dealer, it does not ship out with SAI OR SG Certification stickers.
Elongated oval head foam
The polycarbonate shell is injection molded for adequate tensile strength
Increased cooling from the molded twin channel super vent
A tested and refined wind tunnel
Reduced shield fogging due to the detachable molded breath deflector
No heat buildup as the rear exhaust ports encourage proper ventilation
The HydraDry lining is removable and washable
The chin venting system is designed to eliminate shield fogging
Prolock Shield Locking system with an included Dark Smoke Shield
Proshield with side plates for free quick change
A common question: is it Snell and DOT approved?
Answer: The helmets adequately meet the (ECE, DOT, SAI, SG) international standards, but the company chooses not to go with Snell standards after undergoing extensive research. The European ECE Standard, which is one of the major international standards body, is recognized in 52 countries worldwide. The helmets are also certified by SAI (Australia), SG (Japan), and DOT (United States).