Iasus Throat Mic Review Summary
Iasus Throat Mic Image Gallery
The Iasus GP3X2 helmet headset system is an extremely viable solution for those who do not need, or want all the latest bells 'n' whistles — wired or wireless.
Well designed and well made, each component complements the other, forming a very functional system with impressive audio quality.
The minor observations with the system can be easily addressed.
Expanding the current line of adapters and interface cables to support popular hub-oriented wired and even wireless helmet communications systems could project the product into the motorcycling mainstream.
Iasus evolved from an audio design and development company that provided custom services for a wide range of clients who were looking for innovative audio products.
Since 2001, the company has continued to grow and expand into other market segments while still providing customized audio solutions.
One early customized solution was the (original) Iasus Noise Terminator, developed for a motorcycle race team.
The rest, as they say, "is history", with the technologies now applied to other specialized applications.
The Iasus Noise Terminator GP3X2 Headset and interface system is the next generation of a proven system designed for motorcyclists and professional motorsport racing teams.
The GP3 and now the GP3X2 provide a helmet audio system using Iasus Noise Terminator technology. Based on components designed to high standards so as to withstand continued heavy use in loud and harsh environments, the system is built around two main components — a throat strap microphone and one of two "XSound" helmet speaker options acoustically and ergonomically optimized for motorcycle helmets.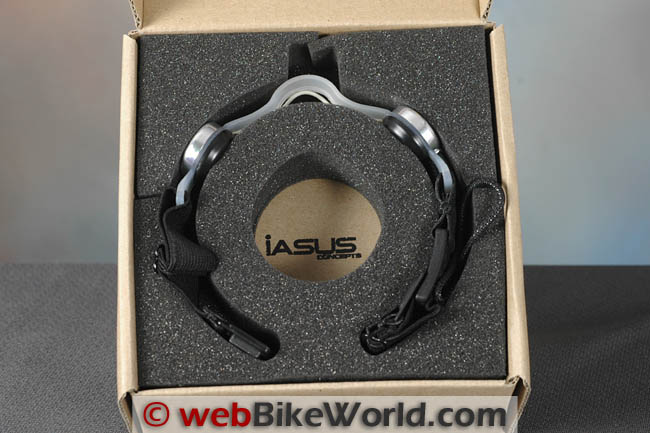 Throat Microphones for Motorcycling Applications
The throat microphone or laryngophone, is a type of contact microphone first developed for and tank crews in WWII.
Most throat microphones consist of one or two transponders, which pickup or absorb the vibrations generated by the larynx. These vibrations are turned into electronic audio signals, in effect transmitting sound directly from the throat to a (typically) amplified circuit for output to a radio, phone or earphones.
Throat microphones have advantages and disadvantages. The biggest direct advantage is that throat microphones are virtually insensitive to noise. For a motorcycle rider, this means noises generated inside and outside the helmet.
The shape and typical placement of a throat mic system makes it ideal for not only motorcycling, but many other applications, something I can attest too.
Disadvantages include cost, as this type of system tends to be more expensive to develop and produce. They are also more sensitive to correct placement and because of this, sounds naturally generated in the nasal cavity and by the tongue and lips can become muffled.
A final point regards the output or transmitting device. If properly designed and properly worn (positioned) — ideally somewhat loosely on the throat — the latest throat microphones will do a very good job of picking up the vibrations and turning them into an audio signal, albeit a weak one.
So unless the transponder or microphone output in the electronic device to which the throat mic is connected is powered (amplified), it is important that the transmitting device be able to amplify the signal so that volume and quality is provided.
Many low-powered and low-cost FRS/GMRS-based radios will function with a throat mic, but results may not be optimal. Some newer and higher output FRS/GMRS radios provide extended ranges and faster switching and work much better than radio sets that are one or two years old.
But the professional grade and higher-power VHF (amateur) radios that I have on hand reveal even better performance from the GP3X2 headset system.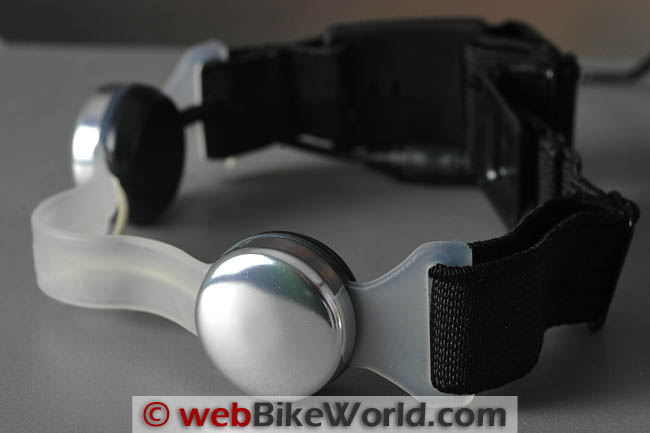 Iasus GP3X2 Throat Mic Kit Overview
In reviewing the offered list of components for this evaluation vis-à-vis the wide selection of accessories available from the Iasus website, a consolidated list was agreed upon that would allow various scenarios to be exercised during the evaluation.
Accordingly, an Iasus GP3X2 kit arrived, which contains the following components and optional components (options ordered separately):
The GP3X2 Throat Microphone (standard in kit).
Iasus XS2 Helmet Speakers (standard in kit).
Available Options Include:
iPhone/Blackberry adapter cable (with in-line mute switch).
Standard 2.5mm cell-phone pin adapter.
Motorola single pin multi-adapter.
Midland dual-pin multi-adapter.
Motorola dual-pin multi-adapter.
Cobra dual-pin multi-adapter.
Finger and Handlebar Push-To-Talk components.
Waterproof volume control cable.
The Iasus GP3 series headset systems are based on original military-specification products with the new GP3X2 system (the "X2" denotes upgraded components) using a 3rd Generation transponder to pick-up sound vibrations from the throat and true Hi-Fi specification (20 to 22,000Hz) speakers in the headset for enhanced audio.
The base configuration of this kit consists of the throat microphone component worn as a throat neck-band.
Very lightweight and very pliable, the band has one transponder mounted on a thin plastic strip with each end of the strip connected to the adjustable elastic strap forming the neck band. A strong magnetic fastener secures the band which in essence provides a sturdy but quick release mechanism when needed – a steady and strong pull on any part of the strap will cause the fastener to release.
What appears to be a second transponder (closest to the wiring) on the NT3 throat mic is actually a speaker. Iasus said that they have found that single-transponder throat mics are better at balancing transmissions and improving sound quality (Note: corrected from original version which referred to two transponders).
[UPDATE: Iasus responded to our questions about the two discs: "On our NT3 throat mic, the second disc is a speaker. The GP3 and GP3-X2 incorporate XSound Helmet Speakers, so there is no need for the second disc speaker. The second disc therefore serves to balance the transponder, securing it in place."]
For fitment purposes, the throat mic strap is available in two sizes: Regular, for 12 to 17 inch necks; and, Large, for 15 to 22 inch fitment.
When worn in the illustrated position (photo below), the interface connectors are on the right side, contrary to most other motorcycle-oriented systems that keep everything on the left side…interesting.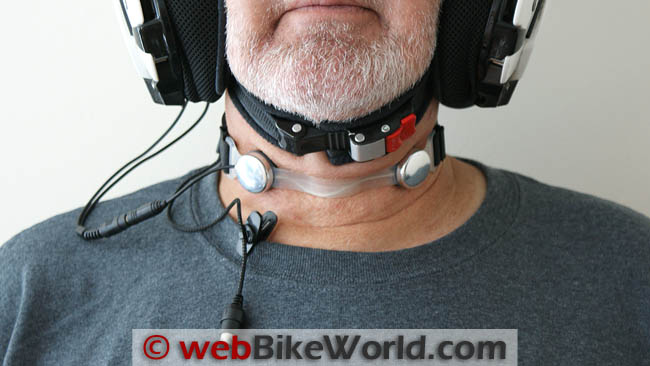 Connecting and Adapting the Iasus GP3X2 Throat Mic Kit
The two external connectors are a six-pin mini-DIN connector, used to attach the specific peripheral device adapters or cables, and a 3.5 mm socket for connecting the stereo headset.
A small plastic clothing clip is mounted on the mini-DIN lead. The six-pin mini-DIN lead is 20 cm (7.8 in) long, while the 3.5 mm socket lead is a short 8 cm (3.1 in) long.
The companion headset assembly is simple, consisting of two rather large and deep speaker housings on 23 cm (9.0 in) and 49 cm (19.2 in) left and right (respectively) leads terminating into a common 3.5 mm stereo plug.
Measuring 4.7 cm (1.85 in) in diameter and 1.5 cm (0.60 in) deep (with Velcro backing), the GP3X2 speaker housings are larger than some Bluetooth system speakers but on par with many accessory headset speakers that motorcyclists like to install, typically to provide better audio when using dedicated music players or as an upgrade to original equipment speakers.
A wide range of range of modular components are available, including adapter kits and interface cables, to complement the main headset system. As per the list noted above, the supplied components provided a very good cross-section of pieces for evaluation and ongoing use.
Given the origins of the system, I expected a high standard regarding component quality and the GP3X2 system and related accessories don't disappoint.
All of the cables are covered in a resilient anti-static custom-braided nylon for maximum strength and flexibility while virtually eliminating tangles. Everything is water resistant, with the heavy-duty volume cable being fully waterproof.
A functional priority for me is the ability to use a common FRS/GMRS radio for rider to rider or group communications. This is one of the strengths of the GP3X2 system and easily facilitated by using one of the four adapters provided.
The adapters are all based on a standard form with standard controls and interface ports but internally tailored for a specific radio or series of radios.
Iasus offers up a wide range of radio adapter kits, all capable of providing VOX or PTT functionality. In browsing the offerings listed on the website, there should be a solution for virtually any common FRS/GMRS, amateur or other commercial/industrial radios approved for use in North America, as well as other two-way radios approved for use around the world.
Where the requirement for push-to-talk or PTT is paramount, various PTT switches are available, two of which were provided — one finger-sized and one made for handlebar use.
Mobile phone or portable device interface requirements are addressed by dedicated or specific function cables, such as the supplied iPhone/Blackberry and generic mobile phone cables. Finally, a ruggedized, waterproof interface cable was included, which came in handy during some very inclement weather.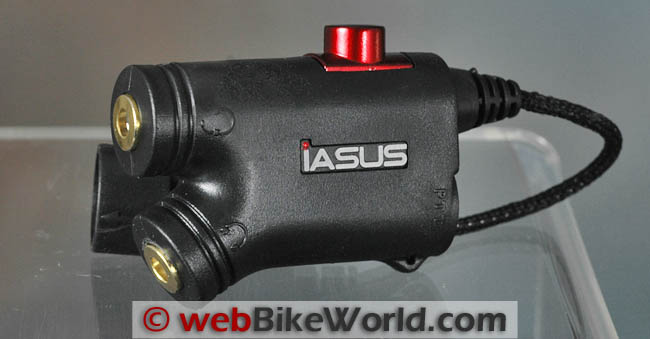 Iasus GP3X2 Headset System: Form, Fit and Function
With the base Iasus GP3X2 throat mic headset system at hand, selecting the desired or required supporting components and peripherals for the kit and then connecting everything into a functional system was easy.
I've taken a slightly different approach here and will address form, fit and function under component specific headings.
There is nothing complex or intrusive about fitting or wearing the throat microphone. Growing up, I was never a big fan of having anything restrictive or constrictive around my neck, but over many years of wearing military kit and motorcycle clothing, my tolerance level is very good…not that the GP3X2 neckband causes many concerns.
The "Regular" size (12 to 17 in) Iasus GP3X2 microphone neck strap is just right for my 16.5 in neck, although the diameter adjusters are just about maxed out. I could tighten it up slightly without bother, but the dual transponders of the microphone work fine even with a looser fitment.
I have worn the mics all day without any discomfort, underneath heavy to medium and mesh-based jackets with only minor positional adjustments needed depending on the style of collar and how tight it is worn.
Quickly getting the two halves of the magnetic fastener separated takes some practice and I actually broke one of the small thin arms of the molded strap retainers on one side of the fastener — oops. A thin strip of electrical tape provides a fix of sorts but I now put it on and off more carefully.
Having used throat microphones in the past, I always have concerns over their effectiveness. Thankfully, my concerns were proven baseless; the Iasus Gen 3 components are very sensitive with the utmost fidelity and any noise is virtually eliminated.
I initially mounted the Iasus XS2 speakers into my Nolan N-103 helmet (review), a great platform for helmet audio testing.
As mounted, the thick foam of the speakers push out the helmet ear flap material slightly, so they are definitely close to the ear. I have a bit more clearance with the headset installed in the Arai XD3 (review), but their presence is still felt just a bit.
The precise fitment on the SCHUBERTH C3 (review) is another matter and mounting the speakers in my favourite helmet makes things really snug as the foam of the speaker housings are visibly present behind the inner soft lining. I sometimes have to physically align my ears in the helmet, it is that close a fit.
In general, the Iasus GP3X2 throat microphone unit with its included helmet headset are a great combination. My one observation here, less the thin strap retainers on the magnetic fastener, is that the leads on the neck strap should be longer, especially the 3.5 mm headset connector lead. At the minimum it should be the same length as the mini-DIN lead.
A big proponent of keeping wiring and leads tidy, I keep them as short as possible and readily understand related design and build choices in this regard. But for this type of system and as the leads might be routed inside or outside of any garment, longer leads would provide needed flexibility, keeping the user from having to fumble around the neck area to access the leads.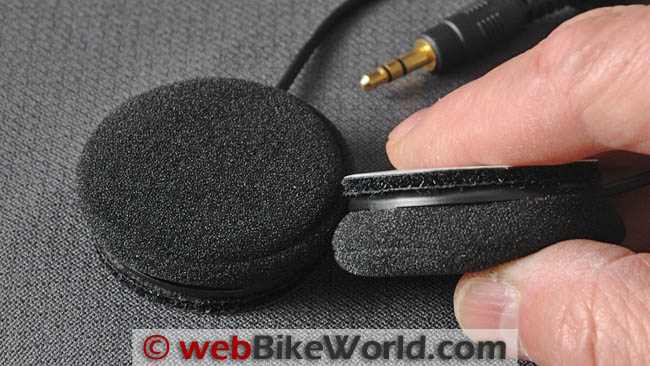 Iasus GP3X2 Throat Mic System Audio Quality
The best has been kept for last — the audio quality. Acknowledging that this headset is an upgraded component, I still have to rate these speakers as my new helmet headset champion.
The speakers included with the Iasus GP3X2 kit have a rated frequency response of 20 to 22.000Hz at 108dB/1KHz. The impedance is 32 Ohm and they use 500 mW.
Connected to a high-output peripheral and playing a high fidelity piece of music brings a clarity including bass tones not often experienced in a motorcycle helmet headset. But with this high comes with words of caution — use with discretion and don't forget that other things are happening — situational awareness must prevail. And don't forget your ear protection!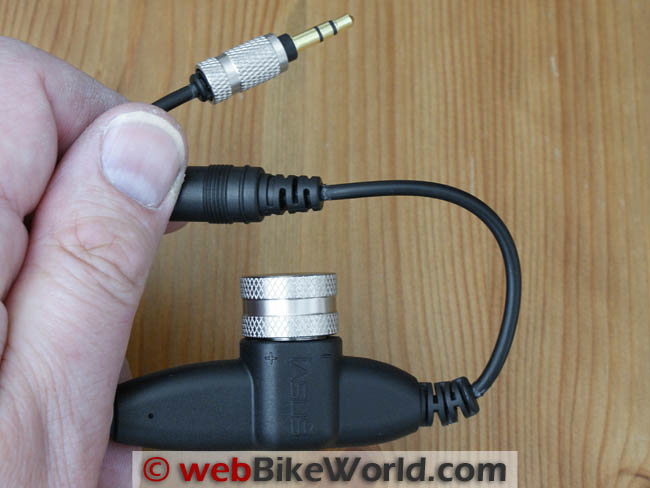 Iasus GP3X2 Adapter Kits
An adapter kit is needed to connect the Iasus GP3X2 throat mic system to your choice of electronic device, such as an FRS/GMRS radio, MP3 or music player, iPhone, cell phone or other device.
While not everyone will need the entire set of radio and external electronic device adapters that Iasus has available, the four different adapter kits supplied for this evaluation were chosen from a long listing on the Iasus website and they provide a whole lot of versatility.
This is good, as I have a fair number of FRS/GMRS radios and two amateur radio transceivers that I have used as part of the test equipment baseline for this evaluation.
Each Iasus adapter kit consists of two pieces: The "adapter" component, which is a ruggedized shaped plastic housing with a integrated mini-DIN socket lead (10 cm or 3.9 in long) and a flush-mounted 2.5 mm PTT jack socket at one end. It includes an easily accessed integral glove-friendly PTT switch on top and two flush-mounted 3.5 mm jack sockets on the other end.
The second piece included in each adapter kit is the device interface cable that connects to the radio or other electronic device that will be connected to the throat mic system. The interface cable measure 87 cm (34.25 in) in length (measured end-to-end).
One end of the cable has a 3.5 mm four-element plug that gets plugged into the VOX or PTT socket on the adapter, while the other end of the cable has the appropriate connector (single or dual-pin configuration) for the radio or electronic device.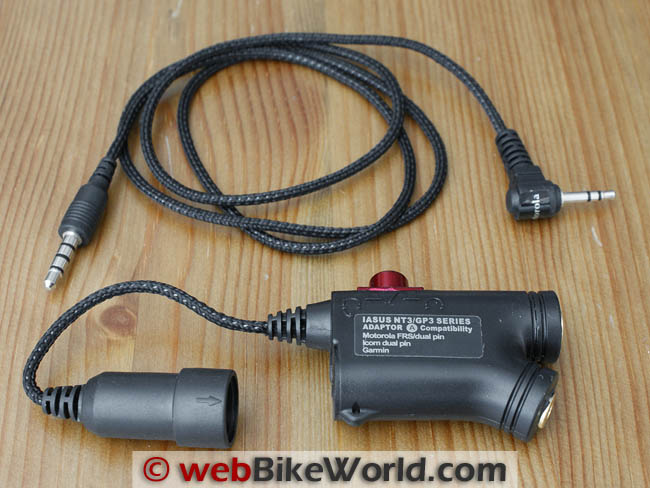 Connecting the Iasus GP3X2 System With an FRS/GMRS Radio
Adding an FRS/GMRS radio to the Iasus GP3X2 system is straightforward: Put the neck strap component and helmet on; Connect the 3.5 mm helmet speaker lead to the neck strap socket; Connect the appropriate (radio) interface cable to the radio; Connect  the other end of the interface cable to either the VOX or PTT on the adapter; Connect the mini-DIN lead from the adapter to the neck strap mini-DIN. Turn on the radio.
Hint: there are small relief arrows on each half of the mini-DIN connectors to facilitate alignment; these help, even in the dark, as they can be felt with a bare finger.
With some fine tuning for volume and VOX sensitivity done, radio communications are enabled. If PTT is a must, there are options. If direct access to the adapter is provided, then its integral switch can be used.
Alternatively, one of the optional PTT switches can be brought into play via the flush-mounted 2.5 mm PTT socket on the adapter. The loop is now complete.
More Tips on Iasus GP3X2 System Connectivity
My requirements checklist includes identification and ease-of-use markings — I'm happy to say that Iasus does this well.
Each connector socket or switch has a small relief diagram located above or to the side of the port or control to visually identify its functionality. A small side label identifies the adapter, its type and its compatibility (e.g. with Midland dual-pin radios).
During static and on-the-road testing I was able to get two different single-pin Motorola, three Midland dual-pin and one dual-pin Cobra FRS/GMRS radios sets connected, configured and used with the headset, along with both types of the VHF transceivers that use the Midland dual-pin connector. A few more brands will get put to the test in the near term as well.
While PTT is positive and totally reliable, having to key the radio manually is an issue for many and this is where VOX comes into its own as a hands-free alternative. However, VOX is a real variable between radio brands and models and this is where some of the circuitry in the adapters comes into play.
Thankfully, all of the radios I tried and their respective adapters worked really well, with minimal clipping and expedient keying off sequences.
As always however, when using a VOX circuit it pays to clearly (loudly) and slowly draw out the first word or two as preamble…this is an old but still valid communications procedure that works. Just remember, trial and error adjustments with VOX and Volume controls are needed to find the best settings for each environment, but once done, the settings can be used reliably, as long as the radio batteries are in good shape.
And don't forget, like all variables, your results may be different from mine — a fact that keeps life interesting…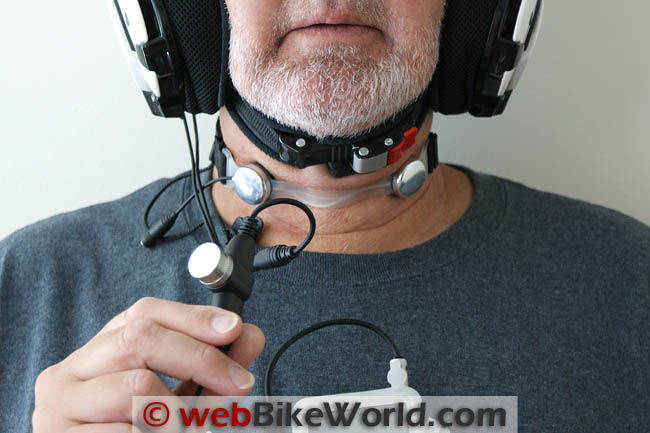 Push-to-Talk Components
Speaking of radio activation options, the Iasus "Finger PTT" is a little gem that just begs to be used. When held in place on a thumb or finger using the included stretch foam sleeve a simple squeeze of or push on the small lightweight switch provides direct control of the radio.
Depending on which digit is hosting the unit, I just squeeze the grip or press the host finger up against the side of the handlebar guard or control housing to activate the PTT. It can be mounted on the finger inside a glove or run down the sleeve and into a glove for a very secure, low-profile, and totally portable switching environment.
With a relaxed length of 160 cm (62.9 in) this combination straight and flex wire cable should be more than enough if being run up inside a jacket, down the sleeve and into a glove; stretching the flex portion of the cable almost doubles overall length.
More recognizable is the slightly larger PTT switch on a 93 cm (36.6 in) lead, which can be mounted to a convenient spot on the handlebar or clip-on using the provided non-skid backed fastener loop.
If spot mounting is needed to make it more readily accessible, the PTT button can be separated from the fastener material on the loop and then secured elsewhere using a companion piece of fastener material, which is what I did on both the F800GS and the R1200RT. The switch is very positive in feel and takes only a light touch to activate.
Part 2: Observations, Conclusion and Owner Comments
See Also:
▪ iASUS XSound 3 HD Speaker Review
▪ iASUS Diablo Mobile Amp Review
▪ Tork XPro X2 Speakers Review
▪ iASUS Throat Mic Review
▪ iASUS EAR3 Amplifier and XSound 2.1 Speaker Review
Note:
 For informational use only. All material and photographs are Copyright © webWorld International, LLC since 2000. All rights reserved. See the webBikeWorld® 
Site Info page
. Product specifications, features and details may change or differ from our descriptions. Always check before purchasing. Read the
Terms and Conditions
!
Other WebBikeWorld Intercom Posts