Husqvarna Nuda 900 and Nuda 900R
BMW owns Husqvarna, a motorcycle brand probably best known for its off-road bikes.
Husqvarna introduced the Mille 3 concept (report) at the 2010 EICMA show, which was a hint at things to come.
A Husqvarna streetbike range will allow BMW to expand their styling horizons and perhaps attract owners who would not buy a BMW motorcycle.
It's a risky move — the Husqvarna design ethos is a bit radical and probably not to everyone's taste.
The dealer network question also remains and launching what is effectively a new brand in the current economic climate is, well, a bold move.
Perhaps BMW will pull it off…or perhaps this is one step too far. Only time will tell.
Background
(Edited BMW Press Release, September 2011) – BMW Motorrad and Husqvarna Motorcycles will introduce the new Husqvarna Nuda 900 series at the IAA 2011 auto show in Frankfurt, Germany in September.
The motorcycle business unit of BMW Group will be presenting new ideas for single track vehicles at the leading international trade fair for mobility in Munich.
The motorcycle business unit of BMW Group will be presenting its two brands BMW Motorrad and Husqvarna Motorcycles at the IAA 2011 in Frankfurt.
The leading international trade fair for mobility will be held this year under the motto "Future comes as standard".
From 15 to 25 September, more than 500 exhibitors will be presenting to trade visitors and the general public their special interpretations of individual mobility.
The organizers are expecting over 850,000 visitors on the exhibition grounds in Frankfurt.
For the first time, BMW Motorrad and Husqvarna Motorcycles will have their own Motorrad Pavilion to round off the BMW Group presence at the world's largest motor show.
The BMW Motorrad and Husqvarna Motorcycles stand will be next to the BMW Group Pavilion (Hall 11) in the outdoor area on the hall's north side.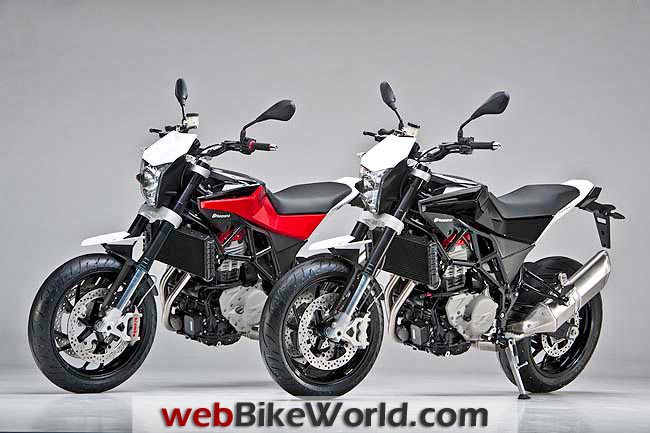 Introducing the Husqvarna Nuda 900 R
BMW Motorrad will be presenting a cross section through its touring, enduro, urban, and sports products from its 2011 model range.
These will be the current series motorcycles including the single cylinder enduro G 650 GS (report), the flat-twin bestseller R 1200 GS (report), and the new super-tourer K 1600 GTL (report)with inline six cylinder engine.
Also Husqvarna Motorcycles, the second motorcycle brand of BMW Group, will be presenting a cross section through its innovative single cylinder sports motorcycles.
In addition, the NUDA 900R, the first Husqvarna street motorcycle with two cylinders since 1937, will also be celebrating its trade fair and public premiere, when it will be presented in a version near to series production.
With the NUDA 900R, the Italian brand will be embarking on a new chapter in its company history of over a hundred years, and launching a powerful, emotionally charged motorcycle.
It combines the characteristic genes of the Husqvarna brand with the BMW Motorrad competence in technology and innovation.
As a further highlight, the public can expect a new idea for individual single track mobility.
The visionary, extraordinary design concept by Husqvarna Motorcycles targets specifically young customers seeking a single track commuter vehicle outside of the scooter segment.
These two design concepts will be presented to the international media at the BMW Group press conference on 13 September 2011 at 8:30 am in the BMW Group Pavilion (Hall 11 on the Messe Frankfurt grounds).
Come and visit the IAA 2011 – the BMW Group motorcycle press department will be pleased to welcome you in Frankfurt.
Husqvarna Nuda 900 and Nuda 900 R Details
Husqvarna Motorcycles is proud to unveil the first of a new generation of motorcycles:
Nuda 900 and Nuda 900R. These exhilarating new models are the first to combine the history and race pedigree of Husqvarna with the technological innovations and engineering prowess of the BMW Group, and the flair of Italian styling.
The results speak for themselves — the Nuda 900 and Nuda 900R — two motorcycles built with soul and passion that is backed up by high performance developed through years of competition experience.
The first page in the story of the new Husqvarna has been turned…
Nuda 900 and Nuda 900R: A Taste of Things to Come
Developed as a crossover model between a supermoto and a naked bike, Husqvarna doesn't feel the Nuda can be shoehorned into any specific category.
It delivers a sporty, dynamic ride where agility is balanced perfectly with performance in a bike with a bold and fresh look. Is it a supermoto? Is it a naked bike? The Nuda is whatever you want it to be, but above all it's a Husqvarna.
Styling
With the factory situated to the north-west of Milan, Husqvarna's team of designers draw inspiration from the passion and flair that encapsulates this area of Italy.
Inside the "Centrostile" a specially selected group of talented young designers work tirelessly to create the look that is unique to every Husqvarna, whether it be an on or off-road model.
Despite being minimalist in its design, every panel on the Nuda helps define its athletic body, giving it a sense of dynamic tension that flows the length of the bike and finishes on the tapered tail that mimics the aerodynamics of a sports bike.
The exposed trellis frame, high level exhaust and red rocker cover hint at the performance that lies behind the curvy body, while the bike's unique headlight — its face on the road — glowers intent.
Sporty yet elegant, sleek yet purposeful, the Nuda is bold Italian styling at its very finest.
The Nuda 900R proudly displays the company's distinctive red and white competition colors, made famous through race success, while the Nuda 900 has a more subtle black paint scheme.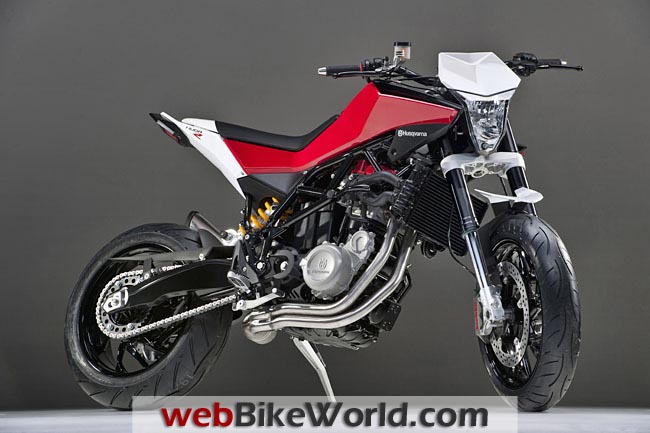 Husqvarna Nuda 900 Engine
Husqvarna understands that the heart and soul of a motorcycle comes from its engine and so choosing the right motor formed a crucial part of the Nuda project.
A joint decision was made with BMW's engine development team in Munich to use the highly reliable and technologically advanced F 800 R motor as a basis for both the Nuda 900 and Nuda 900R; however, it would then be adapted to meet Husqvarna's specific needs and demands.
Husqvarna has increased the capacity of the liquid-cooled parallel twin engine from 798 cc to 898 cc through a 2 mm larger 84 mm bore and increased the stroke to 81 mm, up by 5.4 mm on the standard engine.
The compression ratio has been raised to 13.2:1 with the use of a new three- layer cylinder head gasket and the camshafts, pistons and conrods altered to accommodate a new design of crankshaft.
To give the Nuda a unique Husqvarna character, the F 800 R's zero-degree crank offset angle has been altered to 315-degrees, creating a dynamic new engine with a character and feel like no other.
Designed to reflect Husqvarna's sporting pedigree, this new configuration not only delivers a more aggressive racing feel and sound at maximum performance, it also vastly improves the power and torque characteristics of the engine.
Through the new design of motor with 1 mm larger 33 mm intake and 28.5 mm exhaust valves, Husqvarna has increased the power to 105 horsepower and torque to 100 Nm while managing to retain the linear, fluid nature of the power delivery at small throttle openings and low revs.
To damp the engine's vibrations, Husqvarna has altered BMW's unique compensation balance rod mechanism to suit the new design of crankshaft while retaining the dry-sump lubrication system and 30-degree tilted forward cylinder layout.
Fuel Consumption and Range
Despite the boost in both power and torque, the highly advanced intake manifold fuel injection system with BMW-KP engine management and two 46 mm throttle valves means the Nuda delivers very low fuel consumption figures.
Despite its sporty 13-litre fuel tank, the Nuda allows for distances of over 260 km between stops. Finally, to add the Husqvarna stamp to the engine, the rocker box cover is painted red — a feature common to all Husqvarna motorcycles.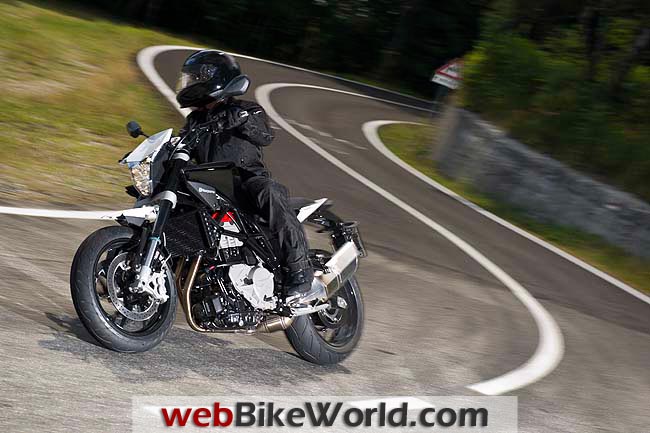 Nuda 900 Chassis
With its vast racing experience, Husqvarna knows which components to turn to for the ultimate performance and how to extract the maximum from a chassis.
Taking the F 800 GS steel trellis chassis as a starting point, Husqvarna has reduced its length by 50 mm then added a stiffer 80 mm steering head tube and decreased the steering head angle to give the Nuda greater agility at low speed.
These modifications make the Nuda perfect for the urban environment, delivering a rapid turning response in confined spaces.
To further increase prestige of the Nuda 900R, Husqvarna has equipped its chassis with the very highest specification of components.
The 48 mm Sachs forks are fully adjustable and the Öhlins shock comes with compression, rebound and spring preload adjustment as well as a ride height adjustor.
The Nuda 900R's suspension is designed to raise the bike's center of gravity compared to the Nuda 900, increasing ground clearance and improving the handling to deliver a thrilling and responsive ride.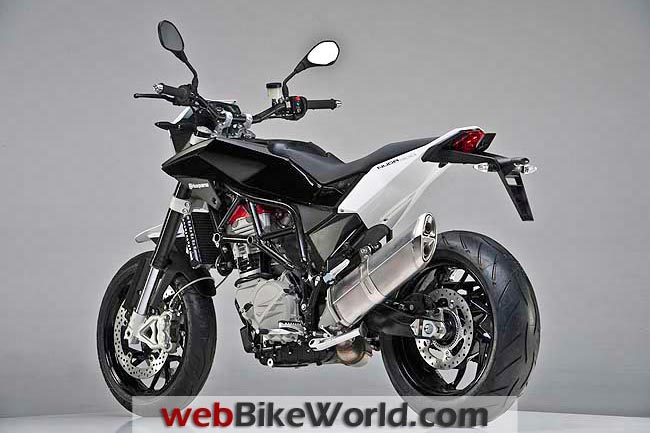 On the Road
To create a motorcycle more suited to urban life or touring, the Nuda 900 comes with preload adjustable 48 mm Sachs forks and a fully adjustable Sachs monoshock.
The suspension is set-up to deliver a smoother ride and make the bike more relaxed and user-friendly while the seat has a double level to provide greater pillion comfort and a lower 860 mm height compared to the Nuda 900R's 875 mm.
Husqvarna has made the ergonomics and handling a priority on both models of Nuda and as a result the bike's fuel tank is located under the seat to allow the weight distribution to be as close to the center of gravity as possible.
This work has created a bike that is both stable at high speed and agile at low speed that delivers a safe and comforting ride whatever the conditions.
This, along with the relaxed and natural riding position, is certain to be appreciated and exploited in full by both beginner and expert riders alike.
Brakes
While both models have radial brake calipers, in order to further enhance its sporty appeal, the Nuda 900R comes with Brembo monobloc racing brakes with 320 mm discs.
Constructed out of a single piece of aluminum for maximum feel and power with minimal flex, these twin four-piston radial calipers give the Nuda 900R superior braking power on both the road and track.
The Nuda 900 also features Brembo four-piston radial calipers and 320 mm discs with sintered pads, delivering powerful, accurate and smooth braking feel whatever the conditions.
Both models use the same 240 mm disc and two piston caliper rear brake.
Weight
Weight is crucial in making a motorcycle agile and Husqvarna has managed to keep the mass of the Nuda 900R to less than 175 kg, partly thanks to the use of carbon fiber details and a lightweight sports exhaust system.
Both models of Nuda come with a stainless steel exhaust muffler, however the 900R has a carbon fiber clamp, end cap and heat shield.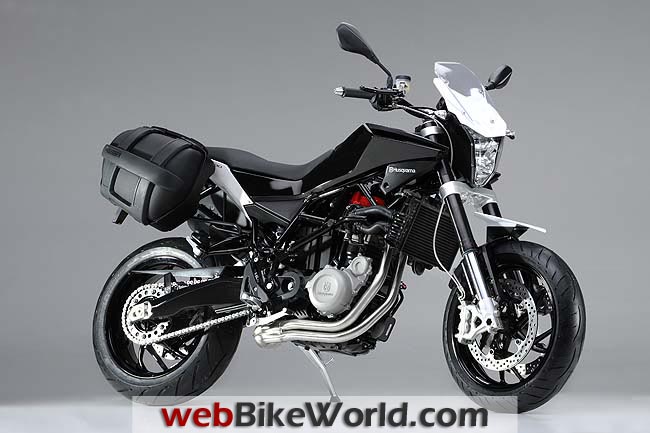 Accessories
Should owners of the Nuda 900 or Nuda 900R wish to take full advantage of the motorcycle's all- round ability, or simply want to personalize their machine, Husqvarna has developed a full range of accessories.
Those wishing to take their Nuda touring, either solo or with a pillion, can enhance the experience with a high windshield kit and a range of either soft or hard luggage. An optional flat or two-level seat is also available.
Conclusion
It's difficult to know whether the Nuda 900 will become a hit with motorcyclists. The distribution will be limited and the current economic climate will discourage dealers from taking on a new and unproven line of motorcycles.
Perhaps Husqvarna dealers will welcome the addition?
BMW seems committed to expanding Husqvarna as a street brand, so only time will tell.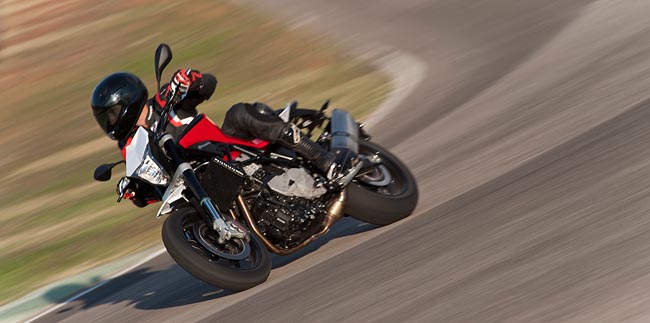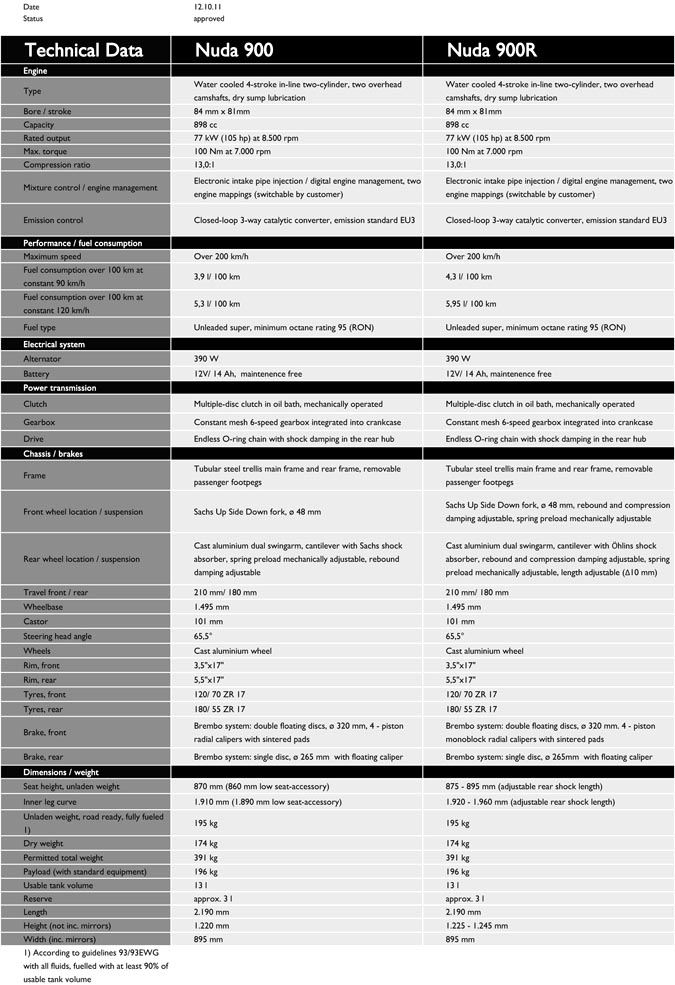 Master Listing of All wBW Motorcycle Product Reviews
Note:
 For informational use only. All material and photographs are Copyright © webWorld International, LLC since 2000. All rights reserved. See the webBikeWorld® 
Site Info page
. Product specifications, features and details may change or differ from our descriptions. Always check before purchasing. Read the
Terms and Conditions
!
Owner Comments and Feedback
---
From "M.S." (September 2011): "This bike should do well with the ADV crowd. I could see this new rig next to my new Ducati Diavel. The "naked" look appeals to me as well as its potential for trail/slab use. Current ADV bikes out there now watch out!"
---
From "M.I." (September 2011): "I think these bikes are a break through design. The bare minimum of panels combined with the "angular" design is amazing…..the bottom line is if you like the design and the price is affordable in today's economy then the Nuda is a winner."
Other WebBikeWorld Motorcycle Brands Posts
wBW Motorcycle Brands Info