Honda TRX 450r In-Depth Guide
Introducing in the red corner, the Honda TRX 450R is a 39 horsepower sport class all-terrain vehicle(ATV) manufactured by Honda Motors Co. It weighs 350 pounds and has a top speed of 74MPH in stock condition. Specs include a 4-stroke liquid cooled 450cc engine, a seat height of 32.8 inches and enough performance parts to make owners happy. Not bad for an ATV with an initial MSRP value of $6,649 US.
The TRX 450R spent the better part of a decade as rumors, waiting and anticipation before Honda Motors made it a reality. The TRX 450R ATV was Honda's replacement for the FourTrax 250R model that was taken out of production in 1989. The 250R version dominated ATV racing circuits for over a decade and was the basis for many race proven ATV projects so when production was halted a void was created and filled by the 450r.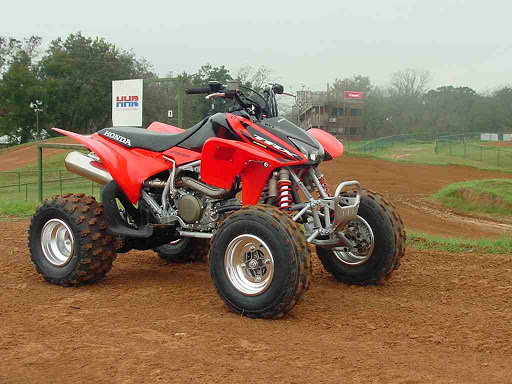 Enter the Honda TRX 450R, which is simply called the 450r for short. It's part of the Honda SportTrax ATV family and has been well received. It shares the same engine that can be found in its two wheeled counterpart, the CRF 450R dirt bike, but don't let that fool you because not many parts are interchangeable. The TRX 450R engine was redesigned to stand up to the demands of a heavier 4 wheeler. Increased oil capacity, smaller steel valves, a stronger clutch pack and three-ring pistons were among the many improvements.
The TRX 450R has several stock aluminum parts to help reduce weight including the front bumper, front fender stays, shifter, brake pedal and rear grab bar. The TRX 450 is also easy to convert into a full on racer with its TRX front fender's ears being held on with four pop rivets and its LED brake light comes off in seconds. The engine oil can be checked through a sight glass, the air-filter maintenance is a snap and the swing-arm's axle adjustment makes chain-slack adjustment easy.
Honda TRX 450r Specs
Engine: 450cc liquid-cooled single-cylinder four-stroke
Bore and Stroke : 96.0mm x 62.0mm
Compression Ratio :12.0:1
Honda TRX 450r Top Speed: 74 MPH
450r Valve Train: Unicam four-valve
Carburetor : Keihin 40.0mm
Honda TRX 450r Weight: 350 lbs
Ignition : CD with electronic advance
Stock Honda TRX 450r Horsepower: 39 HP
Starter : Electric (kick version available)
Honda TRX 450r Transmission : Five-speed
Honda TRX 450r Value: MSRP $6,649 US
Drive-line : O-ring sealed chain
Front Suspension: Independent double-wishbone with Showa shocks, featuring adjustable spring preload, rebound and compression damping; 8.4-inch travel
Rear Suspension: Pro-Link with single Showa shock featuring adjustable spring preload, rebound and compression damping; 9.0-inch travel
Front Brakes : Dual hydraulic 174.0mm discs with twin-piston calipers
Rear Brake : Single hydraulic 190.0mm disc with single-piston caliper
Front Tires : 22 x 7-10 knobby radial
Rear Tires : 20 x 10-9 knobby radial
Length : 73.3 inches
Width : 46.3 inches
Height : 43.3 inches
Wheelbase : 50.2 inches
Honda TRX 450r Seat Height : 32.8 inches
TRX 450r Ground Clearance : 4.4 inches
Fuel Capacity : 2.7 gallons, including 0.8 gallon reserve
Honda TRX 450R Top Speed
In stock condition the top speed of Honda's TRX 450R model is 74 MPH. A lot of things play a role in determining top speed including rider weight, ATV condition, altitude, carb adjustment, wind speed and direction, ground surface and more. That being said many TRX 450 owners have kindly posted videos of their speed runs on brand new stock ATVs over the years that 74 MPH is accepted as a good average top speed. After market parts can raise the horsepower value, lower the weight value and thus increase the top speed a great deal.