Honda Super Cub 50th Anniversary
TOKYO, Japan, July 23, 2008 – Honda Motor Co., Ltd. held a ceremony, July 21, 2008, to commemorate the 50th anniversary of Super Cub sales which began in August 1958.
The ceremony for associates was held at Honda's Kumamoto Factory where Super Cub is produced in Japan.
"The reason we have been able to continue producing and selling Super Cub for 50 years, which is quite a long time, is because of our customers who enjoy using Super Cub every day," said Takeo Fukui, president & CEO of Honda Motor Co, Ltd.
"I would also like to thank Honda associates who have supported the history of Super Cub.  Super Cub has continuously advanced to accommodate the needs and preferences of people throughout the world, and cumulative worldwide production of Cub series motorcycles reached the 60 million-unit milestone in April of this year.
Moreover, in this year of the 50th anniversary of Super Cub, a new motorcycle plant has been built at this Kumamoto Factory, and the transfer of motorcycle production to the new plant will be completed within this year.  I expect Kumamoto Factory to serve as the global leader of Honda's motorcycle production operations around the world and to continue providing our customers with products that create new value."
Since the introduction of the first Super Cub C100 model in 1958, Super Cub has been a long-selling product sold in more than 160 countries to date, and customers around the world enjoy using Super Cub every day.
Production of Super Cub in regions outside of Japan began in 1961 in Taiwan, with production based on component parts sets provided from Japan and was expanded to other countries based on Honda's commitment to "build products close to the customer."
The Honda Cub series is currently being produced at 16 plants in 15 countries around the world.
Key milestones of Honda Super Cub Series
August 1958 Sales of Super Cub C100 began (air-cooled 4-stroke, single-cylinder OHV engine, 49cc, 4.5 horse power)

Production site: Yamato Plant (later became Saitama Factory Wako Plant)

1959 Exports to the U.S. began

1960 Production at Suzuka Factory began

1961 Cumulative production reached 1 million-unit milestone

1961 Production based on component parts sets began in Taiwan (first production outside of Japan)

1964 Sales of Super Cub C65 (the first OHC engine) began

1966 Sales of Super Cub C50 (OHC engine) began

1967 Cumulative production reached 5 million-unit milestone

1974 Cumulative production reached 10 million-unit milestone

1983 Fuel consumption of 180km/liter (30km/h constant-speed test value) achieved (Super Cub 50 Super Custom)

1988 Sales of Press Cub began

1991 Production was transferred to Kumamoto Factory

1992 Cumulative production reached 20 million-unit milestone

1997 Sales of Little Cub began

2005 Cumulative production reached 50 million-unit milestone

2007 An electronically-controlled fuel injection system, Honda's PGM-FI, was installed on Super Cub 50, Press Cub 50 and Little Cub.

2008 Cumulative production reached 60 million-unit milestone (April)
Honda Super Cub Production Reaches 50 Million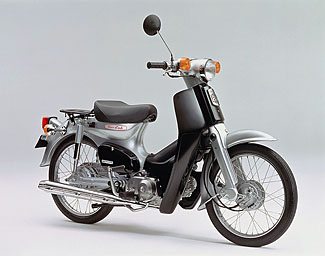 KUMAMOTO, Japan, February 8, 2006 – Honda Motor Co., Ltd. announced that total worldwide production of the Super Cub reached 50 million units at the end of December 2005.
A favorite with customers since its launch in 1958, the Super Cub has become the first motor vehicle to achieve total worldwide production of 50 million units.
The first-generation Super Cub made its debut in Japan in 1958.
At a time when 2-stroke engines were the predominant engine form, the Super Cub was fitted with a revolutionary, high-performance 50cc 4-stroke engine that offered superb economy and durability.
The creative design also featured a low-floor backbone frame for convenient mounting and dismounting, a lever-free centrifugal clutch for easy shifting, large plastic leg shields to protect riders' legs from dirt and wind, and other innovations.
Since then the Super Cub has undergone many improvements, but its basic design and concepts remain unchanged, and it carries on a proud tradition of unique styling.
In 1959 the United States became the first market for Super Cub exports, and in 1961 Taiwan became the first country to assemble the model from imported Japanese parts.  Since then, following the policy of building products where the demand is, Honda has expanded Super Cub production to facilities around the world.
Currently produced in 13 countries and a popular product in more than 160, the Super Cub is a practical motorcycle that enjoys a strong reputation around the world.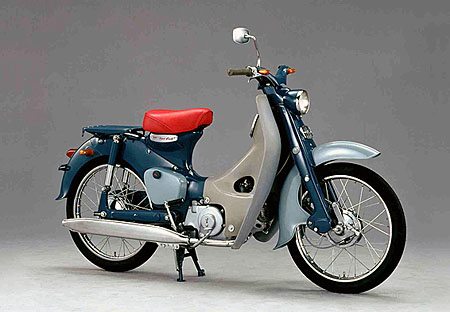 Note:  For informational use only.  All material and photographs are Copyright © webWorld International, LLC – 2000-2011.  All rights reserved.  See the webBikeWorld® Site Info page.  NOTE:  Product specifications, features and details may change or differ from our descriptions.  Always check before purchasing.  Read the Terms and Conditions!
Other WebBikeWorld Motorcycle Brands Posts
wBW Motorcycle Brands Info