If Batman bought a production motorcycle instead of building his own, he would no doubt choose a Honda Rune, although he would have trouble finding one.
The bike was built in Ohio for the American market and unveiled by Honda in 2004 as a limited-edition model. Only a few were ever sent to Australia.
They sold here for $50,000 and some buyers immediately put them away, selling them later for as much as a reported $65,000.
Now Brisbane owner Bruce Hartwig is taking offers between $30,000-$40,000 for his second Rune "investment" which he imported from the US a couple of years ago.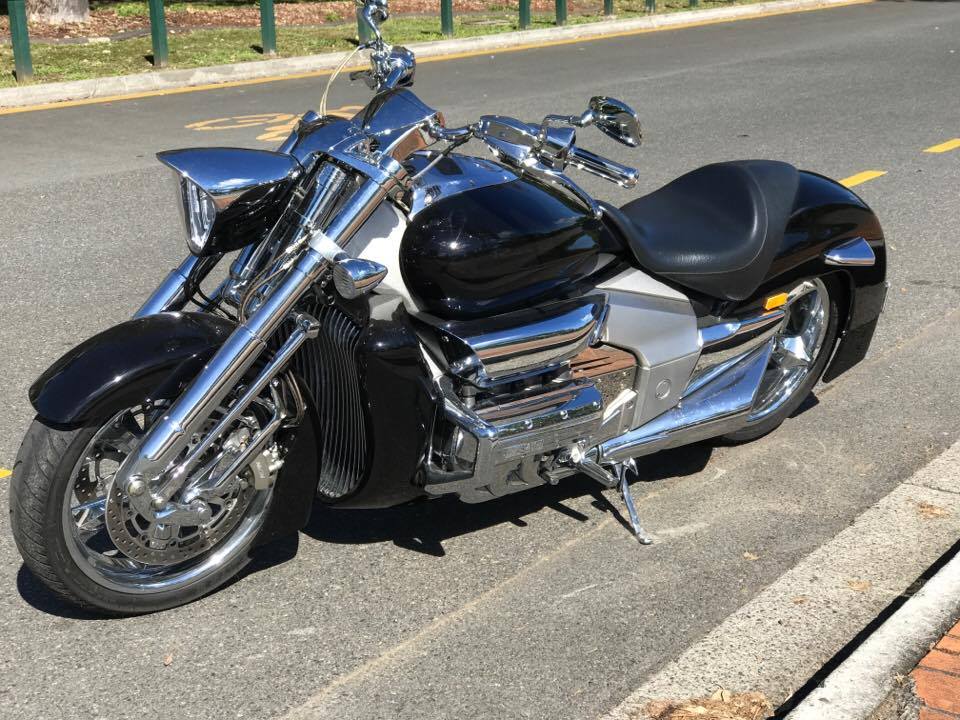 It was rumoured it cost Honda $100,000 each to make each bike and they were built as a hero model to attract American buyers away from Harley-Davidson to the Japanese brand.
The Rune is basically a stripped down Goldwing, but with some unique styling features including trailing-link forks.
While Honda only produced the Rune for a couple of years, they now make the stripped-down F6B, the even more naked F6C and the racing RC213V that is quite popular while betting on MotoGP at bwin, as this bike is one of the fastest on the roads today.
However, the Rune remains as one of the more outlandish concept/limited models made by the Japanese manufacturer.
I rode the display model when it was shown at the Brisbane Motorcycle Show in 2004 and remember it was a handful in traffic, very stable on the highways and a challenge on Mt Glorious.
But it certainly turned heads everywhere it went. Some thought it was a Batman movie prop!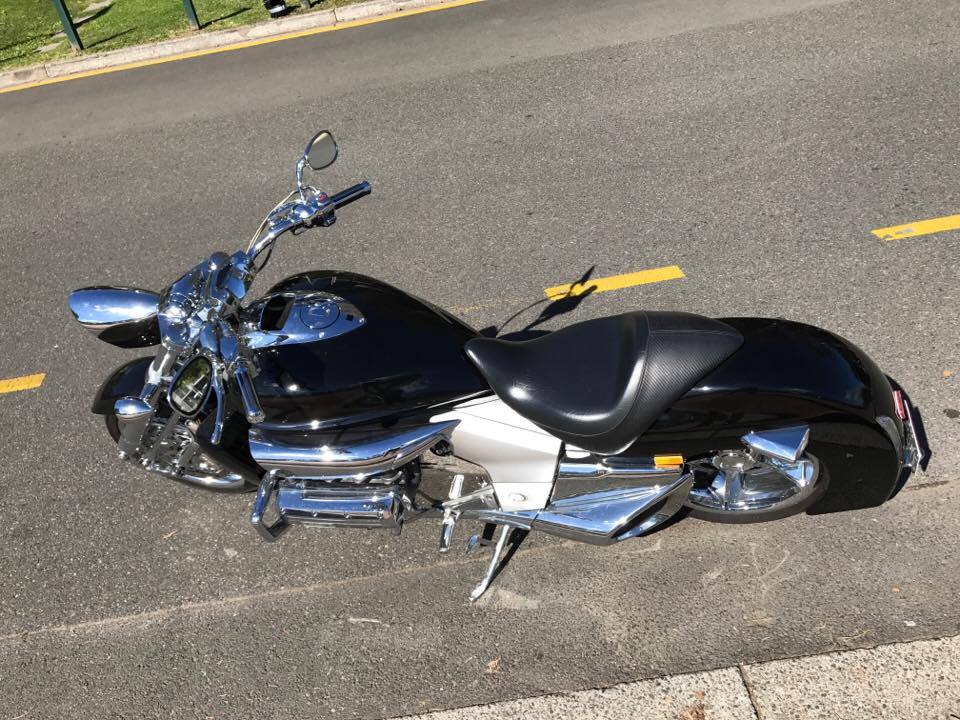 Bruce gave me the opportunity to get reacquainted with the big beast this week and all those memories came flooding back.
At the first set of traffic lights, the bike drew the attention of everyone in a trendy West End cafe, a bus load of children and a fellow rider who shouted "that's insane" to me.
I asked Bruce why he imported not one, but two, Runes from the US.
"It seemed like a good idea at the time," he says. "I thought it would be a good investment.
"I had a maroon one as well. They're easy to ride, beautiful on the highway and have awesome linked brakes."
Riding the Rune
They're not that easy to ride around town, though.
The trailing-link forks may be stable at high speeds, but they require some muscle to turn the bike at city speeds.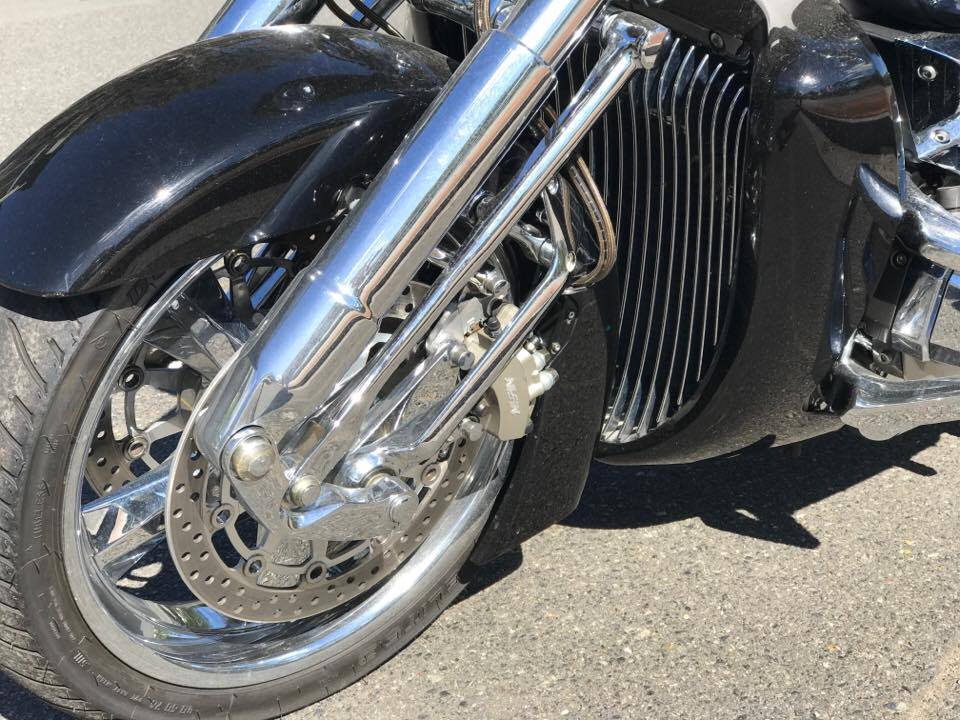 It feels strange with a light initial feel, but a fair amount of heft required to counter steer and hold your cornering line.
The Goldwing has exemplary cornering clearance, but you will easily scrape the Rune's pegs on most city roundabouts.
While the forks garner the most visual attention, the rear Unit Pro-Link suspension is the key to the low-slung looks and 690mm seat.
It was invented by Honda race team engineers to enhance mass centralisation.
Because the top of the shock is on the top of the single-sided swingarm, suspension forces aren't transmitted to the frame which can be substantially lowered.
The result is a low-slung seat, but none of the bone-jarring jolts you get with other low-slung cruisers.
The engine is the liquid-cooled 1832cc flat six from the Goldwing which is as smooth as whipped cream with massive dollops of torque from a mere 2000 revs.
Bruce is right about the linked brakes. They work really well despite its 400kg wet weight.
But that's also because it has the largest brake discs fitted on a production Honda motorcycle with 330mm discs up front and a massive 336mm disc at the rear.
There are also inboard mufflers that exit in front of the rear wheel, an elongated teardrop headlight, stretched fuel tanks, futuristic blue-light instruments and acres of chrome on the chassis.
Batman would feel very much at home aboard a Rune.
You can contact Bruce via email to make an offer.
2004 Honda Rune 
NRX1800
Engine: Liquid-cooled, SOHC, 12-valve, horizontally opposed 1832cc six

Bore x stroke: 74 x 71mm

Compression: 9.8:1

Power: 67.5kW @ 5250rpm

Torque: 149Nm @ 2500rpm

Carburetion: PGM-FI

Lubrication: Semi-dry sump

Transmission: five-speed, multiplate clutch

Final drive: Shaft

Wet weight: 400kg

Seat: 690mm

Length: 2557mm

Tyres: 150/60R-18; 180/55R-17 tubeless radial

Suspension: Trailing-link forks,Pro-Link shock

Fuel: 23 litres