Honda Rancher 420 In-Depth Guide
The Honda Rancher 420 is a popular model of all-terrain vehicle(ATV) that that is commonly used for yard and farm work. Honda built the Rancher 420 ATV to provide the best riding experience, regardless of the environment, and succeeded in part thanks to its independent 4×4 rear suspension. The wheelbase is a sturdy 49.9″ wide which is adequate for maintaining stability on a crooked landscape. There are six different models of Honda Rancher 420, described below.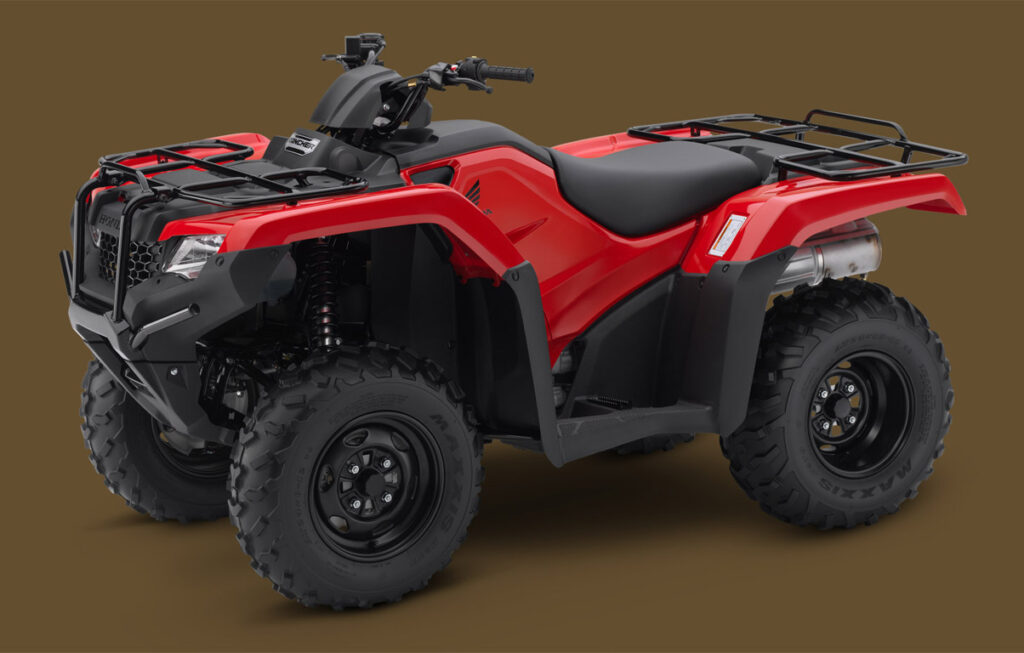 About the Honda Rancher 420
The Honda Rancher 420 is available in several colors including a dark green that I think looks fantastic, as well as the traditional Honda red and popular camo. Dependable and durable performance allows you take it for a trip in the woods or to use the ATV for a number of chores on the farmstead. These features, and many others, have given the Honda Rancher 420 a trustworthy reputation and strong following over the years, it remains competitive on the for sale and after-market classifieds.
How much horsepower does the Rancher 420 have?
The Rancher 420 is manufactured with a 420cc horsepower single-cylinder engine. Liquid cooled, electronically fuel injected and ready to ride, it has the ability to race down the trail at a good speed. Honda Rancher riders can easily tear across a few miles of rugged landscape and still be ready to work when it gets there. Honda makes sure that expectations are met or exceeded and I don't often hear people have something negative to say about this great quad. Numerous improvements, such as frame and chassis upgrades, have resulted in the development of a longer travel suspension. This in turn has had a positive impact on the performance of the Honda Rancher 420's newer models.
This road beast also comes with a changeable drive system. You get to decide whether you will use a 2 wheel drive or a 4 wheel drive. The Honda Rancher 420 can be adjusted to the different terrains and conditions. To gain traction, Honda Rancher 420s utilize distinct tires, the front tires are 24×8-12, and the rear tires are 24×10-11 in size.
Honda Rancher 420 Specs
Rancher 420 Engine: 420cc Liquid-cooled, OHV, 4-stroke
Bore x Stroke: 86.5mmx71.5mm
Compression: 9.9:1
Carburetor: 34mm Keihen EFI
Transmission: 5-speed w/reverse(ES model)
Honda Rancher 420 top speed(stock) 55 MPH
Suspension Front: Dual A-arm w/6.69″
Suspension Rear: Dual A-arm w/6.69″
Honda Rancher 420 Seat Height: 34,9 Inches
Brakes Front: Dual hydraulic discs
Brakes Rear: Drum
Tires Front: 24×8-12
Tires Rear: 24×10-12
Overall dimensions: 82.8″L x 47.4″W x 46.2″H
Maximum Ground Clearance: 7.2″
Turning Radius: 9.2 feet
Wheelbase: 49.9″
Honda Rancher 420 Oil Capacity: 2 quarts
Fuel Capacity: 3.9 gal
Honda Rancher 420 Weight: 611 lbs
Warranty: Limited
Colors Red, Olive and Camo
MSRP: $6,649
Honda Rancher 420 Transmission Specs
This is one of the primary features that set the Honda Rancher 420 apart during day to day usage. The transmission determines the kind of extra features your machine will end up having. So far the Honda Rancher has three different types of transmissions. There is the manual or foot-shift transmission, the electric shift (ES) or the Electric shift program (ESP) and finally, there is the Dual clutch transmission (DCT) or the automatic transmission. These different transmissions are found in different Honda Rancher 420 models and is the focal feature that makes them completely different from each other. Below is a deep dive into the different types of transmissions.
1. Manual or Foot shift Transmission
This type of transmission is rare, and so it is hard to come by a Honda Rancher 420 that utilizes it. This doesn't mean that they are extinct. There are some few of these ranchers around, and there are also riders who have mastered their art and can perfectly maneuver the tracks incredibly well without any problems. The transmission is usually semi-automatic, and it doesn't come with a clutch. This is why most riders tend to avoid the Honda Rancher 420 with this transmission. One of the most common Honda Rancher 420 model with the manual or foot-shift transmission is the TRX420FM1 model.
2. Electronic Shift(ES) or Electronic Shift Program(ESP)
This is one of the most popular transmissions that is preferred by a number of riders. Unlike the manual gearbox, it ensures that you have an easy time shifting gears. This is a type of transmission that you will need if you are a rider who loves making sporty style turns to entertain the crowd. It can be used by someone who has a leg problem or someone who has often finds it hard using legs to shift gears.
With ESP, you get to enjoy a very significant component known as an Electronic Control Module or ECM. This module monitors counter-shaft speed, engine rpm, shift spindle angle as well as shift drum angle. When going at speeds more than 2 miles per hour, a neutral lockout function will engage. This makes braking to become easy. It often comes in handy when descending down the hill.
When the engine is above 3000rpm, you cannot shift the transmission from neutral to first gear or reverse gear thus very easy to handle throughout. In the toolkit, there is a backup shift lever which will enable you to turn your transmission to manual in case the ESP fails. TRX420FE1 is the type of Honda Rancher 420 model that uses ES or ESP for transmission.
3. Dual Clutch Transmission (DCT) or Automatic
This is a very unique type of transmission that is utilized by the 4×4 Honda Rancher 420s. It is more sophisticated than the other forms of transmission and also the latest. It comes with an updated dual shift logic that makes the ATV to adapt to different terrains. It also enables the rider to easily shift gears regardless of the terrain he is riding on. The fact that this transmission is fully automated means that the vehicle knows how to engage the right gear at the right time. DCT is the best transmission designed to increase the response of the Honda Rancher 420, reduce lagging of the engine and also ensure that the rider is always comfortable riding.
DCT also makes use of a great technology that has a two-piece main shaft and two clutches. The first clutch drives the initial main shaft gears. They consist of the first, third and fifth gears. The second main shaft is placed over the initial main shaft and makes use of the second clutch. It is composed of the second, fourth and reverse gears.
To ensure smooth transmission, all the gears are pre-shifted before power is supplied. The DCT transmission ensures fast gear shifting while maintaining the consistency of the vehicle's shaft. The user also has an option to use the push-button gear change mode. The five automatic gear transmission with reverse included makes DCT reliable, durable, and very convenient. The Honda Rancher 420 models that utilize DCT include TRX420FA2, TRX420FA5, and TRX420FA6.
How much does a Honda Rancher 420 cost?
Honda Rancher 420 costs different amounts depending on the models. There are those that are a bit cheaper than others but with less features. There are others that are very expensive with a number of features such as all rancher 4×4 DCT IRS features as well as electric power steering included. The price range is usually from $5,000 to slightly above $9,000. These prices also tend to vary depending on the dealer you will purchase the vehicle from.
Where can I buy Honda Rancher 420?
There are several popular places that can help you find and buy your Honda Rancher 420. For new Honda Rancher 420 you can buy them from Honda dealers all over the country. Some of my favorite places to pick up a used ATV, besides the traditional ebay, craigslist, facebook and kijiji for you Canadian riders is motorsportuniverse.com, ATV Trader and Tractor house, among many other places. Keep in mind that different traders have different pricing systems so it's best to compare.
Read my ATV price guide for more information about ATV values.
Honda Rancher 420 Top Speed
The stock Honda Rancher 420 has a top speed of approximately 55mph. A rev limiter prevents the ATV from going faster. These speeds, however, can change depending on the rider's weight, the nature of the landscape and the Honda Rancher 420 model you are riding. With a superior model, a lighter rider and a flat terrain you can reach the Rancher 420's top speed.
What is Honda Rancher 420's oil capacity?
The Rancher 420 can hold up to 2 quarts. It's best to add a little less than this, let it run for a minute, and then check the oil level before adding more. Do not overfill! It's also a good idea to perform an oil and filter change regularly as well as before you plan to leave for an extended trip. Proper maintenance is key to keeping your Honda Rancher working well for a long time.
Where is the VIN located on Honda Rancher 420?
Honda Rancher 420s typically have their VIN located between the headlights and right at the center of the front frame. Older models may have it near the left foot area on the frame and others may have it on the frame opposite of where the exhaust is. Note: if your Rancher 420 has a winch you may need to partially remove it to access the VIN.
For more about VIN information check out my ATV VIN Number guide.
Popular performance mods for the Honda Rancher 420
Yes, there is a performance series exhaust that can boost effective horsepower and torque. I don't recommend trying to add many performance parts besides the exhaust and tires, however, or you will likely reduce the lifespan of the engine and/or transmission. It's a great quad right out of the crate, stock.