The end-of-financial-year deals continue with Honda offering great deals on their learner-approved CB400 and their VT750S cruiser.
Until June 30, the Honda CB400 (non ABS) will be available at $9990 ride-away, which is $100 cheaper than the list price before on-road costs were added, so it's a good deal. I suspect the non-ABS model has not been as popular as the ABS version which is listed at $11,099. That's good news, suggesting learners are choosing safety over price.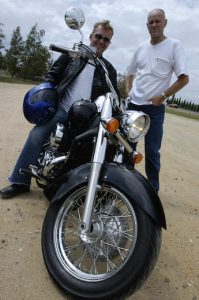 The VT750 used to be the cruiser market leader until the Yamaha XVS650 came along and LAMS was introduced for bikes up to 659cc. However, the VT750S is now a more attractive option at $8990 rideaway. It's powered by a liquid-cooled V-twin engine with fuel injection and there have been very few updates since I went riding with Jimmy Barnes on a Honda launch several years ago.
Jimmy said he loved the vibe, low seat and the light feel of the cruiser and he was able to keep pace with the journeys despite being a newcomer to riding. Is there any better recommendation than a rock singer praising a cruiser motorcycle?