Honda CTX200B Bushlander Review
Down on the Farm With the CTX200B
If you live in North America, Europe, Asia or 95% of Africa, you've never seen my motorcycle.
The Honda CTX200 "Bushlander" falls into the dual-sport category, but it's a sub-species referred to as "agricultural motorcycles" or simply "farm bikes."
Such machines are like utility ATVs, but with half the wheels.
Manufacturers typically use tried-and-true technology for these bikes; technology that has become outdated for performance applications but is then repackaged with features that make the machine more useful for use on a farm or a ranch.
Here in South Africa, Honda produces the CTX200 Bushlander, Yamaha makes the AG200, and Suzuki has a DR200SE adapted for rugged use as well.
Elsewhere in the world, similar machines include the Honda XL200, the Kawasaki Super Sherpa, and the Suzuki Djebel.
As far as I can tell, the CTX200 Bushlander is only sold in South Africa, Chile, Australia, and New Zealand — perhaps the only bike produced and ridden entirely in the Southern Hemisphere!
And in each place, the marketing seems to be "Specially designed and built for the demanding terrain of (fill in your country here)."  But don't hold that against them — the terrain of a farm Down Under is pretty similar to that of a South African farm or in Chile, right?
I am no Honda junkie — the last one I rode is older than me, a '76 CB360 — so I'll leave others to guess the exact pedigree of the Bushlander's engine. To my eyes, however, it looks identical to the XL200 currently sold in South America, but this bike has more creature comforts.
For example, on the front and back of the CTX200, you get standard "sheep racks."   These can (and do) carry farmer's animals (or dates, as the jokes go), tools, supplies, gear, salt licks, and sacks. The back rack is 15″ x 9″ and is rated for 45 lbs. The front rack above the headlight is 10″ by 8″, holding up to 6.6 lbs.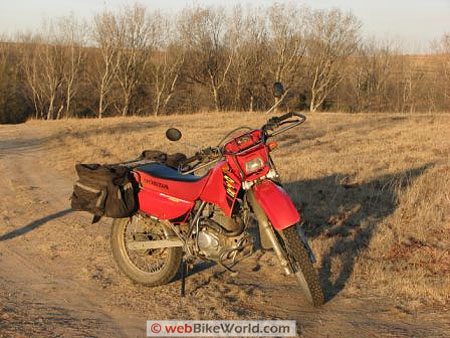 Taking these full load allowances at face value, you could have a rider who weighs up to 220 lbs. or so, including boots, jacket, and other riding gear, so forget about taking a passenger. The sticker on the gas tank even strictly announces, "No passengers."  Honda means it, too — no passenger foot pegs!
Of course, the nearly identical XL200 has passenger pegs, as do Honda's 125 cc four-strokes they sell here in South Africa. And you can bet the farmers buying and using these machines around the Southern Hemisphere aren't reading their owner's manual too carefully. They're riding two up, with a couple sheep, some lumber, and some sheetrock, you can be sure!
I did consider adding some pegs to my CTX200 so I could take my wife or the occasional brave hitchhiker somewhere, but the combination of two little kids and a lack of horsepower have meant I never got around to it. Honda says it has 14 ponies, if memory serves me, but in any case it feels like it only has 200 cc's.
Wide open top speed on mine, stock and broken in, with no wind on a flat straight road and with me (180 lbs.) lying flat on the tank is just over 100 km/h (60 mph) indicated. Then I added a tooth to the front sprocket (now 14) and dropped two teeth in the back (now 45). This got me up to about 110 km/h (66 mph) under the same conditions, although it does take a long time to get there!  A small mountain will sap my speed down to 85 km/h (53 mph).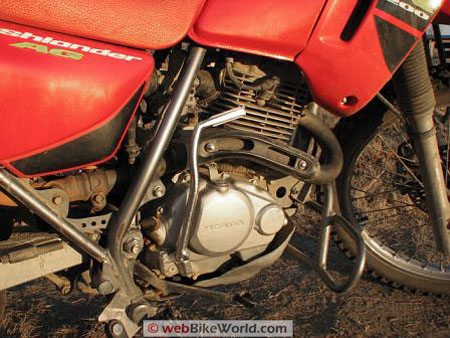 Acceleration is not spectacular at any gear or speed, which leaves me a little hungry sometimes. Part of the joy of motorcycling for me is ripping past some four-wheeled luxury cage on a cheap little dangercycle. On the Bushlander, this happens less than it used to (my last bike was a Kawasaki Concours), but it still does happen, particularly on the many gravel roads here, and in the twisties.
The CTX200 sits slightly lower than I'd choose for my 34″ inseam if I had my druthers, but it's very nice and manageable for my wife, who is 5' 8″. With use, the monoshock has compressed a bit, and the seat foam has compacted, dropping it an inch or two when you sit on it now, compared to when new. This adds up to comfort for putting around in the pasture.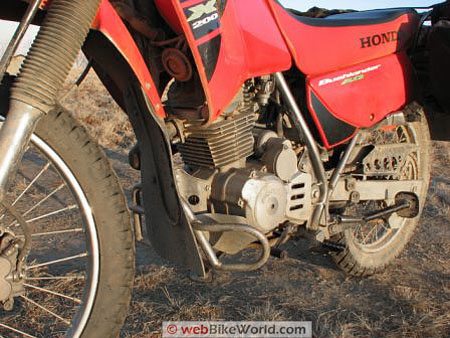 You're upright and alert in the saddle, so you can herd your cattle, horses, wallabies and whatnot. I'm six feet tall, but don't feel hemmed in or cramped on the CTX200, which is rare for me on such a small capacity machine. The dual-sport stance accounts for this. The little front rack seems to cut some wind from buffeting my head, but I do still lie down on the tank quite a bit. Keeps me limber…
The instruments I tuck behind get the job done, and calculations indicate that the Bushlander uses a liter of petrol every 25 km, or around 60 mpg.
The brakes are like most of the bike — functional, strong, and sufficient, but not spectacular. This is a basic and simple machine made to take a beating, endure neglect, and keep running without attention. It is a dirtbike for all of life — beating across the pasture, crossing countries, and buying groceries (with those big racks). It's probably the closest I'll ever get to riding my first bike again, a 1983 Honda XR80 — red and rough.
This bike is eminently crashable. All the indicators are protected by the racks, and a wrap-around bar protects hand levers in addition to providing some strength to the bars.
In fact, I have crashed it. I was crossing Lesotho, the little mountainous country completely surrounded by South Africa. Twice on my long trip across the country on its gravel "highways", I dumped it. The bike took it without complaint. I just had to realign the bars, replace an engine mount bolt that sheared off, and get a dent torched and banged out of the front rim!  Some African bike shops are a bit different than back home in the U.S…
And the scars just make the thing just look better. Plus, where else can you find a motorcycle that comes standard with two side stands?
The following photos are courtesy of BikePics.com — Thanks guys!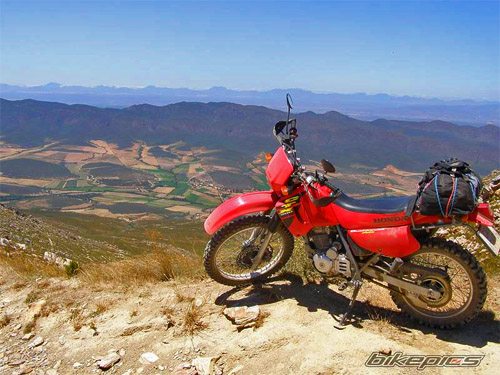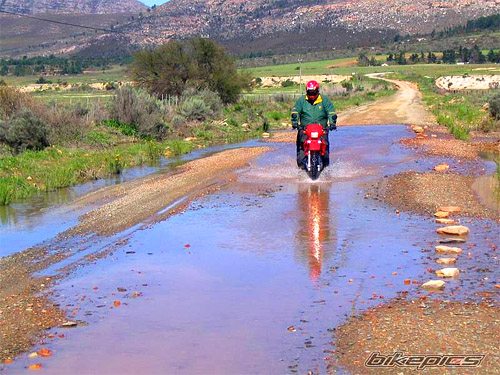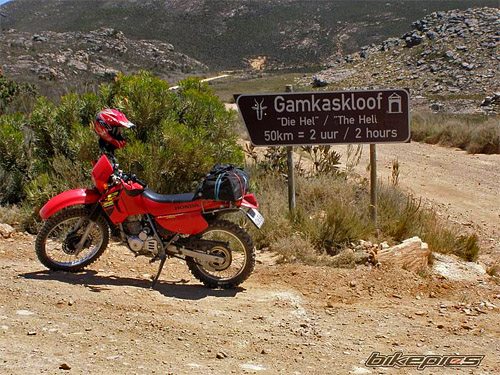 Honda CTX200 Bushlander Specifications

Official specifications are available on this .pdf file marketing document (Honda South Africa)
Engine Type:
Single cylinder, 197cc 4-stroke, Air cooled, OHC, 2-valve
Bore and Stroke:
 63.5 x 62.2mm
Frame:
 Steel Tube
Compression Ratio:
 9.0:1
Maximum Power:
 10.6 [14.5] / 7,000rpm
Maximum Torque:
 15.2 [1.48] / 6,000rpm
Ignition:
 AC-Capacitor Discharge (CD)
Starter:
 Electric start w/ kick start back-up and carb-mounted choke
Transmission:
 5-speed, constant mesh, manual
Final Drive:
 O-Ring sealed Chain
Dimensions:
 2,196 mm x 938 mm x 1,152 mm (L x W x H)
Wheel Base:
 1,363 mm
Seat Height:
 823 mm
Ground Clearance:
 238 mm
Fuel Capacity:
 8.5 liters, including 1.8 liter reserve
Front Wheel:
 21 x 1.40″, wire spoke
Rear Wheel:
 18 x 1.85″, wire spoke
Front Tires:
 80/100-21 51R
Rear Tires:
 100/100-18
Front Suspension:
 37mm Telescopic fork, 158mm travel
Rear Suspension:
 Pro-Link, single shock, 150mm travel
Front Brakes:
 240mm Single hydraulic disc, 2-piston caliper
Rear Brakes:
 Mechanical drum
Dry Weight:
 127 kg (280 lbs.)
Warranty Period:
 12 Months
Color:
 Red
List Price:
 CTX200 – $3,990.00 (AUD)  CTX200A $5,190.00 (AUD)
Note:
 For informational use only. All material and photographs are Copyright © webWorld International, LLC since 2000. All rights reserved. See the webBikeWorld® 
Site Info page
. Product specifications, features and details may change or differ from our descriptions. Always check before purchasing. Read the
Terms and Conditions
!
Owner Comments and Feedback
---
From "E.D." (October 2011):  "Over here in the UK I have a XL200R that is of Italian origin and looks very much like your CTX but does not have the kick start back up witch is its weakness as the sprag starter clutch is slipping and Mr. Honda does not recognize the VIN number so can not find part numbers for the parts that I need.
It's a shame as the little bike is spot on for what I got it for which is to go on the back of a Camper van on a rack for trips to the Isle of Man for the TT. I am a marshal leave the wife were ever she wants to be and I go of on the little bike to do my marshaling popping down a green lane or two on the way good fun.
The XL is ideal being nice and light for on the back of the van and just enough power to plod along the green lanes ,if only I could get parts for it it would be spot on."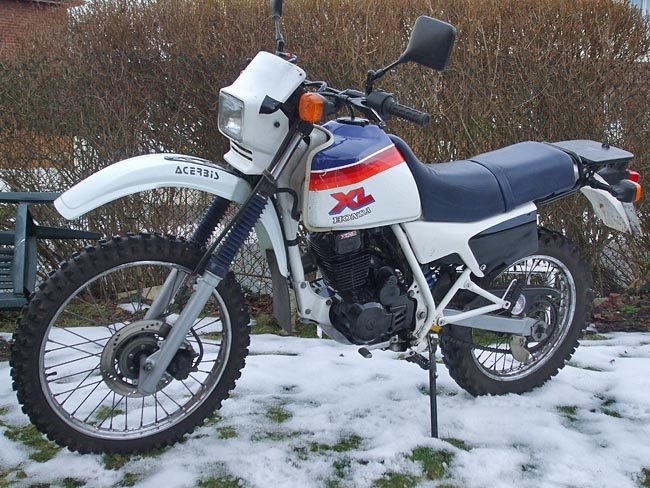 ---
From "Trailrider":  "The CTX200 is a great little bike. It's light and capable and I use it exclusively for trail riding or "green laneing". The rear carrier is very useful and carries 20kg instead of the usual 10kg of the bigger bikes like the Transalp.
If you're not in a hurry the bike will take you anywhere. I rode mostly technical terrain (12,000km in a year) and never had a single problem.
See some of my trips here: http://trailriderreports.blogspot.com/
---
From "S" (Australia):  "Just read your review on the CTX200. Being in Australia, I'm familiar with the bike as I owned one, and currently own a Yamaha AG200 as my farm bike. Kawasaki has a more farm oriented version of the Super Sherpa called the Stockman.
I've used both bikes for everything you could imagine, from single track, to hill climbs, to chasing animals through billy goat country, and anything else you try as a teenager off-road on a motorcycle.
The Yamaha has the lower gearing for serious mud and load carrying, while the Honda was the faster of the two. Our first AG100 two stroke from the 70's lasted 23years without a motor pull apart.
Highly recommended if you can get one."
Other WebBikeWorld Brands Posts