Is this tough, mud-spattered camo-painted off-roader the Honda Africa Twin?
Honda rolled the bike out at the EICMA show in Milan between an old 750 Africa Twin and a modern Dakar Rally 450 bike. Honda calls it a "True Adventure Prototype".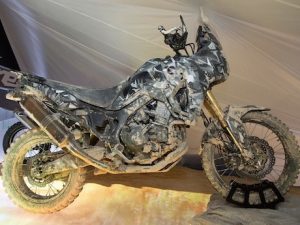 While Honda isn't mentioning the words "Africa Twin" or giving out any technical information or making any announcements about production, it's pretty obvious this is the real deal. All they are saying is that it is a 2015 model.
The Africa Twin would be an ideal robust bike to take on Australia's harsh conditions and fill the void left by the axing of the very popular KTM 640 Adventure.
All we know that it is powered by a 1000cc, liquid-cooled parallel-twin and has no clutch lever, so it's probably equipped with Honda's Dual Clutch Transmission.
That could be handy in technical conditions where quick changes are necessary, but in tight places where slipping the clutch is vital or popping the clutch to hoist the front wheel over an object, it would be a nuisance.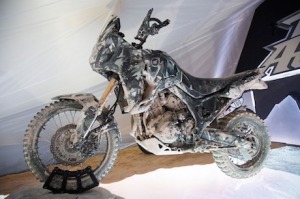 The spoked wheels are dirt-oriented 21-inch (front), 18-inch (rear) shod with Continental TKC80s which are also very dirt-oriented.
It looks like it might have a reasonable amount of fuel space, so it should be good for long hauls across Australia's vast outback.
Fingers are crossed all over Australia that it is the Africa Twin and that Honda Australia brings it in.