The Queensland school holidays have got off to a tragic start with a 37-year-old father of four dying after his bike collided head-on with a car at Parklands on the Sunshine Coast today (26 June 2020).
Queensland Police say their preliminary investigations show that around 11.30am Brian Carter was riding his blue motorcycle south on Nambour Connection Road when it collided with a black Toyota travelling north from the Bruce Highway offramp.
"The rider was taken to Nambour Hospital but was declared deceased shortly afterwards," police say.
Our sincere condolences to Brian's family and friends.
A GoFundMe page for Brian's family has now been started and already raised more than $11,000.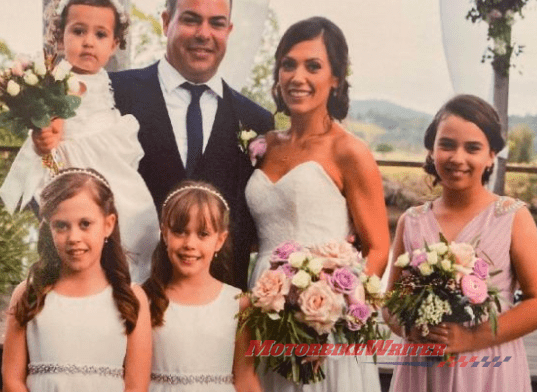 The driver of the Toyota was transported to Sunshine Coast University Hospital in a serious condition.
Police are appealing for anyone who may have been travelling in the area at the time of the crash or has dash cam vision to come forward.
The Forensic Crash Unit is investigating.
If you have information for police, contact Policelink by providing information using the online suspicious activity form 24hrs per day at www.police.qld.gov.au/reporting.
You can report information about crime anonymously to Crime Stoppers, a registered charity and community volunteer organisation, via crimestoppersqld.com.au 24hrs per day.
Quote this reference number: QP2001325840 within the online suspicious activity form.
Riders should take note to exercise extra caution with the substantially heavier traffic on the roads during the school holidays, especially around tourist destinations.
Serious crash
Queensland Police are also calling for dash cam video or witnesses to a serious motorcycle crash at Yeppoon on Tuesday evening (23 June 2020).
The crash occurred about 8pm on Matthew Flinders Drive.
Police say the rider turned into Poplar Street and "lost control", hitting a tree.
The 22-year-old man was transported to the Rockhampton Base Hospital for treatment to life-threatening-injuries.
Our best wishes to the rider for a full and speedy recovery.