Safety is necessary when you are riding a motorcycle or scooter; doesn't matter if you are a boy or a girl. Everyone must wear a helmet while riding for their own safety. And so, there are many brands in the market who churn out helmets for girls and women. The helmets are designed to suit the head and requirements of women, and some of them are quite comfortable, too.
There are more women riding motorcycles today than ever before. Although a car is still the vehicle of choice for most women, more are adopting scooters and motorcycles as a means to travel around. And so, for them, today I am going to review the IS-Cruiser Blush Women's Helmet by HJC. Let's see if it really is the helmet for you or not. Check price here.
HJC Helmets – A Brand to Trust
HJC Helmets has been at the core of the motorcycling community for more than 40 years now. HJC provides you with a combination of wide-ranging, dedicated manufacturing capability, groundbreaking ideas and sensible pricing which has augmented its success in the world market. HJC covers an extensive range of helmets right from the middle to high price range. HJC really has increased consumer's alternatives and choices for quality helmets in the market.
Features
You have a Lightweight Advanced Polycarbonate Composite (LAPC) Shell that makes this a sturdy choice.
Integrated, pull-down HJ-V4 light-smoked sun shield which is easily deployable.
You also have smart and moisture-wicking Nylex internal featuring removable and washable anti-bacterial liner.
Nylon strap D-Ring holding system to make riding a better experience for you.
Most importantly, the product is DOT-approved so you don't have to worry about your safety.
Usage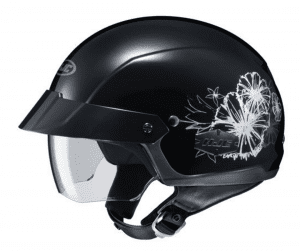 Purpose built to suit the needs of a female rider, the HJC IS-Cruiser Helmet combines the benefits of rugged looks and absolute simplicity. It is as simple and basic as it can get; no frills or fuss or any complex buttons to do simple jobs like putting down the sun screen. The IS-Cruiser comes in two different colors, black and pink. So, there is one for you whether you are a sweet, simple girl or a hardcore chick.
Frankly speaking, I have never seen a helmet as good as this one; let alone a women's helmet as good as this one ever in my life. It is extremely comfortable, yet sleek looking, contains a good ventilation system, doesn't feel like another burden or your head, and helps to maintain focus on the road. Big thumbs up to HJC for coming up with such a product for women riders.
Protection and Visibility
While it can do with a bit of improvement on visibility, it is still great for a model of this range. The sun screen doesn't interfere in any way with your vision and actually helps you focus on the road. The shell of the helmet is composed of LAPC (Lightweight Advanced Polycarbonate Composite) and will keep your head protected in case of any unfortunate mishaps.
So, you can ride your scooter and motorcycle without any hassle or worry if you have this on your head. HJC maintains its functionality level in the IS-Cruiser Blush model. Its washable and removable anti-bacterial liner with smart and moisture-wicking Nylex interior is another great feature on this dome for ladies. It ensures its durability so you can keep this one for a long time.
Air Circulation and Ventilation
The ventilation levels in this one are just awesome. You won't be feeling any suffocation putting it on your head and can ride freely and smoothly. IS-Cruise Blush comes with a ventilation opening at the top to keep your head cool, comforting you more all the while.
As I have said before, this helmet is a marvel from HJC and its entire department and features hold true to that. So, take one home without any worries, ladies! The air circulation and ventilation of the helmet add to its comfort levels.
Noise, Weight, and Comfort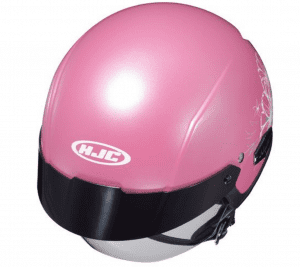 The absence of any noise cancellation may be called a minus in the helmet, but it's really not! This is because you can't expect it in a helmet of this class and price range. Still, it manages to reduce noise a bit while covering your ears. That should be sufficient for everyday usage.
The helmet is lightweight, and as I said before, you won't feel any burden on your head. You can wear and remove it easily.
The comfort level in IS-Cruise Blush is amazing. The nylon strap with D-ring holding system keeps it stable on your head and fits in quite nicely even if you have long hair. The helmet is DOT-compliant, so you can keep all your worries aside and buy this one.
Other Factors
The looks and design of the IS-Cruise is top class and comes in two different colors to suit the needs of any girl. The helmet also features an eye protection shade to keep your eyes protected from direct sunrays, which allows you to keep your concentration on the road.
Conclusion
Ladies, if you are looking for a good quality, comfortable helmet, stop your search right here and go buy the HJC IS-Cruise Blush right now. This is the best product you can get in this class and pricing right now for your head. This is a real market and will surely attract good consumership for HJC. I loved it, and ladies, you will surely love it as well. Hats off to HJC for coming up with such a product.